100 is the twelfth episode of Glee's fifth season and the hundredth episode overall. Split into two parts, this first part of the episode aired on March 18, 2014, with the second part airing a week later on March 25, 2014.
After the defeat at Nationals and the consequently imminent break up of the glee club by Principal Sue, the alumni return to McKinley to share stories and to celebrate what the last 100 lessons have meant to them. Among the returnees are the dueling divas Rachel and Mercedes, who, in spite of the fact that they are making progress in their own industries, seem determined to revive an old feud. A new and improved Puck, recently inducted into the military, intends to impress Quinn, his old girlfriend and mother of his daughter - he receives an unwanted surprise in the process. The MIT student and newfound mathematical genius Brittany believes that she has permanently lost her creative streak, and the Broadway bad girl and alcoholic April Rhodes may have a solution for the doomed glee club, but not if Sue has anything to say about it.
The episode was written by Ryan Murphy, Ian Brennan, and Brad Falchuk, and directed by Paris Barclay.
Plot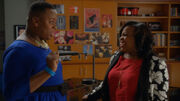 Rachel and Mercedes return to Lima after learning that Glee Club has been disbanded after their loss at Nationals. Both girls seem taken aback at the lack of McKinley fanfare in their honor, given the recent success they both have had: Rachel for Funny Girl and Mercedes for her upcoming album. In the choir room, various New Directions members do congratulate Rachel and Mercedes, but it is clear that being back in Lima sparked feelings of rivalry between the girls. Rachel and Mercedes each rush to take a seat at the front of the group, with Rachel just beating Mercedes to it. Kurt, seeing the pettiness, demands they greet one another. Although they do greet one another, their respective well wishes don't seem genuine.
Will thanks everyone for coming so they can all celebrate what the Glee Club has meant to all of them over the years. He gives them the assignment - to re-do performances from the past with a new twist. He then announces that he has asked April to return, as she saved the club's auditorium years ago. Will and April kick off the celebration with Raise Your Glass, and alumni and current New Directions join in.
Later, Puck is walking in the McKinley hallways, reflecting on his past as a student. He feels that he has found a purpose in life now that he is in the Air Force, and as far as he is concerned, the past is be dead to him - except for Quinn. Puck and Quinn greet one another and he asks what she thinks of his uniform. Quinn jokes that it looks a little itchy, but then says he looks handsome and remarks that he seems to have a renewed confidence about him.
They are then interrupted by Quinn's new boyfriend,
Biff
. Puck is clearly taken aback at the introduction. Biff is well off and claims that his family planted the first ever McIntosh apple orchard in Pennsylvania. Meanwhile, Brittany is working on mathematical formulas in a classroom by herself. Santana finds her and Brittany tells her she misses her old life before she became a "mathematical genius". Santana suggests an Unholy Trinity number to lift her spirits. Quinn, Santana, and Brittany perform
Toxic
.
Biff is also present during the number and several New Directions members notice him texting during the performance. After the girls have finished, April calls Biff out immediately and asks what he thought. Biff calls the performance "Energetic", when it is clear he didn't see any of it. Quinn tries to defend him, saying that he is busy with school and extracurricular activities. Meanwhile, Santana compliments Brittany for her role in the performance, particularly the dancing, but Brittany says she has to focus on what she is best at, math. Brittany then hosts her next Fondue For Two segment; she has invited both Mercedes and Rachel. Brittany ponders if Rachel really has been to New York, and suggests that Rachel has been lying about attending NYADA, her job as a singing waitress, and her role in Funny Girl. She then questions Mercedes' dance abilities and asks what each girl plans to sing for Glee Club. Rachel and Mercedes reveal simultaneously that they plan to sing Defying Gravity. The girls then decide to use the song as a "Diva off" so that the Glee Club can, at long last, decide who the "true diva" of New Directions is.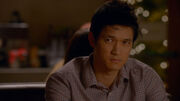 Later, at Breadstix, Quinn and Biff are discussing their relationship. Biff says he loves Quinn and really wants to get to know her. He invites some of Quinn's other friends to the table - Puck, Santana, Artie and Mike. They reveal some not so favorable details of Quinn's past, such as the time she dyed her hair pink, got a Ryan Seacrest tattoo and became a "skank" her senior year. Quinn tries to convince Biff they are only joking and sends him to the car for her purse. Quinn tells her friends that she is trying to present herself the best way possible due to Biff's wealthy background, as if she married him she would be "set for life".
At McKinley, April and Will try to convince Sue that April has a say over who can use the auditorium as she is funding it. Suspicious about April's financial background, Sue recruits Becky to do some research. Back in the choir room, Kurt, Rachel, and Mercedes perform Defying Gravity. Will suggests they hold off a day on voting to allow the performances to sink in, much to the annoyance of Rachel and Mercedes.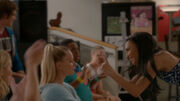 Out in the courtyard, Brittany is recreating a famous chess game with people acting as the chess pieces. Brittany tells Santana that it is the only creative outlet she has now. Upset, Santana reminds Brittany that her true love is dance and suggests they do a number together. Meanwhile, Rachel and Mercedes are seen trying to convince various New Directions members to vote for them as the real diva of Glee Club. Will then invites the next person to perform a song. Santana interrupts Puck and says she would like to do a dance duet with Brittany, which turns out to be Valerie, in hopes of inspiring Brittany to get back in touch with her creative side. Brittany is hesitant at first, but then joins in and seems to enjoy herself. Mike and Jake join with Santana and Brittany for the dance routine.
After the performance, Puck says he would like to move to the auditorium for his number, Keep Holding On. Quinn becomes emotional during the song. She tells Puck she had forgotten about it until she heard it again. Puck tries to tell her to hold on to her past, because it is a part of who she is, but she says she is in love with Biff and wants to forget. Back in the choir room, the Glee Club is about to vote for the winner of the diva off when Santana interrupts. She tells Rachel that she is a horrible person and that she has "often sold people down the river for a solo". Furthermore, she reveals that she did not win Prom Queen; it was rigged by Santana and Quinn because they felt bad for her. Rachel is upset by the revelation and leaves the choir room to cry in the bathroom. Mercedes joins her and tries to comfort her. Rachel says that being in New York still feels like high school sometimes, which Mercedes can relate to.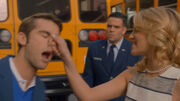 Meanwhile, Sue and Becky have proof for Will and April that Will has bankrupted the club with the purchase of elaborate costumes and sets in the auditorium and April has no more money as she is under indictment related to her most recent boyfriend's shady financial background. Outside, Quinn is coming clean about her high school past to Biff, who is unhappy about the news he is hearing and calls her an unflattering name. Puck beats Biff up, sending him into a dumpster and tells Quinn to either help her boyfriend or return to the choir room with her real friends. In the choir room, New Directions are finally voting for the diva off and Will is about to count the votes when Rachel and Mercedes return. The ladies tell the group that they have decided not to have a vote as it would be unproductive and narcissistic. Will tells them they are equally talented. April apologizes to the Glee Club for having raised their hopes that she would be able to save New Directions, and reveals that she has found Holly in hopes she could raise their spirits. Holly performs Happy and New Directions join in.
In the boys locker room, Quinn joins Puck who is looking at Finn's football jersey, which was retired after his death. Puck asks Quinn if she thinks Finn ever forgave them for what they did. Quinn says she is sure that he did, as Rachel was his true soulmate anyway. Puck wants to know who Quinn thinks her soulmate is. Meanwhile, Santana is talking with Brittany, telling her that she should be enjoying her life rather than beginning locked away in some math lab. Puck tells Quinn he is thinking of leaving Lima, unless she gives him a reason to stay.
Brittany kisses Santana, but Santana pulls away and says it is a bad idea, as she has worked hard to get over her. Quinn tells Puck he wouldn't want to be with her, as she is terrible at being in relationships. Puck reveals that he loves her and points out that he is the only guy she has ever really been honest with. Brittany tells Santana that it feels good to be around her again and that she has seen the world and only wants to be with her. Brittany tells Santana that she is available if she wants her. Puck appeals to Quinn to ask him to stay, then leaves the locker room. Quinn runs down the hallway to meet him and they share a kiss.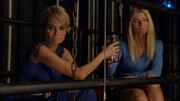 The episode ends with Will and the original members of New Directions, minus
Matt
and Finn, in the auditorium, where Finn and Lillian's plaques remain. The group is emotional, and Will tells them that he didn't bring them together to cheer them up, but to thank them for being part of the wonderful journey that the Glee Club has been. As Will starts to break down, everyone comes together for a group hug. April and Holly are seen sitting above the group. They mutually vow to save the Glee Club.
Songs
Guest Cast
Special Guest Stars
Guest Stars
Co-Stars
Trivia
Errors
Gallery
Ad blocker interference detected!
Wikia is a free-to-use site that makes money from advertising. We have a modified experience for viewers using ad blockers

Wikia is not accessible if you've made further modifications. Remove the custom ad blocker rule(s) and the page will load as expected.