George
Alexander "Alex" Newell
(born August 20, 1992), is a 20-year-old American actor and singer who currently portrays Wade "Unique" Adams on
Glee.
He was runner-up along with
Lindsay Pearce
on the first season of
The Glee Project
.
Personal life
Alex has been performing since he was a toddler. He lost his father at the age of 6, acting and singing has helped him express his emotions since then. Extracurricular activities he participated in include church choir, school choir, improv club, and costume design club as well as being the starting left tackle for the varsity football team. Alex lives in Lynn, MA and entered The Glee Project via YouTube video.
The Glee Project
Solos
And I Am Telling You I'm Not Going (Audition Song)
I Will Always Love You (Dance-ability)
And I'm Telling You I'm Not Going (Tenacity)
I Will Survive (Sexuality)
His Eyes On the Sparrow (Generosity)
I Am Changing (Glee-ality)
Solos (In Duets)
Nowadays (Hannah) (Pairability)
Valerie (Hannah) (Pairability)
Solos (In a Group Number)
Signed, Sealed, Delivered (Individuality)
Firework (Individuality)
Bad Romance (Theatricality)
We're Not Gonna Take It (Theatricality)
Please Don't Leave Me (Vulnerability)
Mad World (Vulnerability)
Hey, Soul Sister (Dance Ability)
U Can't Touch This (Dance Ability)
Need You Now (Pairability)
Bulletproof (Tenacity)
Under Pressure/Ice Ice Baby (Tenacity)
Like A Virgin (Sexuality)
Teenage Dream (Sexuality)
True Colors (Believability)
The Only Exception (Believability)
Lean On Me (Generosity)
SING (Generosity)
Don't Stop Believin' (Glee-ality)
Raise Your Glass (Glee-ality)
Trivia
His father died when he was six years old.
He initially auditioned for the competition performing And I Am Telling You I'm Not Going, which he performed once again as a last chance performance in the sixth episode.
He has been compared to Kurt and Mercedes.
He has a high vocal range.
His sign for Vulnerability week was "gay."
He won an opportunity to guest star on two episodes of Glee's third season along with co-star Lindsay Pearce.
His personal dream role on Glee is to play a love interest for David Karofsky. Source
The cast member he is most excited to meet is Lea Michele.
He calls people/people call him "BooBooFace."
He owns over 80 scarves, and considers them his favorite accessory.
He was accepted into UC Berkeley (University of California, Berkeley).
He was in his high school's choir and on his school's football team.
Performed in drag on The Glee Project, which was incorporated into his Glee character.
His first concert was Barney Live when he was five years old.
He will play Ike in the movie Geography Club.
Cried when he knew he was coming back for Season Four of Glee.
Got Darren Criss in 2012 Glee Cast Secret Santa.
Gallery
Videos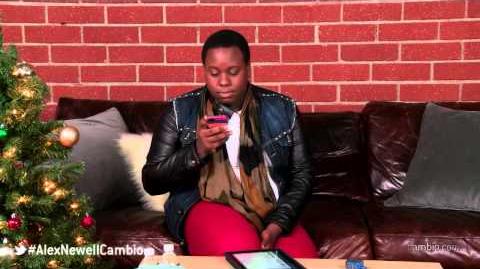 External links