Amber Patrice Riley
, born February 15, 1986,
[1]
is an American actress, dancer, and singer. She is known for her role as
Mercedes Jones
on
Glee
.
Personal Life
Riley was born to Elwin Riley and Tiny Hightower[2] in Los Angeles, California.[1] She grew up in La Mirada, California and has two older sisters, Toyia and Ashley.[2] She attended La Mirada High School.
Career
Riley auditioned for American Idol at age seventeen but didn't make it past producers.[3]
She auditioned for the role as Effie White in the 2006 movie musical Dreamgirls however Jennifer Hudson was chosen instead. Riley was casted as Mercedes Jones in 2008 and has had a main role on Glee from 2009 - 2012. Her role from then on was reduced to a guest role.
Riley and Dancing with the Stars partner, Derek Hough, won the seventeenth season.[3]
Riley will appear in UP's television movie musical My One Christmas Wish as Jackie Turner, which is based off a true story of Turner.[4]
Riley was announced, in August 2015, to have joined NBC's upcoming live-action remake of The Wiz, titled "The Wiz Live". She will portray Addaperle and it will air on December 3.[5]
On February 5, 2016 was announced, she will star as Effie White in the West End production of Dreamgirls musical at the Savoy Theatre. Premiere will be in November 2016.[6]
Fashion
Riley, along with Ashley, launched a plus-sized online clothing boutique, "Rileyland Fashions," in January 2014.[7]
McRiley
She and Kevin announced that they will co-host a radio show every Friday. It airs on Dash Radio and is titled "McRiley", their ship/mashed together name; it began on September 26, 2014 - the same day it was announced.[8][9]
Filmography
Year
Title
Role
Notes
2002
St. Sass
Toby
2009
Entertainment Tonight
Herself
The Teen Choice Awards 2009
Herself
The Bonnie Hunt Show
Herself
Glee
Mercedes Jones
2009 - 2015
Series regular (Season 1-4, 6)
Recurring guest star (Season 5)

2010
The Simpsons
Aeisha
Episode, "Elementary School Musical"
2013
Dancing with the Stars
Herself
Season 17 winner
2015
My One Christmas Wish
Jackie Turner
The Wiz Live
Addaperle
2016
Crazy Ex-Girlfriend
Dream Ghost #2
Season 1: Episode 15: Josh Has No Idea Where I Am!
Links and Social Networks
Trivia
She auditioned for American Idol when she was 18, but she was rejected.
She's best known for being the "prankster" of the Glee Cast.
She's obsessed with shoes.
She loves fish and had one for 3 years.
She loves pizza.
She had never been to New York until Glee sent her.
When she heard about the Glee audition, she thought it was just a singing role.
Amber has a tattoo of the "not of this world" (A Christian clothing company) logo on her wrist.
She claims that her "life was made complete" when she performed for President Obama in 2010.
She appeared on Barney & Friends as a child.
She is obsessed with guys who have braces.
One of her favorite things is Oprah.
Her twitter name was originally MsAmberRiley, however, after her account was hacked, she deleted her account. She returned as MsAmberPRiley.
She auditioned for Glee with And I'm Telling You, which song she also sung in Sectionals.
Nip/Tuck creator Ryan Murphy cast her in his failed pilot St. Sass; he later cast her in Glee.
She used to work at the Ikea in Carson, California. They also had singing competitions for the employees and she always won.
She's a light lyric soprano, with her range being F3-C6.
She auditioned in 2006 for the movie Dreamgirls, but was turned down because of her age.
Chord Overstreet thinks that she is the best singer he has ever heard.
Before the panel presentation on Tuesday May 1, she fainted on the red carpet.
Like Naya Rivera, she is also working on a solo album. Music producer Adam Anders who produces Glee's music will also be producing hers.
She appeared on American Idol winner, Fantasia's new album, Side Effects of You.
She appeared in the 17th season of Dancing With the Stars, and was announced the winner alongside Derek Hough who is also Riker's cousin. She is the first African American woman to win Dancing With the Stars.
Her Dancing With the Stars partner Derek tried bribing his sister and former dance partner, Julianne, with ten dollars to give them a good score for their tango during week 4. Julianne overall gave them a 9. 
She is the first Glee star to be on DWTS, the second being NeNe Leakes who played Coach Roz Washington. 
She cowrote The Saturday's "Leave A Light On", which is on their album Living For the Weekend.
Her first single "Colorblind" debuted on April 8, as well as being sung in the episode Bash.
Her favourite Michael Jackson song is Human Nature which she sang on Glee with Chord Overstreet.
Quotes
"

As long as you are being true to yourself, you will always find happiness.

"

—Amber Riley
"

I have great friends around me that are positive and I think that's the key to life is making your own path. Set your own rules because there is no set rule, there is no set look, there is no set anything. You make your own rules in your life. You make your own decisions.

"

—Amber Riley
"

I love myself.

"

—Amber Riley
"

I want to encourage young women to stand up for each other and speak up when they see others in a tough situation.

"

—Amber Riley
"

Shine from the inside out, work on being a person. Don't put so much effort in the outside. Put SOME effort but not at all!  Source

"

—Amber Riley
Gallery
Videos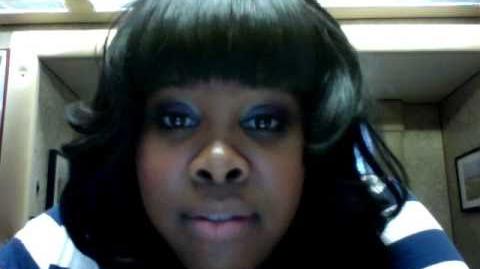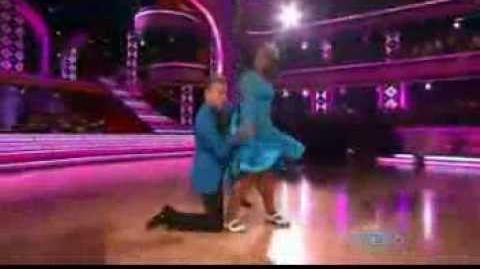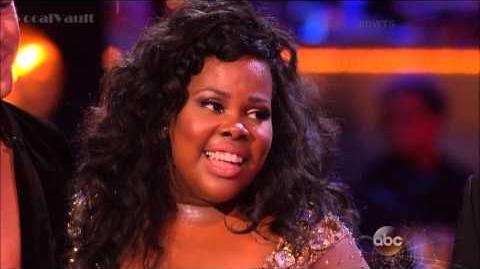 References