Andrew Stuart
is a member of the Warblers. He made his first appearance in Never Been Kissed, and his last in Born This Way, the sixth and eighteenth episode of
Season Two
respectively.
Andrew Stuart is portrayed by Cord Jackman.
Biography
Andrew is first introduced in this episode and can be seen during Hey, Soul Sister.
Takes part in the Bills, Bills, Bills performance.
Andrew participated in The Warbler's Gap Attack and Lonely Hearts Dinner, where they sung When I Get You Alone and Silly Love Songs, respectively.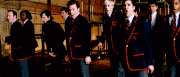 He is seen during The Warblers performance of Animal. 
He is shown with The Warblers, and sings with them at Regionals as part of Candles and Raise Your Glass.
Andrew is at WMHS to say goodbye to Kurt with the rest of The Warblers. He sings in Somewhere Only We Know. He has not been seen since.
Gallery