Anna Ragsdale Camp
Gender:
Female
Age:
31
Born:
September 27, 1982
Character:
Candace Dystra
Occupation:
Actress, singer
Years Active:
2007-present
Anna Ragsdale Camp[1] (born September 27, 1982[2]) is a 30-year-old television and Broadway actress. She is known for her role as Sarah Newlin on True Blood, as Aubrey Posen in Pitch Perfect, as Gwen Grandy on The Mindy Project, and guest starred as Candace Dystra on Glee in 2009.
Personal life
Camp was born to Dee Kornegay and Tom Camp in Aiken, South Carolina.[2][3] She has an older sister, Saluda.[2] Camp graduated from the University of North Carolina School of the Arts with a Bachelor of Fine Arts degree in 2004.[4][5] She moved to New York City shortly after graduating.[6]
She had been married to Michael Mosley for three years before it was reported that Mosley and Camp would be getting a divorce in 2013.[7] Camp is reportedly in a relationship with her Pitch Perfect co-star, Skylar Astin.[8]
Career
She has a recurring on True Blood since 2009, however it is unknown if she will appear in season seven. Camp has a recurring role in The Mindy Project and portrayed Aubrey Posen in Pitch Perfect.
Camp was announced to have joined the cast of How I Met Your Mother as Cassie,[9] and was casted as Brody (Skylar Astin)'s ex-girlfriend on Ground Floor on August 29, 2013.[10]
Filmography
Year
Film
Role
Notes
2001
Roswell
Stripper
2007
And Then Came Love
Kikki
Reinventing the Wheelers
Meg Wheeler
TV movie
2008
Pretty Bird
Becca French
Just Make Believe
Kristin
Cashmere Mafia
Brooke Adaire
("Pilot")
2009
8 Easy Steps
Laura
True Blood
Sarah Newlin
2009/2013; Season 2 (9 episodes) and Season 6 (7 episodes)
The Office
Penny Beesly
("Niagara")
Glee
Candace Dystra
("Sectionals")
2010
Bottleworld
Chrissy
Forgetting the Girl
Adrienne Gilcrest
Numb3rs
Siouxsie Dark
("Devil Girl")
Covert Affairs
Ashley Briggs
("Houses of the Holy")
Mad Men
Bethany Van Nuys
(3 episodes)
2011
The Help
Jolene French
'Love Bites
Prudence
("Stand and Deliver")
The Good Wife
Caitlin d'Arcy
recurring role (8 episodes)
House of Lies
Rachel
("The Gods of Dangerous Financial Instruments")
2012
Pitch Perfect
Aubrey Posen
The Mindy Project
Gwen Grandy
2012 - 2013; series regular (1 - 12 episodes)/recurring (14 - episodes)
2013
Sequin Raze
Jessica
short
Vegas
Violet Mills
(4 episodes)
Super Fun Night
Felicity
("Pilot: Multi-Camera Version")
Autumn Wanderer
Sara
Goodbye to All That
post production
How I Met Your Mother
Cassie
Ground Floor
Brody's ex-girlfriend
Trivia
Is 5' 5" (1.65 m).
President of Vodka Cran Productions.
Started acting in second grade in South Carolina.
Received her BFA from the North Carolina School of the Arts in 2004.
She starred in the rock band Train's music video for the song, Marry Me.
Her trade mark is her soft smile and her blonde hair.
She portrayed Aubrey Posen in the 2012 musical movie Pitch Perfect. The movie won a 2013 Teen Choice Award for Comedy.
Camp will have a mini Pitch Perfect reunion on Ground Floor, as her co-stars are Skylar Astin and Alexis Kapp.
She will be in two shows, How I Met Your Mother and Ground Floor, as her former Glee recurring/guest stars (James Earl III and Neil Patrick Harris) have been in. However, she didn't appear in any scenes with them on Glee.
Camp had scenes with former Glee guest-star, Tamlyn Tomita, on True Blood. They didn't have any scenes together on Glee though.
She will most likely return for pitch perfect 2
Gallery
References
Videos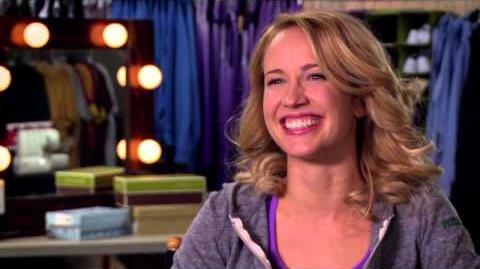 External links