Artie-Blaine Relationship
Comments

25
1,713pages on
this wiki
This article has been nominated for deletion.




Please share your thoughts on the matter in the talk section below. For more information, visit candidates for deletion. Feel free to edit the article, but do not blank the article or remove this notice until the discussion is closed.
Artie-Blaine Relationship
General Information
Nickname:
Blartie
Intimacy Level:
Friends
The Artie-Blaine Relationship, most commonly known as Blartie, is the friendship between McKinley High graduates and former New Directions members, Artie Abrams and Blaine Anderson.
Episodes
Right before the show, Blaine and Kurt run into Artie and Brittany in the McKinley corridors, where Artie says that he hopes they both enjoy the show. (A Night of Neglect)
Blaine can be seen dancing, enjoying and singing along to the performance of Friday sung by Artie, along with Puck and Sam at Junior Prom. (Prom Queen)
Blaine is auditioning for the supportive role of Officer Krupke in the school musical West Side Story, when Artie, along with Shannon and Emma, impressed by his audition, asks him if he would be interested in auditioning for Tony. (I Am Unicorn)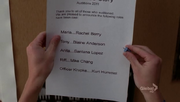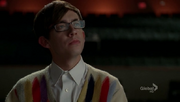 Artie is directing West Side Story and during a rehearsal of Tonight with Blaine and Rachel, he asks them if they had lost their virginities yet, to make the part look more real. After they answer 'no', he tells them he is concerned they're not going to be convincing enough as actors. (The First Time)
Blaine and Artie sing most of Control by Janet Jackson at Sectionals alongside Quinn. (Hold on to Sixteen)
Blaine, Brittany, Tina, and Wade are in the race to see who is the new Rachel and the new star/leader of New Directions. Artie is the judge and he judges the four as they sing Call Me Maybe. Afterwards, Artie reveals the results and he, along with an online poll, picks Blaine to be the new Rachel, Brittany coming second, Tina third, and Wade fourth. (The New Rachel)
Blaine and Artie sing Boys/Boyfriend to cheer Brittany up with Britney Spears week (once again), to the Glee Club. (Britney 2.0)
Blaine, still heartbroken, auditions for Grease, which Artie direct, with Hopelessly Devoted to You. Artie comments on his performance, claiming that although it's a Sandy song, he is still the Danny Zuko they want for the play. Blaine refuses and explains that he can't portray love since he ruined his own relationship.
Artie asks which role he might consider taking and Blaine answers 'Teen Angel'. He later gets this role. (The Role You Were Born to Play)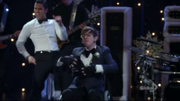 Artie is on stage, talking about how hard and stressful it was, waiting to see if someone would ask you out before Blaine cuts in to shorten what Artie is trying to say. They sing together in No Scrubs.  (Sadie Hawkins)
Blaine is talking to Artie next to the entrance of the choir room, before Tina interrupts them angrily. Artie, who can see her anger, goes into the classroom. (Diva)
Blaine and Artie can be seen talking about Artie's movie after Artie reveals that he will make one. They also perform together in the boys mash up, Old Time Rock & Roll/Danger Zone. After Will announces that everyone is the winner of the mash-up competition, Blaine talks to Artie with Tina about why the outcome of the competition always results in a tie. (Girls (and Boys) on Film)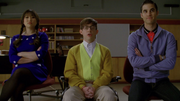 Blaine is seen sitting next to Artie, when they are confronting Finn and Will about their feud. (Feud)
When the gunshots are first heard, Blaine helps Artie get out of his chair and sit down on the floor. Artie films messages from the Glee kids to their families, in case they die in the incident. When Artie turns his cellphone to Blaine, he doesn't say anything, he just starts sobbing and puts his head between his legs. They are seen hugging with the New Directions after the shooting ends. (Shooting Star)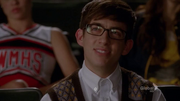 Blaine and Artie interact with each other during the secret Glee Club meeting in the auditorium. After Blaine questions how long it will take Sam to end his separation anxiety phase (he makes up a twin), Artie tells Blaine to let it go. (Sweet Dreams)
Blaine and the rest of the club join Artie and Kitty's performance of Drive My Car. Later, when Blaine is trying to convince the club to help him propose, Artie says that, though he understands his plan, he still thinks he and Kurt are too young to get married. Artie is seen recording Blaine and the other boys' performance of I Saw Her Standing There in black and white. He helps Blaine by participating in the performance of All You Need Is Love along with everyone else. (Love, Love, Love)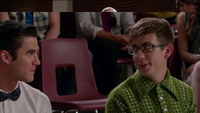 After
Tina
and Artie are tied for the position of the valedictorian even after their speeches,
Sue
tells them she decided to make Blaine the valedictorian, as he is the third in class. Blaine then apologizes to both of them in the hallway saying he feels awful about it because they deserve to be valedictorians, not him. Tina and Artie are both visibly angry. Later in the Glee Club meeting both Tina and Artie make rude comments when Blaine announces that he is going to sing instead of giving a usual valedictorian speech. Trying to make up for the whole situation, Blaine asks Tina and Artie to sing with him. Artie seems unsure of it at first, but then says "if we're gonna go down, I'm honored to go down together" agreeing to Blaine's idea. The episode ends with them singing
Breakaway
together. (
Frenemies
)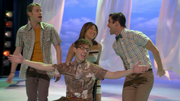 After Blaine, Tina, and Sam perform Jumpin' Jumpin' in the choir room, Artie clearly feels a bit left out of the senior moment and comments that a quartet is more powerful than a trio. Tina is reduced to tears at the thought of their impending graduation and shares a hug with Blaine and Sam. Artie tries to join in, but is rejected by Blaine and Sam. Later on, Will announces that there is only one week left until they go to LA for Nationals. Blaine suggests that the seniors sing a number together as their final glee rehearsal is approaching. Artie is hesitant at first after being rejected, but then happily agrees to join in and sing Hold On, which is performed in the auditorium as the other glee members cheer them on. (Trio)
When Blaine tells his friends his news of getting into NYADA, Sam accidentally hits Tina with the trophy he's holding. This leads her to having another dream. During the New York skit, they are all living and working together.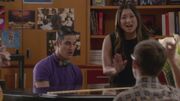 Artie and Blaine are both in the auditorium, with the rest of the old and present New Directions, listening to
I Am Changing
. Later on, they are hanging out with Sam in the Choir Room, when Tina comes in to tell them she didn't got in Mitzvah University. They try to convince her that she doesn't need a university to go to New York, by singing an acoustic version of
Loser Like Me
together.
Later that week, they perform Don't Stop Believin' with the rest of the alumni and present New Directions, for Mr. Schue. At the end of the episode, they both graduate together with the rest of the seniors and Brittany. (New Directions)
Artie and Blaine are both singing Downtown, while meeting up with each other and their friends. They are both excited when they see Rachel arriving in her new town car. When Rachel wants to take them all out for lunch, Artie can't fit in the car so he has to walk with Sam. Blaine, however, joins Kurt and Rachel. Later that episode, Artie gets mugged. He goes back to the Bushwick Apartment, where Kurt comforts him. Meanwhile, Blaine appears to be very busy with his new SodaStream machine. The next day, both Artie and Rachel enter the apartment, and they gather everybody around. Blaine actively listens to their story about how Artie peppersprayed his mugger, whom he came across on the subway again. When Blaine tells them he and Kurt decided not to live together anymore, Artie is shocked at first but ultimately understands their decision. They are all helping Mercedes move into their new apartment, with Kurt and Blaine lifting a couch. Artie tells them he's sorry he can't help, but Blaine tells him it's no problem. (New New York)
In the beginning of the episode, Blaine and Artie appear in a parody of a WWII era STD PSA (Public Service Announcement). Blaine and Artie are next seen enjoying some guys bonding time at Serendipity with Kurt and Sam. When Sam admits he and Mercedes haven't had sex yet and that he wants to get a STD test to ensure he has a "clear bill of health" for when the time does come, Blaine and the rest of the guys offer to go with Sam and get tested also. At the Bushwick apartment, Artie confesses that he has contracted Chlamydia and he doesn't know how he got it. When Blaine asks if he has been using condoms, Artie admits he hasn't and Blaine tells him his lack of safe sex practices is how he has contracted the disease. When Sam starts to "slut shame" Artie, however, Blaine requests Sam calm down as it is clear that Artie feels bad enough as it is. Blaine does tell Artie, however, that he must tell all the girls he has been sleeping with about the Chlamydia as he could have given the STD to them. Artie later takes Blaine's advice. At the end of the episode, the guys are gathered once again at Serendipity. Artie orders a large banana split, which Blaine comments looks delicious. Artie says he's feeling down after losing Julie, the girl he really had a crush on after his disastrous first date with her. Sam, who has been told by Mercedes that she needs to wait until marriage to have sex, suggests an all guys abstinence club which Blaine and Artie, (and Kurt) reject. (Tested)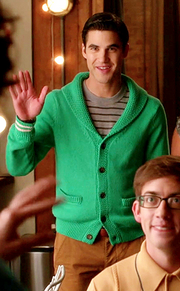 When the episode begins, Artie and Blaine are both at the loft for Monday night dinner. They both seem excited to see Brittany when she enters. When Brittany says she was stranded like in that Tom Hanks movie, both Artie and Blaine throw out suggestions for what movie she is talking about. Artie and Blaine both watch Mercedes and Brittany perform Shakin' My Head at the mall. Later, Artie, Blaine, and Sam are seen playing some form of first person shooter together and giving Sam advice about Mercedes. Artie and Blaine both get interviewed by Mary for Rachel's TV pilot, and both are seen at the loft for the first read through of the script. Artie attends Blaine's showcase and watches and enjoys the performance of No Time at All. Artie also watches Blaine and Kurt sing American Boy and he joins in to dance at the end of the song. At the end of the episode, Artie and Blaine are both seen reading the final script of Rachel's TV pilot. They both run outside to see Sam's bus ad and both perform in Pompeii. During the song, Artie is seen rolling down the hallway of his film school and Blaine is seen moving back into the loft with Kurt. (The Untitled Rachel Berry Project)
Songs
Sang Together (In a Group Number)
Song
Episode

Solos with

Control
Hold on to Sixteen
Quinn
Man in the Mirror
Finn, Mike, Puck, and Sam
Do They Know It's Christmas?
Extraordinary Merry Christmas
Brittany, Finn, Kurt, Mercedes, Puck, Rachel, Santana, and Tina
Bad
Michael
Santana and Sebastian
Fly/I Believe I Can Fly
On My Way
Finn, Mercedes, Rachel and Santana
My Love Is Your Love
Dance with Somebody
Kurt and Mercedes
In My Life
Goodbye
Joe, Rory, Sam Sugar and Tina
Related Songs
Duets
Sang Together (In a Group Number)
Song
Episode

Solos with

No Scrubs
Sadie Hawkins
Joe, Ryder, and Sam
This Is the New Year
Naked
Brittany, Jake, Marley, Ryder, Sam, Tina, and Unique
We've Got Tonite
I Do
Betty, Finn, Jake, Kurt, Marley, Quinn, Rachel, and Santana
We Will Rock You
Lights Out
Jake and Ryder
Related Songs
Sang Together (In a Group Number)
Song
Episode

Solos with

Applause
A Katy or A Gaga
Marley, Ryder, and Sam
On Our Way
The End of Twerk
Jake, Kitty, Marley, Ryder, Sam, Tina, and Unique
The Fox
Puppet Master
Elliott, Jake, Rachel, Santana, and Tina
Breakaway
Frenemies
Tina
Hold On
Trio
Dani, Elliott, Kurt, Rachel, Sam, Santana, and Tina
I Love L.A.
City of Angels
Jake, Sam, and Will
I Still Haven't Found What I'm Looking For
Sam and Tina
Loser Like Me
New Directions
Don't Stop Believin'
Kurt, Rachel, Tina, and Will
Downtown
New New York
Kurt, Rachel, and Sam
Take Me Home Tonight
Old Dog, New Tricks
Kurt, Maggie, Mercedes, Rachel, Sam, and Santana
Pompeii
The Untitled Rachel Berry Project
Brittany, Kurt, Mercedes, Rachel, and Sam
Related Songs
Gallery
v - e - d

Glee Relationships




Character relationship(s) displayed:

Adam

Artie

Becky

Betty

Blaine

Bree

Brittany

Brody

Burt

Cassandra

Chandler

Cooper

Dani

Dave

Elliott

Emma

Finn

Holly

Jake

Joe

Kitty

Kurt

Lauren

Mario

Marley

Mercedes

Mike

Millie

Puck

Quinn

Rachel

Rory

Roz

Ryder

Sam

Santana

Sebastian

Shannon

Shelby

Sue

Sugar

Sunshine

Tina

Terri

Unique

Will