Artie-Blaine Relationship
Comments

20
1,510pages on
this wiki
Artie-Blaine Relationship
General Information
Nickname:
Blartie
Intimacy Level:
Friends
The Artie-Blaine Relationship, also known as Blartie, is the friendship between McKinley High seniors and New Directions members Artie Abrams and Blaine Anderson.
Episodes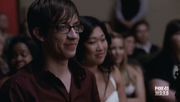 Artie can be seen enjoying The Warblers performance of Hey, Soul Sister, which Blaine sings lead vocals on.
Blaine and Artie first meet at Rachel's house party, though they don't interact with each other.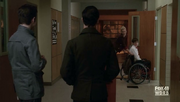 Blaine and Kurt run into Artie and Brittany in the McKinley corridors, where Artie says that he hopes they both enjoy the show.
Artie watches Blaine and The Warblers' performance of Somewhere Only We Know and is seen to be enjoying it.
Blaine can be seen dancing, enjoying and singing along to the performance of Friday sung by Artie, along with Puck and Sam at Junior Prom.
Blaine is auditioning for a supportive role on the school musical, when Artie, along with Shannon and Emma, asks, if he would be interested in auditioning for Tony.
It is announced by Artie that Blaine won the male lead in the school musical.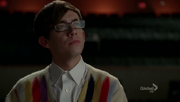 Artie is directing West Side Story and during a rehearsal of Tonight with Blaine and Rachel, he asks them if they had lost their virginities yet, to make the part look more real. After they answer 'no', he tells them he is concerned they're not going to be convincing enough as actors.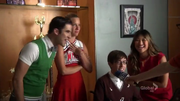 Blaine, Brittany, Tina, and Wade are in the race to see who is the new Rachel and the new star/leader of New Directions. Artie is the judge and he judges the four as they sing Call Me Maybe. Afterwards, Artie reveals the results and he picks Blaine to be the new Rachel, Brittany coming second, Tina third and Wade fourth.
Blaine and Artie sing Boys/Boyfriend to cheer Brittany up with Britney Spears week (once again), to the Glee Club.
Blaine, still heartbroken, auditions for Grease with a Sandy song, Hopelessly Devoted to You. Artie comments on his performance: claiming that although it's a Sandy song, he is still the Danny Zuko they want for the play. Blaine refuses and explains that he can't portray love since he ruined his own relationship.
Artie asks, which role he might consider taking and Blaine answers with Teen Angel. He later gets this role.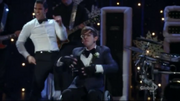 Artie is on stage talking about how hard and stressful it was waiting to see if someone would ask you out before Blaine cuts in to shorten what Artie is trying to say. They sing together in No Scrubs. 
Blaine is talking to Artie next to the entrance of the choir room, before Tina comes in angrily. Artie can see this, so he goes into the classroom.
Blaine and Artie can be seen talking about Artie's movie after Artie reveals that he will make one. They also perform together in Old Time Rock & Roll/Danger Zone.
After Will announces that everyone is the winner of the Mash-up competition, Blaine talks to Artie with Tina.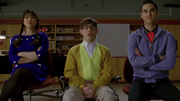 Blaine is seen standing next to Artie, when they are confronting Finn and Will about their feud.
During the shooting at McKinley, Artie films messages from the glee kids to their families in case they die in the incident. When Artie turns his cellphone to Blaine, he doesn't say anything, he just starts sobbing and puts his head between his legs. They are seen hugging with the New Directions after the shooting ends.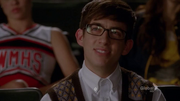 Blaine and Artie both interact with each other during the secret Glee Club meeting during the auditorium after questioning how long will Sam end his separation anxiety phase (he makes up a twin), Artie tells Blaine to let it go.
They sing together during We Will Rock You.
Songs
Duets
Sang Together (In a Group Number)
Season Three

Song
Episode
Solos with
Control
Hold on to Sixteen
Quinn
Man In The Mirror
Puck, Finn, Sam and Mike
Do They Know It's Christmas?
Extraordinary Merry Christmas
Finn, Mercedes, Rachel, Kurt, Brittany, Puck, Tina and Santana
Bad
Michael
Sebastian and Santana
Fly/I Believe I Can Fly
On My Way
Rachel, Mercedes, Finn and Santana
My Love Is Your Love
Dance with Somebody
Mercedes and Kurt
In My Life
Goodbye
Sam, Tina, Sugar, Joe and Rory
Season Four
Song
Episode
Solos with
No Scrubs
Sadie Hawkins
Ryder, Sam and Joe
This Is the New Year
Naked
Sam, Brittany, Ryder, Unique, Marley, Tina and Jake
We've Got Tonite
I Do
Rachel, Finn, Quinn, Santana, Kurt, Marley, Jake and Betty
We Will Rock You
Lights Out
Jake and Ryder
Related Songs
Gallery