Artie-Quinn Relationship
Comments

45
1,703pages on
this wiki
Artie-Quinn Relationship
General Information
Nickname:
Quartie
Intimacy Level:
Friends
The Artie-Quinn Relationship, most commonly known as Quartie, is the friendship between McKinley High graduates and former New Directions members Artie Abrams and Quinn Fabray.
Though interaction is very minimal during Season One, Season Two, and most of Season Three, they establish themselves as friends in the Season Three episode Big Brother, through the common bond of both being in a wheelchair after Quinn's car accident, which takes place in On My Way. It is assumed they remain good friends. As in Goodbye, they exchange many hugs and friendly looks.
Episodes
Quinn and Artie are seen singing together while the whole group is singing Ride wit Me, before they are split again into their separate groups. Later, Artie with the rest of the Glee Club, dedicates Keep Holding On to Quinn.
Quinn and Artie are seen sitting next to each other and Quinn says to Will that Artie "understands" if he can't go to Sectionals in the same bus.
Though never having any interaction between one another, both seem pleased when Artie pulled out Quinn's name for a ballad assignment, although the song wasn't shown on the show.
During the performance of Dream a Little Dream, Quinn comforts a disappointed Artie to show her sympathy towards him.
When Artie uses the ReWalk in the Choir Room, Quinn remarks that it is "A real Christmas miracle." and they share a look.
They share a little look during
Baby
. During
I Know What Boys Like
, they are sitting next to each other.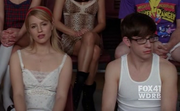 After the disappearance of Quinn from the Glee Club, Artie says "It's sad. I miss her."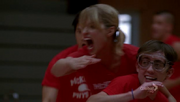 In the Hit Me with Your Best Shot/One Way or Another performance, Quinn "hugs" Artie, as if she was protecting him from the dodgeball competition and continually shields him from the dodgeballs the opposing team is throwing.
At the 2011 Western Ohio Sectional Championship, Quinn opens the second number of the club's Jackson Medley, Artie and Blaine lead the rest of the song with New Directions as backup.
During Rory's performance of Blue Christmas, Quinn and Artie are sitting next to each other. During the performance, they share a look.
When Artie tells the Glee Club how Becky understands what it is like to be trapped inside a disability, Quinn gives him a sympathetic look.
Quinn and Mike grab Artie and take him to the Choir Room. (Mike pushes the wheelchair and Quinn holds Artie's hands).
This episode is the turning point of their friendship. After Quinn returns to school in a wheelchair, she is shown to be in a happy mood confronting Finn and Rachel whom are accompanied by Artie moments later. Quinn then decides to "race" Artie to the choir room which leads into their first duet, I'm Still Standing. During the performance, they dance to a wheelchair choreographed routine which they both appear to enjoy. She says her dance moves aren't as smooth as Artie's yet and he says with a lot of practice they will be.
At the school ramp behind the school, Quinn hesitates to go up the steep ramp but is encouraged by Artie and decides to give it a go after Artie says that he believes in her and that she can do it. He encourages her throughout her whole attempt in which she succeeds receiving a high-five from him.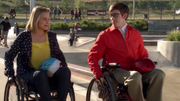 Artie then persuades Quinn to skip her senior ditch day with the rest of the Glee members and asks her to go with him somewhere else to which she reluctantly agrees to. They attend "crip-skip" at a skate park along with other disabled skaters. Both sing another duet at the scene of this to Up Up Up and choosing their adrenaline moments going down steep ramps and attempting tricks with their wheelchairs.
After Artie shows her the life that she might have to embrace, Quinn informs him the she will in fact walk again, attend Yale and dance at Nationals saying that this is temporary and she will not be one of them.
When the seniors sing You Get What You Give, Quinn is one of the many people to interact with Artie. During I'll Remember, they are seen smiling at each other and later Quinn puts her head on his shoulder and he puts his head on her head, showing that they are close friends.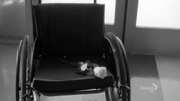 In Artie's dream, Artie walks out to see a single wheelchair in the hall. When he asks Rory - his Christmas guardian angel - if that's his, Rory tells him that it's Quinn's and that after her accident, she never could walk again because she didn't have the support and encouragement from the Glee Club. First Artie is confused, since in his dream, there would have been no Finn and Rachel wedding and therefore no accident. But Rory tells him that in every timeline, she would have been hit. Then when he asks why she isn't in it, Rory tells him that she died of a broken-heart, and that like her body; her spirit never recovered. Artie then smells the single rose that was left on the chair and confidentially sits down.
Quinn is seen dancing with Artie during Raise Your Glass, rolling him around the room. Next Artie is seen to be enjoying watching the Unholy Trinity perform Toxic, but at the end looks angrily towards Biff.
Songs
Sang Together (In a Group Number)
Season One
Song
Episode
Solos with
Time Warp
The Rocky Horror Glee Show
Brittany, Finn, Kurt, Mercedes, Santana (album), and Tina
Marry You
Furt
Brittany, Finn, Mike, Rachel, Sam, and Tina
The Most Wonderful Day of the Year
A Very Glee Christmas
Brittany, Sam, and Tina
Duets
Sang Together (In a Group Number)
Trivia
In an interview, Dianna Agron and Kevin McHale were asked where they saw Artie and Quinn in 5 years. They answered that they would be married (to each other) with a lot of children, living at a duck farm. Source
Strangely, this relationship is built up and seems to exist entirely within Big Brother. No references to their friendship is made in any other episode, and the two share minimal to no scenes together per episode.

Also all their duets (2) were sung in this episode.

Both of their impairments are the result of a car accident, causing them to become paralyzed in the legs and feet (though Quinn was only paralyzed temporarily).
Artie and Quinn were duet partners in Ballad, though their duet was never shown.
Dianna Agron and Kevin McHale wanted Quinn and Artie to date in Season Three. Source
Gallery
v - e - d

Glee Relationships




Character relationship(s) displayed:

Adam

Artie

Becky

Betty

Blaine

Bree

Brittany

Brody

Burt

Cassandra

Chandler

Cooper

Dani

Dave

Elliott

Emma

Finn

Holly

Jake

Joe

Kitty

Kurt

Lauren

Mario

Marley

Mercedes

Mike

Millie

Puck

Quinn

Rachel

Rory

Roz

Ryder

Sam

Santana

Sebastian

Shannon

Shelby

Sue

Sugar

Sunshine

Tina

Terri

Unique

Will