The Artie-Tina Relationship, also known as Tartie or Artina, is the relationship between Artie Abrams and Tina Cohen-Chang. They first began dating in Wheels, the ninth episode of Season One, but she breaks up with him between Seasons One and Two and starts dating Mike. Despite their break-up, they still appear to have remained best friends.
Overview
Tina and Artie both appear to have been friends before joining
Glee Club
, possibly because of their similar intellects. Upon seeing the notice board, Tina helps Artie sign up, because he is in a wheelchair and thus unable to reach the  sign-up sheet. Artie and Tina begin to show a mutual attraction to each other, with Tina having immense respect for Artie being handicapped and yet not letting it stop him from living his life. Meanwhile, Artie feels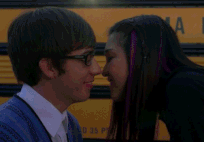 a kinship with Tina, because she was pretending to stutter, and the two become friends.
Artie thinks that they have something really important in common, but after a date together in Wheels, Tina admits that her stutter impediment is fake. This disappoints, upsets, and angers Artie, who then immediately breaks off their relationship and wheels away, leaving Tina alone in the hallway. Afterwards, it appears the two of them have remained friends (although not as close as before as Tina is not seen pushing Artie around in his wheelchair).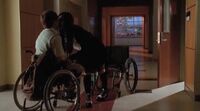 In The Power of Madonna, Artie makes sexist comments towards Tina, which leads to her lashing out at him. Artie later apologizes, and the two make up.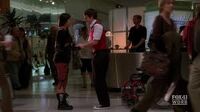 In Dream On, Tina asks Artie to be her dance partner after he reveals that dancing is his dream. Tina tries to help Artie walk and the two research the topic, but find much to their dismay that technology like that won't be available for a very long time. In the end a disappointed Artie pulls out of the performance and tells her to find a new partner. She asks Mike Chang, who is known in the Glee Club for his skills as a dancer.
In Journey, after the glee club loses Regionals, Artie reveals that Tina was the first girl he ever kissed.
In Audition, it is revealed that over the summer holidays, Artie had acted like a terrible boyfriend by neglecting Tina so he can play a weekend long marathon round of Halo. In turn, she dumps him for Mike Chang, which lowers Artie's self-esteem. This inspires him to try and join the football team in hopes of getting abs, and getting Tina back. (Mike is a member of the football team). Coach Beiste rejects Artie at first, but after consideration in later episodes, she let's him join.
Episodes
Songs
Trivia
They are both addicted to Angry Birds.
They seemed to be friends before joining Glee Club because Tina signed Artie up.
They both started dating more popular students after breaking up (Artie dated Brittany and Tina dated Mike).
Both are each other's first relationship.
There were rumors that Kevin and Jenna were dating in real life, but they have both denied it.
Tina is the first girl Artie ever kissed. (Journey)
Dot-Marie Jones (Shannon Beiste) ships it.
Kevin McHale (Artie) stated that he ships Tartie, but also Bartie and Quartie.
They sang at least one line together in every season finale from Season One to Season Three.
Tina still cares for Artie as seen in A Very Glee Christmas, I Am Unicorn, and Frenemies .
They used to go for lunch together every Tuesday when they were dating, and they kept this tradition even after they broke up. (Frenemies)
They're the only two characters so far that have started coming on the show as freshmen. Most of the McKinley students and/or New Directions members started off as sophomores when they came on the show. Sugar and Unique's grades are currently unknown, but they could most likely be sophomores as well.
Both of them have had alternate-reality dream sequences.
Kevin and Jenna are close friends in real life.
They were the longest lasting members of the glee club, since its foundation in Season One until their graduation in Season Five.
Artie did a safety net proposal to Tina.
Their kiss in Wheels was included in Glee's Top 5 On-screen Kisses countdown.
Quotes
"

I would get down on one knee if I could.

"
"

I really admire you, Artie. I had no idea how difficult this was.

"
"

H-H-How did it happen? You don't talk about it much.

"
"

My mom and I got in a really bad car accident when I was eight. She was fine but I've been in the chair ever since. But I want to be very clear.. I still have the use of my penis.

"
"

I think the way I was objectifying Tina may have sent her over the edge.

"
"

My eyes are up here! I am person with feelings, get out of my grill! My growing feminism will cut you in half like the righteous blade of equality!

"
"

From the get-go, Artie and Tina's drama has been more serious as opposed to the superficial stuff of fighting over leads in Glee. I think thats the good thing about the show -- we portray the different kinds of relationships. I feel like Artie and Tina are the Cory and Topanga of Glee. They'll always be together.

"
"

How is that a bad thing? Maybe if we seem more dangerous, people will stop flushing my glasses down the toilet.

"
"

No you sound good, I sound like someone just put tap shoes on a horse and shot it.

"
"

I can't believe I just bought tap shoes!

"
"

Artie, I'm sorry! You're still one of my best friends. I know you know that.

"
Gallery
v - e - d

Glee Relationships




Character relationship(s) displayed:

Adam

Artie

Becky

Betty

Blaine

Bree

Brittany

Brody

Burt

Cassandra

Chandler

Cooper

Dani

Dave

Elliott

Emma

Finn

Holly

Jake

Joe

Kitty

Kurt

Lauren

Mario

Marley

Mercedes

Mike

Millie

Puck

Quinn

Rachel

Rory

Roz

Ryder

Sam

Santana

Sebastian

Shannon

Shelby

Sue

Sugar

Sunshine

Tina

Terri

Unique

Will