Artie Abrams
General Information
Gender:
Male
Age:
19
Hair Color:
Brown
Eye Color:
Blue
Birthday:
1995
Height:
5'7"
Address:
Lima, Ohio
New York
Occupations:
Student at Brooklyn Film Academy
Aliases:
Dr. Y (alter ego)
Professor X, Young Jedi in a Wheelchair, Wheelchair Kid (Noah Puckerman)
Wheels, Stumbles, Legs (Sue Sylvester)
Art, Blue Tooth, Stubbles McCripple-Pants, Four Eyed Loser (Santana Lopez)
Arty Pants (Holly Holliday)
A Hapless Invalid (Public Information Film)

Family & Friends
Family:
Nancy Abrams (mother)
Unnamed father (father)
Relationships:
Tina Cohen-Chang (ex-girlfriend)
Brittany Pierce (ex-girlfriend)
Becky Jackson (one date)
Sugar Motta (ex-girlfriend)
Betty Pillsbury (casual relationship, ended)
Kitty Wilde (ex-girlfriend)
Holly Holliday (crush)
Vanessa (casual relationship; ended)
Jessica (casual relationship; ended)
Julie (one date; ended)
Friends:
Tina Cohen-Chang
Sam Evans
Blaine Anderson
Noah Puckerman
Quinn Fabray
Santana Lopez
Brittany Pierce
Rachel Berry
Kurt Hummel
Mercedes Jones
Finn Hudson
Marley Rose
Ryder Lynn
Jake Puckerman
Kitty Wilde
Wade "Unique" Adams
Sugar Motta
Rory Flanagan
Joe Hart
Other Information
Interests:
Directing, singing, dancing
Clique:
New Directions (formerly)
A.V. Club (formerly)
Education:
McKinley High (graduated) Brooklyn Film Academy
Talent:
Singing, directing
Strengths:
Singing, guitar, rapping
Weaknesses:
Paraplegia
Awards:
H.S. State Football Championship (2011)
National Show Choir Championship (2012)
Series Information
First episode:
Pilot
Portrayer:
Kevin McHale
Naya Rivera (Tina's Dream)
"

I'm never gonna dunk a basketball or kill a lion. I need to focus on dreams I can make come true.

"

—Artie Abrams, Dream On
Arthur "Artie" Abrams is a major character on Glee. He is an alumnus of William McKinley High School, where he actively participated in the school's Glee Club, New Directions until his graduation. He is currently a student at the Brooklyn Film Academy in New York.
It is revealed in Wheels that he had got in a car accident with his mother when he was eight years old, which resulted in him being in a wheelchair. Although he is in a wheelchair, Artie refuses to let that get in the way of his ambitions, such as in Britney/Brittany, when he joins the football team. In Dream On, it is revealed that Artie dreams of being a dancer, despite being paraplegic and hopes to find a cure for his disability. At the beginning of Season Five, Artie started a relationship with Kitty but they broke up some time after he moved to New York. He graduated in New Directions, along with Blaine, Tina, Sam, Brittany, Becky and the rest of the seniors.
He is portrayed by actor and singer, Kevin McHale.
Biography
Personality
Artie is at first glance, a sweet and quiet boy, who simply is trying to get by like everyone else. However, Artie can also be a surprisingly defensive individual when either provoked or when around people who he finds himself comfortable with. It seems that due to his handicap, Artie has, at times, let that define him as a person, feeling that it makes him an outsider amongst others and that the only people who could truly understand him are other with their own forms of handicaps, such as when he thought that Tina really had a stutter. Artie, for the most part however, tries to not let his handicap keep him down emotionally, but he finds it hard when his friends look down at him because of it. When hurt, Artie will often react harshly, such as nearly ending his budding relationship with Tina upon learning she had no real stutter. He also feels deeply about things concerning his disability, such as sleeping with Brittany and then her not really caring. In Glee Actually, this is elaborated further by that he hates the feeling of being helpless when he falls, though he ultimately understands his disability has also been his strength, and assistance here and there is worth it for the insight and opportunities to make a difference, Artie can't help being really sensitive overall, but often tries to hide it, when the New Directions suggested his Dad drove him to sectionals he at first pretended he was okay with it, but in all actuality he wasn't, Artie has spoken up when wholly prompted, though, and especially when it concerns other's welfare, Artie has also been instrumental in helping bring New Directions together on a number of occasions through setting up musicals, dance numbers and films because of how much he enjoys helping and guiding others, though this has made him come off as insensitive or bossy, most notably in the case of his directorial debut West Side Story, but inevitably Artie realises his errors, accounting and apologising for them, Artie tries not to let anything get in his way, he always gives everything his best and honestly just wants to be befriended and accepted.
Relationships
Tina and Artie were friends before joining Glee Club: Upon seeing the notice board, Tina helps Artie sign up, due to his being unable to reach the sign-up sheet in his chair, and after joining Artie and Tina begin to show a mutual attraction to one another, with Tina having immense respect for Artie being handicapped and yet not letting it stop him from living his life, meanwhile Artie, meanwhile, feels a kinship with Tina, because of her stutter, Tina's respect for Artie grows when the able bodied Glee students are made by Mr. Schuester to use wheelchairs, and the two go on a date of sorts, which ends with a kiss, but after the kiss, Tina admits that her stutter is fake, which disappoints and upsets Artie who leaves Tina hanging for a time, however Artie ends up forgiving Tina for lying, and he starts things up again, though initially insisting that if they're going to be an official couple she must change to satisfy his ego, Artie later sees that he was being unfair and sexist so apologises to Tina, telling her she doesn't have to change to please him or be his girlfriend; it's Tina who ultimately ends their relationship for good after she tells Artie he's "a terrible boyfriend," mainly for not having pronounced abdominal muscles like
Mike
, whom she also gets with because he's a fellow Asian, but Artie doesn't hold grudges, and they're basically friends now.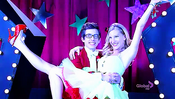 Artie and Brittany's relationship started when Brittany slept with him. Artie is later made to think that Brittany didn't really care about him and was just using him. He finds this especially hurtful since it was his first time and it was significant that he could even be intimate in that way with someone after his accident. Artie then realizes he acted in haste so he gets Brittany back and the two start a real relationship with the help of Puck. Later when Artie hears that Brittany may have cheated on him with Santana, he is so furious that he forgets to verify this and tells Brittany she's stupid for not being able to see that Santana is taking advantage of the fact that their relationship "shouldn't be happening". This makes Brittany very upset and causes her to break up with Artie. Afterwards he attempts to make up with her, but ultimately fails, however Brittany agrees to go to prom with him. Finally Artie decides that he's happy with them just remaining friends.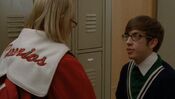 Becky asks out Artie for a date which Artie accepts. He ends up having fun with her, and she can understand what it's like to live with a disability. But then when Becky wants to be in a relationship and invites him over to 'do it', Artie lets her know that he wants to just stay friends in the end though with help from coach Sue.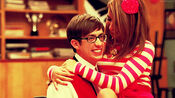 When competing with Rory for Sugar as a Valentine's Day date, Artie performs Let Me Love You, which Sugar enjoys, but Artie loses Sugar to Rory after he performs Home, then in Makeover, it's stated by Artie that Sugar asked him on a date, horseback riding, and Sugar kisses Artie on the cheek during the performance of Heroes as well as asking him to dance for Sadie Hawkins, but the relationship has been abandoned, possibly due to Artie and Sugar deciding a long distance relationship wouldn't work out (the latter appearing to have moved away), but at this point, we can't be sure.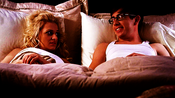 In
I Do
,
Betty
and Artie met in the church shortly before
Emma
and
Will
's wedding, where Artie is disheartened to find that Betty is less than thrilled to meet him, though Artie ultimately charms her when he invites her to dance, and she accepts; they perform
We've Got Tonite
, while entering into the hotel room that Artie reserved, where they sleep together, Betty approaches Artie at his locker later where she tells him he's the best she's had, apologising to for the way she acted at the wedding, Artie asks her out on a date which she accepts, and it's unknown what happens after, but the implication seems to be they had a brief relationship which ultimately didn't work out.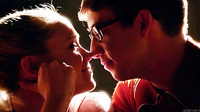 Artie and Kitty appear to be friends after Kitty joins glee club and are often dance partners in performances. Artie is shown to feel attracted to Kitty in Guilty Pleasures. She notices him being depressed in Wonder-ful. He tells her that he got accepted to a movie-school in New York, but isn't planning on going. Kitty then informs Artie's mother, who hadn't known of Artie's acceptance. Artie is grateful for Kitty's help, beginning a close friendship between the two.
They start a relationship in Love, Love, Love. Kitty is eager to keep their relationship a secret, much to Artie and Tina's disapproval. Together, they sing Drive My Car on their date at the carnival, and later they sing You've Got to Hide Your Love Away in response to their feelings about their secret relationship. When being confronted, she explains that she wanted to be sure she really liked Artie before she gave up her popularity by dating a less popular student. She agrees to make their relationship public then, though, in which they share a kiss and officially become an item. They go to Prom together in Tina in the Sky with Diamonds, and are both nominated for Prom King and Queen. In A Katy or A Gaga, Artie asks Kitty if she is comfortable dating someone as different than he is, and in response she kisses him. In New Directions, Kitty is crying as Artie is called up on the stage to receive his diploma. They apparently break up at some point prior to New New York, but are definitely broke up by Tested.
Kitty returns in Season Six when Rachel and Kurt reboot the glee club. In Homecoming, Kitty is bitter about how Artie treated her when he went to college. It is assumed Artie and Kitty made up and are friends again in What the World Needs Now. In Transitioning, they appear very intimate at Rachel's party but the status of their relationship is still unclear at this point.
Songs
Trivia
Gallery
Quotes