Artie Abrams
General Information
Gender:
Male
Age:
19
Hair Color:
Brown
Eye Color:
Blue
Birthday:
1995
Height:
5'7"
Address:
Lima, Ohio
Bushwick Apartment
Occupation(s):
Student at Brooklyn Film Academy
Aliases:
Dr. Y (alter ego)
Professor X, Young Jedi in a Wheelchair, Wheelchair Kid (Noah Puckerman)
Wheels, Stumbles, Legs (Sue Sylvester)
Art, Blue Tooth, Stubbles McCripple-Pants, Four Eyed Loser (Santana Lopez)
Arty Pants (Holly Holliday)
A Hapless Invalid (Public Information Film)

Family & Friends
Family:
Nancy Abrams (mother)
Unnamed father (father)
Relationships:
Tina Cohen-Chang (ex-girlfriend)
Brittany Pierce (ex-girlfriend)
Becky Jackson (one date)
Sugar Motta (ex-girlfriend)
Betty Pillsbury (ex-girlfriend)
Kitty Wilde (ex-girlfriend)
Holly Holliday (crush)
Vanessa (casual relationship; ended)
Jessica (casual relationship; ended)
Julie (one date; ended)
Friends:
Tina Cohen-Chang
Sam Evans
Blaine Anderson
Noah Puckerman
Quinn Fabray
Santana Lopez
Brittany Pierce
Rachel Berry
Kurt Hummel
Mercedes Jones
Finn Hudson
Marley Rose
Ryder Lynn
Jake Puckerman
Kitty Wilde
Wade "Unique" Adams
Sugar Motta
Rory Flanagan
Joe Hart
Other Information
Interests:
Directing, singing, dancing
Clique:
New Directions (formerly)
A.V. Club (formerly)
Education:
McKinley High (formerly) Brooklyn Film Academy
Talent:
Singing, directing
Strengths:
Singing, guitar, rapping
Weaknesses:
Paraplegia
Awards:
H.S. State Football Championship (2011)
National Show Choir Championship (2012)
Series Information
First appearance:
Pilot
Portrayer:
Kevin McHale
Naya Rivera (Tina's Dream)
Arthur "Artie" Abrams is a main character on Glee. He is an alumnus of William McKinley High School, where he actively participated in the school's Glee Club, New Directions until his graduation. He is currently a student at the Brooklyn Film Academy in New York.
It is revealed in Wheels that he had got in a car accident with his mother when he was eight years old, which resulted in him being in a wheelchair. Although he is in a wheelchair, Artie refuses to let that get in the way of his ambitions, such as in Britney/Brittany, when he joins the football team. In Dream On, it is revealed that Artie dreams of being a dancer, despite being paraplegic and hopes to find a cure for his disability. At the beginning of Season Five, Artie started a relationship with Kitty. He graduated in New Directions, along with Blaine, Tina, Sam, Brittany, Becky and the rest of the seniors.
He is portrayed by actor and singer Kevin McHale.
Biography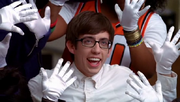 Artie's friend, Tina, helps him sign up for New Directions, due to him not being able to reach the sign-up sheet. For unknown reasons, they did not show Artie's audition (if he had one, which he most likely did). Artie is given the solo in Sit Down, You're Rockin' the Boat with Mercedes, Rachel, Kurt, and Tina, which makes Rachel furious. During the number, Artie is unable to dance or move that much due to his wheelchair. When Rachel tells Will that Artie having the solo is ridiculous, Artie suggests Will is using irony to enhance the performance and Rachel states there is nothing ironic about show choir. Rachel almost rolls Artie off the stage in You're the One That I Want, in which he performs background vocals. Artie appears sad when Will announces he is resigning. Later the football team (including Puck) stuffs Artie in a Port-A-Potty stall, and plans to flip it. Artie is terrified and pleads mercy, but is eventually rescued by Finn, who rolls him back to the auditorium. This annoys the football team. Artie performs background vocals (and guitar) in Don't Stop Believin'.
Artie is seen with Mercedes, Tina, and Mr. Schue practicing runs. He performs background vocals in Le Freak, a disco song he and the rest of the Glee Club hate. He suggests modern music to Will, who rejects his idea. Artie performs background vocals in Gold Digger and is present in a Will-less Glee Club rehearsal in which the club plans to appeal to the school's interest into sex appeal. He performs backgr ound vocals and has a solo in Push It to an enthused audience.
Artie is present at a Glee rehearsal, in which Rachel tells Will his choreography is lame. He is also seen at rehearsal without Will. Artie and Tina clean cars at the Glee Club car wash fundraiser. Dakota Stanley kicks Artie out of the club due to his disability, which led to Tina leaving with him as well. Rachel stops them before they leave and she fires Dakota.
Artie is seen in a Glee Club rehearsal, in which Tina is given a solo. He is seen at another rehearsal at the end of the episode.
Artie is seen practicing with the Glee Club for Invitationals. Artie and the rest of New Directions are skeptical when April Rhodes joins the club. Artie is seen warming up with the Glee Club just before Invitationals, and he performs background vocals in Last Name and Somebody to Love.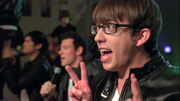 Artie finds out which schools will also be at Sectionals. On discovering that the schools are barely any competition he puts his hand up for a high five from Brittany, who is standing next to him, only to see she had turned around, he puts his hand down sadly. Will tells the club that they will compete in a glee-off between the girls and boys, in which each team must perform a mash-up. According to Artie, the boys planned to beat the girls. The boys decide to perform a mash-up of It's My Life and Confessions. They perform their mash-up under the influence of Finn's decongestant and Artie performs a short solo and background vocals. Artie watches the girls' mash-up. Will is later furious with Artie and the rest of the Glee Club when he finds out about the performance enhancers Terri provided.
Sue steps in as co-head of the Glee Club. She tries to make Mr. Schuester look insensitive to minorities by taking Artie and other minority students into her 'elite Glee Club. Artie performs background vocals in Hate on Me and Ride wit Me. Artie storms out of the auditorium with the rest of the Glee Club after Sue and Will argue, and performs background vocals in Keep Holding On.
Artie, Tina, and Mercedes avoid Dave Karofsky in fear of being hit by a slushie. Will suggests a mash-up with Bust a Move to the Glee Club, and Artie performs background vocals (and bass) in the song when Will begins singing it. Artie is present at Puck's performance of Sweet Caroline and throws a slushie at Will with the rest of New Directions.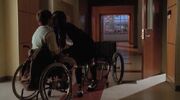 When the group makes plans for Sectionals, Will discovers that the school won't give him a bus capable for Artie's wheelchair. When he informs the group that they need to raise money, the other students are unconcerned, saying that Artie can just ride with his dad. This visibly hurts Artie's feelings. He later sings Dancing with Myself. Disappointed at the New Directions behavior, Will forces the kids to raise the money with a bake  sale, and to ride in wheelchairs for a week to see how difficult it is for Artie to spend his whole life in a wheelchair.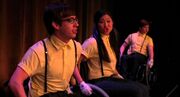 Artie tells Tina that he was in a car crash when he was eight years old. While his mother who was driving the car was fine, Artie was left paralyzed from the waist down (although he still is capable of using his penis as he tells Tina). Artie falls for Tina because he feels connected to her because they both have disabilities (Artie's paraplegia and Tina's stutter). They finally have a date together which ends in wheelchair drag races down the hall. After losing to Artie, Tina kisses him. Afterward, Tina confides in Artie her stutter is fake, something she created to not have to do an oral report in grade school. Artie is hurt by the lie and claiming that the connection he thought they have is a lie, breaks off the relationship, much to Tina's disappointment. He performs solos and background vocals in Proud Mary, a special wheelchair number in Artie's honor.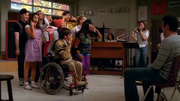 Artie is partnered with Quinn for the ballad assignment and watches Rachel and Mr. Schue's cover of
Endless Love
. Artie sings a solo and background vocals in
Lean on Me
, a ballad dedicated to Quinn and Finn about Quinn's pregnancy.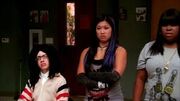 Artie is present at a glee rehearsal. Artie is given a wig and the Glee Club learns hairography. He performs solos and background vocals in Hair/Crazy in Love, Imagine, and True Colors.
Kurt tells the Glee Club that having a glee yearbook photo would be embarrassing. Artie votes for Rachel as team captain, and refuses when Rachel asks him to be her co-captain. The club is cast in a Mattress Land commercial, in which they perform Jump. We see Artie out of his wheelchair for the first time during the performance. They are all sad when Will is disqualified. Artie is seen getting ready for the Glee Club yearbook photo, and taking the photo with the club. The picture is later defaced and vandalized by Dave Karofsky. Artie receives a solo in Smile. 
Artie goes on party line with Mercedes, Tina, Kurt, Brittany, and Santana after Rachel notices that both Finn and Puck help Quinn get up when she slipped and begins to theorize that Finn might not actually be the father of Quinn's baby. The others already knew this was true, but had not told Rachel for fear of her telling Finn. As such they discuss their chances at Sectionals, and their worry that Rachel may tell Finn that Quinn's not having his baby. Artie is seen at a Glee Club rehearsal where the club discusses their set list. Emma Pillsbury is appointed as the new Glee Club head and Mercedes performs And I Am Telling You I'm Not Going. Artie is seen watching Finn punch Puck, and later being loaded onto the special sectionals bus. The club is concerned when the Glee Club has the last performance slot. They watch Jane Addams Academy and Haverbrook copy their set list and are shocked and worried. Artie rams himself into a wall repeatedly in frustration and worry when the New Directions meet in the greenroom. Finn returns and the club figures out what to perform. Artie performs background vocals in You Can't Always Get What You Want, and is shown listening in on the judges during their verdict. Despite the behind-the-scenes c onflict, McKinley High wins sectionals. They later perform My Life Would Suck Without You for Will, in which Artie performs background vocals.
Artie's response to answering the phone is "Who dis be?" and he performs background vocals during Gives You Hell and Hello, Goodbye.
Artie is very disrespectful towards Tina, but forgives her for lying about her stutter and says the only way they can be together is if she changes her gothic appearance. This angers Tina who later angrily confronts him which surprises him. Later he apologizes to Tina who gets emotional thinking he hates her, but they kiss and make up. He performs a solo and background vocals in What It Feels Like For A Girl and background vocals in Like a Prayer.
Artie performs background vocals in Home and joins in while Mercedes sings Beautiful.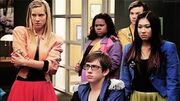 Artie, along with Kurt, Tina, Mercedes, and Brittany, is angry about not being on the glist (except Brittany who was angry because she was fourth) so they decide to cause havoc in the library by performing U Can't Touch This in which he performs lead vocals. They still don't get put on the glist after the performance. Artie then tells Kurt to admit it was them that put Coach Sue's rendition of Physical on the internet. He is only one who doesn't dance in Ice Ice Baby because of his disability.  
Artie is seen though the episode in the background. He also sings background vocals in One.
Bryan Ryan asks the Glee Club to write down their biggest dreams on a sheet of paper. He takes
Artie's, crumples it, and throws it in the garbage as an example that their dreams will
never
happen.
Tina
admits that she looked at his paper and read that his biggest dream is to become a dancer. Tina really wants to help Artie fulfill his dream and wants to perform a dance number for an assignment. They practice a soft shoe number with taps on Artie's wheels. Artie tries to stand after 8 years in a wheelchair and after a few steps, falls. Embarrassed, Artie blames Tina for encouraging him. Later, Tina apologizes. She said she has done research to cure Artie's condition. She tells not to give up hope. While at the mall, Tina leaves to buy a snack. Artie imagines himself dancing in flash mob singing
Safety Dance
.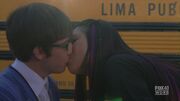 Artie asks Emma to help him cope during the processes for him to walk. Emma looks at the research papers and tells him that he won't be able to walk for a really long time. Emma can see how disappointed Artie is at the news. Later, Artie tells Tina that he is okay with the fact that he won't be able to walk again and that he'll work on a dream that he can actually make come true. Tina ends up dancing with Mike Chang. During the dance Artie sings Dream a Little Dream.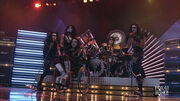 Rachel comes into the music room with news that Vocal Adrenaline is doing Lady Gaga. Along with Kurt, and female members of New Directions, Artie is worried. When Will announces that they will be doing Gaga too, Artie seems happy, but when Finn confronts Schue about the guys doing KISS, Artie's on board. Artie is seen watching the girls perform Bad Romance and, later, he sings Shout It out Loud. He later sings Beth when Puck suggests a name for his and Quinn's daughter. He also defends Kurt from the football players.
Artie is down after Jesse's return to Vocal Adrenaline. He is also seen watching Vocal Adrenaline sing Another One Bites the Dust, and sings background vocals in Give up the Funk. 
Artie and the gang are depressed that Sue will be judging at Regionals. New Directions will be disbanded if they don't win. He is also seen at Mr. Schue's party celebrating New Directions' first birthday. Artie sings background vocals in New Direction's performance of various Journey songs. When the judges announce that they lost, Artie says "We didn't even place," in a depressed tone of voice. Before singing To Sir, With Love, everyone including Artie reveals what they before Will and the Glee Club. Artie said that a year ago he never even kissed a girl. When Will tells the club that Principal Figgins is letting the Glee Club run for one more year, Artie is seen cheering. He watches Will and Puck's performance of Over The Rainbow. He also holds hands with Tina and looks at her lovingly.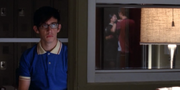 Tina breaks up with him because she fell in love with Mike Chang and because he hasn't been an attentive boyfriend. Artie is desperate, and asks Finn to help him to get on the football team, in hopes that Tina will like him again if he'd be more like Mike. Finn is unsure at first, but he finds Artie's idea of him being like a human battering ram great and agrees to help him. However, upon seeing Artie, Coach Beiste accuses Finn of trying to make her seem like a monster when she has to reject a disabled student and kicks him out of the team. He is also seen sadly watching Tina and Mike dance, and rapping in Billionaire.
Artie agrees with Kurt on the idea of doing Britney Spears that week. When Emma's boyfriend, Dr. Carl Howell, comes to teach the kids proper dental hygiene, Artie learns he doesn't take care of his teeth. He states that he could possibly take care of them better if he could see himself in the mirror. At his check-up, he has an anesthesia-induced "Britney" dream of Britney Spears herself telling Tina that she's stupid for dumping Artie for Mike. She begs him to come back, but Artie says he's stronger without her. Following this, Artie performs Stronger with the football team. After the visit, we see Artie is more confident. Later, Beiste allows Artie to join the football team, fulfilling his dream.
Artie scores a touchdown at their schools football game after Finn wishes that they would win the football game for Artie. Artie is seen watching Mercedes' performance of I Look to You, Finn's version of Losing My Religion, and Puck singing Only the Good Die Young. He also sings background vocals in One of Us. Also he is seen a few times rolling his eyes at Finn's revelation and he looks sympathetic towards Kurt.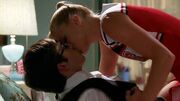 Artie is still trying to get over Tina. Brittany admits having feelings for him, and they start going out. Tina says that she wants to sing a duet with Artie because Mike refuses to, but Artie tells her that he is going out with Brittany. When Artie is at Brittany's house, Artie tells Brittany that he can't continue the relationship as he is not over Tina. Brittany has sex with him in hopes that it helps him get over Tina, thus losing his virginity. When he finds that the sex meant almost nothing to Brittany, according to Santana, he becomes upset. He tells her that he feels that she was using him for his voice to gain an edge in the competition. Brittany is astounded by what Artie said and tries to save the relationship by saying that she specifically wanted to go to Breadstix with Artie and re-enact the scene from The Lady and the Tramp and she has been practicing nudging meatballs with her nose. He then says that since he lost the use of his legs, no one was sure if he would be able to have sex. When they found he could, he felt it was like a miracle and Brittany's nonchalant attitude towards it ruined that feeling for him. Brittany apologizes saying she had no idea how much it meant to him, but he ended the relationship anyway and pulls them both out of the duets competition. We see Brittany really liked Artie because she is seen sadly watching as he passes by in hallway with Finn. She is also seen alone at Breadstix moving a meatball with her nose. Even though he didn't compete in the duets competition, Artie still voted for himself to go to Breadstix.
Will told the kids that will perform a play of The Rocky Horror Picture Show. Artie played Dr. Scott and a Transylvanian. Artie is also present at Dr. Howell's audition of Whatever Happened to Saturday Night?. Artie also sings background vocals and gets two solos in The Time Warp. Artie and Brittany seem fine after their break-up because they showed no sign of anger towards the other.
Artie is being scolded by Coach Beiste to wear a cup on the field which leads to Sam finding his 'mailman'. Puck tells Artie that he is his community service. Puck helps Artie to become cooler, first, by telling him to sing for profit. They sing One Love (People Get Ready) together. Later, Puck teaches him how to get Brittany back by acting mean to her. The boys double date with Santana and Brittany. While at Breadstix, Artie pretends that the waitress is into him, even though she is way older than him. While at dinner, Brittany hits on him. After the meal, Puck and the girls plan to ditch the bill. Artie does not follow through, and pays anyway. Puck becomes angry because he taught Artie his secrets and he still doesn't do it. After Puck has a fit in Principal Figgins' office, Artie comforts him and says that since Puck taught him some new tricks and that he will tutor him in geometry. The two have solos in Stop! In the Name of Love/Free Your Mind.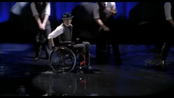 Artie enjoys Holly Holliday's care-free, modern teachings, but helps the others in getting Mr. Schue's job back. While Will hallucinates, we see Artie as a child, still sitting in the wheelchair. He is present at Rachel's and Holly performance of Nowadays/Hot Honey Rag. He sings background vocals and has solos in Forget You and Singing in the Rain/Umbrella.
While at Rachel's "Girlfriends of Football Players Intervention" meeting, Brittany tells Tina that she is indeed dating Artie. Artie and Mike stand up to Karofsky in a two-man intervention. Karofsky loses it, causing Artie to flip over and Mike helping him. Artie is present at Burt and Carole's wedding. He has a solo in Marry You. He dances with Brittany during Just the Way You Are. He is seen being upset when Kurt decides to leave McKinley for Dalton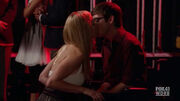 Artie and Tina believe that Brittany and Mike are cheating on them with each other. When Brittany believes she'll fail at sectionals, Artie gives her a magic comb to help, even though it was just an old comb he found before meeting her. When Artie tells Brittany that she is guilty of "adultery" (a puzzling use of the word later revealed to be a setup for a blonde joke) runs off. Rachel, Artie, and Tina refuse to go on because of their relationship problems. Later, Brittany tells Artie that she thought he meant "a-dolt-ery," meaning she is stupid for losing the comb. They forgive and kiss
Artie and New Directions try to reinforce Brittany's belief in Santa Claus. Her wish to Santa is that Artie can walk. Artie freaks out because Brittany will be sad if Artie can't walk on Christmas morning. The two are seen happily singing in The Most Wonderful Day of the Year. Later in the episode, Brittany becomes depressed when, the night before, "Santa" told her that Artie will not walk this Christmas and she needs to have patience. When Artie takes Brittany home because she isn't feeling well, they find a gift. When Tina and the gang comes back from caroling, they find Artie walking. This is accomplished after he received an expensive piece of technology, the ReWalk, from an anonymous "Santa." Brittany's Christmas wish—and Artie's dream—came true. However it has now been revealed that the ReWalk broke shortly after.
Artie was present during the football game and witnessed the fight between Finn and Karofsky. Later, the entire football (minus the ones in Glee Club) cornered him with red and orange slushies. Artie isn't supportive of Mr. Schue and Coach Beiste's decision to let the football team be in Glee club. He watches Puck and Rachel sing Need You Now. He practices "Zombie 101" with New Directions and the football team and sings background vocals in She's Not There. Later, when most of the hockey team shows up with slushies, he cowers behind Finn, but gets slushied anyway. Later in the episode, when most of the team quit, he plays football with Mercedes, Rachel, Tina, Lauren, and the rest of the guys. During half-time, he has a huge solo in Thriller/Heads Will Roll. When Karofsky and the rest of the players come back, he sits out during the second half. He celebrates when the Titans win the big game.
He attends Glee Club and receives the assignment to sing their favorite song. Artie sings P.Y.T (Pretty Young Thing) with Mike to Brittany. Artie sings background vocals in Fat Bottomed Girls and can be seen at Breadstix (with Brittany) during the Warblers' performance of Silly Love Songs.
After he sees how the girls react to Sam singing Baby, Artie along with Puck and Mike want to join Sam's one-man-band, The Justin Bieber Experience. Artie has lead vocals in Somebody to Love. During Lauren's first solo performance of I Know What Boys Like, she imagines Artie in his boxers and traps his face in her breasts. At the end of the episode, Artie sings background in Sing.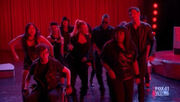 Artie, Brittany, Mike, and Tina want to leave Rachel's lame party before they all start to drink, saying that they made dinner reservations. Through the entire episode, Artie seems to be one of the drunkest and thoroughly enjoys the party, throwing money at a stripping Brittany, saying "Makin' it rain! Yeah, that's my girlfriend! I love you baby!" At one point, Artie wears Brittany's pink sweater and hat while she was wearing his glasses. The next day, Artie recommends some Bloody Marys to the group for their hangover and sings Blame It (On the Alcohol). Later, Artie has a small solo in Tik Tok. At the end of the episode, Artie is present during Mr. Schue's rant about them drinking.
Brittany tells Santana that she is pregnant. Santana tells Tina, who tells Puck, who tells Lauren who finally tells Artie "Congratulations! Oh, you don't know? Your girlfriend's preggo! You're gonna be a baby daddy!" In the choir room, Artie is truly shaken by the news and admits he's not ready for a child and questions on how to support it. Mr. Schue asks Brittany if she really is pregnant and if she had it confirmed with a doctor. She tells him that she doesn't have to be sure; there was a stork building a nest on her property. Luckily, she actually isn't pregnant. Artie can be seen singing along, and slightly enjoying/ flirting, to Do You Wanna Touch Me (Oh Yeah) with Holly. After Landslide, Sam tells Artie that he wishes that he was as close to Artie as his girlfriend (Santana) is to Artie's. While present during Afternoon Delight, Artie looks very confused. Later in the episode, Artie can be seen with Brittany at Rachel's celibacy club.
Artie at first rejects the idea of doing original songs for Regionals, but when Quinn sides with Rachel, he and everyone else agree. He is present during Santana's Trouty Mouth, Puck's Big Ass Heart, and is seen singing along to Mercedes' Hell to the No. He sings background vocals in Loser Like Me. He is excited when New Directions wins. He also votes for Rachel as the very first Glee Club MVP.
It is revealed that Artie, (along with Tina, Brittany, and Mike) are members of McKinley High's Academic Decathlon Team, a.k.a. the Brainiacs, which is preparing for finals although they cannot afford the trip. Will sympathizes with them and promises to help raise money to support the team. Holly gives him the idea to perform a concert as a fundraiser for the "neglected" Decathlon Team. After Tina is heckled off stage, Artie proposes cancelling the concert, but Will refuses to. When Mercedes performs Ain't No Way, Artie is seen happily watching her. Later, the Academic Decathlon Team is shown competing and the score is tied. The final questions' category is "Hermaphrodite Nazi Sympathizers." Artie and Brittany smile at each other, implying they are going to know the answer. They win the Decathlon.
Artie's shirt says "Four Eyes," referring to the fact he wears glasses.
Artie seems upset during
April
's rendition of
Dreams
. He later confronts Brittany on whether or not she is cheating on him with Santana. She says that since Santana's a girl, it doesn't count (according to what Santana told her). Artie becomes frustrated and exclaims: "God, Brittany! Why are you so stupid?" Brittany walks away crying and hurt, revealing that he was the only person in school who hadn't called her that. Feeling bad, Artie sings
Never Going Back Again
with Puck, Sam, and Finn on guitars. Throughout the rest of the episode, Artie is quiet, looking up at Brittany sadly. He is present during Rachel's
Go Your Own Way
, Finn and Quinn's
I Don't Want to Know
, and sings background vocals in
Don't Stop
.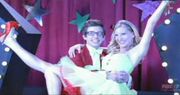 Artie wore a red tux and is seen hopeful when Brittany states that she doesn't have a date to the prom. Artie declines Puck's offer to spike the punch bowl; but, after his failed attempt to win Brittany back by singing Isn't She Lovely in her Home Ec. class, he agrees. After performing Friday, Puck tells Artie to pour gin into Sue's beloved punch bowl now. While Artie was spiking the punch, he is caught by Sue. After Sue interrogates him, and threatens to pull out his molars, saying: "No, I'm just going to attempt to give you a simple cleaning," Artie admits that all he wants to do is to dance with Brittany once and that he didn't actually spike the punch with alcohol, but with lemonade. Sue releases him because he was "no fun to interrogate" and didn't rat Puck out. Later that night, Artie can be seen dancing with Brittany to Dancing Queen and taking pictures with her.
Artie is seen during the ceremony and sings alongside New Directions when they are singing Pure Imagination for Sue's sister Jean.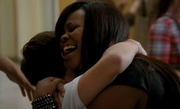 Artie arrives in New York with New Directions. He is seen buying three hot dogs while performing I Love New York/New York, New York and later performs My Cup with Brittany. Artie is present at the competition and sings a solo on Light Up the World.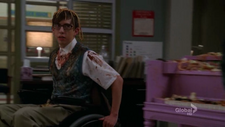 Artie is present when Mr. Schuester tells the kids about The Purple Piano Project. Later, he is seen at the cafeteria with the rest of New Directions and sings background vocals in We Got the Beat. He is a target during the food fight, and returns to the Choir Room afterwards with the club, very depressed and dirty. At the end of the episode, Artie is seen singing in the background of You Can't Stop the Beat, although he gets a duet with Kurt that is not shown on television.
Artie is present when Will tells the Glee Club that he will not be directing the school musical. When Mr. Schuester asks Artie, after Coach Beiste and Emma show up, if he would like to direct William McKinley's adaption of West Side Story, he is hesitant, but eventually says yes. Artie can be seen judging through Kurt's audition of I Am the Greatest, Rachel's version of Somewhere, and Blaine's Something's Coming.
Artie is present at Mercedes' audition for the role of Maria when she sings Spotlight. He is also seen during Mike's audition song Cool. Artie is also seen during Rachel's and Mercedes' Ultimate Maria-Off, where the girls sing Out Here on My Own; when he, Shannon, and Emma tell Berry and Jones that they will both play Maria; when Mercedes quits; and when he is posting the list of students who will be West Side Story. He sings background vocals in Fix You at the end of the episode.
Tina asks Artie why he didn't just give the role of Maria to Mercedes. Although Artie misses her, he says could not give the entire role because it would undermine his artistic credibility. Artie can be seen in the background throughout the entire episode, especially when Blaine sings Last Friday Night. Later on, Artie is seen during Rory Flanagan's rendition of Take Care Of Yourself. He is later seen with Mike and Tina when they attempt to say hello to the former members of New Directions, Mercedes, Santana, and Brittany.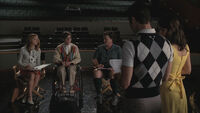 The episode begins with Artie's voice-over as he talks about his position as a director of McKinley's production of West Side Story. He muses over how much power it gives him, even over stuff he knows nothing about. We see Rachel trying to find the 'right' dress for Maria and Artie being difficult. Later Artie rolls up to Coach Beiste, who is welding a part of the set for the musical. Artie jumps right to the point and asks why Coach Beiste was so uncomfortable while he was confronting Blaine and Rachel. She admits to being a virgin, even though she has her sights set on Cooter Menkins. She says that it doesn't matter if she has interest in anyone, as she believes they could never like her back. Next time we see Artie, he is seeking out Cooter. They go to the set of West Side Story and Artie demands to know whether he likes Coach Beiste - he says that he does, and that he had asked her out, but she refused every time. Artie tells him to ask her out again, but this time, be obvious. We next see him at the opening night of West Side Story, Artie rolls by and talks to them briefly, but quickly leaves as his own nerves kick in. He tells Miss Pillsbury that he doesn't know what he's doing and he did everything in the play wrong. It is just then that the cast confronts him - he is scared, but they actually thank him - they say the entire show is thanks to his hard work and that they couldn't have done it without them. He gives them a small pep talk before the scene changes to Finn throwing his fists into the shower walls while he is still fully clothed, crying as the water runs over him.
Artie is not a heavily featured character, with the episode focusing mainly on Santana and Finn. He is seen taking part in the New Directions mash up of I Can't Go For That/You Make My Dreams and in the dodgeball match. He is also seen looking shocked after Santana slapped Finn at the end of Rumour Has It/Someone Like You.
Artie is again not heavily featured and the episode focuses mainly on Santana again. Artie backs up Finn in the song Girls Just Want to Have Fun, he is also seen during the other numbers in the Choir room.
Artie is seen having fun during Red Solo Cup and seems to be excited to have Sam back at McKinley. He is also seen in the Choir room when Sam and Blaine start fighting over dance moves and whether they want to use 'Sex' in their dance numbers. Artie is also seen in the choir room, prior to sectionals. Artie sings solo's in the New Directions performance, giving his vocals in Control and Man in the Mirror. Artie cheers with the New Directions as they take first place at Sectionals. He is taking part in the song We Are Young and lets Sugar jump onto his chair to bring her into the group.
Artie is seen taking part in All I Want for Christmas Is You. He is next seen in Sue's office with Kurt and Blaine as she asks them to help volunteer at a homeless shelter on Friday night. The boys are confused about why she wants to help homeless people, having said she doesn't believe in them and called them 'urban campers'. She reveals to them that she doesn't want to spend Christmas by herself as it is the first Christmas after her sister died, wanting to keep occupied. Kurt tells her that they are happy to help, and she then kicks them out of her office. Artie is later asked to direct the Glee Club's Christmas Special, he is talking with the Manager, him stating how proud he is to have a disabled boy directing the special, accidentally comparing him to 'Tiny Tim' to which Artie replies with saying he will ignore that in the spirit of Christmas. He tells the manager that he has two demands, the first one coming from a dream with Chewbacca saying it's not Christmas without him, linking to a Star Wars special in 1978, and the entire show is going to be in black and white linking it to 'Judy Garland Holiday Special'. He agrees to as long as he can produce it without going over $800.
In the April Rhodes Civic Pavilion, Rachel begins to sing River in what seems to be an audition to be in Artie's holiday special. When she finishes Artie calls her over and tells her that it was too depressing and didn't relate to his vision of the holiday special which is full of cheerful songs, with Rory dressing as Itchy the Elf and reciting a happier version of 'Frosty the Snowman.' Sam finds this not true to what else makes Christmas special which is remembering what's really important and tells him he doesn't want any part in it and asks Rory to come with him as he leaves to which Rory replies, "I should memorize my part, Sam'. Blaine and Rachel perform Extraordinary Merry Christmas, wanting to impress Artie so she gets a big part in the show. He is seen enjoying the performance, and agrees to put it in the show.
Artie's Christmas Spectacular goes extremely well. The holiday spectacular begins in 'Star Wars' style, showing each and every one of the members of the club, excluding Sam and Quinn. Blaine sits at a window watching as the snow comes down and he and Kurt begin to sing Let It Snow. When they finish they notice 'guests' and welcome them into their home and begin to act cheesy. Rachel and Mercedes then enter with gifts. Mercedes gives Kurt a necklace which he was bidding for during the show. Rachel gives Blaine a bow tie with Christmas trees and candy cane striped pants. They then begin to sing My Favorite Things. After Blaine points out that if the snow continues that Santa Claus won't be able to deliver their presents. They hear jingle bells and they open the door to reveal Puck and Finn in Star Wars outfits, making sure that they aren't purposefully dressed as Star Wars characters. They begin to sing Santa Claus Is Coming To Town. When they finish the doorbell rings and Brittany, with Tina, Mike, Santana and other Cheerios, sings Christmas Wrapping. They hear another bell when Brittany finishes, Rory enters dressed as Itchy and tells then that instead of reading Frosty he reads verses from the Bible, reminding the club what Christmas really is. Artie later comes in to the homeless shelter and performs Do They Know It's Christmas? with the rest of the New Directions.
Artie is eager to prepare a number for the assignment Will gave to the Glee Club (help him come up with a proposal number for Emma). He asks Sugar if she'd like to work with him, but she declines, so Artie prepares the number by himself. He suggests a song, Moves Like Jagger/Jumpin' Jack Flash, for the proposal, but Will thinks that moving so much and thus getting sweaty during that song would turn Emma off, and so he decides against it. He later demands from Will to make a decision on which song he wants to sing instead. When the Glee Club finally settles on We Found Love for the proposal, he is involved in the number. Whilst the fellow Glee Club boys jump into the pool from the pool edge, Artie rolls into it including his wheelchair. He then gets lifted onto an inflatable chair where he spends the rest of the performance.
Meanwhile he gets asked out on a date by Becky Jackson, who feels connected to him since they are both handicapped. Artie thus takes her to the The April Rhodes Civic Pavilion to watch him how he performs Moves Like Jagger/Jumpin' Jack Flash. He says that he doesn't want to go out with her after that, because he had only promised her one date and considers taking her to watch his performance that one date, but Becky manages to persuade him to go eat with her at Breadstix.
On one of the following days he gets confronted by his fellow Glee-Club, who say that they aren't okay with him dating Becky since she is Sue's protégé. Artie thus accuses them of not being accepting and defends the girl, stating that he likes her, that he had a nice time with her, and that he admires her for having a positive view of life despite being born with a disability.
Becky hunts Artie down the following day and asks him to come to her house the following Friday, since she wants to take their relationship to the next base. She adds, that, as a foretaste, she sent him certain stuff. After the girl leaves him, he checks his mobile phone, only to find obnoxious stuff on it. Disenchanted by this, Artie goes to see Sue Sylvester for advice. The cheerleading coach tells him, that if he doesn't want to be with Becky anymore, he should tell her the truth, since the girl won't be able to move on unless he does so. Following that piece of advice, Artie talks to Becky and tells her that he doesn't want to be with her and can only imagine being friends with her at the most, hence leaving Becky very sad.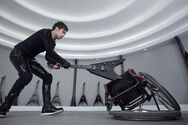 Artie is revealed to be an avid "Michael Jackson" fan. He recounts how he spoke his first words while watching Michael Jackson do the "moon walk" and swears his admiration to the king of pop again the following day in the choir room. When New Directions have a Diva-Off against the Warblers, he sings lead vocals to Bad.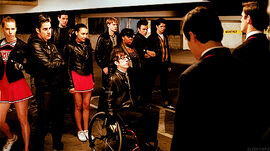 He is among the people who are most offended when
Sebastian Smythe
pours a slushie into Blaine's vision. He explains that he is having these outbursts because he is sick of them being treated in such a fashion. He wants to take revenge on
Sebastian
so badly, he even considers using violence. He doesn't even let himself be calmed down by Will, who tries to convince his pupils that violence is not a solution. This is followed by a dream-sequence in which Artie wants to know from his mates who shares his opinion. Mike stands up for that matter, and so does Artie out of his wheelchair. Together they perform
Scream
. He is later revealed to have worked together with Santana. While the latter had visited the
Dalton Academy
to confront
Sebastian
, Artie had a recorder prepared in her bra, which enabled them to tape the confession which Sebastian made about preparing the slushie that hit Blaine with rock-salt. He hopes to get Sebastian expelled from his school that way, though this doesn't happen, because
New Directions
agree on beating him fair.
He does however confront Sebastian with the others later. They explain to the Warblers, that they aren't going to do Michael Jackson songs for Regionals. When Sebastian laughs at them, he explains that there is more to "doing" Michael Jackson than just singing his songs and that he can't do it. In an attempt to show how it really works, he sings Black or White.
Artie can be seen performing as a torero in the beginning during class. He next thing is present when Sue asks the New Directions Boys who'd like to father her child, though she immediately counts Artie out because he's in a wheelchair. Thereupon he angrily explains that he wasn't born with the handicap. He later engages in the choreography to Bamboleo/Hero.
Artie's crush on Sugar is further explored. As soon as she announces that she is having a party at Breadstix where she only wants people to attend with a date, he immediately plans to make Sugar his date. When Rory announces that he has the same purpose, Artie tries to make him back off, declaring that he wants the girl for himself and Rory shows a four-leafed clover. Over the next couple of days he makes several attempts to make Sugar his date. First thing, he presents her with a candy heart, but Rory outmatches that gift with a bag full of candy hearts. At his second attempt, he outbids Rory, who had a heart pillow saying "BE MINE" by making heart-shaped confetti rain on top of the girl when she opens her locker. At last he tries to win her by presenting her with a toy-puppy, but Rory does better once more when he gives her a real puppy.
Since things look rather bad for him now, he tries to win Sugar over with a song, and performs Let Me Love You with the New Directions Boys backup for her. Impressed by the song, Sugar shows him his affection by hopping on his lap and asking him to roll her to class, indicating that for now she wants Artie to be her date. Artie, however, loses to Rory in the end, when the latter manages to gain her pity by singing Home and whining in front of the entire Glee Club, leaving Artie without Sugar or a date. He can be seen staring heartbroken at Sugar and Rory during the "Sugar Shack."
Artie can be seen with the New Directions while they are discussing Sebastian's blackmailing, whilst they are performing at Regionals and waiting for the wedding ceremony at the end. He's there when the group discusses David Karofsky's suicide attempt. When Will asks the New Directions what they are looking forward to in their lives, he says, that it's his dream to see his children take their first steps.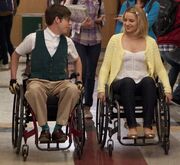 Artie helps Quinn come to terms with her new situation, which is being  stuck in a wheelchair. When Finn and Rachel reunite with Quinn for the first time after her accident, Artie is by her side and seems to have become friends with her. After talking to them, Quinn prompts him to roll to the choir room with her, where they perform I'm Still Standing. After the song, Quinn remarks how her dance moves in a wheelchair aren't as smooth as Artie's yet whereupon he encourages her that they will be at some stage. Later on, he practices using the wheelchair ramp with her. Quinn thinks at first that she is unable to drive up the slope, but with Artie's encouragement, she does manage it. Afterwards, he invites Quinn to spend senior ditch day with him instead of the other seniors, saying that going to an amusement park when you're sitting in a wheelchair can be frustrating, which Quinn accepts. She even prefers doing things with Artie, although Finn wouldn't have minded taking her along with him and the others. So together they go to a skate park, which is, as Artie explains, the place where wheelchair bound kids spend senior-ditch day. Together they perform Up Up Up at the rink, while they drive around making stunts. When Artie remarks that Quinn has spent time with people in the same situation as she is in, Quinn denies it saying that she is only temporarily paralyzed. Thereupon Artie tells her that she should stop denying that she might be debilitated for the rest of her life, causing an argument. Quinn announces that she isn't him, that she isn't changing her plans for the future, and that she's going to walk again one day. She leaves Artie's last question ("And what if you don't? When are you going to stop resenting that this isn't really happening to you?") unanswered.
Artie participates in the dancing competition, whose winner is rewarded with a suit similar to that John Travolta wore in 'Saturday Night Fever'. When the sex tape of Santana and Brittany appears on the internet, Artie says to Santana's face how much he enjoyed watching it.
Artie seems to be profoundly enjoying the performances of I Wanna Dance with Somebody (Who Loves Me) and So Emotional. Towards the end of the show, he is seen first with Mercedes performing My Love Is Your Love and is later joined with the rest of the New Directions.
Artie is part of the group that wants to try and bring back Puck to McKinley to help him pass his test and graduate. When Finn explains his plan to the others, Artie's role was meant to be "The bait." He was meant to roll into a pool with his wheelchair to distract Puck, but since the latter walked through the door that very second, it never happened. Artie then agrees to help Puck study for the test he needs to pass in order to graduate.
He can be seen later on studying with the others in the middle of the night, and tells them not to give up because they still have 9 hours to study. He bursts into the performance of The Rain in Spain together with his friends and pulls their attention back to the subject material after the song is over. He is also there to confront Puck after he takes his test and is one person to receive thanks from him.
Artie attends the prom, but doesn't play a major part in it. His only time in the spotlight is when he performs What Makes You Beautiful with Sam, Rory, Mike, and Joe. He gets lifted out of his wheelchair by Sam when the group receives applause from the attendees. He presumably hangs out with Rory and Joe throughout the prom since he can be seen dancing and taking a picture with them. When Puck announces that he is going to attend Rachel's anti-prom, he wonders what happened to his plan to spike the punch with alcohol, for which he almost lost his teeth the year before.
Artie insults Tina as Rachel in the persona of Santana, sarcastically hoping that she doesn't choke on her solo rehearsal like she did on her NYADA audition. He enjoys Tina-as-Rachel's Because You Loved Me and kissed Mercedes-as-Brittany when Tina-as-Rachel performed that song. After Tina is pulled from the fountain, everything is back to normal. He is shown enjoying Rachel and Tina's Flashdance... What a Feeling on the bus, sung before they set off, ready to take on Nationals.
Artie is shown dancing and singing on the competition, and he's really happy when they win Nationals. He doesn't dance on the first part of
Paradise by the Dashboard Light
performance. And after that, with the rest of the club he sings
Tongue Tied
and also sing
We Are The Champions
to Will.
Artie is singing Sit Down, You're Rockin' the Boat when Will enters the choir room, re-performing the first song the glee-club had practiced. Afterwards, he defends the song against Santana, who jokingly said that the song is "ghetto." He also attends the final week of the school year. He is present when the seniors perform You Get What You Give to the juniors, sophomores, and freshmen, and Rachel, Mercedes, and Quinn share major interaction with him thereby. When it is the non-seniors' turn and they sing In My Life, he announces that the song is a "thank you" to Finn because he sacrificed and plead himself for them so much. Artie is present with the other underclassmen at graduation cheering on his friends that graduated. He also is at the station in the final scene when the New Directions bid farewell from Rachel.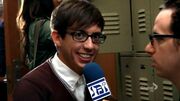 Artie is seen being interviewed by
Jacob
in the beginning of the episode, and it reveals that Artie had been seen sitting with the
Cheerios
at lunch, most likely meaning that he was a part of the popular crowd. When interviewed again with the rest of New Directions, he also responds "I am" when Jacob asked who was the new
Rachel Berry
. Artie was chosen to pick who would be the new Rachel, and watches as
Tina
,
Blaine
,
Unique
, and
Brittany
perform for the spot through
Call Me Maybe
.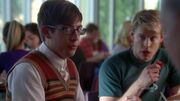 He is present at the auditions for Glee Club, sitting next to Will as the auditions go on. Later, when he enters the choir room, Tina attempts to bribe him for the spot as the new Rachel, but in the end, Blaine is selected by Artie. Artie sang Chasing Pavements with New Directions at the end of the episode.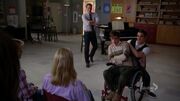 When Mr. Shue announces that it is Britney 2.0 week, he has Blaine and Artie perform the mash-up Boys/Boyfriend. They direct the performance directly at Brittany who is falling apart after getting kicked off the Cheerios. When he, Tina, and Blaine witness Brittany beating on Jacob Ben Israel with an umbrella in the hallway, they discuss intervening. Artie suggests that she probably mostly misses being in the spotlight. He suggests giving it to her, leading to her lip syncing the assembly performance of Gimme More. Artie suggests lip syncing is a terrible idea, which the other members, aside from Brittany, agree.
Brittany asks Artie to be her vice presidential running mate, saying it will help him get into college. Artie points out he has a 4.0 GPA, scored a 210 on his practice SAT, and was the only handicapable member of a national championship Glee Club so he isn't worried about making it into college. Brittany attempts to compare him to FDR who she claims was also "part-robot." He reminds her he isn't part-robot. She manages to convince him to run by saying he could make all of the actual decisions if she wins.
When Brittany announces that Artie will be her running mate and Blaine questions her motives, Artie taunts him saying he senses the taste of sour grapes from him. Artie announces the latest poll results saying 90% of those polled are intending to attend the debate, but that 90% of them are coming to see her say something stupid. He then attempts to encourage her and prep her for the debate as Brittany and Sam perform Celebrity Skin.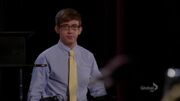 At the debate, Artie gives a very extensive answer to the question, "Who in God's name gives a hot, wet, steamy dump about student government?" Everyone is shown to become very bored by his answer, which is shown to last half an hour. When Brittany's biggest campaign promise is to ban summer vacation and weekends, he announces that they just lost the election.
Artie congratulates Blaine on his victory and announces she still got out of the experience what he wanted: Sugar asked him out on a date. They will go horseback riding.
When Finn makes a surprise show at Glee club, Artie comments "Finn Hudson in the house yo!"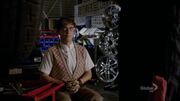 Artie visits the tire shop to see Finn. He asks him to co-direct with him the WMHS school production Grease, in which Finn first declines, because he thinks he is a loser. Artie gives him advice, and tells him he won't take a 'no'. Finn agrees. And then during the auditions, he is seen alongside with Finn watching Blaine singing Hopelessly Devoted to You. He wanted Blaine to play the role of Danny, but Blaine doesn't want to, since he is still heart broken. Artie asks him what other role he'd like to get, and Blaine answers the role for Teen Angel. As Blaine leaves, Finn tells him he doesn't feel like he's up to directing. Artie reassures him that he knows what he's doing and reveals that Mercedes and Mike are coaches for singing and dancing respectively. He is then with the coaches and co-director, to see who can play Danny, and suggests a few. When Marley and Unique audition with the song Blow Me (One Last Kiss), he and the other directors are impressed by the performance. And then, he and Finn are considering juke boxes for the play. When Kitty and Jake audition for the roles of Sandy and Danny with the song Everybody Talks, he and the directors are again impressed. For the final callbacks for those who auditioned for the two main characters of the play, he is with Finn on the judges' table, and they witness the performance of Born to Hand Jive, which was made to test the dance ability of the auditionees. He tells a few notes in between the song. He is also part of the revealing of the cast.
It's time for the musical and everyone in the New Directions is busy, but before anything else, Will Schuester has to make an announcement. He will be joining the Blue Ribbon Committee and will be rewriting the Arts Curriculum of the Country. This made everyone including Artie happy for Will. On the other hand, he needs to temporarily be in Washington. Will continues by telling them that he took a sabbatical and will be leaving in a week. Artie, shocked with this announcement, is puzzled by that he thought Glee Club is Will's life. Will responds to that he decided to have Finn as his replacement, which made Tina and the rest of the Glee Club to react violently. Artie, also shocked, tried to keep Tina down while holding her arm.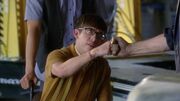 He is seen next in Hummel Tires & Lube for the musical practice. The reason they will be practicing there is because Sue reserved the auditorium. Finn then spearheads telling them what Glease is about and Artie agrees as to that Glease is about signing a blood oath with your brothers. The boys then join together for Greased Lightning. During the practice, Artie is seen on the side with Finn appreciating the production.
Since Wade cannot play Rizzo's part, Santana comes over to help. Artie, being a co-director of the play with Finn, is concerned about Santana being able to perform it well since they just handed her the script. Santana assures them that she is born to play the role.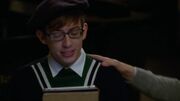 After the musical, in the choir room, Artie reads the reviews they had for that night. One review says its like watching Michelangelo paint the Sistine Chapel. Another review says that the directors, Finn and Artie should be headed for careers at NASA because they plucked stars and named them Marley Rose and Ryder Lynn. "Grease, McKinley, Bravo"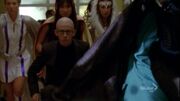 Artie joins The Secret Society of Superheroes Club. He comes in telling Blaine how fun it is to be there, but Blaine says that in that club his identity is Nightbird. Artie's costume looks like Professor X from X-Men, and is warned by Blaine that he can't be that due to issues on copyright. He then declares that he is Dr. Y and he is super power is wheelies. Dottie comes in the meeting and tells them to go to the choir room. Somebody took their National's trophy and left a laptop. The idea got into Artie and wondered who leaves a laptop. The laptop reveals the Warblers have their trophy.
Seated between Sugar and Tina, Artie laughs at Finn's idea of performing Foreigner's concept. He thought Finn wasn't serious. Blaine didn't like the idea and leaves the choir room.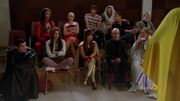 The next scene shows Finn in a superhero costume, admitting that his initial idea was bad. Artie agreed saying it is worse than The Night of Neglect. He then asks Finn who he is dressing up as and thought Finn is dressed as "the bulge that makes all the gym socks disappear." Finn reveals he is the mighty Treble Clef. Artie agrees with Finn's new idea and tells Tina that it is slightly a better idea.
During Ryder and Jake's duet, after revealing their names as MegaStuds (MS), Artie asks Finn about whether MS is a degenerative nerve disease, referring to Multiple Sclerosis. Finn answers and tells him he thinks it's a girl's magazine. During Marley and Kitty's performance, he is shown avoiding Kitty's whip together with the rest of the Glee Club.
When Finn announces that Blaine left for the Warblers, Artie says that Blaine has been taken by the Dark Side. In the lunchroom, Artie is together with other Glee Club members lead by Ryder to defend Jake from Phil and Bobby.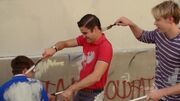 When Blaine and Sam perform Heroes, Artie is shown with the rest of the club painting a vandalized wall. The team played around with the paint and Blaine painted his back. After getting the trophy back, they've given Finn the tools he need in a bag. Artie said that it's a superhero utility belt. They huddled up, and sang Some Nights.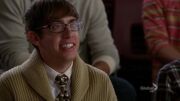 The alumni come home for Thanksgiving and agreed to lend a hand to Finn with preparing the club for Sectionals. Artie like the rest of the New Directions is excited. Finn tells the club how great these alums are and tells them that they may be the next president. Artie replies telling them that he is not sure about that. . Being the previous National champs, a lot is expected from them. Artie thinks that any show choir that can raise the bar in five minutes deserves respect. Artie also joined practice with the rest of the boys lead by Mike. 
During show circle, the club get together and prayed lead by Joe and Artie finished it with "and with our righteous dance moves! Amen! " The club then perform Gangnam Style on stage.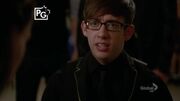 After Marley collapsed, the New Directions assembled in the choir room. Ryder and Jake helps Marley sit on a chair in front of Artie. Artie tells them that no one in show choir competition history has anyone fainted. Because all of them left the stage, the Warblers wont he sectionals as announced by Sue as she enters the choir room with a show choir rule book.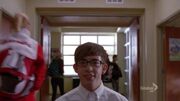 After getting the choir room's key, Sue Sylvester imagines how the Glee Club members will cope up with what happened to them. In Sue's imagination, because of their crushed dreams, Glee Club members were shown chasing other dreams. Artie is shown saying he was forced to sell his legs to science.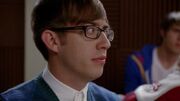 During another Glee Club meeting, they discussed about the Glee Club being over. Artie tells everybody that Sugar already left. Tina then talks about what everyone else in the choir room was thinking about, and it is to blame Marley. Tina continues telling Marley that she isn't Rachel Berry and to that Artie agrees to her with "Preach!." Finn convinces them that it still doesn't stop and that they can prepare for the Holiday Concert. Artie disagrees performing in front of the whole school because it will just look like a pity party since they just got off from losing sectionals.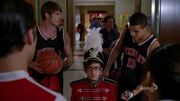 In the hallway, Artie is seen meeting Tina and Blaine in the hallway. Everyone is wearing different uniforms. Artie then tells them he joined the Marching Band and he is the Drum Lead. Finn isn't happy about what they did. He reminds Artie on how he convinced Finn to co-direct Grease. Finn also finds it hard to believe that Artie joined the Marching Band since the costume is awful. When Rachel calls Finn, she reminds him about the friendship between Artie and Puck and how they sang together. The club then gets together to sing Don't Dream It's Over.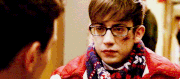 At the start of the episode, Artie is seen rolling down to his locker with his head down and a cut on his cheek. As he puts his stuff in his locker, his bag including all of his papers fall on the floor. Finn spots him and goes to help, when he asks him what happened, Artie angrily says that the janitor forgot to salt the ramp. His wheels do not have chains so he slipped backwards and tipped over on the ice. He tells Finn that it is fine and it's nothing.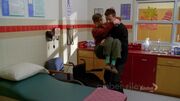 Seeing the damage it has caused Artie, Finn takes him to the nurses office where the nurse says that he hit his head really hard. The nurse tells him to lay down while she calls his Mom. Finn offers to help him, but Artie refuses and says that he doesn't need help from anyone. Finn tries to comfort him by telling him that everyone would've fallen onto the ice. Artie responds to that -  telling him that others would've gotten up instead of screaming for help. When he finally lets Finn help, he says that he wishes that he was never in a wheelchair.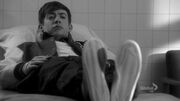 Artie wakes up in his dream, wearing a letterman jacket and Nike shoes. He stands beside the bed and is so happy when he finds out that he can walk. Happily, he tells Tina of the great news - only that she doesn't know what Artie was saying. Tina said it with a stutter, which confused Artie. Rory appears from nowhere and explains it to him. He tells Artie that Tina still stutters because they never became friends.
Rory continues by telling him that he is his Christmas guardian angel and that he granted his wish. His car accident never happened which explains his ability to walk. They walk together and lead Artie to Becky. Becky calls Artie a stud and invites him to fool around since she can't get pregnant. Rory tells him that she is the school's slut now and that nobody treats her with respect. He continues by telling him that the new Artie throws losers in dumpsters.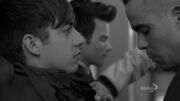 He saw a familiar group of guys pushing somebody at the lockers. He sees Kurt being pushed against a locker by: Finn, Puck, Ryder, Sam, and Mike. Artie asks them what they're doing and Ryder tells him that they're having fun with Little Lord Gay Boy. He stops them and tells them that they aren't douchebags and they sang Lady Gaga songs. Clueless of what Artie said, Puck grabs him by his jacket, pushes him against the lockers and tells him to stop lying about them or he'll break his legs.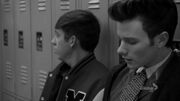 Relieved that the guys left, Artie asks Kurt why he is still there and why he hasn't graduated yet. Kurt replies, as he strap his backpack on, telling him that he missed school because of the bullying and that homeschooling set him back a year. Artie asks him what Blaine thinks, but Kurt doesn't seem to know who Blaine is.
He hurries into Mr Schue's classroom, and asks him to call for an emergency Glee Club meeting. Drunk, he tells Artie to give up the idea already. Terri rushes into the room with a baby asking Will for money. Artie notices that what she is holding is a doll. Terri tells him that Will won't notice when he's drunk, she also tells him that he looks cute. He asked where Emma is and the answer he got was that Emma is together with Coach Tenaka in Hawaii.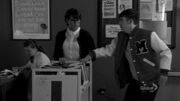 He walks into the library and sees Rachel as a librarian. He asks her why she isn't in New York. Rachel tells him that she will be in the Lima Community Players Production of The Music Man. Artie assumed that she will at least be playing the role of Marian the Librarian, but she isn't, she is just in the chorus. Confused by all the bizarre differences having in his dreams, he grabs Rachel by the hand and asks what happened to her and to all of them. Rachel resists and pushes him. She then falls over Puck and Finn. Scared by what the guys might do to him, Artie runs away to look for Rory.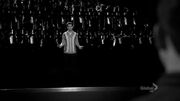 He finds Rory in the auditorium. Disturbed by everything being so messed up, Artie gets further answers from Rory. Rory tells him that since he was too busy with football, he didn't join the Glee Club, and as it turns out, he is the glue that keeps the Glee Club together. Artie then promises to keep them all together.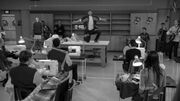 He goes to the choir room which is now Sue's craft room and sees all the Glee Club members there.  He tells them that the choir room made them all of them feel safe. He shows them what he means by singing Feliz Navidad. After the performance, Finn tells him that the performance was so gay.
He comes out of the room and Rory shows him a wheelchair. Artie asks if it is his, but it isn't. The wheelchair belongs to Quinn. She was never able to walk again after the accident because there were no friends to encourage her. Quinn died eventually because of a broken heart. Artie picks up the rose on the wheelchair, smells it, and sits on the wheelchair. He is woken up by Finn who tells him his mom is there to pick him up. Artie tells Finn he could use some help getting back into his wheelchair, that he realizes for better or worse, the chair is a part of him now and has made him who he is. The segment ends with Finn rolling Artie out of the nurse's office, a look of positive acceptance across Artie's face.
At the end of the episode, Marley explains how she enlisted Artie's help in putting something together to thank Sue for what she did for her and her mom. Artie then sings Have Yourself a Merry Little Christmas together with Marley, Finn, Joe, Ryder, Jake, Tina and Kitty in the auditorium in front of Sue and Millie, culminating in Artie and everyone else on stage happily shouting in unison, "Merry Christmas!"
Artie is first seen being pushed down the hallway by his fellow New Directions Boys. They all are nervous because it is possible that a girl will approach them in order to ask them to the upcoming "Sadie Hawkins"-dance at any point. During glee-club, Finn announces a "Ladie's Choice" assignment, where the girls are supposed to perform a song and then ask a boy out to the dance. Artie is present during that scene.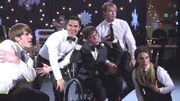 When Tina sings I Don't Know How to Love Him in the locker room, Sam asks Artie who he thinks she'll ask to the dance, to which Artie replies that he assumes she will ask himself. Artie gives off an awkward expression when Tina asks Blaine out unexpectedly, and he rejects her. He can be seen swinging his arms around and dancing when the New Directions Girls perform Tell Him in the history classroom.
At the dance, Artie and the glee boys pay tribute to the girls and their courage to ask the boys out during the week in fear of rejection by singing No Scrubs. Later, when Coach Beiste encourages the Too Young to Be Bitter Club to find a guy to dance with, Sugar asks Artie, to which he says yes. 
The New Directions are back on track to compete for Regionals and they also got the choir room back. To raise funding for Regionals, Tina suggested they do Men of McKinley Calendar which will showcase the boy members of Glee Club. To this Artie, asked on why the girls aren't included. Kitty told him and the club that girls are responsible for consumerism.
Seeing everybody prepare and exercise for the shoot, Artie still doesn't seem to be enthusiastic about the idea. On his wheelchair, he watches Sam lead the Broga, or as he calls it, Yoga for Bros. He tells them that not all of them are like on the CW and some of them are more like PBS. He is then shown uninterested still while the rest of the guys are performing Centerfold/Hot in Herre. Finn offers him a high five, but he didn't high five back.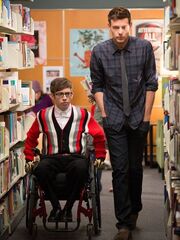 In the library, Finn talks to Artie about Sue's Vintage Pornography. He then tells Finn that he isn't comfortable with the calendar idea. He's telling him that he's not comfortable about doing the calendar. Aside from that he is on a wheelchair, he is telling him that even guys have body issues and he isn't comfortable. Finn told him that it's totally cool and it's good that there are things that some people would still like to keep private. In the shoot Sam was acting like a jerk and Artie pretty much noticed it. In Blaine's Documentary, Artie's Testimonial was about Sam taking their trophy back from Dalton.
Sam confronted him about his feelings on the calendar and told him that it's all right if he wants to keep his shirt on. Artie, at first, didn't want to give in since it will just be him with a shirt on, but Sam said he is going to have a shirt on too. In the calendar, Artie posed for March and November. In the end, he and the whole club sing This Is The New Year. During the performance, Artie's wheelchair is lifted up by his friends.
In the episode, Artie first witnesses the Divas of the club have a diva-off. He seems to enjoy Blaine's performance of Don't Stop Me Now too, dancing with Kitty. Later, he along with the Glee Club is surprised with Santana's return to Lima during Nutbush City Limits. He also watches Tina perform Hung Up in the school's courtyard, like everyone else, is surprised by her attitude. In the Glee Club, when Tina wins the award, Artie seems to be the happiest.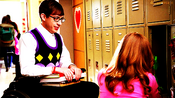 Artie, along with New Directions, is glad that Mr. Schue is back in town, just in time for his wedding. When Emma cleans Artie's locker, she tells Artie that her niece, Betty, will be at the wedding. She also says that Betty is in the wheelchair and has large breasts. Artie seems a bit taken aback and also realises that Emma is in so much stress. But Emma insists that it's because it is flu season.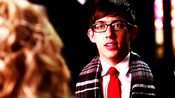 At the wedding reception, Artie approaches Betty. but sees that she has a bad attitude, telling Artie to roll away and apologizes if she did take the last handicap spot. But he says that Emma asked him to talk to her to which she gets angry. Artie knows that Emma didn't tell Betty that the boy she would meet is in a wheelchair. Artie says people find him nerdy hot, but Betty says that Andrew Garfield is nerdy hot and that Artie is Stephen Hawking's brother.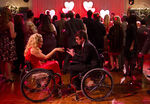 During the wedding, Artie is completely shocked that Sue enters rather than Emma. At the party after Emma ran away from the reception, Artie confronts Betty during Just Can't Get Enough, saying he knows that she has a mean attitude due to the fact that she is in a wheelchair. But Betty says she's also in the cheerleader squad and had many firsts. Artie insists on dancing with her, just one dance, to which she agrees and they dance during the song.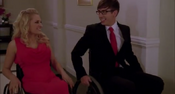 When Finn and Rachel sing We've Got Tonite, they roll their wheelchairs, seeming to have lighten up with each other. When all the couples go to their hotel rooms, Betty and Artie sing a few lines of the song and roll together into their room. They are later seen together, indicating that they had sex and she comments on how good he is, making him grin. 
When Will announces the Girls vs. Boys Movie mash-up he defends Sam's Nicholas Cage impression against Kitty. He also mentions that he will be making a movie with the winning team. Artie gets asked, "You really making a movie" by Blaine with him confirming it as so. 
Finn asks Artie for help to find Ms. Pillsbury. He suggests a huge stakeout with Finn saying it would take too long. He then suggests to contact her parents which Finn agrees to. 

Artie joins the New Directions singing Shout with Brittany and Blaine are on lead vocals. The huge dance number ends in the cafeteria. Artie tells Brittany and Blaine that it was great that they did a Boys vs Girls together; however, it was not a mash-up. 
Artie and Finn pose as gingers to get Emma's parents to tell them where she is. Artie tells them it is for his personal statement essay. They eventually give them her address.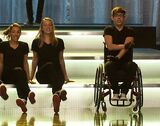 He is a part of the boys' mash-up of Old Time Rock & Roll/Danger Zone. Sam and Blaine are lead vocalists for the number while Artie is on the Danger Zone side. 
While the girls sing their mash-up, Artie looks pleased with their number, often looking at Kitty.  Artie is later shown performing in the group number Footloose.
Artie, along with Tina and Blaine, confronts Will and Finn about their continuous feud that is putting a strain on the club.
Artie is seen in Wake Me Up Before You Go-Go.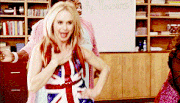 Later, during the New Directions girl's
Wannabe
performance, he seems to take special interest in Kitty. He then says to Kitty, "I've never seen you so... uh... happy to be part of the team," obviously wanting to say more. He is also seen in
Mamma Mia
.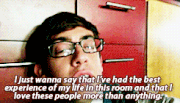 After the gun shots fired, Artie is scared along with rest of the Glee Club. He's dragged to the side from his chair to hide with everybody. He is making a possibly last video on his phone, in which everyone leave a tearful message to their close ones, until Sam shuts it down. At the end, he leaves a message too, saying that the Glee Club is his family.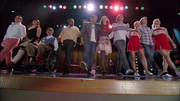 In the beginning, Artie can be seen accidentally bumping into Blaine in the hallways of McKinley as Marley narrates how weird everyone is acting. Artie attends the secret meeting Blaine creates, he is seen in a brief interaction with Blaine. When he asks how long Sam will continue his twin phase, Artie tells him to let it go. Meanwhile, he is seen performing with New Directions, singing
 Outcast.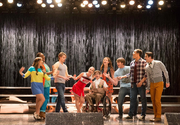 When the power is out, the students are forced to perform a cappella versions of songs. When it's Artie's turn, he says that he can't do it without his "synth." Later, he's seen talking to Sam and suggests that Glee Club should do a song with no real instruments and is later seen taking the lead in We Will Rock You. Before the song, after Ryder confesses that he was molested as a child by some teenage girl, Artie asks why is he ashamed of that, because he doesn't think it's that bad. At the end of the episode, he sings in Longest Time.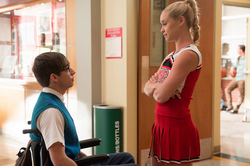 Artie is first seen in the choir room, reacting quite enthusiastically to the fact that it was declared Stevie Wonder week in the club. After the lesson, Kitty comforts Artie in the hallway, calling him an offensive name, before pointing out that he has seemed depressed. She quickly assumes that it is because he is pinning for her, as she "saw how he oogled her with his eyes during Wannabe in 'Guility Pleasures Week'." He quickly says that wasn't the reason, but he is depressed as when he came home there was an acceptance letter from the Brooklyn Film Academy. Kitty believes it is great news, but Artie says that he's not going and would appreciate it if she didn't tell anyone.
Kitty latter performs Signed, Sealed, Delivered I'm Yours in Glee Club, slightly taking Artie aback. She shares that Artie got accepted into film school, but Artie is upset that she told the whole Glee Club. He reveals that his mom is terrified of the thought of him alone in a big city, since she has taken care of him her whole life. Kitty surprisingly offers him some kind words and believes that he would excel in film school. 
When Artie arrives home later, his mother, Nancy Abrams, is in a conversation with Kitty, where it is revealed that Kitty had told his mom about the film school acceptance. She leaves, saying Artie and his mom had a lot to talk about. His mom has no fears of letting Artie go, but Artie doesn't want to leave his mom since she had done so many things for him due to his disability. He feels selfish and doesn't want his mom to be left alone. His mom says that he will adapt to New York and that she will be fine. It was his dream since he was little to do films, so she pushes him to accept that dream. She kisses him on the head and tells him not to imply she is an old hag ever again or she'll tip him over.
Artie gives a pep talk about passion and says how it is, what will get them the win at Regionals. He then invites the club to a performance at four o'clock in the auditorium. He then leads the New Directions in a powerful rendition of
For Once in My Life
, energizing the kids.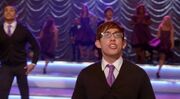 Artie is seen being pumped that Regionals will be at McKinley since that will give them a home court advantage. He is later seen watching Brittany giving her farewell speech, where she refers to him as "the boy next door who plays with robots and she took his virginity." Artie is then seen as one of the guys leading the performance of Hall of Fame. Later, he receives the trophy from their victory at Regionals and is seen celebrating that, as well as Will and Emma's wedding. 
After the first glee club lesson of the episode, Artie invites Kitty to sit on his lap, which she does. They roll out of the choir room chatting, and Artie then asks her out on a date. Kitty is reluctant at first, but eventually agrees to go to the carnival with him. They then start to perform Drive My Car. The song then cuts to Artie and Kitty enjoying themselves at the carnival with the rest of New Directions. Afterwards, when Kitty is asked by Bree if she's going out with Artie, she claims to just be his friend. She then admits to Artie that she likes him though, and agrees to date him, but insists that they do it secretly.
Artie is shown to be visibly hurt that Kitty won't admit publicly that they are dating while they perform You've Got to Hide Your Love Away. This is noticed by Tina, who gets Artie to admit he's in a relationship with Kitty. He asks Tina to remain silent about it, but she still calls Kitty out during the next glee club lesson for remaining silent about her relationship out of fear of losing her status. Tina sticks up for Artie, who is nothing to be ashamed of, according to her. Kitty then comes clean, saying she wanted to hide her relationship status not only because she was ashamed, but also because she wanted to make sure she really liked Artie before risking her popularity at school. She then vows she's ready to make their relationship public.
When Blaine announces to the club that he intends to propose to Kurt, as well as list the help of rival show choirs for the proposal, Artie claims that, though he understands Blaine's idea, he thinks he and Kurt are too young to get married. He is soon convinced, and joins the performance of Help!, even briefly dancing with a Vocal Adrenaline member before she is pushed aside by Kitty.
He can later be seen recording the other boys' performance of I Saw Her Standing There in black and white, true to the original music video. He is last seen participating in the performance of All You Need Is Love and celebrating when Kurt and Blaine get engaged.
Artie is in the choir room with the rest of the New Directions getting ready for another week of singing Beatles, when Sue announces he is one of the nominees for Prom King. After Tina declines Sam as her Prom date, Artie states that her behaviour is "very uncool."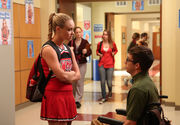 Artie confronts Kitty because of the Prom posters along with the other members of the New Directions. Even though he is dating Kitty, it is shown that he doesn't believe her when she claims that it was not her who put up the posters.
Later in the episode Artie is seen in the hallway talking about picking up his tux for the Prom with Blaine, and the two of them end up encouraging Sam to follow his heart and confess his feelings to nurse Penny.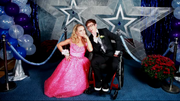 Artie goes to Prom with Kitty as his date, and looks happy to be among the people nominated for Prom King. After the incident at the Prom, he and the rest of New Directions follow Tina to the choir room and help her get cleaned up and go back to the Prom looking as a proper Prom Queen.
At the end of the episode he is seen singing Let It Be in the auditorium with other Glee Club members.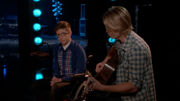 Artie is seen singing Seasons of Love, along with the other members of New Directions, and some old members, at the beginning of the episode. He is seen to be saddened, when Will tells the group that they will be performing songs, in memory of Finn. Artie later performs Fire and Rain with Sam, and back-up from New Directions. Along with the group, Artie looks at the memorial at Finn's locker. During Make You Feel My Love, he is seen comforting a sobbing Tina, and is seen to be nearly crying.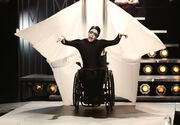 Artie is present at the beginning of the episode, listening to Will, as he mentions some of their competitors at Nationals. Artie says that he is a Katy, so therefore, he must sing a Gaga song for the assignment. Artie and Kitty enter the hall, and Artie asks if Kitty is still okay with dating someone who is so different. Kitty kisses him, answering yes. Becky witnesses this and has a go at Kitty. Confused by what Becky said Artie claims that he didn't sleep with her. He is present during the "Gaga" meeting, where Sam takes over, and asks for ideas. Artie performs in Applause, and is confused when Marley comes out in a Katy costume. Artie watches the performance of Wide Awake, and is seen happy throughout it. He believes that the New Directions should forfeit Nationals, when Throat Explosion tweets a number they will perform. Artie, along with the Glee Club, gets suspended for one week. He performs along with New Directions in Roar.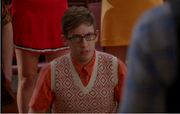 Artie, along with the New Directions, watch Blaine's twerking video. Anticipating that this week's assignment will be twerking Artie says it's physically impossible for him to twerk, however Kitty cheekily says that she begs to differ, making Artie smile. When Sue pledges to end twerking at McKinley, Artie and the rest of New Directions are outraged. When Will incorrectly believes Blurred Lines is about blurring the lines between the past and the present and is sung by Alan Thicke, Artie tries to correct him, but is ignored. When the group sings Blurred Lines, Artie has a solo. The whole school joins in, and cheers as the song comes to a close at the auditorium. When Unique performs If I Were a Boy, Artie looks sad and holds Kitty's hand throughout the performance. 
Artie and Unique are partners in Will's "presentation" to the school board demonstrating the jazz of the 20s. Will argues that dancing is harmless, and they seem impressed. Artie and the New Directions are appalled at the new portable toilet installed in the Choir Room. Artie is seen at the next meeting, where Unique says that she needs to use the toilet. Artie looks annoyed that Sue has made Unique resort to going to the toilet in the Choir Room. Later on, he enters the Choir Room, as Will rubs the board clean, and says that the twerking is over. At the end of the episode, Artie has a solo in On Our Way.
Artie is seen excited with the assignment, explaining who Billy Joel is. He later rolls down the hallways, looking at different stalls at the Career Fair. In the mirror, Artie sees Becky, and goes up to her. Artie asks Becky what her plan for the future is, but she says she isn't going to college. Artie says that he has been researching schools for the handicapable. Sue walks in on them, and takes Artie away. She tells Artie to stop helping Becky, as she belongs as Sue's secretary.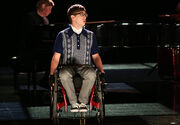 Artie doesn't listen to Sue, and gives brochures to Becky, and tells her that she can even do cheerleading in college. Artie texts Becky, and tells her to make her way to the auditorium. Here, he sings Honesty to her. After the performance, Becky thinks that he has loved her since kindergarten. Artie says that she hasn't been honest about wanting to go to college. Becky replies, saying that she's scared everyone will make fun of her. Artie says that she will make friends, and her old ones, like him, will also look after her. Becky asks if they are friends, and he replies with "always."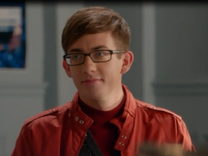 Sue calls Artie to her office, saying that he didn't hear her that he should stop meddling in the affairs of Becky. Artie says that she should stop holding Becky back. He also says that he is taking Becky to a university tour in Cincinnati. Sue lets him, but tells him to make sure that he asks tough questions. At the university, they enter a class, full of down syndrome people. Becky enjoys watching the class, and Artie seems pleased. While Sue and Becky put up another stall at the fair, Artie walks over with Kitty. At the end of the episode, Artie sings a solo in You May Be Right.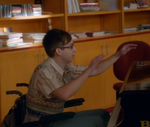 Artie is seen in the Choir Room, playing the piano. Along with the New Directions, Artie is disapproving of Blaine's ideas, and agrees that he is bossy. Artie is seen in puppet form during You're My Best Friend, and during Jake's fantasy performance of Nasty/Rhythm Nation. Artie appears with the group, opening the box full of puppets that Blaine has brought in. Artie is pleased with his puppet, commenting on the glasses. At the end of the episode, Artie has a solo in The Fox.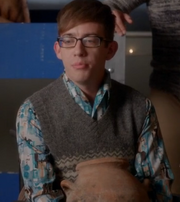 Artie is present during Tina and Sam's speech about the prize for the decorating contest, an angel. When Tina rambles on about the angel, Artie asks if they all share the prize. At the Christmas Club meeting, Beiste announces that the vice-president, Artie will speak. He says that Prinicpal Figgins has told the group to perform a Living Nativity. Later, the New Directions decorate the Christmas tree, they sing Rockin' Around the Christmas Tree, in which Artie sings a solo. When Sue enters to inspect the tree, Artie, along with the group, hum, which impresses her. He is seen proud when it is announced that the New Directions are the winners of the competition.
At the auditions for the Virgin Mary, Artie is a judge, along with Beiste and Mr. Schue. Artie seems offended when Beiste says she has no show choir experience. He is seen very impressed by the audition from Tina, Marley and Unique. When Sam tells the New Directions that they are giving the angel to Becky, Artie asks if that is a good idea. He is seen performing in Love Child, singing back-up to Unique. At the end of the episode, Artie performs Away in a Manger with the New Directions.
Artie rolls into the auditorium, while Tina walks down the stairs. He says to her that he is happy that they still continue their Tuesday lunch traditions, to which she agrees. Artie then says that he'll miss the tradition when they go their separate ways. When Tina says she got waitlisted at
Brown, Artie says that Tuesday lunch will now be about cheering Tina up with songs. This leads into Artie and Tina singing a duet of
Whenever I Call You Friend
. When the performance comes to an end, Becky enters and tells Artie and Tina that Sue wants them in her office.
Sue informs them that they are tied for Senior Valedictorian, and both are shocked. Sue then tells them that they will have to settle it, and that they will both present their speeches infront of a panel, who will choose the winner. Tina later tells him that he has to drop out, so that she can get into Brown. Artie tells Tina that everyone thinks a demon entered her body, but she says that Kitty is faking her love for him. Artie doesn't believe this, and says that Kitty does love him.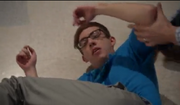 Will tells the Glee club that they will have two solos at Nationals, and that the second one is to be decided. Tina states that she would like to sing it, but Artie says that he will like to compete with her. Will says that they should have a sing off, and the two sing a duet of My Lovin' (You're Never Gonna Get It). At the end of the performance, Tina accidentally pushes Artie out of his chair, who falls to the ground. The Glee club quickly get Artie back into his chair, while Tina apologises, but Artie rolls himself out of the room.
At the speech-off, the two give their speeches. However, they both complimant each other, and both tell the panel that the other should get Valedictorian. Later on, Sue calls Artie and Tina into her office. Sue announces that the vote was a tie. She then says that the student who was rank three will be the Valedictorian, which turns out to be Blaine. In the hallways, Blaine apologies to the two, saying that he feels things are handed to him. Blaine says that instead of giving a speech, he will be singing, along with Tina and Artie. In the auditorium, the three of them sing Breakaway as the episode comes to a close.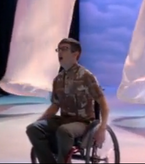 When Sam, Tina and Blaine perform Jumpin' Jumpin', Artie watches. After the performance, he says that a quartet is a lot stronger than a duet. Later, Tina breaks down, and Sam and Blaine console her, Artie tries to join in, but is pushed away. At the end of the episode, Artie is invited by Sam to join them, but he replies bluntly. The Seniors then perform Hold On, and invite Artie to join, which he accepts.
Artie listens to Burt and Carole when they talk about Finn to the New Directions, and is seen excited when Will informs the club that they'll also be in L.A. with them. Artie joins in the song I Love LA, and sings a solo. Artie is seen on the tour bus along with the rest of the club, sight-seeing LA. When Mercedes enters the hotel reception, Artie greets her, happily. Along with the other New Directions members, he sneaks onto the Nationals stage. He listens to Sam's speech, and when Jean Baptiste and Throat Explosion enter, Artie seems annoyed. Artie later watches Sam confront Jean when Finn's plaque goes missing. On the bus to the competition, Artie cheers as Sam finishes another speech about Finn.
At the Nationals event, Artie greets Mercedes happily when she enters, and then watches as the judges are revealed. Artie watches the performances of Vacation and Mr. Roboto/Counting Stars.  As the group gathers for show circle, Artie is pleased to see Burt and Carole return, after having left the group. During the New Directions performance, Artie sings back-up during More Than a Feeling, but sings solos in America and I Still Haven't Found What I'm Looking For. Artie is seen clearly disappointed in himself when the New Directions gain second place. Back at McKinley, Artie watches as Will places the trophy in the cabinet.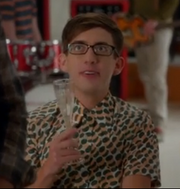 Artie is first seen in the Choir Room, talking to Rachel about her Broadway debut. When April enters the room, Artie applauds, along with the New Directions, and the Alumni. As the group listens to April's stories, Artie asks why they are all holding plastic champagne glasses, April begins to sing Raise Your Glass, which Artie sings back-up in. Artie later enters Breadstix, with Santana, Mike and Puck, and are called over to Quinn's table by Biff. Artie introduces himself as a dweeb in a wheelchair, but with a cheerleading girlfriend. Artie is seen watching Rachel and Mercedes' diva-off. Artie and the New Directions perform back-up for Puck during Keep Holding On. Artie is later seen excited and Holly's return, and performing back-up for Holly during Happy. He is last seen in the auditorium, along with Will and the original members of the club. Will shows the group the plaques, and he listens to Will's speech.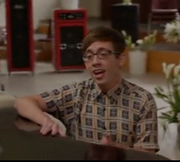 Artie is seen packing away the trophies, sadly. When Blaine enters the Choir Room, and informs them of his acceptance, Artie congratulates him. In Tina's "Chums" dream, Artie rolls into the Bushwick Apartment, tired from climbing the stairs. Santana informs him that there is an elevator. Artie then is seen in the auditorium, watching Kurt and Mercedes perform I Am Changing. Artie is seen in the Choir Room, along with Blaine and Sam, when Tina walks in, talking about how she's going to be staying in Lima. After a shot talk with her, they all sing Loser Like Me. After the song, the three boys convince Tina to join them in New York. 
Artie is next seen enjoying Rachel and Santana's performance of Be Okay. Holly finds Artie in the hallways, and says that she needs him. Artie says that he likes her too, and he'll break up with Kitty. Holly quickly denies this, and tells Artie to grab his filming equipment, and to met her. He is next seen watching Just Give Me a Reason. After the performance, he listens to Will thank the club, and he is seen, like the rest, upset. The next day, Will enters the auditorium, and finds a film, which he watches. All of the club, including Artie thank him for all he's done for them. The club then appear on the stage, and sing Don't Stop Believin' for Will, in which Artie has a solo in.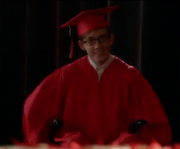 At graduation, Artie is the first to be called. He accepts his diploma happily, raising it in the air. Artie is seen cheering for Blaine, Tina, Sam and Becky as they accept their diplomas. During the ceremony, Tina tells them she can't go to New York with them, informing them that she was accepted into Brown. Artie is seen happy for Tina, and cheering for Brittany as she accepts her own diploma.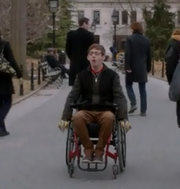 Artie is first seen singing in Downtown, where he is joined by Sam. The two walk through New York, and meet up with Kurt and Blaine. The four watch as Rachel arrives, waving to her. They listen to Rachel talking about her chaffeur, before Artie asks why there are going for lunch. Rachel tells them it's her treat, and they walk towards the car. They realise the car is full, but Artie and Sam say they'll met them at the restaurant.
Artie is next seen rolling down the streets, saying that New York was scary at first. He says that there's no space, and nearly runs into someone. He then says that it's the city in which everyone walks. Artie rolls down into the subway, and while in the subway, his bag gets stolen. He rolls after the robber, but the robber is able to get away via stairs. Artie shouts that his laptop and script are now gone.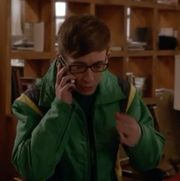 Artie is seen on the phone in the Bushwick Apartment, talking about his laptop. As Artie gets off the phone, Kurt comforts him. When Rachel walks in, Kurt informs her of what happened. Rachel asks if he's okay, to which he replies he's not. Artie says that he doesn't feel safe going in the subway anymore. Rachel tries to console him, by telling him a story of when she first moved to New York, saying she lost nine dollars. Artie then angrily says that she isn't a real person anymore, and he has to go sort his life out. 
Artie is seen considering to go into the subway or not, when he is sprayed by water from a cab going over a puddle. Artie is seen waiting for Rachel. When she arrives, he asks why she would summon a commoner. Rachel says that it was needed, and invites him to go on the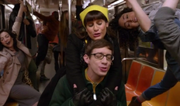 subway with him. Artie decides to go with her, and the two are seen walking through the subway. The two make a deal; Rachel will be with Artie everyday on the subway, if he tells her when she's being obnoxious. Artie thanks Rachel for bringing him back to the subway. The two sing
Don't Sleep in the Subway
, as they journey through the underground.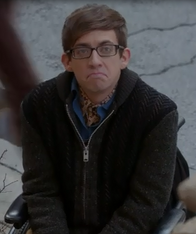 At the apartment, Artie and Rachel enter together, laughing, and saying they have good news. Artie says that he wouldn't have believed himself, and tells the story. The two were on a train, when Artie spotted the guy who mugged him. The man was moving towards an elderly lady, and Rachel gave Artie some pepper spray. Artie rolled towards him, and sprayed him the eye. When they got off, the man was arrested, and it was revealed he was a hoarder as well, so the police were able to find Artie's laptop. Artie then listens to Kurt and Blaine's story, as well as Sam's. Artie is seen excited when Mercedes enters the apartment. 
Artie is with the rest, helping Mercedes move into her new apartment. He apologises for not being able to help. When Rachel leaves to go rehearse, he is seen waving her off. During People, Artie is seen entering the subway, and boarding a train. On the train, he has headpones on, listening to music. He is also seen in the apartment, having a dinner with the rest.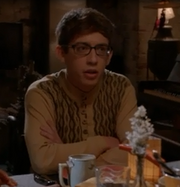 Artie is seen in the Bushwick Apartment, attending a weekly Monday night dinner. The group discuss Russ, who was recently gay bashed. Artie states that although crime in America is decreasing, in New York, it is increasing. He is the first to notice Mercedes and Sam's new chemistry, and asks them about it. Artie is next seen creating a film when he gets a phone call from Mercedes. He answers it, and is seen shocked by what she has to say. Artie enters the hospital with Mercedes, and ask how Kurt is. The group is allowed to enter the room, and wait with Kurt as he sleeps. Artie is seen at another Monday night dinner, where they toast to Kurt.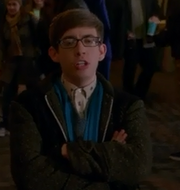 Artie is part of the STD awareness commercial along with Blaine, Kurt and Sam, dressing up as sailors. Artie is seen rolling down the streets, saying that he loves it in New York, as it's different from high school. Everyone in his school thinks he is cool. Artie admits he has been sleeping with two girls; Vanessa and Jessica, but has his heart set on Julie. Artie is seen sitting with Julie, as she narrates for one of his films. Artie says that a year ago, he would have been terrified to ask her out, but now he knows you just have to go for it. The scene shifts to Artie singing Addicted to Love. During the song, he is seen going on dates with both Vanessa and Jessica, and at the end of the song, lies down on the bed with each. As the song finishes, Artie asks Julie on a date, but she declines, saying she doesn't date anyone she works with.
Artie is seen sitting at a restaurant with Blaine, Kurt and Sam. Sam asks if they know where a clinic is, so that he can be tested to see if he has any STD's. As the group talk, Kurt suggests that they all go and get tested, to which the rest agree. He is seen editing his film, as he gets a call. In the doctors office, where the doctor tells Artie that he has been tested positive for chlamydia. In denial, Artie says that he hasn't had any symptoms, but the doctor says that he has the disease. In the apartment, Artie tells the guys about his test results, to which they react with shock. Blaine asks if he wears a condom, to which he replies that he doesn't. Kurt convinces Artie to tell the two girls about the STD.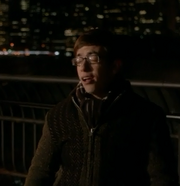 As Artie tells Vanessa, she immediately freaks out, saying that she is telling everyone to stay away from him. Jessica, however, is okay with it, saying it's possible she caught the disease from her. Julie then asks Artie is he still wants to go on a date with her, and he says he does. The two make plans to get food. Artie and Julie later enter the Spotlight Diner, and are greeted by Kurt. Throughout the date, Artie mishears what various people are saying, and imagines himself in an STD outfit. Artie asks Julie if they are able to not have sex for the next seven to ten days, to which she agrees, although suspicious. As the two leave the diner, Artie sings Let's Wait Awhile, and they walk to Mercedes and Sam. Artie and Mercedes sing the song, as Julie and Sam listen to them.
Later on, Artie talks to Julie, and tells her about his disease. He informs her that he got it from either Jessica or Vanessa, but she says that its worse than the disease, as they're idiots. Julie then says that Artie is a creeper, and she is freaked out by him. He is then seen at the restaurant with Blaine, Kurt and Sam, and listen to their new diet story. He then says that Julie isn't talking to him, and it's his price for being a film school player.
Artie is absent for Rachel's opening night of Funny Girl because his short film Bags in the Wind got into the Fort Lauderdale International Short Film Festival.
Artie, along with Mercedes, Sam and Rachel, go to visit a dog shelter. When the dogs begin to bark, the group sing I Melt with You to calm them down. During the song, the group enjoys the company of the animals. Artie and Sam sit in Sam's apartment, playing a game. Sam shows Artie his new dog, McConaughey. Mercedes then enters, annoyed at Sam adopting the dog. The two argue, while Artie awkwardly listens in. Later, Artie and Blaine assist Rachel getting noticed by the paparazzi. When Rachel is pulled by the dogs, Artie watches, in shock.
Artie goes with Sam to train McConaughey, and the two sing Werewolves of London. Sam trains the dog, while Artie films and assists. The two bath and groom the dog in the apartment. Artie sits with Mercedes and Sam at Rachel's "Broadway Bitches," and points out that Rachel is arguing with someone. Artie later watches Kurt's show of Peter Pan. Artie and the group perform Take Me Home Tonight at Rachel's event.
The whole group is having Monday night dinner at the Bushwick Apartment. Rachel has a writer from the TV-network coming over to get to know her more, in order to write a show about her. Artie then asks Rachel if it's normal for a network to do that, to which she replies "only when their star is incredibly interesting." When Brittany arrives, he's excited to see her.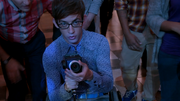 Artie later films Mercedes' first night of her mall tour, where she performs
Shakin' My Head
. Later that week, he is hanging out with
Mary Halloran
at film school. He starts talking about Rachel, but is then distracted by Mary, who's weirdly putting a donut in her bra. In the first script for Rachel's pilot, it is revealed that Artie's character is called Bartie. He is present at Rachel's birthday rave party, and explains to Kurt's character 'Cert' that it's a coffee rave. He stops reading the script, explaining he has a speech that lasts for about six pages and has no punctuation. He attends Blaine's showcase at NYADA, watching him sing
No Time at All
with
June Dolloway
, and
American Boy
with Kurt. Later that week, he reads the sec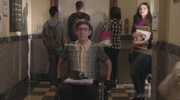 ond version of Rachel's pilot script with the rest of the group, and they all love it.
He is also seen performing Pompeii with the rest of the group in the New York streets and at Brooklyn Film Academy.
Personality
Artie is at first glance, a sweet and quiet boy, who simply is trying to get by like everyone else. However, Artie can also be a surprisingly defensive individual when either provoked or when around people who he finds himself comfortable with. It seems that due to his handicap, Artie has, at times, let that define him as a person, feeling that it makes him an outsider amongst others and that the only people who could truly understand him are other with their own forms of handicaps, such as when he thought that Tina really had a stutter. Artie, for the most part however, tries to not let his handicap keep him down emotionally, but he finds it hard when his friends look down at him because of it. When hurt, Artie will often react harshly, such as nearly ending his budding relationship with Tina upon learning she had no real stutter. He also feels deeply about things concerning his disability, such as sleeping with Brittany and then her not really caring. In Glee Actually, this is elaborated further by that he hates the feeling of being helpless when he falls, though he ultimately understands his disability has also been his strength, and assistance here and there is worth it for the insight and opportunities to make a difference, Artie can't help being really sensitive overall, but often tries to hide it, when the New Directions suggested his Dad drove him to sectionals he at first pretended he was okay with it, but in all actuality he wasn't, Artie has spoken up when wholly prompted, though, and especially when it concerns other's welfare, Artie has also been instrumental in helping bring New Directions together on a number of occasions through setting up musicals, dance numbers and films because of how much he enjoys helping and guiding others, though this has made him come off as insensitive or bossy, most notably in the case of his directorial debut West Side Story, but inevitably Artie realises his errors, accounting and apologising for them, Artie tries not to let anything get in his way, he always gives everything his best and honestly just wants to be befriended and accepted.
Relationships
Tina and Artie were friends before joining Glee Club: Upon seeing the notice board, Tina helps Artie sign up, due to his being unable to reach the sign-up sheet in his chair, and after joining Artie and Tina begin to show a mutual attraction to one another, with Tina having immense respect for Artie being handicapped and yet not letting it stop him from living his life, meanwhile Artie, meanwhile, feels a kinship with Tina, because of her stutter, Tina's respect for Artie grows when the able bodied Glee students are made by Mr. Schuester to use wheelchairs, and the two go on a date of sorts, which ends with a kiss, but after the kiss, Tina admits that her stutter is fake, which disappoints and upsets Artie who leaves Tina hanging for a time, however Artie ends up forgiving Tina for lying, and he starts things up again, though initially insisting that if they're going to be an official couple she must change to satisfy his ego, Artie later sees that he was being unfair and sexist so apologises to Tina, telling her she doesn't have to change to please him or be his girlfriend; it's Tina who ultimately ends their relationship for good after she tells Artie he's "a terrible boyfriend," mainly for not having pronounced abdominal muscles like
Mike
, whom she also gets with because he's a fellow Asian, but Artie doesn't hold grudges, and they're basically friends now.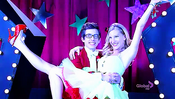 Artie and Brittany's relationship started when Brittany slept with him. Artie is later made to think that Brittany didn't really care about him and was just using him. He finds this especially hurtful since it was his first time and it was significant that he could even be intimate in that way with someone after his accident. Artie then realizes he acted in haste so he gets Brittany back and the two start a real relationship with the help of Puck. Later when Artie hears that Brittany may have cheated on him with Santana, he is so furious that he forgets to verify this and tells Brittany she's stupid for not being able to see that Santana is taking advantage of the fact that their relationship "shouldn't be happening. This makes Brittany very upset and causes her to breaks up with Artie. Afterwards he attempts to make up with her, but ultimately fails, however Brittany agrees to go to prom with him. Finally Artie decides that he's happy with them just remaining friends.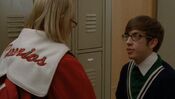 Becky asks out Artie for a date which Artie accepts. He ends up having fun with her, and she can understand what it's like to live with a disability. But then when Becky wants to be in a relationship and invites him over to 'do it', Artie lets her know that he wants to just stay friends in the end though with help from coach Sue.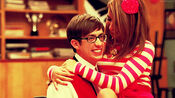 When competing with Rory for Sugar as a Valentine's Day date, Artie performs Let Me Love You, which Sugar enjoys, but Artie loses Sugar to Rory after he performs Home, then in Makeover, it's stated by Artie that Sugar asked him on a date, horseback riding, and Sugar kisses Artie on the cheek during the performance of Heroes as well as asking him to dance for Sadie Hawkins, but the relationship has been abandoned, possibly due to Artie and Sugar deciding a long distance rationship wouldn't work out (the latter appearing to have moved away), but at this point, we can't be sure.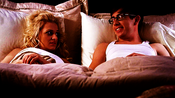 In
I Do
,
Betty
and Artie met in the church shortly before
Emma
and
Will
's wedding, where Artie is disheartened to find that Betty is less than thrilled to meet him, though Artie ultimately charms her when he invites her to dance, and she accepts; they perform
We've Got Tonite
, while entering into the hotel room that Artie reserved, where they sleep together, Betty approaches Artie at his locker later where she tells him he's the best she's had, apologising to for the way she acted at the wedding, Artie asks her out on a date which she accepts, and it's unknown what happens after, but the implication seems to be they had a brief relationship which ultimately didn't work out.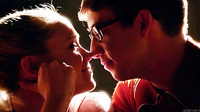 Artie is shown to feel attracted to Kitty in Guilty Pleasures. She notices him being depressed in Wonder-ful. He tells her that he got accepted to a movie-school in New York, but isn't planning on going. Kitty then informs Artie's mother, who hadn't known, of Artie's acceptance.
They start a relationship in Love, Love, Love. Kitty is eager to keep their relationship a secret, though, much to Artie and Tina's disapproval. When being confronted, she explains that she wanted to be sure she really liked Artie before she gave up her popularity by dating a less popular student. She agrees to make their relationship public then, though. They broke up at some point between New Directions (Episode) and New New York.
Songs
Trivia
Gallery
Quotes