Baby, It's Cold Outside from Neptune's Daughter is featured in A Very Glee Christmas, the tenth episode of Season Two. It is sung at Dalton by Blaine and Kurt.
Blaine tells Kurt to "stop studying so hard" and requests his help with the duet he will be performing at the Kings Island's (an amusement park in Mason, Ohio, near Cincinnati) "Christmas Spectacular." Throughout the song, they danced flirtatiously with each other. After acting out the song, Blaine tells Kurt he's "much better than that girl's gonna be." After the song, Will appears and as Blaine leaves, Kurt reveals to Will that he is in love with Blaine.
Lyrics
Kurt (Blaine):
I really can't stay (But, baby, it's cold outside)
I've got to go away (But, baby, it's cold outside)
This evening has been (Been hoping that you'd drop in)
So very nice (I'll hold your hands, they're just like ice)

My mother will start to worry (Beautiful, what's your hurry?)
My father will be pacing the floor (Listen to the fireplace roar)
So really, I'd better scurry (Beautiful, please don't hurry)
But maybe just a half a drink more (Put some records on while I pour)

The neighbors might faint (Baby, it's bad out there)
Say, what's in this drink? (No cabs to be had out there)
I wish I knew how (Your eyes are like starlight now)
To break the spell (I'll take your hat, your hair looks well)

I ought to say no, no, no, sir (Mind if I move in closer?)
At least I'm gonna say that I tried (What's the sense in hurting my pride?)
I really can't stay (Baby, don't hold out)

Blaine (Kurt):
Baby (Oh, but)

Blaine with Kurt:
It's cold outside

Kurt (Blaine):
I simply must go (But, baby, it's cold outside)
The answer is no (But, baby, it's cold outside)
This welcome has been (How lucky that you dropped in)
So nice and warm (Look out the window at that storm)

My sister will be suspicious (Gosh, your lips look delicious)
My brother will be there at the door (Waves upon a tropical shore)
My maiden aunt's mind is vicious (Ooh, your lips are delicious)
But maybe just a cigarette more (Never such a blizzard before)

I've gotta get home (But, baby, you'd freeze out there)
Say, lend me your coat (It's up to your knees out there)
You've really been grand (I thrill when you touch my hand)
But don't you see (How can you do this thing to me?)

There's bound to be talk tomorrow (Think about a lifelong sorrow)
At least there will be plenty implied (If you caught pneumonia and died)
I really can't stay (Get over that hold out)

Blaine (Kurt):
Ooh, baby (Oh, but)

Kurt with Blaine:
It's cold outside
Trivia
Blaine says that he is performing for the Kings Island Christmas Spectacular, yet they haven't had one since 2005.
This is the first duet that Kurt and Blaine have on the show.
Baby, It's Cold Outside was performed by Cameron Mitchell and Lindsay Pearce (who played Harmony on Glee) for their music video in the fifth episode of the first season of The Glee Project.
Darren Criss and Brad Ellis performed the song at the "Sing Out, Raise Hope" concert in 2011.
Blaine and Kurt reminisce singing this song in Transitioning.
Gallery
Videos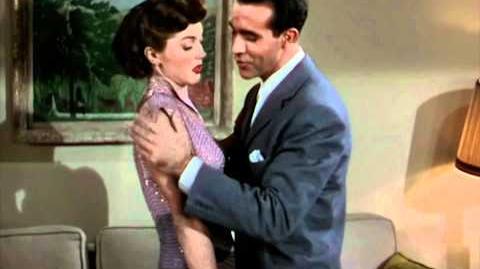 v - e - d
Season Two Songs
Audition
Empire State of Mind • Telephone • Billionaire • Listen • What I Did for Love
Britney/Brittany
I'm a Slave 4 U • Me Against the Music • Baby One More Time • Stronger • Toxic • The Only Exception
Grilled Cheesus
Only the Good Die Young • I Look to You • Papa Can You Hear Me? • I Want to Hold Your Hand
Losing My Religion • Bridge Over Troubled Water • One of Us
Duets
Don't Go Breaking My Heart • River Deep, Mountain High • Le Jazz Hot • Sing!
With You I'm Born Again • Lucky • Happy Days Are Here Again/Get Happy
The Rocky Horror Glee Show
Science Fiction Double Feature • Planet, Schmanet, Janet • Damn It, Janet
Whatever Happened to Saturday Night? • Sweet Transvestite • Touch a Touch a Touch a Touch Me
There's a Light (Over at the Frankenstein Place) • Time Warp
Never Been Kissed
One Love (People Get Ready) • Teenage Dream
Start Me Up/Livin' on a Prayer • Stop! In the Name of Love/Free Your Mind
The Substitute
Forget You • Make 'Em Laugh • Nowadays/Hot Honey Rag • Singing in the Rain/Umbrella
Furt
Ohio • Marry You • Sway • Just the Way You Are
Special Education
Don't Cry for Me Argentina • The Living Years • Hey, Soul Sister • (I've Had) The Time of My Life
Valerie • Dog Days Are Over
A Very Glee Christmas
The Most Wonderful Day of the Year • We Need a Little Christmas • Merry Christmas Darling • Baby, It's Cold Outside
You're a Mean One, Mr. Grinch • Last Christmas • Welcome Christmas
The Sue Sylvester Shuffle
Thriller/Heads Will Roll • She's Not There • Need You Now • Bills, Bills, Bills
Silly Love Songs
P.Y.T (Pretty Young Thing) • Firework • When I Get You Alone • Silly Love Songs • Fat Bottomed Girls
Comeback
Baby • Somebody to Love • Take Me or Leave Me • I Know What Boys Like • This Little Light of Mine • Sing
Blame It on the Alcohol
My Headband • Don't You Want Me • Blame It (On the Alcohol) • One Bourbon, One Scotch, One Beer • Tik Tok
Sexy
Do You Wanna Touch Me (Oh Yeah) • Animal • Kiss • Landslide • Afternoon Delight • Do Ya Think I'm Sexy?
Original Song
Misery • Only Child • Blackbird • Trouty Mouth • Big Ass Heart • Hell to the No
Candles • Raise Your Glass • Get It Right • Loser Like Me
A Night of Neglect
All by Myself • I Follow Rivers • Turning Tables • Ain't No Way
Born This Way
I Feel Pretty/Unpretty • I've Gotta Be Me • Somewhere Only We Know
As If We Never Said Goodbye • Born This Way
Rumours
Dreams • Never Going Back Again • Songbird • I Don't Want to Know • Nice to Meet You, Have I Slept with You?
Go Your Own Way • Don't Stop • It's 10 am and I'm Drunk
Prom Queen
Rolling in the Deep • Isn't She Lovely • Friday • Jar of Hearts
I'm Not Gonna Teach Your Boyfriend How to Dance with You • Dancing Queen
Funeral
Back to Black • Some People • Try a Little Tenderness • My Man • Pure Imagination
New York
My Cup • I Love New York/New York, New York • Still Got Tonight • Bella Notte • For Good
Yeah! • As Long as You're There • Pretending • Light up the World