Becca Tobin
Gender:
Female
Age:
27
Born:
January 18, 1986 [1]
Character:
Kitty Wilde
Occupation:
Actress
Years Active:
2009-present
Becca Tobin is an American actress. She currently portrays Kitty Wilde on Glee, making her first appearance in the episode The New Rachel, in the fourth season. Aside from her role on Glee, she has only appeared in one other television series so far, but she aspires to have many roles on television in the future.
Early and Personal life
Becca grew up in Marietta, Georgia as the youngest of two girls and the daughter of two attorneys.[1] She was a cheerleader in seventh and eighth grade and did dance after that.[2]She transferred schools halfway through her senior year. She had transferred from a theater arts school to a public one, and began to get bullied by girls who called her "theater freak" and "nerd."[3] They told her she would never become successful or a star,[1] and one girl threatened to beat her up.[4] She also received harsh text messages and her only friend began to ignore her. Because of the bullying, she began skipping school events, like pep rallies,[5] and didn't walk at her graduation.[4] She supports anti-bullying and is the female spokesperson for Bullyville.[3]She graduated from Wheeler High School in 2004.[1] She is an alumnus of AMDA, a performing arts college.[6]
Career
The first time Becca stepped on stage was at age four as a Christmas tree in her school's holiday pageant.[7] She moved to New York when she was eighteen to get working right away.[1] She's done small theater projects, though most of them were as an understudy, and toured with the Trans-Siberian Orchestra in 2011.[2] Glee is her first big project.
Filmography
Broadway
| Year | Title | Role | Notes |
| --- | --- | --- | --- |
| 2009 | Rock of Ages | Multiple roles | Broadway musical |
Television
| Year | Title | Role | Notes |
| --- | --- | --- | --- |
| 2009 | Wiener & Wiener | Heather | Episode: "Beyonce's Walk-In Closet" |
| 2012–present | Glee | Kitty Wilde | Recurring role |
Quotes
I wasn't always great at coping with bullying, but I learned over the years. I would sometimes get so sick of being bullied that I would gain courage to strike back at my antagonists, which rarely made me feel better. I definitely had to learn to rise above the animosity or I would have crumbled into a million pieces.[5]
People say things they would never have the courage to say in person, and it gets really cruel sometimes. Even now, being on the show, I deal with a lot of people saying really mean things to me on Twitter, but I know if I ever met these people that they would never be able to say these things to my face. Or I hope they wouldn't. When I read these things, I just wish so badly that people could be more sensitive and know how much words can hurt.[5]
Trivia
Her father is Jewish.[10]
Naya Rivera gave her the best advice out of the original cast members, which was always know your lines and be on time.[8]
Her favorite reality show is The Real Housewives, and she prefers the Beverly Hills and New York shows.[9]
Her guilty pleasure is anything chocolate.[9]
She was starstruck when she met Ellen Barkin at a party of Ryan Murphy's.[9]
She spent Thanksgiving of 2012 with Jane Lynch, who invited people who were not able to make it home for the holiday.[9]
She would like to sing country songs on the show. The Dixie Chicks and Miranda Lambert are her favorites.[9]
Her favorite singer is Celine Dion.[9]
Her favorite A-list couple is Jennifer Aniston and Justin Theroux.[9]
The best gift she ever received for Christmas was her dog Sophie from her parents seven years ago.[10]
She is a fan of Grease.[7]
Her parents are both attorneys and her older sister grew up to be an attorney.[1]
Her dog Sophie has a tumor.
Her audition song for Glee was I Kissed a Girl by Katy Perry. Source
Gallery
Videos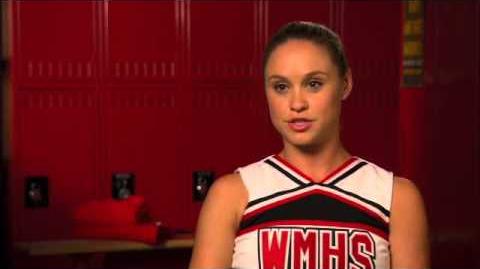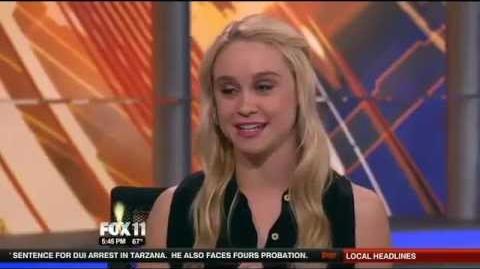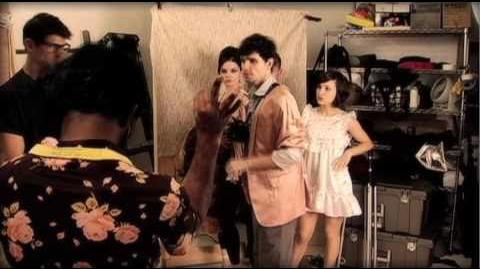 References