This article is about Beth Corcoran. You may be looking for the song.
Beth Corcoran is the biological daughter of Quinn Fabray and Noah Puckerman. In her first appearance in Journey, the twenty-second and final episode of Season One, she is adopted by Shelby. Although she is not shown in person until Journey, Beth is technically first seen as a sonogram in Throwdown, the seventh episode of the same season, when people believed Finn was her father.
She returns in the episode, I Am Unicorn, as a one-year old when her adoptive mother, Shelby, comes back to work at McKinley. Her biological father, Puck, visits Shelby's house to see his daughter where he gives her a drawing of a clown. In Pot o' Gold, she meets her biological mother, Quinn.
Biography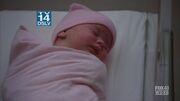 Early life
Beth is conceived during the drunken one-night stand that takes place between Quinn and Puck sometime shortly before Preggers. At first, it is not known if Quinn would decide to keep her when she is born, or be given up for adoption. Terri's initial plans were to have the baby handed over to her by Quinn, so she can raise her with Will Schuester. Quinn agrees to this, because she believes that Will would be a good father. Terri and Will do not end up adopting the baby, because they divorce before her birth.
There are several names considered for the baby before she was born. When Finn thinks the baby is his, he wants to call her Drizzle; however, Quinn refuses, telling him that the baby is going to be adopted. In Theatricality, Puck says that Jackie Daniels would be a great name for her, after one of his favorite artists - Jack Daniels. Jack Daniels is also a brand of liquor which just happens to be Puck's favorite. Later on, Puck and the other boys (except Kurt) sing Beth, by the rock band KISS, to Quinn, and Puck suggests Beth as the name. After the baby is born in the hospital, her warmer is seen with a pink piece of paper on it saying 'Baby Fabray'. In the end, Puck tells Shelby her name though Quinn didn't want to. Shelby seems to love the name and puts Beth as her name on the adoption papers at the hospital.
Trivia
Puck calls the drawing of the clown that he gives to Beth "Clownpig" because it looks like a pig.
She has the "same dopey smile" as Puck (stated by Shelby).
She wasn't seen in Season Two, but was mentioned by Rachel, Quinn, Puck, Santana, and Jacob.
She reappears for several episodes at the beginning of Season Three. 
She wasn't seen in Season Four, but was mentioned in conversations between Santana and Quinn (Thanksgiving) and Shelby and Rachel. (Sweet Dreams)
Gallery