Blaine Devon Anderson
General Information
Gender:
Male
Age:
19
Hair Color:
Black
Eye Color:
Hazel
Birthday:
February 1994
Height:
5'8"
Occupation(s):
Student
New Directions Member
Cheerios Co-Captain
Former Dalton Academy Warblers Member
Class President (in charge of the McKinley High Student Council)
Aliases:
Nightbird (alter-ego)
Bling-Bling, Blainey Days (Tina)
Blaine Warbler (Rachel, Kurt, Brittany, Hunter)
Billy Crystal, Honey, My Cutie, The Alpha Gay, My Brave Handsome Bushy Haired Boyfriend, The Man Without The Product, Borat, Silly, My Recently Broken Up With Ex-Boyfriend (Kurt)
Killer, Sex on a Stick, Gay Cyclops, Dalton Boy
(Sebastian)
Other Gay, Young Burt Reynolds, Gay Clark Kent from the First Season of Smallville, B (Sue)
Buttboy, Ladyboy (David)
Wonder Twin, Pretty Pony, Gay Winklevii Twin (Santana)
Modern Day Eggs Benedict (Puck)
My Extra Special Guest (Sugar)
Blainey, Squirt, Little Brother, Smartass, My Kid Brother (Cooper)
The New Kid With The Bad 'Fro, Mr. Broccolihead (Brittany)
The New Rachel, Mr. President (Artie)
Pilgrim, Young Orville Redenbacher, The Man Of The Hour (Sam)
Arm Gays (with Kurt) (Mercedes)
Fruity Fonzie (Roz Washington)
Honorary Rachel (Self)
Gay Blaine (Becky)
Anderson (Burt)
Family & Friends
Family:
Cooper Anderson (Big brother)

Unnamed Father
Unnamed Mother

Relationships:
Kurt Hummel (ex-boyfriend; in love with; sexual; best friend)
Sebastian Smythe (former crusher)
Jeremiah (ex-crush, ended, two coffee dates)
Rachel Berry (kissed, one date, ended)
Eli.C (sexual; ended)
Sam Evans (former crush)
Tina Cohen-Chang (former crusher)
Becky Jackson (kissed by once)

Friends:
Kurt Hummel (best friend)
Sam Evans (best friend)
Tina Cohen-Chang (best friend)
Mercedes Jones
Rachel Berry
Artie Abrams
Brittany Pierce
Mike Chang
Quinn Fabray
Noah Puckerman
Rory Flanagan
Santana Lopez
Finn Hudson
Sugar Motta
Ryder Lynn
Lauren Zizes
Joe Hart
Marley Rose
Wade Adams
Jake Puckerman
Becky Jackson
Jeff
Wes
David
Nick
Thad
Trent
The Warblers

Enemies:
Chandler Kiehl
Jacob Ben Israel
Hunter Clarington
Sue Sylvester
Other Information
Interests:
Singing, Acting, Performing, Fashion, LGBT rights, Bowties, Capri Pants, Disco, Kurt Hummel
Clique:
Glee Club
Cheerios

The Dalton Academy Warblers (Formerly)

Education:
Dalton Academy (Formerly)

William McKinley High School (Currently)

Talent:
Singing, Acting, Fashion knowledge, Dancing, Piano, Harmonica, Boxing,
Vulnerabilities:
Bullies, Hair gel
Strengths:
Singing, Performing, Dancing
Weaknesses:
Romance, Rejection, Naivety, Openness, Insecurities
Awards:
Singing, Polo and Fencing, as seen in The First Time
Series Information
First appearance:
Never Been Kissed
Portrayer:
Darren Criss
Ravi Smith (Young Blaine)
Mark Salling (Tina's Dream)
Blaine Devon Anderson
 is a main character on
Glee
. Blaine is currently a senior student at
William McKinley High School
, and is the Senior Class President. He was formerly the lead member of the
Dalton Academy Warblers
(where he transferred, due to heavy bullying at his previous school), he later transferred to
William McKinley High School
in
Season Three
to be with his boyfriend,
Kurt Hummel
. Blaine is openly gay and was in a relationship with Kurt Hummel before it ended because of the events that occurred in the
Season Four
episode,
The Break-Up
. In
Thanksgiving
, Kurt calls him moments before Sectionals and they make up.
Blaine Anderson is portrayed by actor, musician, and singer-songwriter, Darren Criss.
Biography
Early life
Blaine Anderson has an older brother named Cooper Anderson. His brother was seen as someone who was very domineering, strict and critical of Blaine and thus Blaine has some resentment towards his older brother. Before Blaine moved to Dalton Academy, he went to a school where he was bullied because of his sexual orientation. Just after he came out, he went to the Sadie Hawkins Dance with a friend, the only other gay guy at his school, and when they were waiting for his friend's dad to pick them up, three guys jumped out and "beat the living crap out of them." Blaine decided to transfer to Dalton Academy because of their zero tolerance bullying policy and started the Dalton Fight Club as a way to get rid of his anger at the fact that he let the bullies push him out the school.

Kurt arrives at Dalton Academy and asks Blaine why all of the students are in a rush. Blaine proceeds to explain that the Warblers are putting on an impromptu performance in the senior commons, and that the Warblers are like rockstars. Taking Kurt's hand, Blaine leads him running through a shortcut to the commons where the Warblers perform Teenage Dream, and Blaine seems to sing in Kurt's direction. Kurt appears overwhelmed by the school and the Warblers' performance. It is implied that this is when Kurt first falls for Blaine.
Kurt asks whether all the guys in the glee club are gay, and while Blaine confirms that he is, Kurt is informed by Wes, a fellow Warbler, that Dalton is "not a gay school;" it just has zero tolerance for bullying. Kurt breaks down crying and privately confides in Blaine about how isolated and difficult his school life has become due to Karofsky's escalating bullying. Blaine says that he understands where Kurt is coming from and explains how he himself was bullied at his old school. Rather than continue to deal with the abuse, he transferred to Dalton. He suggests that while Kurt could do what he did, confronting the bully would be a better course of action, since that is something Blaine regrets never doing himself.
They must have swapped cell phone numbers as Blaine later urges Kurt to have "courage" via text. The text was received during the girls performance of Start Me Up/Livin' On a Prayer. The next day, Kurt asks Blaine to help him confront Karofsky about his closeted homosexuality. Karofsky first attempts to deny what happened then becomes violently defensive, pushing Blaine into a fence. When Kurt defends Blaine by pushing Dave away, Dave runs. Blaine quips that he is obviously not ready to come out anytime soon.
Still in a state of shock, Kurt explains to Blaine that before Karofsky, he had never been kissed—at least, not one that "counted." Trying to cheer Kurt up, Blaine offers to buy him lunch. Kurt now sees Blaine as someone to look up to and a possible romantic interest, hanging a picture of him up in his locker with the word "COURAGE" beneath.
Kurt and Blaine have become close friends as Kurt tells his best friend Mercedes Jones that he can't hang out with her because of his plans with Blaine and offers her a rain check. After doing this for the second time, the three of them decide to have dinner together at Breadstix where it is revealed that Blaine likes Vogue (his favorite 2010 cover being Marion Cotillard - the same as Kurt's), cares about politics involving the gay community – such as Prop 8 and Don't Ask, Don't Tell – and says that he's a college football fan, especially of the Buckeyes. Kurt commends him, saying "way to break the stereotype" before giving him a high-five. Although he is obviously enjoying his talks with Kurt, Blaine tries to keep Mercedes included in their conversation. Blaine is later a key factor for Kurt transferring to Dalton.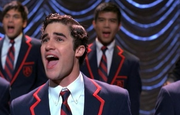 Blaine, Kurt and the Warblers compete against the New Directions, singing Hey, Soul Sister at Sectionals. In the episode, Blaine tries to help Kurt acclimate to the customs of Dalton Academy and the seemingly aloof Warblers. When Kurt's ward, Pavarotti, appears have fallen ill, he asks for Blaine's help. Blaine's explanation for Pavarotti's molting can be seen as a metaphor for Kurt's struggles at Dalton Academy. "He's got food, water, he seems to like his cage. Just give it a little while. He'll be singing again in no time." He gives Kurt an encouraging pat on the knee and leaves him to tend to Pavarotti.
Blaine initiates a conversation with Kurt, saying that he is studying too much and convincing him to help rehearse a duet he is doing for an out-of-school performance, Baby, It's Cold Outside. Upon ending the song, they sit closely beside one another. Before leaving, Blaine asserts that his female partner will definitely not be as good as Kurt. When Blaine leaves the room, a visiting Mr. Schuester asks Kurt if he is "someone special." Kurt lets him know that Blaine is just a friend but admits that he is in love with him..
Blaine and the Warblers perform Bills, Bills, Bills for rehearsal. He and Kurt have coffee with Rachel and Mercedes, and the girls tell Kurt about the troubles going on at McKinley. Blaine reveals to the girls that the football team only needs four more members to compete in the game. He later attends the game with Kurt. Kurt says that Blaine loves football and he (Kurt) loves scarves.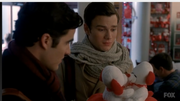 Blaine and Kurt argue over the meaning of Valentine's Day. Blaine claims it is his favorite holiday. He tells Kurt that he has a crush on "this guy" and asks if it would be too cheesy if he sang his feelings to his crush, before ordering and paying for both his and Kurt's coffee. At this point Kurt assumes it was him Blaine was referring to. Blaine calls for an emergency Warbler council meeting and tells them that he's in love. He asks the Warblers to help him serenade the guy off campus, breaking a Warbler tradition that's been in place since 1927. He explains that his crush is a junior manager at the local mall's Gap and that the plan is called "The Warblers Gap Attack."
At the mall, Blaine attempts to serenade his crush, Jeremiah. Blaine and the Warblers do things like surround Jeremiah with mannequins and try on sunglasses. At one point in the performance, you can see Blaine trying on pink glasses. After the performance, Blaine asks Kurt if it was "too much." Jeremiah then comes out, rebuffs Blaine, telling him that not only had he been outed by the performance, he'd been fired, and though they may have had coffee twice, Blaine being a minor would make any relationship between them illegal.
Kurt and Blaine return to the Lima Bean in their next scene where Blaine has become cynical towards Valentine's Day, lamenting over the fact that he'd made the relationship all up in his head. Kurt then explains to Blaine all of the unconscious flirting he thought they'd had and tells him he was sure the boy Blaine was going to ask was him. Blaine cals himself clueless and replies that he's never been anyone's boyfriend. He tells Kurt that he really cares about him and he doesn't want to screw "this" up. Kurt follows the explanation by comparing them to When Harry Met Sally, claiming the Meg Ryan role for himself, and Blaine asks "don't they get together in the end?" Kurt doesn't answer, then orders Blaine's coffee before claiming he has an idea for them for Valentine's Day.
At the end of the episode, Kurt, Blaine and The Warblers perform Silly Love Songs for the crowd at Breadstix, including Kurt's friends from McKinley.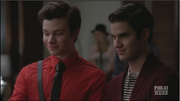 Blaine and Kurt attend Rachel's basement party together. Blaine gets drunk, and ends up kissing Rachel during a game of spin the bottle. Afterwards, Blaine and Rachel sing Don't You Want Me on the stage. Blaine ends up being so drunk, he's unable to drive, so Kurt lets him sleep at his house. Burt walks in and finds Blaine, hungover, waking up in Kurt's bed. While getting coffee with Kurt, Rachel calls Blaine and asks him out, and he accepts. During a conversation with Kurt, he questions whether he is gay or bisexual. This makes Kurt angrily dismiss bisexuality, likely speaking from his past experience with dating Brittany. Blaine gets angry at Kurt for not understanding his confusion. He accuses Kurt of acting like Karofsky and storms out of the coffee shop. He then proceeds to go on the date with Rachel.
Later, Kurt stops by Rachel's house and helps her clean up from the party, questioning her about how her date with Blaine went. She describes it as "lovely" but says that there was no kiss in the end, though she was expecting one. Kurt mocks the date for being too gay ("oh, that's not gay at all") as Rachel further divulges information that they were dressed as the main characters and mouthed all the dialogue. Rachel, still believing that Blaine is at least bisexual, bets Kurt that she can kiss him while he is sober and there would still be a spark.
At the end of the episode, Kurt brings Rachel to the Lima Bean and the two wait for Blaine to come back from Warbler's singing practice. When Blaine enters the shop, Rachel runs up to him and kisses him before he can finish greeting her. After the kiss, Blaine confirms that he is "100% gay" and thanks Rachel for clearing up his sexuality. Rachel does not take the news badly as she believes it would be perfect drama and inspiration for writing a song, thanking Kurt for the experience.
Sue Sylvester visits Kurt and Blaine while they are at the Lima Bean. In an effort to form an alliance, Sue tells them about how she saw "sexy" written on the whiteboard in the New Directions' room and tells them they need to "outsex" the New Directions to impress the judges at Regionals. Kurt dismisses this as classic Sue nonsense but Blaine i

mmediately decides The Warblers need to be sexier. He invites the girls from their sister school, Crawford, to a performance of
Animal
to test their sex appeal. During the performance he notices how Kurt's "sexy face" is awkward. He tells him he'll need some lessons on how to look sexy before Regionals.
After looking over Kurt's identical variety of "sexy looks," Kurt confesses that he doesn't know how to be sexy because he doesn't know or want to know anything about sex, saying that he's more of a "romance" guy and that all of those looks were his "uncomfortable" faces. Blaine offers to teach Kurt what he knows about sex but Kurt doesn't want to hear it and asks Blaine to leave.
Blaine then approaches Kurt's father at his auto shop and asks him to give Kurt "the talk," admitting he's overstepping the boundaries a little. Blaine confides to Burt that he does not have the same relationship with his father that Kurt has with Burt. He says that he worked on a car with his father because his father thought that "getting his hands dirty" might make him straight. Blaine also reveals that his father would never have "the talk" with him and he had to search for the information himself. Burt takes Blaine's advice and initiates a conversation with Kurt about sex, which he shies away from at first but it ends up being informative and beneficial for Kurt.
Blaine starts the episode singing the lead in the song Misery. After this performance, Kurt explains to him that sometimes he feels they aren't The Warblers but "Blaine & The Pips"; it is after this that Blaine realizes that The Warblers do rely on his vocals too much and that they will not beat New Directions or win Regionals that way. He proposes a change for the competition—to make the lead number a duet instead. He requests Kurt to be his duet partner upon hearing Kurt perform Blackbird by The Beatles as an ode to Pavarotti, who died suddenly.
As he watches Kurt perform Blackbird, it becomes obvious that Blaine has had an epiphany about Kurt which causes him to smile. Later, Blaine interrupts Kurt decorating Pavarotti's casket to rehearse th
eir duet for Regionals. Blaine declares that his choice of song for their duet is
Candles
by Hey Monday. He tells Kurt that he was looking for a song that was more emotional than his usual standard. When Kurt asks him why he was chosen as his duet partner, Blaine takes a moment to reply but admits that he wants to be with Kurt, saying that he had been "looking for him forever ," and found him through Kurt's rendition on Blackbird. He also said that Kurt "moves him." After a small hesitation, Blaine leans in and they share their first kiss. Blaine eventually backs away, smiling and remarks that they should practice. Impishly, Kurt replies "I thought we were." Both boys lunge towards each other for their second kiss.
Later on, at Regionals, Blaine and Kurt perform Candles as a duet and Raise Your Glass as a group, with Blaine as the lead. In the end, they do not win at Regionals. Afterwards when he and Kurt bury Pavarotti, Blaine says that they may not have won the competition but they got each other out of all this, which is ultimately worth much more than a trophy. Blaine and Kurt hold hands as they walk away from Pavarotti's grave.
Kurt is seen showing Blaine around McKinley before the benefit concert. He comments that Kurt looks as though he misses McKinley. Karofsky then enters and starts insulting Kurt and Blaine, ridiculing their presence at the school. Blaine, feeling aggravated, shoves Karofsky and he shoves him back. Santana sees this happening and comes to break up the fight, threatening Karofsky with bodily harm if he doesn't leave the three of them alone. Later in the episode, Kurt and Blaine are seen watching the performances at the benefit concert and cheering for everyone.
Kurt, Blaine, Santana, Mercedes and Tina discuss the possibility of Kurt transferring back to McKinley over coffee at the Lima Bean. Blaine says if it weren't for Karofsky, he'd be all for it and that he just wants Kurt to be safe. Santana cooks up a scheme to get Kurt back in the picture, thinking that winning back Kurt would garner her more votes for prom queen. Her scheme works and after some discussion, Kurt transfers back to McKinley on the proviso that Karofsky starts a PFLAG organization for their school.
With the New Directions on the lunchtime steps, Blaine and the Warblers suddenly appear. Blaine explains that they are there to say goodbye to Kurt because, while he might get to see Kurt after school and on weekends, the rest of the Warblers won't.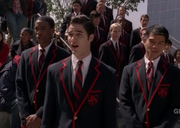 They then serenade Kurt with the song
Somewhere Only We Know
. At the songs end, Kurt and Blaine hug, both with tears in their eyes. During the hug Kurt tells Blaine that he'll 'never say goodbye' to him. Afterwards, Blaine leaves, glancing back and smiling, knowing that his boyfriend will be happiest with his best friends.
Then in the next episode, when Sam is accused of hooking up with Kurt and Quinn because they were both seen with Sam outside of a motel room, Puck blames Sam for threatening to break up Quinn's relationship with Finn and Kurt's relationship with Blaine. Rachel also speaks to Kurt, begging him to stop hooking up with Sam, saying that while Sam is cute, he isn't worth losing Blaine over "Oh how I've missed your insanity." In the end, it is revealed that Sam is now homeless so Kurt and Quinn have been providing support to help him out—Quinn found out because she and Sam attend the same church; Kurt found out because Sam got a job delivering pizzas at night and happened to deliver one to Dalton Academy. While Blaine is not in the episode, it is shown that Kurt has the picture of him with the word "COURAGE" underneath hung up in his locker again.
Kurt and Blaine are at Breadstix. There is a moment where Kurt asks for Blaine's hand across the table and proposes that they go to prom together. Blaine is reluctant at first and reveals to Kurt that when he asked the only other gay guy to a Sadie Hawkins dance at his old school, three guys "beat the living crap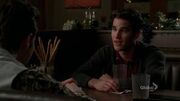 out of us." Kurt tells Blaine that if it makes him feel uncomfortable at all, they do not have to go, and instead they can go see a movie. Blaine, touched, tells Kurt that he is crazy about him and confirms that they will go to prom together.
Later, at Kurt's house, Kurt shows Blaine, Finn and Burt the outfit he is planning on wearing to prom. Finn calls it "Gay Braveheart." Burt thinks that Kurt should not wear the kilt because he thinks it attracts unwanted attention and Blaine takes a conservative view by agreeing due to his past experience. Kurt stands strong and states he will go in his kilt, with or without Blaine.
At the actual prom, Blaine & Kurt dance towards the stage during Friday but avoid slow dancing together during Jar of Hearts, a conservative stance, whilst everyone else seems to be having their intimate moment as a couple.Blaine is next to perform, singing I'm Not Gonna Teach Your Boyfriend How To Dance With You with Tina and Brittany as back up whilst a fight ensues between Finn and Jesse over Rachel.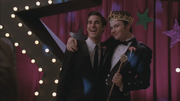 In a shocking twist, Kurt finds that he's been voted Prom Queen with the king being Karofsky. Kurt, who believed that McKinley students had grown or at least learned to ignore that fact he's gay, is emotionally hurt after realizing the fact that the students decided to humiliate him by secret ballot, rather than saying it to his face. Kurt runs out crying, Blaine chasing after him. While in the hallway, Blaine attempts to comfort him, telling him that it was just a "stupid joke." Kurt states to Blaine "They can't touch us or what we have." Kurt regains composure, adamant that he is not going to give in and goes back to get coronated. Kurt announces "eat your heart out, Kate Middleton" after he receives the scepter. Rachel begins applauding, which slowly spreads out amongst the entire student body.
Principal Figgins then announces that as per tradition the King and Queen are to dance together. Karofsky gets up and walks with Kurt to the dance floor, during which Kurt suggests that perhaps this is the time for Dave to come out to the school.However, as the music starts, Karofsky finds himself unable to go through with it and rushes off, clearly troubled. Blaine steps in and asks Kurt if he may have this dance. Kurt says: Yes you may. As Mercedes and Santana sing Dancing Queen. Blaine and Kurt spend the rest of the night relaxed and happy to be visibly together, even enjoying a couple's portrait.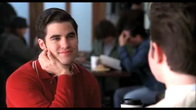 Kurt comes back from Nationals in NYC with New Directions having been placed 12th and relays everything that went on to Blaine at the Lima Bean Cafe. Blaine asks Kurt why he doesn't seem too sad about losing Nationals. Kurt says the experience was amazing—he flew on a plane for the first time, ate breakfast at Tiffany's, and sang on a Broadway stage. Blaine tells Kurt that he loves him for the first time. Kurt says that he loves Blaine, too, and states that he's actually had a pretty good year.
Kurt and Blaine having coffee in the Lima Bean at the start of the school year. Kurt is shown urging Blaine to transfer to McKinley, insisting that he had promised by the first day of school he would have made a decision about transferring. Blaine claims he hasn't decided because he'll miss his Dalton friends, to which Kurt replies that he wants his senior year to be magic but the only way that'll happen is if he gets to spend every minute with Blaine.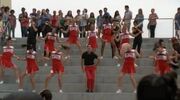 Sometime within the first week, Blaine arrives at McKinley, not in his Dalton uniform, confirming to Kurt that he has transferred. When Kurt worries that Blaine had transferred only to be with him, Blaine insists that he transferred because he couldn't stand to be apart from the person he loves. In order to warm the New Directions up to him, Blaine performs It's Not Unusual with the Cheerios in the McKinley courtyard as an introduction and audition song to the club. However, this backfires, as the Cheerios pour fuel on a purple piano in the courtyard during the number as part of Sue's political protest against the arts, and it is set alight by Quinn's cigarette. This occurrence leads to some members of the Glee club, most notably Finn, disapproving of Blaine's presence at McKinley. Blaine then performs in You Can't Stop the Beat with New Directions as his first number with them.
When the school musical is announced as
West Side Story
, Blaine plans to audition for Tony and discusses his audition songs with Kurt in
I Am Unicorn
.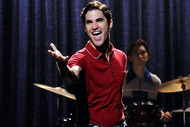 However, when he realizes how much Kurt wants the role of Tony, Blaine decides to step aside for love and audition for Bernardo or Officer Krupke giving his status as a Junior, as the excuse. Despite this, when he auditions with a brilliant rendition of Something's Coming, Artie asks him to read for Tony instead.
It is revealed that Blaine got the role of Tony in the musical, opposite a default winning Rachel as Maria. A somewhat bittersweet end to Kurt's bid for the male lead, he surprises Blaine with some beautiful roses which is a tender moment for the couple.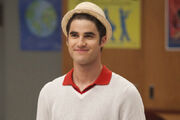 In response to New Directions being distraught at Mercedes' absence from the group and the musical almost being cancelled, Blaine performs
Last Friday Night
in the choir room in order to remind them what Glee club is all about - "fun." Though well received by the majority of New Directions, it prompts Santana to express her anger at Glee turning into the "Blaine and Rachel show," leading her to quit the club with Brittany.
Blaine sings
Tonight
with Rachel whilst rehearsing for West Side Story but Artie points out that their performance lacks sexual passion which sends Emma and Coach Beiste running to do other things. After Blaine and Rachel admit to not ever having had sex yet, Artie expresses doubt that they will be able to genuinely portray Tony and Maria without such experience.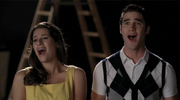 The next scene we see Blaine dancing to music in his room, alone with Kurt with Kurt looking slightly troubled., then being asked by Kurt if he thinks he is "sexually boring" since they've never let their hands go below the waist. Kurt expresses concern that they are playing it "safe" and asks if Blaine has ever felt the desire to "rip off each other's clothes." Blaine says that he thought that they both wanted to move slowly and that he has, but "that's why they invented masturbation." He expresses that he wants Kurt to be comfortable so he can be comfortable. He then jokes that it would be a tall order to rip off Kurt's clothes anyway, because of all the layers he wears. Kurt agrees, and the couple kiss. Blaine pays a visit to Dalton Academy later in the episode, with the intention to invite the Warblers to see McKinley's production of West Side Story. He happens to walk in on the Warblers performing Uptown Girl, and meets a new Warbler named Sebastian Smythe who takes an immediate liking to Blaine. After Sebastian flirts with Blaine during a performance of Uptown Girl, he is convinced to have coffee with Sebastian shortly afterward, where he compliments Blaine, calling him "sex on a stick and sings like a dream" and "a legend at Dalton." Blaine seems flattered, but unsure about Sebastian's real intentions. They have a conversation intercut with Rachel and Santana performing A Boy Like That/I Have A Love. Sebastian asks why Blaine transferred from Dalton and Blaine says that he misses it everyday, but McKinley is where his heart is. Sebastian eventually has to leave for lacrosse practice, but tells Blaine that they should meet again. At McKinley the next day, Kurt and Blaine have a conversation in the hallway. Blaine asks if they're too sheltered and says that West Side Story is all about going outside of your comfort zone and being adventurous. Kurt reveals that he has a bucket list, which Blaine tells him is hot. Blaine gets coffee with Sebastian after school, shocked at how "out there" Sebastian is—asking for a shot of Courvoisier in his coffee and having lived in Paris. Sebastian tells Blaine that his bashful schoolboy act is super hot, and Blaine becomes aware and uncomfortable with Sebastian's intentions. Hoping that Sebastian will get the hint, he then tells Sebastian that he has a boyfriend, and Sebastian says "he doesn't need to know." Blaine then talks about how much he cares for Kurt, "I just never want to mess my thing up with him, in any way. He's really great.," when Kurt himself arrives, asking who they're talking about. Blaine, relieved, introduces Kurt to Sebastian who sits down next to Blaine, holding onto his arm very tightly. Sebastian invites them both out to Scandals, the gay bar in West Lima, and Blaine refuses, saying it's just not their thing. Kurt, however, seeing the power play, accepts, claiming they havlle "a lot of firsts to start crossing off their list." When Kurt and Blaine arrive at Scandals with their fake ID's in hand, Sebastian buys Blaine a beer but an alcohol free Shirley Temple to Kurt, stating that he knows he's always the designated driver. A little while later a drunk Blaine is seen dancing with Sebastian. After an unexpected chat with Karofsky, a jealous Kurt decides to seize the moment and forces Sebastian out of the way and dances with Blaine. They leave the bar, Blaine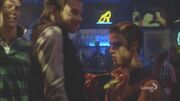 clinging onto Kurt, obviously very intoxicated. Kurt opens the door to Blaine's car and helps Blaine in, but Blaine pulls Kurt on top of him, trying to kiss him and telling him how badly he wants him. Kurt protests, telling Blaine to stop, but Blaine tells him they should just have sex then and there. Kurt resists, and gets out of the car angrily. When Blaine asks why Kurt is yelling at him, Kurt tells him that he "has never felt less like getting intimate with somebody," because Blaine spent the night dancing with another guy and would be too drunk to remember anything the next morning. Blaine becomes upset at Kurt's outburst, gets out of the car and says he's going to walk home.
After being unable to lose his virginity to Kurt, Blaine talks with Rachel (who failed as well) backstage at the opening night of the musical. Blaine frets over how to follow America whilst still lacking any sexual experience. However Rachel, having had some insight from Tina's touching reminiscence, convinces Blaine that it has more to do with finding your true soulmate - and tapping into that emotion to portray two people in love which, she says, is an experience that each of them know very well with their respective partners. Blaine is touched by her statement. After the show, Blaine is then seen dancing in slow motion on the stage (similar to Mike in Asian F). Kurt approaches him, saying he should be out celebrating.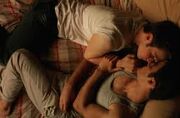 Blaine and Kurt exchange congratulations on their respective parts in the Musical. Blaine then apologizes for getting drunk and treating Kurt badly and calls Kurt towards him, holding his hand on his heart like the song from the musical. He asserts to a moved Kurt that Sebastian means nothing to him, expressing his love for his boyfriend and his desire for their first time to be truly special. Kurt also apologizes for agreeing to go to Scandals, saying that he wanted to be Blaine's "Gay Bar Superstar," realizing that he's just a silly romantic. Blaine says it's not silly and pulls Kurt in for a passionate kiss. Kurt tells him how proud he is to be with him and Blaine is visibly touched. Blaine then asks Kurt to accompany him to Artie's after-party at Breadstix, but Kurt says no, (Blaine looks slightly crestfallen, but seems to know there is something going on) - asking to go to Blaine's house instead, to which he quietly responds "OK." At the end of the episode, Blaine and Rachel perform One Hand, One Heart, partially intercut with Kurt and Blaine lying in bed Eskimo kissing and beaming, establishing that the couple had, or were about to, have sex for the first time.
Blaine is first seen with Puck, Mike, and Finn singing Hot For Teacher. He is next seen with the rest of New Directions watching Will and Shelby preform You and I/You and I. He is next seen talking to Kurt before the dodgeball match, and then during the match between New Directions and The Troubletones singing Hit Me With Your Best Shot/One Way or Another. Blaine is again seen during the New Directions performance of I Can't Go For That/You Make My Dreams. He is lastly seen in the crowd watching The Troubletones performance of Rumor Has It/Someone Like You.
He and Kurt show their support for Santana by singing Perfect. At the end she says that's another thing she can add to her list of terrible things, they both take it and sit back at their seats, visibly hurt. During the girls performance of I Kissed a Girl you can see him and Kurt recording video of the performance on their phones.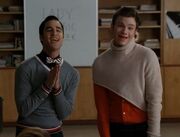 Since Blaine joined New Directions, Finn has been giving him a hard time, ignoring all suggestions made by him. In Hold On To Sixteen he finally snaps when Sam returns and also turns down his ideas saying that they should be selling sex, which Blaine replies that he "isn't for sale." They begin to fight and Will breaks it up. Blaine walks off.
Finn finds him in the Locker room hitting a punching bag, Finn asks if he is pretending to hit Sam which Blaine says it's him too which shocks Finn. Blaine wants to know why Finn is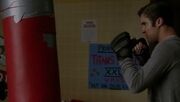 being hostile towards him. Blaine says ever since he came to McKinley and joined New Directions, Finn has given him nothing but crap. Finn reveals that he was jealous and intimidated by Blaine's talent. He says that without Rachel, they need Blaine to win as he is the most well rounded person in New Directions. Blaine and Finn finally agree to set aside their differences for the good of New Directions.
Blaine and Rachel (presumably wrote) and perform the song Extraordinary Merry Christmas for the Glee Club, because Artie asks Rachel to sing a brighter song for their Christmas Special. It was supposed to be performed in the Christmas Special, but was not shown. Blaine and Kurt co-host the Christmas Special. They begin with a duet of Let It Snow. When Rachel and Mercedes come in, the quartet sing a rendition of The Sound Of Music's My Favorite Things.
Blaine is seen participating with New Directions in songs and class. Blaine joins the boys in the opening group number of the episode, Summer Nights, and is also dancing and singing backing vocals in Moves Like Jagger/Jumpin' Jack Flash with the other New Directions boys. Blaine is seen exchanging glances with Kurt during Rachel's solo to Finn, Without You and also throughout the episode. When the Glee Club finally decides on a song for Mr. Schuester's proposal to Ms. Pillsbury, Blaine sings We Found Love with the New Directions.
During the opening scene of the episode, Blaine, Santana, Mercedes, Brittany and Kurt are in the hallway discussing how New Directions won Sectionals because they did Michael Jackson songs, and how The Troubletones didn't get to perform any Michael songs. Mr. Schue overhears the discussion and tells them that maybe they'll be able to perform Michael at Regionals. Blaine then says that he knows a very good opening MJ number for Regionals. The five, influenced by his words, break into Michael Jackson's Wanna Be Startin' Somethin' with Blaine as the lead soloist and the others as backup. The number starts in the school hallways, goes to the school library where Quinn, Rachel and Tina join in, and ends in the auditorium where New Directions is singing it together in various Michael costumes. Blaine is later seen at The Lima Bean with Artie, Rachel, Santana and Kurt, where he asks them what their favorite Michael Jackson memories are.
After a heated discussion about Michael's impact on them as kids, Sebastian comes out of nowhere to tell them he changed the Warblers setlist and that they are doing Michael. When asked how he knew of New Directions plans for Regionals, Sebastian reveals that Blaine told him. Artie, Santana and Rachel give him disgusted and shocked looks while Kurt scolds at him. In the choir room, New Directions arrives in Glee Club and are angry about how the Warblers stole their idea. Blaine states that New Directions were able to win Sectionals even though their setlist was stolen the day of competition, and that if they were able to pull it off then, they can pull it off now. Puck then blames everything on Blaine, saying "Once a Warbler, ALWAYS a Warbler" and calling him the "modern-day Eggs Benedict." Mr. Schue then reveals the week's lesson: "What Would Michael Jackson Do?" Finn and Artie say their own ideas, but Blaine suggests that Michael would take it to the streets.
His words lead to the next number of the episode,
Bad
. New Directions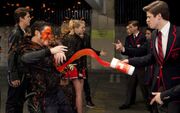 confronts the
Dalton Academy Warblers
in a parking garage, and they have a sing-off, which ends horribly. At the end of the sing-off number,
Sebastian
throws a slushie at Kurt, but before he can hit Kurt, Blaine pushes him out of the way and takes the slushie to the face. He falls on the floor, groaning and yelling in pain, while the New Directions quickly help him and look shockingly at the Warblers, who make a quick escape.
Upon arriving in the choir room the next day, Kurt looks very upset about what happened. Blaine is absent due to his injuries (his right cornea was deeply scratched in the incident) and Kurt says the doctor has checked up on Blaine's eye and he will need surgery. New Directions already know that the slushie thrown at Blaine was not normal. Blaine's absence from school continues throughout the next few days until Kurt is seen comforting him at his home. Blaine is wearing an eyepatch on the eye that was injured. Rachel and Finn arrive later bringing with them some chicken noodle soup and eyepatch-themed movies for Blaine.
Before further conversation, Blaine raises a toast for Kurt who found out earlier during the week that he is a NYADA applicant finalist. This makes the atmosphere awkward as everyone knows that Rachel hasn't received her NYADA letter yet and she may not be accepted. Finn asks when Blaine will have surgery and Blaine says during the week. He says he's terrified of having surgery and he hates the fact that he's missing out on MJ week. This leads to Kurt, Rachel and Finn to sing Ben. During the soft and sweet song, you can see Blaine enjoying the comfort of his best friends. After this scene, Blaine does not appear in the rest of the episode due to his eye injuries and surgery. It is later revealed that Sebastian was meant to throw the slushie at Kurt, but Blaine got in the way. The slushie contained rock salt, which is why Blaine's eye was injured. In fact, he was absent in the next episode, because he is still absent because of what took place in the previous episode. However he is mentioned by Kurt, who says that he is recovering from his surgery.
Kurt keeps getting Valentine's Day cards from a secret admirer which he assumes are coming from Blaine but later discovers are actually from Karofsky. Blaine isn't seen for most of the episode, due to Criss's Broadway run, but makes a surprising return in the end scene at Breadstix. He comes along singing a part in Love Shack and removes his red heart-shaped eyepatch, bringing Kurt on stage and around the room to dance with him throughout the performance.
It is clear that Blaine's feelings towards Sebastian have changed. Even when Kurt mentions Sebastian in the auditorium, Blaine gets angry. He tells Kurt he thinks he has a good song for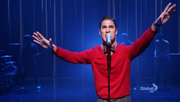 Regionals. He performs
Cough Syrup
. When New Directions hears of Karofsky's attempted suicide, they all gather in a circle and talk about what they're looking forward to experiencing in the future. Blaine participates with the group and says he's looking forward to marriage equality in all fifty states with a glance at Kurt, who smiles.
Later, Santana, Brittany, Kurt and Blaine go to confront Sebastian at the Lima Bean. Sebastian states he has changed following the Karofsky news, Blaine starts forgiving him and at Regionals is seen clapping and cheering for the Warblers. He participates with New Directions in Fly/I Believe I Can Fly and is seen singing backup with the boys in Here's To Us. When the results of Regionals 2012 are announced as New Directions claiming their victory, Blaine goes to shake Sebastian's hand and they seem as if they are on good terms.
When Quinn is back in her Cheerios uniform, Blaine compliments her in the hall while he was walking hand in hand with Kurt. He is later seen with the New Directions girls as bridesmaids for Rachel's wedding. It is unclear if he really disapproves of Finn and Rachel's marriage, even though is attending their wedding.
The previous episode ended with Quinn's car accident and as she returns back, she assures everyone she is all right. Blaine, with all members of New Directions, watch Quinn and Artie perform I'm Still Standing.
Afterwards, Blaine is shown in Booty Camp, as Sue takes over the Booty Camp sessions. He is shown dancing with New Directions and during Sue's harsh lecture. Kurt and Blaine are strolling together through the school hallway as Kurt states that he does seem a little grouchy as he explains that his brother is in town to pick him up and take him out for lunch. Kurt does seem a little excited as he gets to meet Blaine's 'mysterious' brother which Blaine refuses to talk about. "Trust me, you already know what he looks like..." Blaine murmurs as his brother appears behind him.
Cooper Anderson hurries towards Blaine as they come into each other's arms in a tight hug. Cooper is then introduced to Kurt and Kurt recognizes him from the "FreeCreditRatingToday.com" commercials. Blaine watches Kurt scream out in surprise as Sue pulls Cooper away. Blaine and Kurt watch Cooper sign Coach Sue's breasts and afterwards, together they walk down the hallway, arm over shoulders as Cooper explains what he's doing and his job at the moment. Sue manages to pull Cooper away again as Blaine tells Kurt that that's the reason why he doesn't talk about Cooper as much.
Blaine is not seen in the library with the fellow seniors as they discuss Senior Ditch Day activities. Tina was the only non-senior student that was there to discuss the activities on Senior Ditch Day. Cooper Anderson is introduced to New Directions from Sue Sylvester as she tells them all that he'll be coaching a Master Class to help those who see a future in acting and being successful in the business.
During this speech, Blaine looks at Cooper shockingly as he slowly takes in what his brother is saying and he looks as if he does not agree.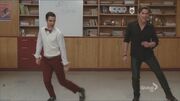 Rachel chimes in and says that she's sure that they must have did a duet once together by the piano and Cooper tells everyone that Blaine and him were famous around the neighborhood for their dueling "Simon Le Bon" impressions as Blaine's friends looks in awe. Blaine smiles hesitantly and says "Please don't make me do that..." as Kurt continues to push him. Cooper asks Blaine to do a little Duran Duran as Blaine agrees in a hushed voice.
Hungry Like The Wolf/Rio
, a mash up of two famous Duran Duran songs is performed by Blaine and Cooper Anderson as the club cheers them on.
After the performance, the club seems satisfied and happy by the number and Cooper tells Blaine that he enjoyed it as Blaine looks at him with an irritated stare. The two Anderson brothers are next seen at BreadstiX as Cooper gets free cokes. Blaine laughs at his brother. Cooper then comments on his performance during their mash up number saying that he was a little pitchy in Rio and that his moves lacked in theme as Blaine replies that his theme was "dancing."
Cooper then tells him he's going to have to give in and gives him a quote as advice. Blaine then bursts saying he is absolutely unbelievable and asks him what is he doing, "All you ever do is tell me what I'm doing wrong." The scene flashes back to a childhood scene with Blaine and Cooper as Blaine is dancing to MMMBop by Hanson and Cooper mocks him. Cooper states that he doesn't remember it as Blaine shakes his head with disappointment. Blaine's big brother tells him that there is a big gap between their age, but Cooper wants to be closer to Blaine. Blaine nods, seemingly regretting what he just said. "So, you'll attend my Master Class tomorrow right?" asks Cooper as Blaine continues to nod.
During the Master Class, Blaine is seen smiling as Cooper explains to them a few things but then his smile turns into a gaze stating that he cannot believe his brother's ways and asks Kurt, "Why are you writing this stuff..?" Cooper tells them that the key to singing well is to point with their fingers. Blaine shakes his head with disapproval and states that it's bad advice. Cooper then replies back and Blaine's expression shows that he can't fight back.
New Directions seems to enjoy and agree to his advice but only Blaine seems out of it. Part of the Master Class is to act and Cooper gives them NCIS scripts to practice acting. Blaine, again, seems irritated while reading the lines, as Cooper tells him what he's doing wrong. They break into an argument as Blaine yells loudly, "You're my brother! Can't you just support me?" Cooper says, "Are you talking to me right now? Cause I can't tell if you're talking to me if you don't point your finger." Everyone nods and makes "oohh" sounds.
Again, they are both seen in the school hallway as Blaine watches Cooper take pictures with Blaine's glee club friends. Cooper tells Blaine that he's going to audition for a Michael Bay movie. He expects Blaine to reply back happily but Blaine walks with him with an annoyed expression. He says he is "thrilled" for his brother but Cooper tells him that it "doesn't hurt to smile." They continue to talk until Blaine just bursts again. "It's all about you isn't it? But do you know what, big brother? I'm sick of it! And I'm not gonna take it anymore!"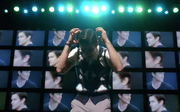 Blaine then begins to sings
Fighter
as he walks away from his brother angrily. He walks around the school hallways, as he sees other students watching his brother's commercial excitedly. He walks around the choir room looking at his brother teach another Master Class while singing. The scene continually changes to the boys change rooms as Blaine punches a boxing bag and showers. During these scenes, you can see his brother Cooper, watch him.
The final scene of the song cuts to the auditorium, where he sings on stage, while behind him shows many screens of his brother's commercial. Later, once again, Blaine is seen with New Directions in Booty Camp. Later, Blaine is seen at his locker as Kurt uses a small plush dog toy, and plays around with Blaine as Kurt announces that Finn won the toy and he will give it to Blaine. They walk through the hallway, discussing about brothers and family and hardship.
Kurt encourages him to fix his relationship with Cooper as Blaine tells him, "He's the one that's leaving! Didn't you hear about that big audition?" as Kurt explains that Cooper has not left and is in the auditorium hoping that Blaine might come and talk to him. Blaine replies back saying that he has tried talking to him but it never works which Kurt says that maybe talking isn't the answer and that Blaine should show him how he feels in the best and most honest way.
The background noises fade as the song,
Somebody That I Used To Know
, begins to play. Blaine Anderson walks through the hallway as the scene cuts to the auditorium as he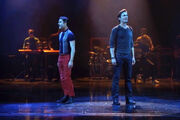 begins to sing. Cooper joins in the song and during the number on stage, it shows Cooper grabbing a toy from Blaine from when they were just kids.
After the number, Cooper tells Blaine that he is sorry for what he did and that what happens, Blaine will be successful, that he is insanely talented. They make up and Blaine is glad that they got to sing again before he left. But Cooper tells Blaine that his audition got cancelled because they found someone better and/or hotter.Cooper says that their not just brothers, and their friends too. They embrace each other into a brotherly hug as Blaine says their going to film Cooper acting and show Michael Bay that Cooper is talented. They run out of the auditorium happily as the scene cuts to a Finchel scene, the final scene of the episode.
The episode opens with Blaine, Brittany, and Mike performing You Should Be Dancing in a classroom, through the school hallways and finally ending in the auditorium. Blaine does amazing dance moves along with Mike and Brittany and he is the lead vocalist in the song. Mr. Schue asks what brought them to sing the disco song and Blaine reveals that since Nationals has the theme of 'vintage', they thought they needed to perform something old and full of energy and they decided to do disco, as Will nods in approval.
As Blaine, Brittany, and Mike and the rest of
New Directions
listen to Mr.Schue tell them about how the original Glee Club in McKinley High won Nationals championships with disco, the club screams in unison "DISCO SUCKS!" Blaine is seen with New Directions in the next scene as Will examines the Glee Club and the three people that his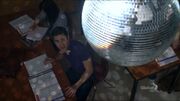 worried about. Again, after a few scenes, Blaine is seen with New Directions admiring the floor installed in the choir room for their assignment this week to perform songs from the movie soundtrack "Saturday Night Fever."
While other members despise the soundtrack and as Finn stated "an album parents listen too," Blaine seems to be pleased with this week's assignment. Sue reveals that they will have a dance off and the winner will receive a replica of the white suit worn by John Travolta. Sue and Will said they would start off and they mention they met up with Joe and Blaine before hand (most probably to figure out the moves and get the glee club to get into the disco move) before they break into the song, Night Fever. Blaine and Joe dance after Will and Sue and fellow members of New Directions get on the floor to dance too. And for the rest of the dance off, Blaine is seen dancing with his friends. After the song, the finalists are revealed to be Santana, Mercedes and to everyone's surprise, Finn. Blaine and the rest of the glee club later enjoys Mercedes, Brittany, and Santana's rendition of Disco Inferno and also Santana's solo of If I Can't Have You.
Afterwards, during Finn's solo More Than a Woman Blaine is seen dancing with Kurt. In the final scene of the episode, Blaine along with New Directions and Will and Sue are seen performing Stayin' Alive on the auditorium, everyone wearing a white John Travolta suit.
It is revealed that New Directions would be doing a tribute to Whitney Houston this week. Blaine is seen with New Directions as Will tells them about what their assignment was this week. As Kurt tries to interrupt about how excited he is during Will's speech, you can see Blaine slightly stopping him. When Will mentions Graduation and saying goodbye, Blaine's face looks hesitant and worried. Afterwards, Blaine and Kurt are seen at their lockers as Kurt approaches Blaine saying how thrilled he is with this week's Glee Club assignment and that his trying to figure out what song to do. As Kurt babbles on, Blaine looks uninterested. Kurt continues to go on about how he can kill "two birds with one stone" by singing one for the assignment and one for the NYADA auditions. Blaine then leaves Kurt saying he can't join him today and he tells Kurt to text him when he is done. Blaine and Kurt are seen again in the choir room, dancing when Brittany and Santana perform I Wanna Dance with Somebody (Who Loves Me) and then again, seen sitting next to each other when Brittany and Santana perform in the auditorium.
Rachel and Kurt are at the lockers and Kurt is receiving text messages from Chandler.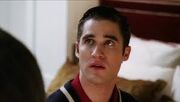 Rachel reads his texts and sees that Chandler has been sending lovey compliments to Kurt and they have been texting for two days straight. Kurt explains that Chandler makes him feel good but Rachel negotiates saying that Blaine is supposed to make him feel good. He then explains to Rachel about 'Lesbian Bed Death' and says he and Blaine hadn't had an un-scheduled make out session for at least a month. Kurt says he's completely innocent and he just wants someone to compliment him while Blaine sends him boring texts. Rachel says "Would you show Blaine those text messages?" as Kurt replies "Of course not." Rachel concludes their conversation saying that he isn't completely innocent at all then as Kurt looks utterly confused he receives yet another text. For the third time, Blaine and Kurt are seen together in the choir room with New Directions. Joe tells the Glee Club that he and Quinn have been doing physical therapy together and they thought of a Whitney song to do for their assignment as they begin to sing
Saving All My Love For You
. The Glee Club can easily see the chemistry between them as they look on the pair with content. For the fourth time, Blaine and
Kurt
are seen with New Directions during Santana and Rachel's Whitney number,
So Emotional
. Blaine and Kurt sit apart, as Kurt continues to receive texts from Chandler as Blaine looks at him.
Later in Kurt's bedroom, Kurt is seen running in carrying a cheese plate and stating that their Bobby Brown marathon can officially begin as Blaine is seen looking through Kurt's texts. Blaine asks him about Chandler and Kurt questions him on why he's going through his phone. Blaine tells him it keeps buzzing and it's full of Chandler's compliments and he then proceeds to read Kurt a few. "Give me my phone" Kurt says as he tries, unsuccessfully to retrieve it. Blaine responds to this statement by stating "There are literally dozens of text messages between you two.." He later goes on to say "Do you know how many times you texted me in the past few days? Four." Later on, Blaine tells Kurt that it's cheating but Kurt insists his innocent. Kurt counters saying that it's just a guy he met at the music store and that Blaine was guilty of texting Sebastian before as well. Blaine fights back saying those texts were "family-friendly." Blaine continues to insist that Kurt likes Chandler emphasizing the fact that he didn't in fact like Sebastian. Kurt seems defeated saying "I like the way he makes me feel" and he tells Blaine hesitantly that Blaine doesn't usually compliment him like Chandler does. Blaine, filled with anger, says he transferred schools just to be with Kurt everyday. They continue to go at each other until Kurt says it's okay. Blaine sarcastically says "It's Not Right But It's Okay" which is the song he will sing.
The music starts playing as Blaine walks out of the room and it changes to the choir room where the Glee Club is looking at Blaine. Blaine later claims publicly in front of the Glee Club that Kurt had cheated by saying "This is for anyone who's ever been cheated on."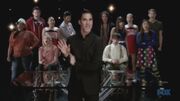 "That's insane, I didn't cheat on you!" replies Kurt while everyone watches in shock. Then Blaine breaks into
It's Not Right, But It's Okay
. The Glee Club watches in shock as Blaine sings to Kurt. Kurt looks at him as if he's crazy. The song changes from the Choir Room to a dark room where Blaine is sitting and standing around the table (just like in Whitney's original video of the song.) New Directions joins in the song as Kurt watches in shock. At the end of the performance, Blaine stares at Kurt with a hurt expression as the Glee Club looks at Kurt as well, only little clapping is heard. Blaine then storms out of the choir room leaving everyone else dazed. After a scene between Burt and Kurt, it switches to the choir room again. Kurt is standing in the center of the choir room with his mic singing Whitney's,
I Have Nothing
. During the performance, Kurt and Blaine exchange glances. At the end of the solo, Blaine is seen sad, clapping slowly and teary eyed. The scene switches into a locker room scene where Puck gives everyone shot glasses. Blaine is seated there with the boys (except Kurt) and Puck tells them that time is running out and graduation is coming soon, and that the time where they would have to say goodbye was rapidly approaching.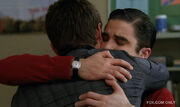 They all bang their glasses together as the scene switches to Blaine and Kurt in Emma's office. Blaine isn't sure what he's doing there but Emma explains to him that Kurt requested couples counseling. "Are you even qualified for that?" Blaine asks Ms. Pillsbury. She then tells him she isn't but did help Sam and Mercedes, however Blaine stills seems hesitant saying that they broke up after she counseled them. Emma tells them that brutal honesty is the cornerstone of any lasting relationship. Blaine goes on to explain about what Kurt did as Kurt nods his head quickly as if to make him hurry up and say it faster. Blaine continues to complains about more of Kurt's habits, including bronzer in his moisturizer, snapping his fingers etc. Blaine proceeds to say that he's sick of every one of his and Kurt's conversations being about NYADA and New York. Kurt looks at him in total shock, and Blaine continues to digress by saying "What song you're gonna sing, what outfit you're gonna wear to your callback! A-and how AMAZING New York is. And it's like, New York is the only thing we talk about now! A-and it's like...You can't even wait to get out of here! How is that supposed to make me feel? In a few months, you're gonna be gone! With this brand new life, these brand new friends and it's brand new everything and I'm gonna be right here..By myself..You're right.. I have been... Distant..But I'm sorry and I'm just trying to practice what life is gonna be like without you...You are the love of my life Kurt...and I'm pissed off that I'm gonna learn next year what being alone is gonna be like." During and after Blaine's words, Emma and Kurt look compassionately towards him. A teary-eyed Kurt tells Blaine that he isn't going to be alone, that he's going to Skype Blaine every day, that Blaine's going to visit New York every week and Kurt promises that Blaine won't lose him. They both say they love each other and gather into a sweet embrace.
Towards the end of the episode, Blaine and Kurt are finally happy, seeing each other at the lockers. Blaine compliments Kurt as Kurt receives a text. Kurt explains it isn't from Chandler because he told Chandler to stop texting him. "I know... It's from me." Blaine says smiling. Kurt seems pleased as he goes on to question about Glee practice. Blaine says no one will be there because Mr. Schue said it wasn't mandatory and saying everyone's going their own way but Kurt insists saying they've only got very few chances for Glee practice together. My Love Is Your Love starts to play as Mercedes and Artie sing on stage in the auditorium. Kurt and Blaine enter the auditorium as Blaine sings a line. Blaine keeps his arm tight around Kurt's waist and Kurt leans into the embrace. Mercedes and Artie seem surprised as they enter. On the other side of the auditorium Rachel and Finn enter. They run and Rachel and Kurt and Finn and Blaine head towards the stage. The six hug and welcome each other as they continue to sing while Will watches them. Kurt and Blaine are enjoying themselves with the group as Puck comes in, Brittany and Santana, Sam, Joe and Quinn and Tina and Mike join in. The performance ends as Kurt changes his locker from Whitney pictures to pictures of New Directions and Glee Club. The episode comes to an end itself too.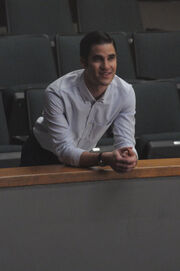 Blaine is seen watching Kurt perform The Music of the Night on the auditorium stage with Tina. At the end, Kurt explains to him that it's a bit boring and he wants to do Not the Boy Next Door instead and Kurt mentions other than that, if he wants to do The Music of the Night he has to have more candles. "Oh, God, No. No more candles." Blaine objects. When Rachel hears about Kurt's change of direction, she confronts him, saying that Blaine told her about it. Kurt agrees with her. Blaine and the other New Directions guys (excluding Kurt) are trying to help Puck graduate with them and he has to pass his next test. In the workout room, Mike tells Blaine that Tina wants him to put hair gel on his hair but he doesn't know how to and he asks Blaine for advice. Blaine explains to him the basics and the warnings. Finn then calls everyone to listen up and says something is missing. Sam screams, "You shook off that five pounds bro! Congrats!" as the other guys congratulate Finn but Finn shakes his head and says it's about Puck. Puck doesn't want to graduate and wants to drop out of school due to his studies. Puck doesn't want to so they set up a plan. Blaine and the other guys are in the choir room watching Finn explain the plan. Puck then comes in saying that he just saw his dad and he doesn't want to end up like his dad, asking Beth for money, like his dad asked him for money. He asks everyone to help him in his studies and Blaine, along with the others, happily agree. At the NYADA audition, it turns out Kurt performs Not the Boy Next Door. Rachel takes a seat next to Blaine and when Kurt finishes his performance and gets accepted, they all applaud him and Blaine looks very proud of his boyfriend. When it's Rachel's turn to do her audition, she performs Don't Rain On My Parade but Rachel chokes and starts again twice. Blaine, Kurt, Finn and Schuester watch in shock when Carmen, the lady running the NYADA auditions, tells her that the audition is officially over and that if Rachel chokes on Broadway twice, the role will be given to the understudy. Blaine along with the others is speechless as the auditorium lights close and Rachel is in tears. Later, Blaine and the other guys are in the choir room, at 3am in the morning. They're still helping Puck with his studies and are completely stuck until Finn asks him, "The Rain in Spain is mainly in the _____?" and Puck replies plains. Then they break into The Rain in Spain, Blaine joining along with them. At the end of the awesome bromance performance, Artie tells them it's time to move on and asks him a question and Puck heavily sighs, and progresses on with his studies for the test. When it comes to the test, Puck is stuck, but when he thinks about it, he is confident with his answers. When he comes out of class after handing in his test, Blaine and the other guys asks him how he did. Puck says he thinks he did great and goes along to thank everyone and says "including you Blaine," probably because Blaine is gay. This is Blaine's final scene in the episode.
During Brittany's speech about prom, she mentions that the use of hair gel will be banned. Blaine starts laughing, not completely believing her, then when she says that she's serious, Blaine is horrified. Brittany bluntly tells him that she doesn't like the way he looks either. He is later seen in the auditorium singing
Big Girls Don't Cry
with Kurt and Rachel. The three of them share that they aren't too keen on the idea of prom and set up their own prom, the anti-prom. When they get to the hotel, Blaine is wearing a suit, as is Kurt. He picks up a menu for room service, looking around the room before deciding to watch TV. Later, he is shown on the bed with Kurt talking about the show on TV that he obviously watches a lot. Kurt says that if Blaine wants to go to prom, he will go with him.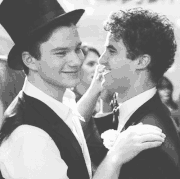 Blaine reveals that he really doesn't want Kurt to see him without the gel because he is embarrassed of his hair. He tells Kurt that he hasn't seen it without an enormous amount of hair gel, and it's really bad without it. Finn turns up and persuades Kurt, Blaine and Rachel to go to prom. Blaine says that he'll pretend to be an ice sculpture so that Brittany won't notice that he's wearing hair gel and just walk past him. When they get to the prom, Brittany stops him at the door telling him that if he wants to come in he'll have to wash out the gel. Kurt tells him that he can do this and Blaine walks away to wash out the gel. He is next seen walking into the auditorium with everyone staring at him. Kurt is shocked, and it is shown that Blaine has washed out his hair gel and his real hair is revealed. It sticks up everywhere and is really curly and messy. Brittany comes up and tells Kurt to stop making fun of 'the new kid with the bad afro' because it's hair bullying. Kurt tells her that it's not a new kid, but Blaine without hair gel. Blaine asks if it's really that bad, obviously self-conscious, and Brittany replied 'Yes, you look like Mr Broccoli Head." Kurt interrupts her and says that it's not that bad. Brittany says that it is and gives Blaine special permission to use hair gel. Blaine thanks her, obviously looking relieved. Blaine turns to go and reapply his hair gel, but Kurt stops him and tells him that he loves getting to know the real him, the man without the product. He then says that he's going to show everyone how proud he is of his 'brave, handsome, bushy haired boyfriend'. Blaine gives Kurt a look of love, and Kurt drags him away whilst saying "Come on Borat." When Finn is crowned Prom King, Blaine is seen yelling, "GO FINN!" Later, he is seen slow dancing with Kurt and they both take an adorable prom picture together. They end up having a great night altogether.
When the glee-club discusses and practices their setlist for Nationals, he complains about most of Sue's ideas, however. He can also be seen in the mall discussing Sue's idea that Kurt dresses as a girl with him, stating that just because they are gay, 'It doesn't mean we're 'cross dressers', and later greets Tina when she comes walking down the escalator. When Tina then falls into a fountain, hits her head he switches with Puck in Tina's Dream and is seen watching Tina sing her solo as Rachel, Because You Loved Me. He is at the fountain when Tina becomes conscious again and checks to see if she is OK. He is later seen with the Glee Club in their various glee club practices using Props and seen going with New Directions to Nationals.
During the pre-performance pep talk, Blaine nods enthusiastically as Finn says that Will is the one who deserves their teacher of the year award. He sings back up for Rachel's solo of It's All Coming Back to Me Now performs in Paradise by the Dashboard Light, singing and dancing paired with Kurt. He holds hands with Kurt as they await the results and is excited at the announcement. When they return to the school following their win, members of the hockey team pretend to slushie them, though it is actually confetti. He initially looks very worried about the fake-slushie. He then begins to enjoy the accolades along with everyone else during the song Tongue Tied. He, along with New Directions, are present during the award for Teacher Of The Year Awards. Mr. Schue is awarded Teacher of the Year and Blaine with New Directions perform We Are the Champions on the stage as Mr. Schue comes up with Finn and Rachel to take his award. Will hugs all members of New Directions and as the number comes to an end, the episode itself ends.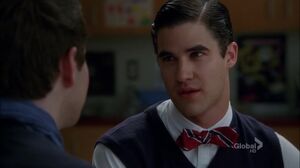 Blaine along with the rest of New Directions watch as the original five perform
Sit Down, You're Rockin' the Boat
and then watch a gift from Will to the seniors, as he sings
Forever Young
. Kurt later joins Blaine as he tells Blaine about his dad's graduation gift of dancing to
Single Ladies (Put A Ring On It)
. Blaine laughs delightedly but he tries to talk to Kurt about what's coming up: Graduation and how it will impact their relationship. Kurt persistently tries to wave it away, but Blaine interferes telling him to face reality and whether they can handle a long distance relationship. Kurt assures him that it'll be all right, and that they could manage a long distance relationship, using the Notebook as an example, stating that he sees his life ending like it, only with the end changed, still in a nursing home, talking about his high school sweetheart and first true, but his high school sweetheart (Blaine) would be there with him- 'telling me to shut up so he can finish the American Cinematique salute to J.Lo'- showing Kurt still wanted to be with Blaine, even when he was nearing the end of his life. Blaine nods and stares at Kurt then asking him how he'll be saying goodbye to everyone else. Later, Kurt with the seniors sing
You Get What You Give
to Blaine and the other juniors while afterwards, the juniors and sophomores sing
In My Life
to the seniors, specifically Finn.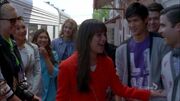 Blaine is seen later passing a handkerchief to Kurt as he walks to receive his diploma at graduation during Puck and Finn's performance of Glory Days. Kurt is later not accepted into NYADA and only Rachel gets in, even Finn doesn't get into the Actors Studio. On the day that Rachel thinks she and Finn are going to get married, Finn instead takes her to the train station as she will be sent to New York and they are breaking up for the meantime. During Roots Before Branches, Blaine along with New Directions, Will and Emma hug and say farewell to Rachel as they wave from the train. This is the final time Blaine is seen in Season Three.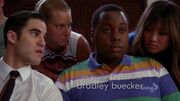 Jacob Ben Israel
asks Blaine, Brittany, Artie, and Tina which one of them is the "New Rachel." They all reply, "I am." Will is confused why the remaining New Directions members aren't as excited as he would have expected when he announces that
Wade "Unique" Adams
is joining the group. Blaine explains that they already feel that the competition is intense to be "The New Rachel." When Wade quietly says to Blaine, "Make no mistake, Unique
will
be the 'New Rachel'," Blaine declares they will have to settle this in the Auditorium. Artie will decide the winner from a performance of
Call Me Maybe
. Artie says he has to think it over. When Artie and Sam suggest Wade shouldn't wear make-up to school, Blaine suggests he could save Unique for performances. After much deliberation, Artie declares that Blaine is the "New Rachel."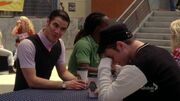 When Kurt joins Blaine in the school courtyard (after working at The Lima Bean, helping with the Glee Club auditions, and organizing their sheet music), Blaine tells him he is stuck in Lima and he belongs New York. When Kurt asks what it means for them, Blaine says he'll join him next year. Saying that right now is Kurt's time, he then serenades him with It's Time with cup tapping accompaniment and a hidden band in the stairwell. He dances with various students and jumps rope. As he finishes, he and Kurt embrace.
The Glee Club goes to apologize to Marley for getting caught up with Kitty and the jocks making fun of Marley's mother. Blaine invites her to join them for rehearsals and sing lead vocals, because the best part about Glee Club is that everyone gets to be a star. When Kitty shows up and mentions that Unique and Marley weren't invited to their "crew," Blaine says they aren't in her crew any more. At Glee rehearsals, New Directions perform Chasing Pavements. Blaine is seen grabbing Marley towards the stage so she can join their rehearsals.
Blaine sees Brittany talking to no one in the hallway and asks her who she's talking to. She tells him she thought she was doing a voice-over.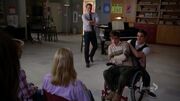 Mr. Schuester declares it is Britney 2.0 week. He has Blaine and Artie to perform the Boys/Boyfriend mash-up. Blaine, Tina, and Artie witness Brittany beating on Jacob Ben Israel with an umbrella. Blaine asks if they should do something about her downward spiral, saying their current game plan of singing at her doesn't seem to be working. During the poorly lip-synced version of Gimme More by Brittany at the assembly, Blaine is embarrassed and eventually pulls the curtain closed.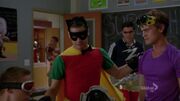 The episode begins with a Blaine voice-over. He says it's time to change things up. Last year was the senior's year to shine, but this year, it's his turn. He then sings
Everybody Wants to Rule the World
over a montage of signing up and participating in every club at the school. He signs up for the Advanced D&D club, the Sewing Club, and the Superhero Sidekicks Appreciation Club. He says he's trying to fill his time now that Kurt is in New York. The two are seen watching TV together over Skype. Blaine then signs up to run for Student Council President opposite Brittany. Blaine tries to convince Brittany that it isn't a popularity contest, but that the best ideas are what is important.
After Brittany announces Artie as her Vice Presidential running mate, she convinces Blaine to take on Sam as his running mate. After Sam asks Blaine what a debate is, Blaine feels the need to make sure Sam can seem like a serious candidate. He begins working with Sam on his debate answers.
Blaine and Kurt Skype about the events of Kurt in New York. Kurt shows him the video he made for Vogue.com and continues discussing his adventures. When Blaine brings up his experience running for president, Kurt asks how it's going, but he is quickly dismissive of Blaine and brings the conversation back to himself. Blaine is disappointed at being marginalized by his boyfriend.
Blaine waits in the wings during the Vice Presidential debate and shows his frustration at Sam's performance. He then performs quite well, though over the top, in his own Presidential debate. Brittany then suggests banning summer vacations and weekends.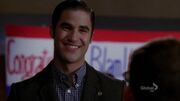 Blaine wins the presidency. He lies to Artie about Kurt's response since he hadn't actually told him yet. He then tries to call Kurt to tell him, but Kurt declines the call during his drinks with his Vogue.com colleagues. Blaine announces to Sam, "I came to McKinley for Kurt. That's it." He says he feels very alone. He did it all for Kurt, but he's not here. Sam tries to tell him that what he's doing is important because he's the first gay guy president. Sam tries to make him better telling him they're bros. Brittany then congratulates Blaine.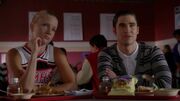 Blaine and Brittany watch Marley and Jake during their lunchtime exchange, Brittany saying, "Young love..." Blaine fondly recalls the early days of their relationships with Kurt and Santana and seems hardened by their current circumstances of distance in their relationships. Brittany points out they're still young and should still be feeling that.
Blaine gets a scheduled phone date call from Kurt, but Kurt is immediately distracted by other incoming calls while working the phones at vogue.com. Blaine says he can call him later, but Kurt says he'll be busy until midnight. Blaine tries to tell Kurt the extent that he misses him, getting increasingly upset. Kurt flippantly says, "me too," and that Blaine will be visiting in two weeks. Blaine asks what he's supposed to do until then, but Kurt tells him he has to go and hangs up abruptly, missing Blaine's declaration of love. This leaves Blaine upset. He later attempts to reach Kurt to no avail. He sings Barely Breathing in the auditorium, picturing Kurt there with him. Later he is in the choir room using Facebook on his phone. He "pokes" someone named Eli C. who then messages him "What's up, sexy?" followed by "You want to come over?" Blaine looks conflicted, as he walks out of the choir room.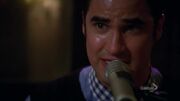 Blaine shows up at Kurt and Rachel's loft in New York unexpectedly bearing many flowers. Blaine and Kurt embrace and kiss as he says he couldn't wait any longer. He also greets Rachel and, unexpectedly, Finn. The four of them go to
Callbacks
, a NYADA hangout. After Rachel and
Brody's
duet, Blaine says he wants to sing something. Blaine goes up and performs a slowed down, acoustic version of
Teenage Dream
on the piano dedicated to Kurt, the love of his life. He cries throughout the emotional, intense performance. Kurt and the others realize something is wrong.
When they begin to walk home through a park, Kurt calls him out on how emotional he has been about everything. Blaine tries to play it off that he just misses him, but Kurt says to stop pretending that there is nothing wrong. Blaine then admits he was with someone and Kurt assumes it was Sebastian. Blaine says it wasn't him, but that it doesn't matter and that it was just a hookup that didn't mean anything. Blaine says he was lonely and Kurt wasn't there for him. He apologizes. Kurt says he has also had temptations but he didn't give into them because he knew it meant something horrible and awful. Blaine attempts to apologize, but Kurt walks off in tears.
They sing Don't Speak along with Finn and Rachel who are having their own serious relationship conversation on the same walk. During the song montage, they eventually wind up back at Kurt and Rachel's place and go to bed together not speaking.
Back at McKinley, Blaine sees Finn in the choir room. Finn asks why Blaine did that to Kurt. Blaine doesn't have an explanation and says he has no excuse. He says Kurt won't talk to him, and he doesn't even know if they're broken up. A distraught Kurt gets a large bouquet of yellow and red roses with the note, "Kurt, I'm so sorry. Please forgive me. xo xo xo Blaine!." A co-worker inquires about it and Kurt admits it's someone trying to make up for something. He asks if he's cute; Kurt sadly replies, "the cutest." He says he'll be OK as he lets the note drop into the garbage. Blaine and Kurt, along with the other three couples who had problems/broke up during the episode, sing The Scientist until the end of the episode.
Sam is signing up to audition for Grease and asks Blaine if they can decree their parts as president and vice president of the school. Blaine sullenly says he isn't sure if he'll participate in the musical because he is so upset about his break up with Kurt. He says since that occurred, he hasn't slept, he lost his appetite, and he doesn't even gel his hair on the weekend. He declares that Kurt was his soulmate. They talked about spending the rest of their lives together, buying a lighthouse in Provincetown and starting an artist colony. He says Kurt won't speak to him via phone or text, and his gifts have been returned unopened.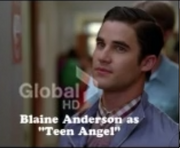 He sings
Hopelessly Devoted to You
, sadly walking through the halls and looking through a scrapbook of Kurt. He also sings on the bleachers watching happy couples in his loneliness, then walking through the football practice. The song is also used as an audition for the part of Danny Zuko, though it is originally sung by Sandy. Artie and Finn say he's the Danny of their dreams. Blaine interrupts them and breaks down saying he just can't play any of the romance when he ruined his. Artie asks if there is any part he could play. Blaine says he might be able to pull off "Teen Angel" since it's only one scene, but he probably can't, rushing off the stage in tears. Artie is surprised that Blaine is so "Masterpiece Theatre."
When the parts are posted, Blaine is listed for the role of Teen Angel. He looks to Finn.
In this episode Kurt visits WMHS with Rachel to see Finn's debut production of 'Grease'. And after a loving reunion with Mercedes in the hallway, Kurt agrees to visit the backstage area to wish the cast good luck. As Kurt and Rachel walk around backstage, Blaine emerges from behind a clothing rail. They are both caught off guard and look shocked to see one another, most of all Blaine. He doesn't quite know what to say while Kurt stares mainly at the floor. Rachel and Finn join in the awkward conversation until the four of them admit that they feel extremely uneasy. Blaine cannot take his eyes off Kurt with a pained looking focus. Finn breaks the tension by thanking Kurt and Rachel for coming, before walking off. Blaine just stares at Kurt before realizing that Finn has left. So he smiles, drops his head and walks in the same direction.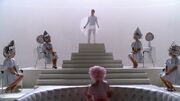 As the musical gets underway, Blaine's only scene is the first shown playing Teen Angel. During the performance of Beauty School Drop Out Blaine looks over at Kurt several times. Blaine soon looks upset like he is going to cry because Kurt keeps looking away.
The last scene involving Kurt and Blaine is in the exit hallway, when Blaine desperately rushes up to Kurt asking if they can talk Kurt tells him "I'm not interested." Kurt seems angry and astonished that Blaine brings up the cheating by calling it a "hook up." Kurt tells him "I don't trust you anymore" and then hastily leaves with Rachel. Blaine looks on utterly devastated.
The last scene with Blaine is in the Choir Room with the New Directions with Artie reading out the positive musical review for Grease to everyone.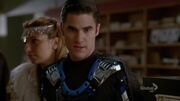 Blaine leads the Secret Society of Superheroes as Nightbird. Tina, aka Asian Persuasion, texts him on the dedicated "Night phone" asking if he'd spoken to Kurt yet. He reminds her not to use the line for personal reasons. When
Chai T
comes in and says there is an emergency, they all rush to see that the Nationals Trophy has been stolen. There is a laptop in its place. The video shows someone in a Dalton uniform with a blurred face and altered voice.
After Finn provides a terrible idea to prepare for Sectionals, Blaine points out Finn hasn't noticed the trophy is missing. Blaine goes to confront the Warblers to get it back. At Dalton, he sees Sebastian and assumes he was the one in the video. Sebastian assures him that he has, sadly, cleaned up his ways and is not the guilty party. He points the way to their new captain who is waiting for him in the library.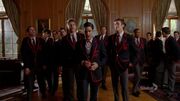 Blaine meets
Hunter Clarington
who tries to talk him into re-joining the Warblers since he heard he only went to McKinley for Kurt anyway. He points out that they all call him "Blaine Warbler" indicating he doesn't really fit in there anyway. They talk him into putting on the blazer and then joining them in a song,
My Dark Side
. They tell him to keep the blazer.
Blaine tells Finn he's decided to go back to Dalton. Finn says he belongs with New Directions. He asks if this is about Kurt. Blaine says everything there reminds him of Kurt, they were a dynamic duo. He says Kurt was his anchor and without him he's floating. He says the Warblers are his birthright and his destiny.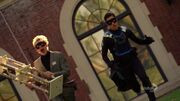 Finn announces to New Directions that Blaine is leaving for Dalton. Sam finds Blaine cleaning out his locker. He asks Blaine exactly what he did that he's been beating himself up about. Blaine says he had been upset that Kurt seemed to be moving on. He started to wonder if maybe they weren't meant to be. He went over to the place of a guy he friended on Facebook. He knew after he did it that he and Kurt were meant to be. Blaine explains it's not OK because he cheated on and hurt the one person that he loves more than anything in the world. He says Kurt will never forgive him. Sam tries to convince him to forgive himself. Blaine says he wants to stop feeling like a bad person. Sam asks for him to give him one day to feel like a hero. They sing
Heroes
while there are scenes showing them cleaning up graffiti with the rest of New Directions. They go on one last mission to reacquire the Nationals Trophy.
Blaine apologizes to the group for doubting that they were his home. He gives a pep talk that they have the team, the talent, and the leader, Finn, who returns the trophy to its place. They all sing Some Nights.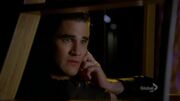 Shortly before the New Directions are set to perform at Sectionals, Blaine is shocked to discover that Kurt is calling him for the first time after Blaine's repeated attempts to apologize. He quickly walks away to take the call in private. He tries to say something, but Kurt interrupts so he can say what he needs to. He tells Blaine that he believes he is sorry and that he wants to forgive him, but he's not there yet. Kurt admits he that misses talking to him because Blaine is still his best friend. Blaine says that Kurt is also his best friend. He says they need to have a heart to heart conversation at Christmas. Blaine is overjoyed to know he'll get to see Kurt. Kurt tells him to break a leg at the competition. They wish each other a happy Thanksgiving, and a tearful Blaine says, "Kurt, I love you so much." Kurt replies that he loves him too before hanging up.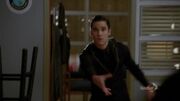 Blaine is seen with the New Directions attempting to help Marley who collapsed on stage during the performance, informing the others he had a juice box Marley could have. We next see Blaine throwing the juice to Sam who gives it to Marley.Will enters the room and tells the New Directions to get back on stage or risk disqualification when Sue walks in and tells them all that the Warblers have been announced as the winners. Blaine and the others look upset. It is spectulated that Blaine calls Kurt once this has happened as Kurt tells Rachel that the New Directions lost.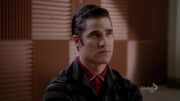 We next see Blaine sitting in the choir room waiting to hear news when Finn tells them that they will compete again next year, Sam speaks up and asks 'what about those who don't have a next year?' to this Blaine and the other Seniors look to Finn who is answer-less.
Blaine is next seen in a Cheerio's uniform with Tina as they walk down the halls of Mckinely and Artie asks them why they joined the Cheerio's. Blaine explains they had to do something to make their Senior year special as the New Directions could no longer compete.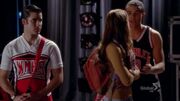 When Artie asks why Sue let them be Cheerio's we get a flashback where Sue say's ' I could use a Handsome, Non-Flammable Gay' to add to her team and allows Blaine to join. When the rest of the New Directions join them and explain what extra-curriculum activity they have joined Blaine asks when they are going to tell Finn. They all go and tell Finn who is speechless and tells them they have rehearsal on the Friday night and he expects them all to be there. They all start leaving and Blaine is the last one to leave before the lights go out.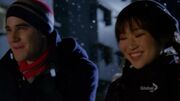 We next see Blaine at Cheerio practice with Tina swirling a hula-hoop when they get emails from Finn for rehearsal 
That nights when Finn and Marley are singing Don't Dream It's Over Blaine and Tina appear singing along and are soon joined by the rest of the New Directions 
Blaine is first metioned in Artie's flashback as Artie asks Kurt what Blaine thinks of Kurt being held back a year, as Kurt looking bewildered asks "Who's Blaine?"
Blaine first appears when Kurt goes to find out what his Burt's Christmas present to him is at the Ice Ring and Blaine appears calling out "Package for Kurt Hummel!" Smiling at Kurt and explaining to him that Burt brought him to New York and told him about his cancer and that he would watch out for him. Blaine also tells Kurt that his dad didn't want him to miss another Christmas tradition which Kurt replies "Our Christmas Duet." Both of them smile at each other when Blaine asks if he is happy to see him, which Kurt replies "Yes, always." Blaine tells Kurt to get his skates on as its almost Christmas Day and then begins to sing
White Christmas
while smiling at Kurt before he gets himself on the ice and dances around the ice with Blaine. They are just about to kiss, but Blaine pulls a way.
After the duet Blaine hears the clock and exclaims that it's Christmas while smiling and looking at Kurt. He then tells Kurt that even if they are not in a relationship, they will still be there for each other. Kurt replies to this by hugging Blaine and smiling. 
Blaine and Burt are sitting down watching TV when Kurt joins them and asks who is winning. Blaine and Burt tell Kurt who is winning and Blaine starts to keep looking at his watch timing how long Kurt will watch sports with them . Both Burt and Blaine look at Kurt who after 20 seconds says he tried and starts reading Vogue. Blaine loses the bet with Burt and pays him while Burt says, Kurt being annoyed. Burt then asks Blaine what he is planning to do now he is graduating while Blaine explains he wants to apply to NYADA and asks Kurt if it would be okay and Kurt replies "I think that would be great." Blaine and Kurt then set up the table for Christmas dinner and sing along to Have Yourself a Merry Little Christmas while smiling at each other.
Blaine is walking down the hallway with Sam following him, discussing the Warblers win at Sectionals. Sam tells Blaine he believes the Warblers won because they cheated while Blaine dismisses this claiming they have no proof, Sam then says he will get proof then Sam asks Blaine if he has any chapstick as his lips get cracked up during conspiracy theories. Blaine is then looking into Sam's eyes then his lips before giving Sam his chapstick then watches as he applies it. This is the first sign that Blaine has a crush on Sam. Tina and Sugar then appear from the classroom next to them telling them they are late and need to get started. Blaine starts the meeting by asking Tina to read the minutes from the last meeting then turns to Sugar before Tina interrupts with her theory on Prom and suggesting the first annual Sadie Hawkins Dance. Blaine tries to dismiss this but he is outvoted by the group. 
Blaine is next seen entering the classroom with Tina and Sam laughing along with Tina when Sam say's he want to sit under Uranus before Finn enters expressing Woman Power which Tina owns up that the Sadie Hawkins dance was her idea. While Finn is talking Blaine looks over at Sam while Tina looks at Blaine.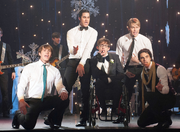 The Glee club are in the lockeroom when Finn announces Tina has a song she would like to sing to the guy she wants to go with and begins to sing
I Don't Know How To Love Him. 
While singing this we see that Blaine Tina and Sam have ben hanging out as they spend lunch together where Blaine gets caught giving Tina tots by the Lunchlady and puts his arms around Tina and Sam, We also see Tina writing 
Tina + Blaine = BLATINA FOREVER 
in her maths book while Blaine is talking to the teacher before turning to write on the board where Tina stares at Blaine's bum and even more when he bends over. As the song finishes Tina asks Blaine is he will go with her to which he replies No in a polite manner. 
Blaine is seen with the other guys while watching Brittany and Marley perform Tell Him and is clapping away to the girls while looking upset when Brittany asks Sam to the Dance and he says yes 
Blaine is at his locker getting his books when Tina approaches him saying she needs to apologize as she remembers  he saying about leaving his school for being bullied at a Sadie Hawkins dance. Blaine says thank you but tells Tina that its no the reason he cant go with her. He explains he has a crush on a straight guy and doesn't want to ruin there friendship. He admits he has a crush on Sam. Tina explains its ok to have a crush on Sam and lists the reasons to have a crush which Blaine agrees to laughing with Tina. Tina gets up and tells Blaine he will attend the Dance with her as best friends which Blaine agrees to and they walk away hand in hand. 
Blaine compliments Tina on her decorations for the dance before taking Tina's hand and walking to the Dance floor where he gets on stage and starts singing No Scrubs along with Sam, Joe, Artie and Ryder. He then joins Tina and dances with her. Blaine and Tina are enjoying themselves when Blaine compliments Tina on her new attitude which  Tina replies with that Blaine is perfect.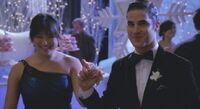 They are about to kiss when Sam grabs Blaine from behind and tells him they have to go. Blaine reluctantly leaves Tina and goes with Sam to Finn. 
Blaine and Sam are providing evidence of the Warblers deceit to Finn,who claims it isn't enough to convict the Warblers. Sam and Blaine then click their fingers and in comes Blaine's old friend and former Warbler Trent who wasn't at Sectionals. Finn and Blaine agree that Trent is the light of the group before Trent explains everything to them. Blaine tells Trent he did not betray the Warblers as they are helping them. 
Blaine returns to the dance before telling Tina what had occurred and then asks if Tina would have one slow dance with him. They walk to the dance floor where Blaine is watching Sam with Brittany and Tina is hugging into Blaine. 
Blaine is mentioned in the Too Young to be Bitter club when Tina reveals she has found love in Blaine.
In the episode, Naked, Blaine is first seen in the choir room with the rest of New Directions as they are back for the season. Blaine and Sam are thanked by Finn for their effort to expose the Warblers true secrets. But although they are glad they are back, they've lost three weeks and need to raise money for Regionals. When Tina proposes a sexy "Men of McKinley" calendar, she also notes that Blaine can be December, being Sexy Claus. 
When Sam walks the halls in swimming trunks, Blaine suggests he's overcompensating for his SAT flop. Sam thinks that Blaine is jealous of his body but in fact, he really isn't. Tina compliments Blaine body, making the situation awkward. Sam conducts a "seminar" in which he offers tips and techniques for posing for the sexy calendar, warming the glee guys up with "bro-ga" - "yoga for bros" - and working out to a mashup of Centerfold and Hot In Herre. Blaine participates in the dance, as they work out with the Cheerios. 
The glee guys shoot their calendar photos, but Sam starts stressing about maintaining his pumped-up look.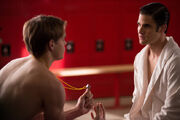 He then runs back to the locker room. Blaine follows him, and he admits to Blaine that he believes he has to hold onto his physical statues for people to notice him and its his physical qualities are the only thing that makes him special. Blaine urges him to lighten up on himself because he'll still be loved.
Sam is called into Emma's office after Blaine enlists her help to find schools  that are receptive to students who didn't perform well on their SATs, as well as other options for Sam. Blaine encourages Sam to write an essay for the school.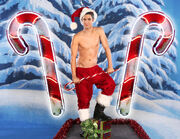 Later, Sam is struggling with his personal essay and doubting himself. Blaine presents him with a video in which his friends reveal the many things he's accomplished and what he's brought to their lives. Moved to tears by his friends words, Sam embraces Blaine, thanking him for help.
Blaine is seen once again as one of the soloists in the performance, This Is the New Year. 
When Jake says that there is no business for boys during "diva-week," Blaine contradicts him, and says that men can be divas too. He says that again shortly afterwards, and then walks into the auditorium together with the other kids. He performs
Diva
there together with Tina, Unique, and Brittany.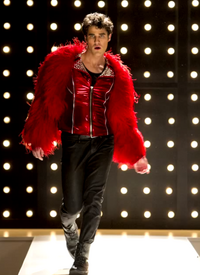 During his next scene, Blaine is shown to have gotten a cold. He is cared for by Tina, who still has feelings for him. He refuses to take some of the medicine, however, since he claims that it makes him sleepy, which he doesn't want to risk during "diva-week." He reveals that he is wanting to prove that men can be divas, too, and is thus eager to win the on-going competition. He performs Don't Stop Me Now in a "Freddie Mercury"-attire as his participation for the competition.
Some time later, he is approached by Tina, who is adoring him. He complains about his cold, and is once more given a cure by her. In return, he listens to Tina's apprehension of not being a diva, due to her Asian ethnicity, to which he contradicts her, saying that there are many Asian divas, and that she just needs to find the right song to bring out the diva in her. He invites her to his house for that matter.
At his home, he denies being even slightly interested in girls. He then presents Tina a list of songs he thinks of as appropriate for her. While they are talking, he is overcome by tiredness. He lies down on his bed, and although he tries to stay awake in order to have a discussion with Tina, he soon drifts away, just as Tina opens her heart to Blaine, telling him that she loves him. Tina then weeps and sighs, rests her head on his chest, and covers him with a cream of Vicks Vapo to decongest the nasal tracts.
The next time Tina sees Blaine at school, she confronts him angrily. Blaine tells her how he is feeling healthy again, to which Tina responds that it was her achievement alone. She tells Blaine that she is sick of showing so much affection towards him, but not getting anything back in return. Blaine then follows Tina into the courtyard, where he watches her perform
Hung Up
.
Blaine gives Tina a flower when she wins the diva-showcase. He expresses his delight, since people have finally noticed what a diva Tina truly is. He also thanks her for being so caring towards him that week, and apologies for being rather ungrateful about it. He tells Tina that she is the most important person at school for him at the moment. He then proposes to Tina that she be his date for Will and Emma's wedding, to which the latter happily agrees.
When Will states he and Emma are finally getting married he explains that he will be dealing with the entertainment and this implies the New Directions. When Tina attempts to make a comment about this Blaine cuts her off and states they would be honored to be the entertainment at the wedding.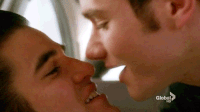 Blaine is next seen making-out heavily with Kurt in the back of a car parked at the wedding. They are groping each other and kissing heavily. When Kurt cuts off the first time he explains that he has a sort-of boyfriend in New York which Blaine interrupts with saying that Kurt is not in New York and that he and Adam are not exclusive before explaining that Kurt and his bow-tie are Blaine's weakness and they begin kissing again while Kurt attempts to pull Blaine's tie off before cutting off again asking whether Blaine believed this was them getting back together which Blaine replies he knows they are not back together it's just bro's helping bro's which Kurt replies with more heavy kissing. Blaine's hands are seen pulling Kurt's shirt up revealing his back and boxers before they are interrupted by a knocking on the window. They believe it's Tina and then learn when the door opens showing Blaine underneath Kurt that it's Mercedes explaining the wedding is about to start and she needs her arm-gays, they then climb out of the car and adjust themselves before going to the church. 
Blaine is seen sitting by Tina, who has sat between Blaine and Kurt. They are seen talking while everything is going on. This implies Blaine in fact did have Tina as his companion for the Wedding.
Blaine is next seen at the Reception, on stage with Kurt singing Just Can't Get Enough Blaine and Kurt can be seen flirting and touching each other throughout the performance. Blaine then asks Kurt if he wants anything as he is going to get punch and agrees with Kurt that they are not dating just at the wedding as friends. Kurt is approached by Tina who talks about how she doesn't like the way Kurt treats Blaine and they begin arguing before Tina admits to "vapor-raping" Blaine which causes Kurt to want an explanation. 
During
We've Got Tonite
 Blaine and Kurt can be seen slow dancing with other couples looking content with each other. Both Blaine and Kurt get a solo line in the song where the boys are walking in the hallway of the hotel before Blaine is dragged by his tie into the hotel room by Kurt.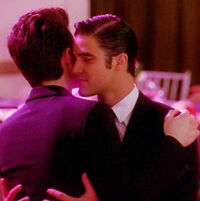 The next scene implies that Blaine and Kurt had sex as Blaine is seen on the bed dressed in his undershirt and trousers, while Kurt is buttoning his shirt back on and both boys look rougher than when they entered the room. This is also implied when Blaine asks whether this meant they were back together and he would not let Kurt minimize what they did. And also implies they will have many Christmases and Valentines together in the future implying Blaine wants them together again. Kurt, who is now dressed decent enough moves closer to Blaine before whispering he will meet him downstairs leaving Blaine in the room. Blaine is extremely happy and this is shown when he throws himself back on the bed.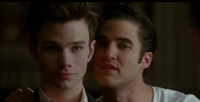 Blaine and Kurt at walking down the hallways at school when Tina apologizes to Kurt for attacking him at the reception. Blaine looks at Kurt wondering what they are talking about and Kurt just nods. Tina admits she was jealous of the chemistry Blaine and Kurt shared while performing and admitted they were soul mates. She then apologizes to Blaine for throwing herself at him which he accepts and suggests she will find her soul mate, it just isn't him. Kurt then implies that he and Blaine are just friends which Blaine looks down to and Tina notices. Blaine promises Tina that he will help her find a boyfriend. 
Blaine is seen dancing and singing to Anything Could Happen .
Blaine is present in the Choir Room, when Will announces the Girls vs Boys mash-up competition. When Artie says that he is going to make a movie with the winning team, Blaine replies with "You're making a movie?," indicating that he never knew about the movie and he and the boys start to plan out their performance for the competition. 
Later, Blaine and Brittany run into Sam, Tina, Marley, and Jake and they tell them about their idea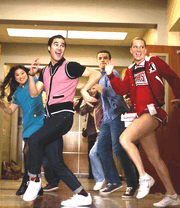 about having a girls and boys performance together. After failed song ideas, Blaine comes up with
Shout
from Animal House. Him and Brittany take lead vocals while dancing all over McKinley being joined by all the New Direction members along the way.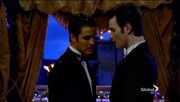 While Kurt is watching Moulin Rouge, he imagines Blaine singing
Come What May
. Kurt eventually joins Blaine turning it into a duet. It summarizes, the feels they have for each other. Feelings that Blaine nor Kurt can fully express to one another. Ending with a passion hug and then Kurt waking up from it. Santana mentions Come What May is Blaine and Kurt's wedding song.
Back at McKinley, the boys sing Old Time Rock & Roll/Danger Zone for the mash-up competition. Sam leads the Old Time Rock & Roll parts while Blaine leads the Danger Zone parts, this way paying homage to the iconic movies starring Tom Cruise.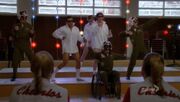 Blaine is seen watching the girls singing Diamonds Are a Girl's Best Friend/Material Girl and appears to be enjoying the performance. 
He helps Will sing In Your Eyes to Emma with the rest of New Directions. He also holds the juke box for Will. Once the song ends, he runs off when Will tells them to get moving. 
After Will announces that everybody wins the mash-off competition, Blaine along with everyone else fight for roles they want to play in Artie's film.
Blaine is seen dancing and singing during the Footloose number while Sam, Artie and Joe are on lead vocals.
Blaine, Tina,  and Artie have a sit down with Will and Finn. Blaine points out that they are feuding. Then, the three tell them that for the first time they are giving them a musical assignment. The Musical assignment is musical feuds; in order to, help them get out all the anger they have towards each other.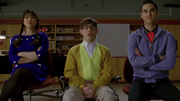 Sue calls Blaine into her office. She threatens Blaine to re-join the cheerios. Tina interjects to say she could join and sue was wondering why she was there and tells her to get lost. Sue gets aggressive when Blaine does not comply with him. Sue gives him the uniform and Becky slaps his butt. 
Blaine storms to Sue's office angry because Becky gave him hair gel that contained cement in it which he was pissed off at because it made his hair hard as stone. Also, someone took out thirty credit cards in his name,  took out a house loan in his name, and his parent's credit is ruined. The part that upsets him the most is a sign in the sky that Sue sent out that says "Blaine is on the bottom." So, he challenges Sue to a Feud off.  Sue says, it is Nicki vs. Mariah. She will play Minaj because of her Trinidad roots. 
Blaine is present when Ryder and Unique give there duet, The Bitch Is Back/Dress You Up. Also, he helps out in Will and Finn's Feud duet. He is backing up Will's NSync's portion of Bye Bye Bye/I Want It That Way.
Blaine and Sue's duet on
I Still Believe/Super Bass
in the choir room. Sue pulls out outlandish choreography blindsiding Blaine. After the performance, Blaine complains that Sue cheated with only Tina backing him up. Sue negates it by turning it to Will. Will tell everyone to vote. With only Tina voting for Blaine, Blaine is forced to join the Cheerios.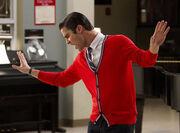 Blaine is inspected in Sue's office.  Becky and him, are going to be her co-captains. She askes him, if he complies with being on the cheerios with him reluctantly agreeing. Ending with Sue giving him a thong to avoid "panty lines."
Sam approaches him in the hall and it is revealed that he intentionally joined the cheerios. It was all a plan to take Sue down from the inside. 
Blaine is seen dancing and singing while Ryder and Jake sing Closer.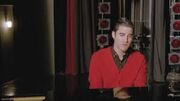 Blaine and Sam talk in the hallway about Blaine seeing that Sam steals macaroni from the cafeteria. He offers Sam money for his family, but Sam explains to Blaine that he uses the macaroni for art. Then Sam shows Blaine his macaroni arts, showing him a portrait of Emma Stone and Kurt. Blaine observes the pasta art of Kurt and says that the "macaroni really captures him." After revealing his guilty pleasure Sam asks for Blaine's. He replies saying that he doesn't have a gulity pleasure and admits later that is the band Wham while watching Sam's lips. Tina comes in and tells them about Mr. Shue being sick for the week and Glee being canceled. The boys say it's not necessary. Blaine is seen smiling at Sam's comment about Tina straddling Blaine.
They decide to take the lead of Glee Club, this week's theme is "Guilty Pleasures." They think that it would feel great letting this to get out and it could help to know each other better and become a better team for regionals. Blaine and Sam start with Wham!'s Wake Me Up Before You Go-Go.
In the locker room, Sam and Blaine talk and Sam refuses to reveal his true guilty pleasure, but Blaine keeps pressing until Sam blurts out that his secret is he likes Barry Manilow. Blaine later dances with the New Directions to Copacabana. After that Blaine congratulates him for being brave and telling everyone his guilty pleasure.
Sam finds Blaine in the library while reading, and is upset that Blaine hasn't been completely honest with what his guilty pleasure i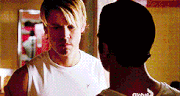 s and leaves him.
Blaine is playing the piano, sings a powerful, live rendition of Phil Collins' Against All Odds (Take a Look at Me Now) and exchanges several glances at Sam during the performance. When it was over, everyone gives Blaine a standing ovation and Tina asks him who it was about and after a few moments, Blaine says he was thinking about Kurt. He adds that he is no longer in the closet about his love for Phil Collins, but Sam notices Blaine looking at him while he sang. Back in the choir room, Sam and Blaine introduce the girls and he is seen enjoying their performance and Jake's solo.
Sam finds Blaine working on a Phil Collins song in the auditorium. Sam says he knows Blaine's guilty pleasure is really him. They hug it out, which gets awkward for Sam as he thinks Blaine is getting turned on, but it ends up just being Blaine's breathmints, which they share.
At the end of the episode Blaine sings in Mamma Mia.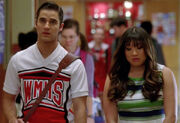 He is present when Mr. Schuester announces their competition for Regionals who are The Hoosierdaddies and The Nun-Touchable, He askes if it was a convent, Brittany then announces  'Tubbington Bob' getting close to earth and Blaine isn't convinced, He appeares again in Choir Room. When the sound of the gun is heard, He pushes the Piano aside so he can hide behind it with Artie and He textes his love ones when Will tells them to, He then notices that Tina isn't there with them. Later on, Blaine doesn't want to say anything on Artie's video. When The SWAT says it's "all clear," He and the Glee Club group hug with others, 
Later on the episode, Blaine and Tina talk in the hallways, Blaine says that his parents and him talked,cried and hugged all night. Tina said that she wants to be there but Blaine convinces Tina that It was scariest thing that happened to him. They see Marley and Kitty hugging. Tina starts to cry and Blaine comforts her. At the end, he sings Say with New Directions while cuddling with Tina.
Following the shooting, Blaine started to act strange which is shown when he accidentally bumps into Artie. He is then present when Will announced the theme for Regionals is 'Dreams' and their setlist being Dream Weaver, Sweet Dreams & You Make My Dreams Come True. Blaine then calls up a Secret Glee Meeting where he expressed his disagreement with Will's setlist choice. Marley opened by suggesting they should try using her own original songs she has written. Blaine, along with the rest of the group disagree.
Later at the choir room, he tells Mr. Schuester that he and the other members have some suggestions for a different setlist to use at Regionals. Will questions why they did this and says he is disappointed in him for allowing this to happen. Marley calls a meeting with Blaine, Sam and Unique and tells them she wrote a song for them after seeing how Will's shouting got to them. The four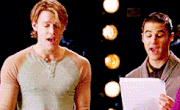 sing the song Marley wrote, titled
You Have More Friends Than You Know
. After the song Blaine says her song was incredible and they have to tell Will that they should use it for Regionals.
He and Becky are called by Coach Roz, who has replaced Sue. Coach Roz assumes they both put a hex on Coach Sue causing Sue to accidentally drop a gun in school. Therefore, Roz instructed them to take a blood oath that they will never put a hex on her. After taking a verbal oath instead, Blaine caught up to Becky in the hallways and was concerned about her behavior, saying she was acting weird and also asking her if she knows something about Sue. Becky lies and says she doesn't know anything and when Becky pushes things away, he is seen aghast. In the end of the episode Blaine along with the New Directions, joins in with another song Marley wrote, titled Outcast.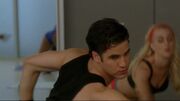 Blaine was in the choir room when the power got cut off. Later, he is seen exercising in Sue's gymnasium. After the exercise is over he talks to Sue and confesses  his plan of getting her fired, but that he then realized that the Cheerios are lost without her and Blaine being class president, he is worried of Coach Roz's advice she is giving to the Cheerios and wants Sue back at McKinley.
Later in the episode, Blaine is singing We Will Rock You with the New Directions. He is seen again during Cheerios practice as Sue makes a solo performance. At the end of the episode, he performs Longest Time with New Directions and dances.
Blaine was present when Mr. Shuester told them the Lesson of The Week at the Choir Room. He was then seen with Marley and Jake in the lockers before Signed, Sealed, Delivered I'm Yours. Later, he talks about the legalizing of Gay Marriage Equality in New York at Lima Bean with Kurt. They both sit at a table with Mercedes and Mike who were talking about the music video. Blaine told them that he was glad they were back before Regionals. Mercedes asked about Blaine and Kurt's relationship status and Blaine confirmed they're not together. He was seen again when he performed Superstition with Mercedes and Marley.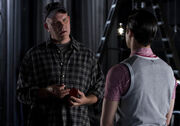 Later in the episode, Blaine called Burt in the auditorium so he can give him a rainbow pin to show support for Gay Marriage. He then formally asked Burt for permission to ask Kurt to marry him but Burt said no and they both talked about how important marriage is. Afterwards, he asked Kurt in the hallways if he could stick around for Regionals and Kurt happily agreed. Blaine was then seen performing 
For Once in My Life
with the New Directions.
We see Sam urges Blaine to reconsider his plan to ask Kurt to marry him, but Blaine is determined: not only is he going to go through with it, he wants Sam to be his best man. He is seen later in the choir room with the rest of New Directions preparing for Regionals, and then Brittany comes back and insults his height.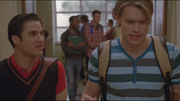 Later he is seen in a jewelry store with 
Tina
 to help him buy a ring. He asks Tina's advice for which ring he should get, and Tina not-so-subtly tells him that if he were buying her a ring, she'd want the largest. Suddenly, Blaine runs into 
Jan
, who at first mistakenly believes that he and Tina are getting married, but Blaine tells her that he's buying a ring for his boyfriend because he wants to marry him. Jan asks him if Kurt is the one and Blaine says yes, that he's his soulmate. then shows him a bunch of other ring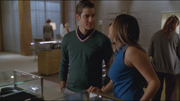 s and at that time, Sam comes by to say that even though he's against the plan, he's still going to support his best friend.
Later, Blaine invites Kurt to go to Breadstix with Jan and her partner Liz where they (Jan and Liz) talk about their relationship through the years and the experiences they had together. Jan comments that Kurt and Blaine are a sweet couple, but Kurt dismisses that they are not a couple. Afterwards, Jan takes the initiative and asks Liz to "legally" marry her, which excites Kurt and Blaine.
During their show circle, Brittany reveals that MIT offered her early admission and wants her to leave immediately and she will miss everyone, that makes Blaine sad, she says that he is like her brother. He is seen dancing during Hall of Fame and I Love It with the Tina, and he and Marley sing All or Nothing. After New Directions win he is seen cheering with them. After Regionals, Blaine bear witness to Will and Emma's imprompts wedding where the episode ends with Blaine standing next to Kurt, clutching the engagement ring behind his back.
Personality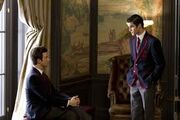 Blaine is a young man with a confident exterior that often belies his insecurities. He has apparently become more secure in himself in recent years. Rather laid back, few things seem to bother him on a deep level, save for a few personal regrets from his time before Dalton Academy. According to Kurt in the Glee movie, Blaine "loves the mic," and certainly the series supports this as Blaine is repeatedly shown to have a great love for performing (including auditioning for Six Flags and King`s Island outside of Glee club). Blaine has also been shown to have an occasional temper, which he usually hides under a gentlemanly front until something he finds wrong or cruel pushes him over the edge (ex. Karofsky in Night of Neglect, Sam in Hold on to Sixteen).
He is increasingly portrayed as someone who approves the idea of "fitting in" (Special Education), at least by the standards of Dalton Academy. He's not afraid of being openly gay but still prefers to act in a socially acceptable manner in regards to his school. Blaine warns Kurt that trying too hard and showing too much panache can be detrimental, exposing a more reserved part of himself. Despite this, he is very comfortable with his sexuality and is shown as being content with being physically close to Kurt. Of course, this seems to happen most commonly when they are alone or at Dalton. When he attends Prom with Kurt in Prom Queen, he demonstrates reluctance to dance with Kurt or show signs of physical affection, most likely due to his own past experiences and the fact Kurt's school has become notorious to him for being intolerant of gays. After Kurt is elected Prom Queen (as a cruel joke) and manages to stand up for himself and accept the crown, Blaine realizes how strong Kurt is, and after the Prom King, David Karofsky, runs away to avoid dancing with Kurt, Blaine steps forward to dance with Kurt in front of the entire school.
Blaine's feelings for Kurt are not discussed until Silly Love Songs when he reveals a crush on another boy and later (after he is rejected by Jeremiah) when Kurt reveals his own feelings, Blaine begins to re-evaluate the nature of his relationship with Kurt and where he wants it to go. Blaine's feelings become clear in Original Song when he seemingly has an epiphany while watching Kurt perform Blackbird in memoriam. He proposes that Kurt be his duet partner at Regionals, and later confesses to Kurt that the duet is just an excuse to spend more time with him. He then kisses Kurt.
Blaine's insecurities about his ability to be a good boyfriend seem to affect his confidence in other areas of his life, from getting very drunk at a party and dating a girl (in Blame It on the Alcohol), to being highly susceptible to suggestion when he takes Sue Sylvester's words to heart to "sexify" The Warblers' performance (in Sexy). Despite this he continues to display concern, care and a desire to spend time with Kurt. In Blame It on the Alcohol, he seeks Kurt's understanding regarding his confusion about his sexuality and is visibly hurt when he doesn't get it. He also seeks out Kurt's father Burt regarding Kurt's lack of knowledge about sex in Sexy, despite the fact that he fears he has crossed a line and might possibly alienate Burt or even Kurt. As a result of Blaine's insecurities, he also is shown to desire Kurt's approval. He becomes visibly touched when Kurt expresses that he is proud to have him as his boyfriend in The First Time, becoming teary and saying "I want you to be."
In Sexy, Blaine demonstrates that he is well informed about sex, which develops into sexual curiosity with his relationship with Kurt. This is emphasized in The First Time, when Blaine gives in to his temptation when drunk and attempts to get intimate with Kurt in the backseat of his car. However, Kurt is not so keen with the idea and leaves unhappy and angry. After waiting for the "right time," they decide to have sex at Blaine's house.
In Season Four, The New Rachel, when eight seniors have graduated and Rory is gone, leaving New Directions short of members, Blaine shows his eagerness to become the new lead singer. New Directions having lost Rachel, their star power, Tina, Brittany, Blaine, and Wade decide to have a fierce competition to decide who will take her place. Blaine is very eager and competitive about it. When performing Call Me Maybe, you can see this diva side of him. Since New Directions won the Nationals Championships, they have risen and are popular. Not wanting to let go of the popularity they have worked so hard for, Blaine and the rest of New Directions begin to act selfish by telling Wade not to be Unique in public. However, they realized their wrongdoings later in the episode and apologized.
Relationships
Blame It on the Alcohol
during an impromptu game of spin-the-bottle. After the kiss, Rachel announced that she'd "found a new duet partner" which is shortly fol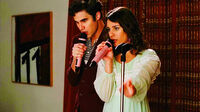 lowed by a duet of
Don't You Want Me
. Later, at The Lima Bean, Rachel calls and asks Blaine out on a date, which he accepts. He then told Kurt that he enjoyed the kiss and was questioning his sexuality because of it. The date, according to Rachel, involved seeing
Love Story
at the Revival Theatre and dressing up as the characters. Rachel also admitted that Blaine did not kiss her at all during their date. The relationship ended when Rachel kissed him again, this time at The Lima Bean, without a blood alcohol reading whereby he came to the conclusion that he is "100% gay" and not straight or bisexual. They are now friends and starred in
West Side Story
together.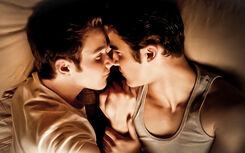 Blaine and Kurt first meet at Dalton in Never Been Kissed when the Warblers sing Teenage Dream to Kurt and develop a strong foundation, and Blaine even transfers.Kurt develops a crush on Blaine who he is seen with in many episodes, this shows they were close before dating. Kurt first admits to being in love with Blaine after their duet of Baby, It's Cold Outside to Mr. Schuester in the Season Two Christmas episode, A Very Glee Christmas; however, their relationship remained platonic. In Silly Love Songs, Kurt finds out that Blaine has a crush on somebody and Kurt then believes it is him as Blaine knows his coffee order and admits that Valentine's Day is his new favorite holiday. Kurt along with the Warblers find out that Blaine has a crush on a guy who works at the GAP (Jerimiah) and Kurt is shocked and upset. During a sleepover with Rachel and Mercedes Kurt asks whether he should go with Blaine to serenade his crush which they reply he should check out the competition for Blaines heart. Kurt encourages Blaine to sing to Jerimiah and then comforts him when he gets turned down. At the Lima Bean Blaine is still upset and Kurt finally confesses to Blaine that he thought Blaine was interested in him, bringing up that they "hang out together," sing "flirty duets," and that Blaine knows his coffee order by heart. At this point, Blaine admits to Kurt that he is "clueless" and has never been anyone's boyfriend and doesn't want to screw up their friendship.They then start a Lonely Hearts Club for Valentine's Day in which you see the Warblers singing Silly Love Songs to the New Directions .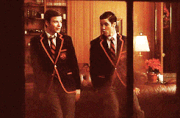 Blaine and Kurt are still friends and their relationship is deepening. In Sexy Sue approaches Blaine and Kurt at the Lima Bean explaining the New Directions are getting sexy which Kurt dismisses but Blaine believes it is necessary for the Warblers to be sexier. They organise that their Sister School watch their performance of Animal and provide them with feedback on whether they are scream worthy. During the song Blaine notices Kurt is pulling weird facing and asks him about it afterwards. Kurt explains he does not know how to be sexy as he has as much sexual appeal and knowledge as a Baby Penguin. Blaine then is seen trying to help Kurt pull sexy faces which Kurt fails to do. Kurt then explains he knows nothing about sex and Blaine offers to help which Kurt declines. Blaine approaches Burt telling him he needs to have the talk with Kurt and admits he is jealous of their relationship. This shows Blaine cares about Kurt. Their relationship develops in Original Song from the passing of Pavarotti and Kurt sings Blackbird in rememberance, but also opens Blaine's eyes and realizes that he's falling for Kurt. He plans for them to do the duet Candles at Regionals, but he really wants to do the duet to spend more time together and tell Kurt how he feels, where after he kisses Kurt.After their first kiss they both blush before lunging into their second kiss showing the boys have created a romantic relationship. After they lose Regionals Blaine admits that he and Kurt still won as they got each other in the end which Kurt agree's with before taking Blaines hand and going back to Dalton. Blaine also show support when Kurt wants to return to Mckinely and serenades him when he does transfer. They still continue to date when Kurt transfers back, attend prom together where Kurt shows Blaine that he will stand up for their relationship by being given his prom queen crown. Blaine then shows Kurt he too will stand for their relationship by sharing with Kurt the first dance infront of everybody after David ran off. They later share "I Love You" for the first time in New York. Kurt admits that he has had a pretty good year he got Blaine and went back to be with his friends while going to the city of his dreams. 
In Season Three, Blaine switches schools and attends McKinely to be with Kurt. They take their relationship to the next level in The First Time, where they become sexually active. They prove to be a strong couple, only fighting two times in the year. They remain strong and support each other when they need to. Blaine supported Kurt when he lose his presidency and sent his application of to NYADA without any extra curriculums and also when he was insecure about Sebastian flirting with Blaine. Kurt supports Blaine when he gets slushied by Sebastian  by accident and then when his Big Brother comes to town. They prove they love each other in this episode as they are always close and always look at each other lovingly during love songs.
In
Season Four
, Blaine tells Kurt that he needs to move forward to New York, and that they would continue a long distance relationship. This doesn't work out though because in
The Break-Up
, Blaine admits to cheating on Kurt and they break-up, and compromise their friendship. Blaine and Kurt reconcile in Thanksgiving as Kurt admits that he misses Blaine and they are still best-friends. Blaine agree's with this and they share I Love You's. In
Glee, Actually
, Blaine with the help of Burt visits New York as Kurt's early Christmas present. Kurt and Blaine sing
White Christmas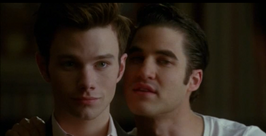 together for their annual Christmas Duet and ice skate while showing the chemistry. Blaine also admits his plans on going to NYADA which Kurt believes would be great showing they are wanting to get back together. Blaine and Kurt talk on the phone to keep their friendship up. Blaine and Kurt become 'friends with benefits' in
I Do
as they make out in the back of Kurt's car which is heated as the boys are trying to undress the other. They then go to a hotel room and have sex. Blaine tries to get Kurt to admit it meant more than fun but he neither disagree's or agree's to anything before they are hanging out as friends again before Kurt returns to New York. In
Girls (and Boys) on Film
, Kurt imagines that he and Blaine are singing their love song together
Come What May
before Kurt admits to Adam he is still in love with Blaine. He and Adam are still dating and Blaine has a crush on Sam .
Blaine and Sebastian meet in The First Time, when Blaine comes to Dalton Academy to invite the Warblers to West Side Story.
Sebastian tries to talk Blaine into dating him, but Blaine says he doesn't want to mess up what he has with his boyfriend (Kurt) and seems uncomfortable by Sebastian's advances. Blaine states later in the episode to Kurt that Sebastian means nothing to him.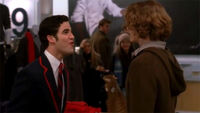 In Silly Love Songs, Blaine has a crush on Jeremiah, a worker from the Gap. Jeremiah is also gay, but is not interested in Blaine and also believes that it would be illegal for them to date due to their age gap because he was 21 and blaine was 17. Blaine sings When I Get You Alone to Jeremiah, and unintentionally gets him fired. 
Barely Breathing
in
The Break-Up
.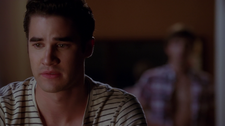 Blaine is sitting in the choir room when he receives a poke from him on Facebook, and a message saying, "What's up, sexy?" followed by, "You want to come over?" Blaine looks contemplative, before walking out of the choir room, presumingly with the intention of meeting Eli.
Later, Blaine visits Kurt in New York. Kurt notices how emotional he is being, and Blaine opens up that he was "with someone." Kurt is taken aback and is clearly hurt. He asks if it was Sebastian, but he denies that saying that it "didn't mean anything [and] it was just a hookup?" After this, their relationship was left uncertain, and although Eli's name was never mentioned in that discussion, it is implied that it is Eli who Blaine hooked up with.
Although Eli was again not mentioned by name, he was mentioned in a conversation with Sam in Dynamic Duets, Blaine explains how he regretted the 'hook up' as soon as it happened. That Eli was a guy that had befriended him on Facebook, this implying that he does not really know Eli.
Sadie Hawkins
when she asks him to the dance while performing
I Don't Know How To Love Him
which he politely declines. She is persistant and asks him again which causes him to admit his crush on Sam. Tina then suggests she and Blaine go to the Dance as best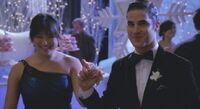 friends which he accepts. They are seen at the dance together in many scenes, in one particular scene they are about to share a kiss which is interrupted by Sam. They then share a slow dance where Tina looks content. Tina later reveals she has found the love of her life (Blaine). Tina's crush is seen throughout
Naked
 at first when she suggests the Men of McKinley calendar and suggests Blaine be December to do a Sexy Santa picture (Sexy Claus). She is then seen asking Blaine to go clothes shopping with her after school which he agrees to until Sam enters the hallway half naked. Sam and Blaine are talking when Sam suggests Blaine is jealous of his body when Tina buts in to say
Blaine has an awesome body and a perky and delicious behind that looks like it was baked to perfection by some sort of master chief
which causes confused looks from both Sam and Blaine. Tina's crush on Blaine develops further in
Diva
 when she approaches Blaine at his locker giving him a special cold survival kit to make him feel better, when he asks how she knew he was ill she admits his nose looked red the other day and they talk about Blaine performing a song for Diva week to show men too can be Diva's. Tina then admits that Blaine inspires her. Tina approaches Blaine's locker again asking how he is using a cute nickname. When he admits not to being well she gives him rub in cream to help him and he agrees to help Tina find her inner Diva after she admits to not being Diva enough for the glee club. Tina is then is Blaine's room looking at the pictures of him and Kurt. Then asks if he has ever been with a girl indicating she has plans for him and her. During their meeting Blaine falls asleep due to the medication he was taking, Tina admits to being in love with him and wants a relationship however then realises he is asleep. She then opens the buttons on his shirt and straddles him before rubbing the mentol-cream on his chest while he sleeps. She clearly has deep feeling's for him as she is crying. By the end of the episode Tina and Blaine's relationship is going the way Tina wants it as he admits to caring about her and asking her to be his date to Will and Emma's wedding, which she happily accepts. After Tina confronst Kurt at the Wedding and admits to what she did to Blaine, she apologises to both Blaine and Kurt saying she wants their legandary Chemistry. Blaine promises he will help her find a boyfriend and Tina and Blaine remain bestfriends. 
Makeover
when Blaine is running for Senior Class President against Brittany and Sam joins Blaine by becoming his vice-president (with a little encouragement from
Brittany
.) Blaine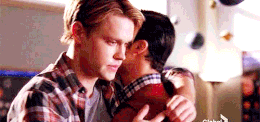 gives Sam a makeover in order to make him look like a more serious candidate for the role. Sam then gives Blaine a makeover by telling him to lose the bowties as they make him look up-tight. Blaine and Sam win the election and celebrate at
Breadstix
where Blaine tries to call Kurt who doesn't answer his phone. Blaine explains to Sam he feels really alone. Sam then cheers him up by stating that Blaine is his 'gay-bro' which he never had with
Kurt
. Their friendship develops when Sam tries to comfort Blaine after his break-up with Kurt. In
Dynamic Duets
, Blaine and Sam have joined a Superhero club together with others. Blaine is Nightbird and Sam is Blonde Chameleon. Blaine, feeling guilty about what he did, attempts to go back to Dalton after singing with the Warblers when Sam approaches him after hearing Blaine was leaving. He tells Blaine to stop beating himself up for what he did, then asks what Blaine did exactly. After hearing this Sam still stands by Blaine telling him that he needs to forgive himself and asks that Blaine gives him a day to prove he is a good person. They sing
Heroes
together and then rescue to Nationals Trophey from the
Warblers
as Nightbird and the Blonde Chameleon. Sam and Blaine are seen together in other episodes singing and just hanging out as friends. In
Sadie Hawkins
, Blaine reveals to
Tina
that he has developed a crush on Sam due to spending so much time together, but without wanting to ruin their bond, he remains silent. Blaine and Sam work together to prove the Warblers cheated at Sectionals and after enough prove they suggest
Finn
reports it. In
Naked
, Sam is extremely down due to his SAT results and Blaine pulls him out of it. He also set up a meeting with
Miss Pillsbury
on helping Sam get into college and he also makes a video for Sam of everybody announcing what he has achieved, Sam thanks and hugs Blaine in tears. During
Feud
, we see them being the best of friends while working against
Sue
and dealing with problems that arise. In
Guilty Pleasures
, Blaine offers Sam money to help pay for food for Sam's family after seeing Sam stealing pasta from the school Sam then shows Blaine his guilty pleasure Macaroni Art. He then asks Blaine about his, knowing his guilty pleasure is himself (Sam). Blaine reveals he like Wham and they perform together in the Glee Club while running this weeks Glee club. Blaine eventually comes clean about his feeling for Sam through
Against All Odds (Take a Look at Me Now)
. Sam and Blaine have a touching moment where Sam admits he knows Blaine likes him and he likes that Blaine likes him. He tells Blaine they are like brothers and that he trusts him. Blaine and Sam perform
Mamma Mia
with the rest of the New Directions.
Songs
Solos
Season Two:

Season Three:

Season Four:
Solos (In a Duet)
Season Two:
Season Three:
Season Four:
Solos (In a Group Number)
Season Three
Song
Episode
Solos with
Control
Hold on to Sixteen
Quinn and Artie
Man in the Mirror
Finn, Artie, Puck, Sam and Mike
My Favorite Things
Extraordinary Merry Christmas
Kurt, Rachel and Mercedes
Do They Know It's Christmas?
Finn, Mercedes, Rachel, Kurt, Artie, Brittany, Puck, Tina and Santana
Bad
Michael
Artie, Santana and Sebastian
Love Shack
Heart
Mercedes, Kurt, Brittany, Rachel and Sugar
Fly/I Believe I Can Fly
On My Way
Rachel, Artie, Santana, Finn and Mercedes
You Should Be Dancing
Saturday Night Glee-ver
Mike and Brittany
Night Fever
Will and Joe
My Love Is Your Love
Dance with Somebody
Artie, Mercedes and Kurt
Big Girls Don't Cry
Prom-asaurus
Rachel and Kurt
Paradise by the Dashboard Light
Nationals
Finn, Puck, Kurt, Rachel, Santana, Brittany, Mike and Mercedes
In My Life
Goodbye
Tina, Sam, Rory, Sugar, Joe and Artie
Season Four
Song
Episode
Solos with
Call Me Maybe
The New Rachel
Brittany, Tina and Unique
Don't Speak
The Break-Up
Finn, Rachel and Kurt
The Scientist
Rachel, Finn, Emma, Will, Santana, Brittany and Kurt
You're the One That I Want
Glease
Ryder, Marley, Rachel, Finn, Kurt, Santana and Brittany
Some Nights
Dynamic Duets
Tina, Sam, Joe, Ryder, Marley, Jake and Kitty
Don't Dream It's Over
Swan Song
Finn, Marley, Tina, Sam and Brittany
Have Yourself a Merry Little Christmas
Glee, Actually
Kurt, Puck, Sam, Brittany, Jake and Marley (episode)
No Scrubs
Sadie Hawkins
Ryder, Artie, Sam and Joe
This Is the New Year
Naked
Sam, Ryder, Artie, Brittany, Marley, Jake, Tina and Unique
Diva
Diva
Brittany, Tina and Unique
We've Got Tonite
I Do
Rachel, Finn, Kurt, Marley, Jake, Quinn, Santana, Artie and Betty
Mamma Mia
Guilty Pleasures
Rachel, Santana, Kurt, Kitty, Marley, Sam and Unique
Say
Shooting Star
Sam, Ryder, Kitty, Marley and Brittany
You Have More Friends Than You Know
Sweet Dreams
Sam, Unique and Marley
We Will Rock You
Lights Out
Jake, Ryder and Artie
Superstition
Wonder-ful
Mercedes and Marley
Speaking Lines
Trivia
Blaine has sung at least one song in twenty-one of Season Four's twenty-two episodes, the most of any other character in a single season.
Blaine's middle name was officially confirmed to be "Devon" by Ryan Murphy, the show's creator, on Twitter. It is first mentioned on the show by Sue Sylvester when referring to his contract with the Cheerios (Feud).
He is a fan of college football. His favorite college football team is the OSU Buckeyes. (The Substitute) Ironically, Darren Criss went to the University of Michigan, the historically bitter rival of OSU.
He sometimes buys biscotti with his coffee. (The Sue Sylvester Shuffle)
His favorite holiday was Valentine's Day. (Silly Love Songs)
His favorite coffee order is a "Medium Drip." (Silly Love Songs)
He knew Kurt's favorite coffee order without having to ask him before they were dating (Silly Love Songs).
He has had school transfer at least twice:

The first time was to The Dalton Academy because he was bullied for being gay at his old school and Dalton has zero tolerance for bullying. (Prior to Never Been Kissed)
The second time was to McKinley High because he wanted to be with Kurt more (The Purple Piano Project).

He apparently, taken from all the pictures and trophies in his room, is a big fan of polo and fencing (The First Time).
He took up boxing to defend himself from the bullies and even started the Dalton branch of Fight Club (Hold on to Sixteen, Big Brother).
He customized his eye-patch to the shape of a heart for Valentine's Day (Heart).
The thing he said he is looking forward to the most to is marriage equality in all fifty states (On My Way).
He has a picture of Kurt's Presidential campaign poster in his locker (Big Brother).
When he and his brother, Cooper, were kids, they were, according to Cooper, famous around the neighborhood for their dueling Simon LeBon impressions (Big Brother).
He is passionate about Disco music and suggested it as an idea for the vintage theme of Nationals 2012. He also showed open delight at the presence of the disco dance-floor in the choir room (Saturday Night Glee-ver).
He attends classes with both upperclassmen and underclassmen. For example, when he was a junior, he was in the same class with seniors Mike Chang and Brittany Pierce in Saturday Night Glee-ver and when he is a senior, he was in the same class with sophomore Marley Rose (Makeover).
He hates/hated how curly his hair is without gel and believes it makes him "looks like Medusa," while Brittany thinks he looks like a head of Broccoli (Prom-asaurus).
He claims that Kurt has not seen his hair without gel (Prom-asaurus). Yet, Kurt has seen his hair without gel on at least two separate occasions:
He went Halloween trick-or-treating as The Situation from Jersey Shore. (Props)
He wears bowties with almost everything he wears. Since Sam told him that he looked too uptight, he stopped using them with his daily clothes (Makeover).
He is the first openly gay student at William McKinley High School to be Senior Class President (Makeover).
He uses raspberry-scented hair gel (Dynamic Duets).
He watches and enjoys reality TV shows with Kurt such as The Bachelorette and Being Bobby Brown.
He and Kurt like to "hate-watch" the TV show Treme together (Makeover).
He uses T-Mobile for his cell phone service. He also has an iPhone, as seen in The Break-Up.
He gets his bowties from estate sales, a few from Kurt, his brother Cooper, and also Amazon.
Only Cheerio to quit that Sue forced to rejoin.
Blaine stays with the Cheerios to bring Coach Sylvester down until graduation (Feud). But after Coach Sylvester leaves after the events in Shooting Star and Coach Roz takes over, he's the one who actually tracks Sue down and asks her to come back because he believes she's the better choice than Coach Washington (Lights Out).
Blaine is deemed "The New Rachel" (The New Rachel).
While he has spoken about being a victim of anti-gay bullying, he has never once been shown to be bullied for being gay on the show.
His guilty pleasure is the music band Wham! and Sam. (Guilty Pleasures)
Gallery
Quotes