Blaine-Brittany Relationship
Comments

27
1,704pages on
this wiki
Blaine-Brittany Relationship
General Information
Nickname:
Blainttany
Braine
The Sunshine Twins
Blittany
Intimacy Level:
Friends
The Blaine-Brittany Relationship, most commonly known as Blittany, Braine or The Sunshine Twins, is the current friendship between McKinley High graduates and former New Directions members Blaine Anderson and Brittany Pierce. Although they are sometimes annoyed with each other, they still appear to maintain a friendship.
Episodes
When Blaine performs Last Friday Night, Brittany joins him. On the line "There is a stranger in my bed..." they are on the floor with Blaine's hand around her. Brittany can be seen enjoying herself throughout the performance. (Pot o' Gold)
Brittany and Blaine had prepared You Should Be Dancing together with Mike, which they perform in the episode. (Saturday Night Glee-ver)
Brittany is in charge of prom and she makes a list of rules, one of which was no hair gel. When she tells the New Directions, Blaine protests a little at the hair gel ban rule and Brittany proceeds to tell him she doesn't like his "looks." However, Blaine defies her and arrives at prom with hair gel in his hair. When Brittany approaches him and Kurt, he stands as still as a statue, hoping Brittany won't see him but of course she does. She tells him once again no hair gel and then he leaves to wash it out. Minutes later, Blaine returns, his hair all curly and wild. His hair was so different that Brittany mistakes him for someone else. She then apologizes and tells him he can wear the hair gel. (Prom-asaurus)
Brittany and Blaine are first seen in the hallway when Jacob interviews them, asking "Who is the New Rachel?" and they both respond in unison "Me!." Next, they are in the choir room seated when self-proclaimed diva, Unique enters. Both of them eye her suspiciously. After, Brittany and Blaine along with Unique and Tina approach Artie, asking him to choose the "New Rachel," which he agrees to do. This is when the competition begins.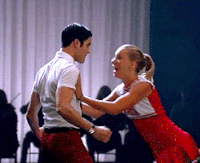 Tina, Brittany, Blaine, and Wade begin to compete to see who's going to be the "New Rachel" and perform Call Me Maybe by Carly Rae Jepsen for Artie. During Call Me Maybe, Blaine and Brittany can be seen fooling around, being playful with one another while having their best bitch mode switched on.
At lunch Blaine and Brittany are seated beside each other while conversing with the rest of the New Directions and the popular kids. Later, they are at Lima Bean having coffee and talking. He asks her how Santana is doing and she replies saying, "She's good, she is just busy with cheerleading practice and, it's hard making out over Skype. You can't really scissor with a webcam." Back in the choir room, Artie chooses Blaine as the "New Rachel" and this does not sit well with Brittany. She lets this be known when they are having lunch together and Blaine tells her she "can't just decide not to sing anymore, we all need your voice" which she replies to, saying Blaine killed her heart song. At the end they sing Adele's Chasing Pavements with the New Directions. (The New Rachel)
During a scene in which Brittany is talking alone, Blaine comes and asks her: "Brittany, who are you talking to?," she thought she was doing a voice over. Blaine and Artie sing Boys/Boyfriend to make Brittany feel better; but it doesn't seem to work. Later, when Mr. Schuester is lecturing the Glee Club for lip syncing, Blaine replies to Will and says that they were just trying to help Brittany. (Britney 2.0)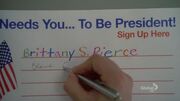 In order to get over missing Kurt, Blaine starts to sign up for several school clubs and organizations, including Student Council President, where Brittany is also running again for a second year. Later at Blaine's locker, Brittany convinces him that he should have Sam as his running mate, and after a solid argument, agrees. At the debate, Blaine and Brittany discuss their own policies they would enforce as class president. In the end, Blaine wins, and at his celebration after party, Brittany congratulates the new president. (Makeover)
Blaine and Brittany are seen at the beginning of the episode, at lunch sitting on the same table talking about "young love" and how easy things were when they started dating Santana and Kurt and they were still in high school. (The Break-Up)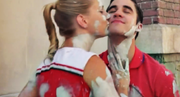 They dress as super-heroes; Brittany is the Human Brain and Blaine is Nightbird. Blaine invites Brittany to join his super hero club: Secret Society of Superheroes. During one of Glee club's meetings; Brittany notices that Blaine was missing, she says: "Guys, I don't smell raspberry hair gel, where's Blaine Warbler?," alerting the other members. Afterwards in the montage during Heroes, they are painting a wall, painting each other and laughing. Brittany also kisses Blaine on his cheek after she runs paint down his face. (Dynamic Duets)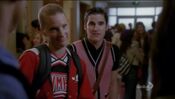 After Will announces the assignment, both of them come up with the idea that just because it's a girls vs. boys mash-up competition, it doesn't mean that
New Directions
can't sing some song from a movie together. They suggest that the New Directions should sing
Shout
and they sing this song as a duet with New Directions. When the songs ends, Artie comes up to them and asks them if they know that it wasn't even a mash-up. When he wheels away, Blaine and Brittany just look at each other and give each other a high-five. (
Girls (and Boys) on Film
)
Blaine announces Brittany's performance with the New Directions Girls. (Guilty Pleasures)
When Brittany returns she tells the club why she should have the solo, she mentions Blaine and tells him that he's shorter than the average lawn gnome. Later, during her goodbye speech, Brittany tells a teary-eyed Blaine that he is like a brother to her. (All or Nothing)
Blaine and Brittany are interviewed by Mary Halloran as part of her untitled project she is working on for Rachel. While Brittany and Mary seem to have a great understanding of one another, Mary's eccentric creative style leaves Blaine feeling exasperated. Later, Blaine and Brittany are at the Bushwick Apartment for the first read through of Mary's script along with Rachel, Artie, Sam and Kurt. They discover that the names of their characters have been changed to silly variations of their own names. Blaine is "Slaine" and Brittany is "Nittany". In the script, Brittany and Blaine's characters are sleeping together and decide to continue doing so and open an art gallery. Blaine seems taken aback by this strange plot point, but it doesn't seem to bother Brittany.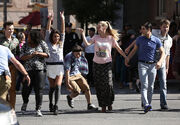 Later, when Rachel has convinced Mary to make some changes to the script Blaine and Brittany meet with the rest of the gang to read through it once more. Blaine and everyone, aside from Brittany, seem very pleased with the new script. Afterward, they all gather to admire Sam's new semi nude spread on a city bus. The group all talk about the two years they have spent in NY and how some of them are scattering. They decide to meet up in the same spot in NY in six months. Blaine and Brittany perform Pompeii with the rest of their friends. (The Untitled Rachel Berry Project)
Songs
Sang Together (In a Group Number)
Song
Episode

Solos with

Do They Know It's Christmas?
Extraordinary Merry Christmas
Artie, Finn, Kurt, Mercedes, Puck, Rachel, Santana, and Tina
Love Shack
Heart
Kurt, Mercedes, Rachel, and Sugar
You Should Be Dancing
Saturday Night Glee-ver
Mike
Paradise by the Dashboard Light
Nationals
Finn, Kurt, Mercedes, Mike, Puck, Rachel, and Santana
Related Songs
Duets
Sang Together (In a Group Number)
Song
Episode

Solos with

Call Me Maybe
The New Rachel
Tina and Unique
The Scientist
The Break-Up
Emma, Finn, Kurt, Rachel, Santana, and Will
You're the One That I Want
Glease
Finn, Kurt, Marley, Rachel, Ryder, and Santana 
Don't Dream It's Over
Swan Song
Finn, Marley, Sam, and Tina
Have Yourself a Merry Little Christmas
Glee, Actually
Jake, Kurt, Marley, Puck, and Sam
This Is the New Year
Naked
Artie, Jake, Marley, Ryder, Sam, Tina, and Unique
Diva
Diva
Tina and Unique
Say
Shooting Star
Kitty, Marley, Ryder, and Sam
Related Songs
Sang Together (In a Group Number)
Trivia
They both have run and won Senior Class President: Brittany against Kurt in Season Three and Blaine against Brittany in Season Four.
Both had some kind of friendship/romantic relationship with Kurt and Sam.

Both of them have kissed Kurt.
Brittany has dated Sam. Blaine has had a crush on Sam and they are best friends.

They both had Cheerios back up dance in some of their solo performances. (It's Not Unusual, Hold It Against Me, Run the World (Girls), It's Time)
They both competed to be "The New Rachel" along with Tina and Unique, Blaine won and Brittany got second place. (She calls herself the Vice-Rachel of the Glee Club)
Both of their characters started off as recurring for one season, and then were promoted to main the next.
Darren Criss used to have a crush on Heather Morris.
Both have been captains of the Cheerios.
Gallery
Quotes
v - e - d

Glee Relationships




Character relationship(s) displayed:

Adam

Artie

Becky

Betty

Blaine

Bree

Brittany

Brody

Burt

Cassandra

Chandler

Cooper

Dani

Dave

Elliott

Emma

Finn

Holly

Jake

Joe

Kitty

Kurt

Lauren

Mario

Marley

Mercedes

Mike

Millie

Puck

Quinn

Rachel

Rory

Roz

Ryder

Sam

Santana

Sebastian

Shannon

Shelby

Sue

Sugar

Sunshine

Tina

Terri

Unique

Will