This article is about the song. You may be looking for the episode of the same name.
Blame It (On the Alcohol) by Jamie Foxx feat. T-Pain is featured in Blame It on the Alcohol, the fourteenth episode of Season Two. It is sung by the New Directions with solos from Artie, Mercedes, Puck, and Santana.  
Starting off in the McKinley High Hallways and eventually ending up in the April Rhodes Civic Pavilion, the whole group is hungover from Rachel's party two nights before the performance, and drunk from Artie's Bloody Mary. The song is performed in preparation for their Alcohol Awareness Week performance. Will later comments that they look drunk for real; being unaware that they are under the influence of alcohol. 
Lyrics
Artie (with New Directions):
Blame it on the goose, got you feeling loose
Blame it on the 'tron, got you in the zone
Blame it on the a-a-a-a-a-alcohol
(Blame it on the a-a-a-a-a-alcohol)

Eh, she say she usually don't
But I know that she front
Cause shawty know what she want
But she don't wanna seem like she's easy

Puck (with New Directions):
I ain't saying what you won't do
But you know we probably gonna do
What you been feelin' deep
(Insi-i-ide, don't li-i-ie now)

Mercedes with New Directions (with Artie):
Boy what you drinking?
(Gonna let sink in)
Here for the weekend
(Thinking we can)

Mercedes:
See where we can be if we press fast forward (Santana: Ooh)
Just one more round and you're down, I know it (Santana: Ooh yeah, yeah)

Artie with New Directions (with Puck):
Fill another cup up
Feeling on your (butt what?)
You don't even care now
I was unaware how

Artie:
Fine you was before my buzz set in (Mercedes: My buzz set in)

Artie with New Directions:
Blame it on the goose, got you feeling loose
Blame it on the 'tron, got you in the zone
Blame it on the a-a-a-a-a-alcohol
Blame it on the a-a-a-a-a-alcohol
Blame it on the vodka (New Directions: Hey)
Blame it on the henny (New Directions: Hey)
Blame it on the blue top (New Directions: Hey)
Got you feeling dizzy (New Directions: Hey)
Blame it on the a-a-a-a-a-alcohol
Blame it on the a-a-a-a-a-alcohol

Artie (New Directions):
Ooh see
She spilled some drink on me (On me)
And now I'm knowing she's tipsy (Tipsy)
She put her body on me
And she keep staring me right in my eyes
No telling what I'm gonna do (Gonna do)
Baby I would rather show you (Show you)
What you been missing in your
Li-i-i-ife when I get insi-i-i-ide

Mercedes with New Directions (with Artie):
Boy what you drinking?
(Gonna let sink in)
Here for the weekend
(Thinking we can)

Mercedes (Santana):
See where we can be if we press fast forward (Oh)
Just one more round and you're down I know it yeah (Oooh)

Artie with New Directions:
Fill another cup up
Feeling on your butt what?
You don't even care now
I was unaware how

Artie:
Fine you was before my buzz set in (Mercedes: My buzz set in)

Artie with New Directions (Mercedes):
Blame it on the goose, (Blame it on the goose) got you feeling loose
Blame it on the 'tron, got you in the zone (Alcohol)
Blame it on the a-a-a-a-a-alcohol (Alcohol)
Blame it on the a-a-a-a-a-alcohol (Alcohol)
Blame it on the vodka (New Directions: Hey)
Blame it on the henny (New Directions: Hey)
Blame it on the blue top (Yeah)
Got you feeling dizzy (Hey alcohol)
Blame it on the a-a-a-a-a-alcohol
Blame it on the a-a-a-a-a-alcohol

Artie and Mercedes:
Now to the ballas poppin' bottles
With their henny in their cup
Screaming money ain't a thing
If you ain't throw it up

Artie (Mercedes):
In the sky (In the sky)
And hold your drinks up high (Up high)

Puck and Santana:
To my independent mamas
Who can buy their own bottles
If you looking like a model
When them broke fellas holla

Artie (Mercedes):
Tell them bye (Buh-bye)
Hold your drinks up high (High)

Artie with New Directions (Mercedes):
Blame it on the goose, got you feeling loose
Blame it on the 'tron, got you in the zone
Blame it on the a-a-a-a-a-alcohol (Alcohol)
Blame it on the a-a-a-a-a-alcohol ( Alcohol)
Blame it on the vodka (New Directions: Hey)
Blame it on the henny (New Directions: Hey)

Artie and Mercedes with New Directions (New Directions):
Blame it on the blue top (Hey)
Got you feeling dizzy (Hey)

Artie with New Directions:
Blame it on the a-a-a-a-a-alcohol

Artie and Mercedes with New Directions:
Blame it on the a-a-a-a-a-alcohol
Gallery
Videos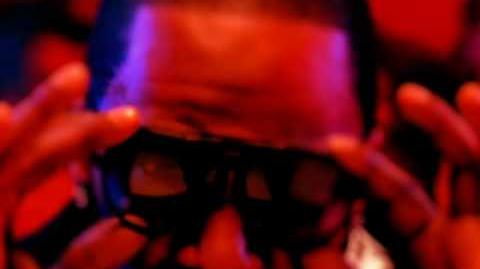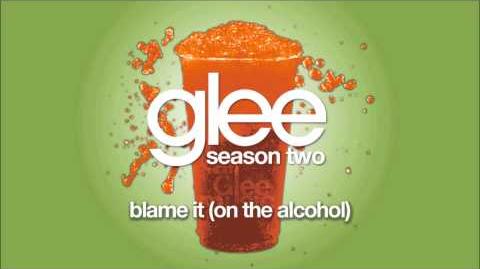 v - e - d
Season Two Songs
Audition
Empire State of Mind • Telephone • Billionaire • Listen • What I Did for Love
Britney/Brittany
I'm a Slave 4 U • Me Against the Music • Baby One More Time • Stronger • Toxic • The Only Exception
Grilled Cheesus
Only the Good Die Young • I Look to You • Papa Can You Hear Me? • I Want to Hold Your Hand
Losing My Religion • Bridge Over Troubled Water • One of Us
Duets
Don't Go Breaking My Heart • River Deep, Mountain High • Le Jazz Hot • Sing!
With You I'm Born Again • Lucky • Happy Days Are Here Again/Get Happy
The Rocky Horror Glee Show
Science Fiction Double Feature • Planet, Schmanet, Janet • Damn It, Janet
Whatever Happened to Saturday Night? • Sweet Transvestite • Touch a Touch a Touch a Touch Me
There's a Light (Over at the Frankenstein Place) • Time Warp
Never Been Kissed
One Love (People Get Ready) • Teenage Dream
Start Me Up/Livin' on a Prayer • Stop! In the Name of Love/Free Your Mind
The Substitute
Forget You • Make 'Em Laugh • Nowadays/Hot Honey Rag • Singing in the Rain/Umbrella
Furt
Ohio • Marry You • Sway • Just the Way You Are
Special Education
Don't Cry for Me Argentina • The Living Years • Hey, Soul Sister • (I've Had) The Time of My Life
Valerie • Dog Days Are Over
A Very Glee Christmas
The Most Wonderful Day of the Year • We Need a Little Christmas • Merry Christmas Darling • Baby, It's Cold Outside
You're a Mean One, Mr. Grinch • Last Christmas • Welcome Christmas
The Sue Sylvester Shuffle
Thriller/Heads Will Roll • She's Not There • Need You Now • Bills, Bills, Bills
Silly Love Songs
P.Y.T (Pretty Young Thing) • Firework • When I Get You Alone • Silly Love Songs • Fat Bottomed Girls
Comeback
Baby • Somebody to Love • Take Me or Leave Me • I Know What Boys Like • This Little Light of Mine • Sing
Blame It on the Alcohol
My Headband • Don't You Want Me • Blame It (On the Alcohol) • One Bourbon, One Scotch, One Beer • Tik Tok
Sexy
Do You Wanna Touch Me (Oh Yeah) • Animal • Kiss • Landslide • Afternoon Delight • Do Ya Think I'm Sexy?
Original Song
Misery • Only Child • Blackbird • Trouty Mouth • Big Ass Heart • Hell to the No
Candles • Raise Your Glass • Get It Right • Loser Like Me
A Night of Neglect
All by Myself • I Follow Rivers • Turning Tables • Ain't No Way
Born This Way
I Feel Pretty/Unpretty • I've Gotta Be Me • Somewhere Only We Know
As If We Never Said Goodbye • Born This Way
Rumours
Dreams • Never Going Back Again • Songbird • I Don't Want to Know • Nice to Meet You, Have I Slept with You?
Go Your Own Way • Don't Stop • It's 10 am and I'm Drunk
Prom Queen
Rolling in the Deep • Isn't She Lovely • Friday • Jar of Hearts
I'm Not Gonna Teach Your Boyfriend How to Dance with You • Dancing Queen
Funeral
Back to Black • Some People • Try a Little Tenderness • My Man • Pure Imagination
New York
My Cup • I Love New York/New York, New York • Still Got Tonight • Bella Notte • For Good
Yeah! • As Long as You're There • Pretending • Light up the World