Brittany-Kurt Relationship
Comments

125
1,716pages on
this wiki
This article has been nominated for deletion.




Please share your thoughts on the matter in the talk section below. For more information, visit candidates for deletion. Feel free to edit the article, but do not blank the article or remove this notice until the discussion is closed.
Brittany-Kurt Relationship
General Information
Nickname:
Kurttany
Intimacy Level:
Friends
The Brittany-Kurt Relationship, commonly known as Kurttany, is the relationship between Brittany Pierce and Kurt Hummel.
They briefly dated in the episode Laryngitis, but broke up shortly after due to the fact that Kurt was only using her as a beard, hoping to change his sexuality in order to spend time with his father Burt.
In Season Three, Brittany attempts to help Kurt with his campaign, but then she runs against him and wins to his disappointment. Her idea for Kurt's campaign was to represent his pride with rainbows and unicorns, which he turns away. Later on, he likes the idea, but it was too late because Santana was already helping her with her campaign for Senior Class President.
Overview
In Season One, when Kurt's dad starts spending more time with Finn than him, he feels it's due to Finn acting more like a "son" to Burt. As a solution, Kurt decides to act more like his dad, which includes being more manly and pretending to be heterosexual. With Kurt seemingly straight, Brittany jumps at the opportunity and asks him to make out with her, as she claims to have made out with every guy in the school apart from Kurt, which would make like a "perfect record" for her. While they are making out in Kurt's house, Burt walks in and tells Kurt that he is fine with whatever Kurt's sexuality may be. They briefly date, but Kurt breaks up with her after he realizes his cover isn't working with his father. In Season Two, they seem to be friends, but there's no major interaction between them. In Season Three, Brittany offers to be Kurt's campaign manager, but when he doesn't like Brittany's suggestions, she decides to run for class president herself. Brittany wins the elections and remains good friends with Kurt.
Episodes
Brittany and Tina are seen dancing with Kurt to Single Ladies (Put a Ring on It) in his bedroom.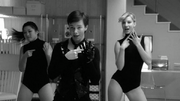 When Burt walks in on them and asks whether Brittany or Tina is his girlfriend, Brittany can be seen rolling her eyes as Kurt grabs Tina. But when his dad asks why Kurt is wearing a unitard, Brittany claims that Kurt is on the football team, forcing a frustrated Kurt to try out for the team. (Preggers)
During Bust a Move, Brittany attempts to dance with Kurt, but he chases her away with a tambourine. (Mash-Up)
In an attempt to connect with his father, Kurt begins dressing like his father and speaking in a lower voice. For his assignment in
Glee Club
, Kurt sings
Pink Houses
by John Mellencamp, in a deeper/more manly voice than usual, and pretends to be interested in women, which shocks the rest of the Glee Club. Brittany, oblivious to Kurt's facade, tells him that his performance was "hot" and tells him to let her know if he wants to 'tap this.'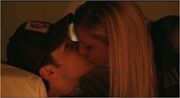 Later, Kurt and Brittany are seen awkwardly making out on the couch in Kurt's bedroom. When Kurt's father walks in on them, Kurt asks him to respect his privacy, as he and Brittany were just "having sexual relations." Burt leaves Kurt and Brittany alone, telling them to use protection if things get serious, but before leaving he lets Kurt know that he will support him whether he is gay or straight.
The next day at school, the new pair holds hands in the hallway, which confuses both Artie and Tina. Brittany comments on the softness of Kurt's hands, claiming them similar to a baby and he shares his secret of 'duck fat' with her. Burt shows up and tells Kurt he will be home late because he is going to a game with Finn. Devastated, Kurt realizes that his new personality has done nothing to strengthen his bond with his father and breaks it off with Brittany by telling her to go away and goes back to his true ways. (Laryngitis)
When Brittany voices her objection to Britney Spears, Kurt is very irritated and sarcastic towards her. They shared a lovely look in Rachel's solo The Only Exception. (Britney/Brittany)
Brittany is very concerned and upset with the news about Burt's heart attack and gives him a report on heart attacks that she did, but it was knocked down a letter grade because of the crayon. She also shares her view that heart attacks are just from loving too much. (Grilled Cheesus)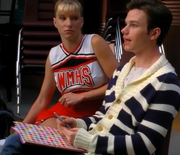 They sit beside each other during class, Kurt then asks Brittany what she is going as for Halloween and she says that she is going as a peanut allergy. (The Rocky Horror Glee Show)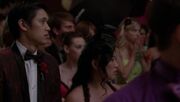 Brittany seems confused as to why Kurt was invited when the girls are picking prom outfits. But she sits next to him and agrees with his fashion advice. When the Prom Queen turned out to be Kurt, Brittany looks shocked. Santana did not get Prom Queen and so Brittany comforts Santana telling her to go out and support Kurt instead as this is going to be a lot harder for him than Santana. (Prom Queen)
Brittany confesses that she thinks Kurt is 'unicorn' and asks if she can be his campaign manager for his campaign to become senior class president. Kurt goes to Brittany's house and doesn't like Brittany's poster because he thinks they're too gay. Brittany puts up the posters anyway and Kurt gets angry at Brittany, who feels she has 'failed her precious unicorn.' Kurt later accepts that he is unicorn' and puts up the poster and invites Brittany round to his to talk campaign strategy Brittany tells Kurt that she now plans to run for class president as well Kurt looks very surprised. (I Am Unicorn)
Kurt congratulates Brittany in becoming senior class president, to which Brittany responds by saying that Kurt is still "the most unicorn of them all." (I Kissed a Girl)
Brittany announces that the theme of the prom is dinosaurs. Kurt and several others attends Rachel's anti-prom due to their own personal reasons on resenting the event. However, they later decide to go to the prom to which Brittany is happy to see. Both Brittany and Kurt are shocked to see Blaine without hair gel, as a rule set by Brittany for the prom. (Prom-asaurus)
Brittany dances alongside Tina and Burt in a recreation of Single Ladies (Put a Ring on It) as Kurt's graduation gift. (Goodbye)
Kurt is working at the Lima Bean and gives Brittany and Blaine their coffee. He sits down, telling them how excited he is for the Glee Club Auditions. When Kurt notices that Brittany and Blaine aren't as excited about it, he asks them about it to which they deny. Later in the episode, Kurt finds out about the "New Rachel" competition and asks Blaine, Brittany, Tina and Wade why the Glee Club is so competitive nowadays. (The New Rachel)
Blaine asks Brittany if she remembers when they started dating Kurt and Santana and how things were so much easier. (The Break-Up)
It's the first time they see each other again in months, the last time being during Regionals in All or Nothing. They both dance and sing backup in Raise Your Glass. Kurt watches Brittany perform Toxic and Valerie.(100)
Brittany is watching Kurt perform I Am Changing with Mercedes, to Rachel and Santana. Kurt and Brittany both enjoy watching Rachel and Santana perform Be Okay, as they are both clapping and dancing along to it. They both sing Don't Stop Believin' with the rest of the current and former New Directions. (New Directions)
Songs
Sang Together (In a Group Number)
Related Songs
Sang Together (In a Group Number)
Song
Episode

Solos with

Do They Know It's Christmas?
Extraordinary Merry Christmas
Artie, Blaine, Finn, Mercedes, Puck, Rachel, Santana, and Tina
Love Shack
Heart
Blaine, Mercedes, Rachel, and Sugar
Paradise by the Dashboard Light
Nationals
Blaine, Finn, Mercedes, Mike, Puck, Rachel, and Santana
Related Songs
Sang Together (In a Group Number)
Song
Episode

Solos with

The Scientist
The Break-Up
Blaine, Emma, Finn, Rachel, Santana, and Will
You're the One That I Want
Glease
Blaine, Finn, Marley, Rachel, Ryder, and Santana
Have Yourself a Merry Little Christmas
Glee, Actually
Blaine, Jake, Marley (episode), Puck, and Sam
Sang Together (In a Group Number)
Trivia
Brittany was Kurt's first kiss. However, he later asserts that Dave Karofsky was his "first kiss that counted," implying that he does not think of Brittany as his first because she is a girl.
Brittany is the first person that Kurt has dated, and Kurt is the first person Brittany dated on-screen.
Kurt is one of the few people to call Brittany "Britt."
They were both Cheerios in Season One.
They were both romantically interested in Sam.
Brittany is Kurt's second on-screen beard, the first being Tina. 
Gallery
v - e - d

Glee Relationships




Character relationship(s) displayed:

Adam

Artie

Becky

Betty

Blaine

Bree

Brittany

Brody

Burt

Cassandra

Chandler

Cooper

Dani

Dave

Elliott

Emma

Finn

Holly

Jake

Joe

Kitty

Kurt

Lauren

Mario

Marley

Mercedes

Mike

Millie

Puck

Quinn

Rachel

Rory

Roz

Ryder

Sam

Santana

Sebastian

Shannon

Shelby

Sue

Sugar

Sunshine

Tina

Terri

Unique

Will