Brittany-Rachel Relationship
Comments

36
1,704pages on
this wiki
Brittany-Rachel Relationship
General Information
Nickname:
Brachel
Pieberry
Britchel
Brittberry
Intimacy Level:
Friends
The Brittany-Rachel Relationship, most commonly known as Brittberry, Brachel, Britchel, or Pieberry, is the relationship between Rachel Berry and Brittany Pierce. 
Episodes
Rachel asks Brittany to be in the yearbook with her, but she refuses after saying she doesn't want to be in a picture that will get defaced. When Rachel tries to confirm that it won't, Brittany says it will because she'll be doing the defacing.
When Rachel comes into the choir room with her theatricality costume, Brittany says, "You look terrible, I look awesome."
Brittany tells Rachel that she is more talented than her.
Rachel tries to make a comeback at McKinley High by setting a fashion trend. She gives Brittany her allowance money to use one of her trademark accessories, her legwarmers, but Brittany messes it up by wearing the warmers on her arms. When Rachel sees her wearing them like that, she gets angry at her and tells her to wear them on her legs. After that, Rachel sees that the 'armwarmers' have become a new trend at McKinley, but that Brittany is getting the credit for it. Rachel, determined to succeed, decides that Brittany should go all out "sexy schoolgirl librarian chic." Once again, it becomes a trend and Brittany gets the credit and an interview with Teen Vogue. Rachel is left furious.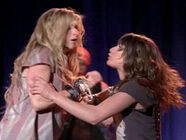 During the Tik Tok performance, Brittany tells Rachel that she is feeling sick. Rachel responds by encouraging her to "power through it." Unfortunately, Brittany throws up on Rachel at the end.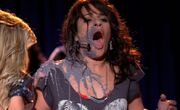 Brittany claims that Rachel's song My Headband is her favorite song ever.
After Santana shows her a voodoo doll that she made to resemble Rachel, Brittany convinces Santana not to be mad at her about losing Nationals because she feels that this year wasn't about winning.
Brittany campaigns against Rachel for senior class president, and tries to gain votes by stating that Rachel is still on MySpace.
In this episode, Brittany first mistakes another girl for Rachel. Rachel, later, plans an anti-prom party which Brittany does not attend as she attends the prom she had planned herself because she is class president. In the end, Rachel and the others who were at anti-prom decides to go to the school's prom, Brittany was happy to see her and everyone else.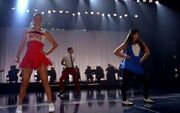 As Rachel and the other 7 seniors have graduated, the competition for the new star power, also known as "The New Rachel" is fierce. When
Jacob
interviews Brittany, Tina,
Artie
and Blaine as to who the new Rachel is, the four say "I am." Rachel watches the interview online saying she's happy that she's missed back there. Finally Brittany, Tina,
Unique
 and Blaine compete for the role but, in the end, Brittany does not become the new Rachel, as she only achieved second place.
In the beginning of the episode, Sue brings Brittany to her office about her academic excellence while being on the Cheerios. On the other side of her test, she had drawn a picture of "the land where math doesn't exist." Brittany points out her picture of her, Santana, Sue, and Sue's baby, along with Rachel and Kurt in heaven. She also mentions in a voiceover that she's the new 'vice Rachel', referring to being placed second in the competitive run to be the "new Rachel" of the Glee Club in the previous episode. 
Brittany mentions to Santana that Rachel has found a new love in New York, suggesting that Brittany pays attention to what Rachel has been doing.
When Santana comes back to lima to know what's going on with Brittany and is invited by her to Fondue For Two, Brittany asks her to confirm a rumour about Kurt and Rachel "playing bingo down at the V.A. and knitting alpaca mittens on Saturday nights."
Rachel cheers in the audiece for Brittany and Mercedes when they perform Shakin My Head. Brittnay is the only one who supported the script for Rachel's t.v how. Rachel and Brittany share a side hug when they perform Pompeii.
Songs
Sang Together (In a Group Number)
Song
Episode

Solos with

Toxic
Britney/Brittany
Santana, Tina, and Will
Start Me Up/Livin' on a Prayer
Never Been Kissed
Mercedes, Santana, and Tina
Marry You
Furt
Artie, Finn, Mike, Quinn, Rachel, and Tina
Loser Like Me
Original Song
Finn, Mercedes, and Santana
I Love New York/New York, New York
New York
Artie, Finn, Mercedes, and Santana
Light up the World
Artie, Finn, Santana, and Tina
Related Songs
Sang Together (In a Group Number)
Song
Episode

Solos with

We Got the Beat
The Purple Piano Project
Santana
Do They Know It's Christmas?
Extraordinary Merry Christmas
Artie, Blaine, Finn, Kurt, Mercedes, Puck, Santana, and Tina
Love Shack
Heart
Blaine, Kurt, Mercedes, and Sugar
Paradise by the Dashboard Light
Nationals
Blaine, Finn, Kurt, Mercedes, Mike, Puck, and Santana
Sang Together (In a Group Number)
Song
Episode

Solos with

The Scientist
The Break-Up
Blaine, Emma, Finn, Kurt, Santana, and Will
You're the One That I Want
Glease
Blaine, Finn, Kurt, Marley, Ryder, and Santana
Related Songs
Sang Together (In a Group Number)
Trivia
Gallery
v - e - d

Glee Relationships




Character relationship(s) displayed:

Adam

Artie

Becky

Betty

Blaine

Bree

Brittany

Brody

Burt

Cassandra

Chandler

Cooper

Dani

Dave

Elliott

Emma

Finn

Holly

Jake

Joe

Kitty

Kurt

Lauren

Mario

Marley

Mercedes

Mike

Millie

Puck

Quinn

Rachel

Rory

Roz

Ryder

Sam

Santana

Sebastian

Shannon

Shelby

Sue

Sugar

Sunshine

Tina

Terri

Unique

Will