Brittany Susan Pierce
General Information
Gender:
Female
Age:
19
Hair Color:
Blonde
Eye Color:
Blue
Height:
5'8"
Address:
Lima, Ohio
Occupations:
Student
Cheerleader
Glee Club member
Former Senior Class President
Aliases:
Britt (Santana, Kurt, Finn, Blaine)
Britt-Britt, Baby, The best thing that's ever been mine, Sheer genius (Santana)
Rain Man with boobs (Finn)
Tweedle-Dumb (Sue)
Britney Spears, Mike Chang, Vice Rachel (Herself)
Madam President (Jacob, Principal Figgins)
A Girl Who Thinks The Square Root Of 4 is Rainbows, Boo (Kurt)
That Daffy Cheerleader (Burt)
Girl Who Turns Into A Stripper Drunk (Finn)
Hatrack (Roz)
Sexy Teen Trollop, Miss Pierce, Teen Lesbians (with Santana) (Principal Figgins)
The Human Brain (superhero alter ego)
Family & Friends
Family:
Unnamed Father
Unnamed Mother
Unnamed Younger Sister
Relationships:
Santana Lopez (sexual, in love with, on a break)
Artie Abrams (ex-boyfriend)
Kurt Hummel (dated, ended)
Noah Puckerman (slept with, ended)
Finn Hudson (one date, ended)
Sam Evans (kissed once)
Becky Jackson (made out)
Friends:
Santana Lopez (best friend)
Quinn Fabray (best friend)
Tina Cohen-Chang
Becky Jackson
Mercedes Jones
Sam Evans
Mike Chang
Kurt Hummel
Rachel Berry
Artie Abrams
Finn Hudson
Rory Flanagan
Lauren Zizes
Ryder Lynn
Sugar Motta
Blaine Anderson
Joe Hart
Wade Adams
Marley Rose
Jake Puckerman
Matt Rutherford
Cheerios
Pets:
Lord Tubbington (cat)
Charity (cat)
Enemies:
Vocal Adrenaline
Kitty Wilde
Jacob Ben Israel
Other Information
Interests:
Performing, cats, Britney Spears, a relationship with Santana, dancing
Clique:
Cheerios
New Directions
The Troubletones (former)
Education:
William McKinley High School
Talent:
Dancing, singing, Cheerleading
Vulnerabilities:
Being called stupid
Strengths:
Popularity, dancing, setting trends
Weaknesses:
Academics
Series Information
First episode:
Showmance
Portrayer:
Heather Morris
Loryn Shay Charbonnier (Toddler Brittany)
Amber Riley (Tina's Dream)
Brittany Susan Pierce is a main character on Glee. She is a student and cheerleader at William McKinley High School in Lima, Ohio. She is a member of the school's glee club, the New Directions. She was the senior class president for the 2011-2012 year. She is bisexual and she dated her best friend, Santana Lopez, the former co-captain of the Cheerios. She appears to be very close friends with everyone in the glee club. Brittany was supposed to graduate in the Season Three graduation episode, Goodbye, along with her fellow seniors, but did not because she had a GPA of 0.0. She is currently repeating her senior year as of Season Four.
Brittany was a recurring character for Season One, but was made a main character in Season Two and remained so for Three, and will continue to be a main character for Season Four.
Brittany is portrayed by professional dancer and actress Heather Morris.
Biography
Brittany and the rest of the Cheerios watch Glee Club singing Push It during a school assembly. She, along with Quinn and Santana, audition for New Directions, and she performs background vocals in I Say a Little Prayer, becoming one of Sue's spies in the club. She also attends the Celibacy Club meeting earlier in the episode.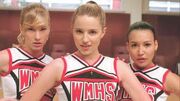 Brittany goes with the Glee Club to
Vocal Adrenaline
's high school,
Carmel High School
, to get
Dakota Stanley
to choreograph for them. He accepts and later remarks that she and the other Cheerios don't need to "change a thing."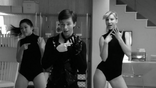 Brittany and Tina help Kurt make a music video of all three of them performing Beyoncé's Single Ladies. When Kurt's dad catches them, she has her first line saying to Burt that Kurt has joined the school's football team as kicker.
Brittany is present in rehearsals for Don't Stop Believin' when Quinn rushes out with morning sickness. She later performs with New Directions in their first performances as a full group in Last Name (with April Rhodes) and Somebody to Love.
Brittany performs on the girls team for the mash-up competition. When Rachel asks where Quinn is during rehearsal, Brittany jokes that she is at the mall buying "elastic-waist pants". She presumably takes pseudoephedrine with the rest of the girls (although she is not seen in the scene) and later performs a high-energy number Halo/Walking on Sunshine.
Sue splits the Glee Club into two groups. She puts the minorities on her side leaving Will w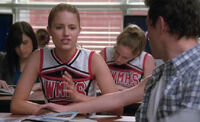 ith only five singers (including Brittany) and they perform
No Air
. While
Finn
and Quinn are arguing in Spanish class, Brittany tries to steal Quinn's paper to copy her answers but she angrily grabs it back. When he only gives Rachel and Finn solos, Quinn tells Brittany and Puck that Will obviously doesn't like minorities and they defect to Sue's group, leaving Will with only three singers. She performs background vocals in
Keep Holding On
.
Brittany, along with the other Glee Club members, waits to see if the boys will choose Glee or the Football Team and she is happy when she sees Mike enter the music room. She performs background vocals in Bust a Move and, with all the other members, slushies Mr. Schuester at the end of the episode.
The Glee Club raises money by putting on a bake sale in order to get a bus to take Artie to sectionals. Brittany thinks it's a bad idea because she finds recipes confusing. Meanwhile, Mr. Schuester gets the Glee kids to spend several hours a day in wheelchairs in order to make them realize how hard it is for Artie to be in a wheelchair. During these events, it is revealed that Brittany (who within the course of a day, lost her wheelchair) has a sweet and caring friendship with Becky Jackson, a girl who has Down Syndrome. While Quinn, Puck, and Santana look at Becky with disgust, Brittany is oblivious to it and buys her a cupcake from the Glee bake sale. Puck notes that Brittany cheats off of Becky's math papers in school.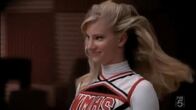 Brittany is paired with Santana for the week's ballad assignment. She later performs Lean on Me with New Directions.
Brittany watches the girls from Jane Addams Academy sing Bootylicious while using Hairography. Mr. Schuester calls on Brittany to teach the club the trick of 'Hairography', as she is the only member who can do it. She performs background vocals in Hair/Crazy in Love, Imagine, and True Colors with the Glee Club.
The Glee Club is cast in a local mattress commercial, in which Brittany performs background vocals and several impressive acrobatic stunts (Jump).
While on the phone with Artie, Tina, Mercedes, and Santana, Brittany lets it slip that she and Santana have slept together. After discovering their set list has been leaked, the Club accuses Santana and Brittany of giving it to Sue. Brittany admits that she did, but honestly had no clue what Sue wanted with it. She is asked to help with choreography for You Can't Always Get What You Want. She performs background vocals in You Can't Always Get What You Want and My Life Would Suck Without You. She is also shown eavesdropping with the rest of the New Directions as they try to determine how the judges are going.
Brittany spends a lot of time with Santana. They go on a date and start talking about how the boys at the school (including Finn, who they ignore throughout most of the night) should stop dating ugly girls like Rachel and start dating popular and prettier girls like themselves. Finn is asked to leave by Santana while the two Cheerios stay at the restaurant with his credit card. Later, they find out that Finn is now finished with Rachel because she is now dating Vocal Adrenaline's Jesse St. James. They are also asked by Sue to spread it around the Glee Club. Brittany is last seen performing background vocals in the Beatles classic, Hello, Goodbye.
Sue asks her cheerleaders to copy her role model, Madonna, by dating younger men.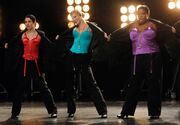 Brittany takes this task seriously and starts dating her sister's seven-year-old friend from soccer, Wes Brody. Santana, annoyed that she can't get a younger man, listens to Brittany who advises her to date Finn, as his birthday is three days before her. At first, Santana is against this, but after hearing from Brittany that the way to get a man to trust you it to take his virginity, she persuades Finn to lose the "Big V" to her. Later, when
Jesse St. James
joins the Glee Club, Brittany wonders whether he is Mr. Schuester's son. She performs background vocals in
Express Yourself
and
Like a Prayer
.
Mercedes asks Brittany and Santana how they manage to stay so "skinny." They tell her that they drink a protein shake that Sue Sylvester makes up from different ingredients, which Brittany sometimes adds a teaspoon of sand too. They admit that they don't like it but they would get kicked off the Cheerios if they didn't stay thin. Later, she is seen cuddling with Santana when Kurt sings A House Is Not A Home.
A list gets out ranking the glee club on their social status and hotness (the "Glist"), Brittany is ranked fourth (+38) which doesn't make sense to her because she's made out with everyone at school, even the janitor. She teams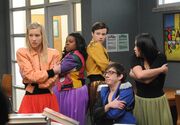 up with Mercedes, Artie, Tina and Kurt to help boost their reputations as they didn't even make it on the "Glist". They intend to cause havoc in the library where they perform
U Can't Touch This
, but this fails when the librarian ends up enjoying their performance. When Kurt is confessing that he put Sue's physical video on the internet, she is seen backing him up. She also performs backup vocals in
Ice Ice Baby
and briefly appears as an angel along with Santana in Rachel's home-made video in
Run Joey Run
, where she does back up vocals again.
Brittany is turned on by Kurt's new style and gives him an opportunity to "tap this" so that she
can have a "perfect record" of making out with everyone. Kurt invites Brittany around his house where they make out, and Brittany claims to be "turned on" by people kissing her armpits. Soon after, Kurt's dad interrupts them. At school, Kurt and Brittany walk down the corridor holding hands. After talking with his dad, Kurt presumably breaks up with Brittany.
Brittany is only seen briefly, she dances with Artie in his fantasy sequence of Safety Dance.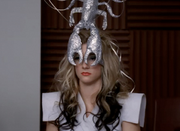 Brittany, along with the other girls and Kurt, gets inspired by Lady Gaga and as a result, they perform her hit song Bad Romance wearing a selection of her classic costumes. Brittany wears a light jacket, black leggings and a lobster shaped hat and glasses. She is shown to be very proud of her costume, commenting that she looks awesome (and Rachel looks terrible).
Brittany and the rest of the Cheerios fall into depression and confusion when cheerleading coach Sue refuses to get out of bed. Brittany is even more confused than usual and this results in her begging the unpopular students to help her, and to even wear her Cheerio's outfit backwards and her hair messier. Sue finally gets out of bed and they go on to win Nationals, which restores the Cheerios to their normal selves. Sue takes her Nationals trophy around to Will, with help from Santana and Brittany, to gloat about her victory. She performs backup vocals in Give Up the Funk.
Brittany along with the others go to Will's house to discuss song choices but instead she tells them that Sue said, "I am going to crush glee club" which knocks everyone down, however they all go to Regionals and she performs background vocals in Faithfully, Any Way You Want It/Lovin', Touchin', Squeezin', and Don't Stop Believin'. However, they lose at Regionals and Glee club will now be cancelled. But as a gift for Mr. Schue after all his hard work they all decide to sing To Sir, With Love. After Sue asks Figgins not to axe glee club he decides to keep it for an extra year and the news excites everyone including Brittany and Santana. During Over the Rainbow, Brittany and Santana are shown looking at each other and linking their pinkies.
Brittany reveals that she spent her summer lost in the sewers. Under the guidance of Sue, she later accuses Coach Beiste of sexual harassment/inappropriate touching, but at Will's insistence, admits she made it up and that she actually wanted to touch Beiste's breasts.
It is revealed that Brittany's full name is Brittany Susan Pierce, ("Brittany S. Pierce, Brittany Spierce") which is why she doesn't like talking about pop star Britney Spears, feeling over-shadowed by her. This gives Will Schuester the excuse he needs to avoid doing Britney numbers. This episode also features Brittany's first solo in the show. When Emma's new boyfriend Carl comes to teach the Glee kids about dental hygiene, we find out that Brittany doesn't brush her teeth, ("I thought Dr. Pepper was a dentist") but rinses her mouth with soda instead. Carl says that she has the worst teeth he has ever seen, with 68 cavities; having full hands of work with them, he gives Brittany anesthesia, during which she sings her very first solo in I'm a Slave 4 U (in which she wears several famous Britney Spears costumes, including the infamous diamond bodysuit). The next day, she's back at the dentist's, this time with Santana, insisting to give them both anesthesia (although Santana has perfect teeth), under which they sing Me Against the Music. After her anesthesia sessions, Brittany appears more confident, claiming she should have all glee club solos in the future; she does get to perform a solo in Toxic.
It is revealed that she's religious and prays (but says she always falls asleep while doing so) and showing how caring she really is, she tries to help Kurt Hummel by giving him a book that she wrote that heart attacks to give to the doctors ("I gave him a card that said Heart Attacks were just from loving too much"). She and Santana also report to Sue about what has happened to Kurt and his dad. She performs back up vocals in
One of Us
.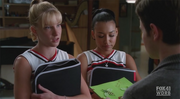 Santana refuses to do a duet with Brittany, saying she made out with her just because Puck is in juvie. Brittany is obviously hurt and starts dating Artie to make Santana jealous. While practicing for their duet at her place, Artie wants to break up with Brittany because he realizes he isn't over Tina yet. Brittany then lifts Artie out of his chair and onto her bed and suggests that she take his virginity, and he accepts. When a jealous Santana tells Artie that sex doesn't mean nearly as much to Brittany as it does to him, he ends the relationship and pulls them out of the duet competition. However, it appears later that Brittany does care for Artie as she's later seen sadly watching him as he passes by her with Finn.
The glee club is doing The Rocket Horror Show, and Brittany is given the role of Columbia (shared with Tina). Brittany and Santana are later seen spying on Will
and Emma rehearsing
Touch a Touch a Touch a Touch Me
where they make fun of
Emma Pillsbury
for being a virgin, and perform a few lines in the song, thus recreating the scene from the movie. Also, Brittany performs a short solo in
The Time Warp
.
Artie realizes that he does want Brittany back so he asks Noah Puckerman for help. They both end up going on a date with Brittany and Santana to Breadstix where Brittany tries unsuccessfully to flirt with Artie, mostly due to the fact Artie couldn't feel her squeeze his leg and also following Puck's advice of brushing her off to get her attention. Brittany and Santana leave with Puck when he ditches Artie due to him paying for the meal. She later performs Start Me Up/Livin' On a Prayer singing minuscule solo.
Will imagines Brittany, and the rest of the glee club, as being five years old. Later, she introduces herself to
Holly Holliday
as Mike Chang as a joke. While in Sue's office, she says that Will taught her the second half of the alphabet because she previously stopped at 'M' and 'N' due to the fact that they sounded too similar and it frustrated her. She sings backup vocals in
Singing In the Rain/Umbrella
and
Forget You
.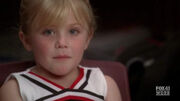 It is revealed that she is officially dating Artie. She attends Burt and Carole's wedding and sings backup vocals in Marry You and Just the Way You Are.
Brittany and Mike Chang are chosen to dance together at Sectionals. Artie finds Brittany standing in the corner of an empty classroom and she confesses that she thinks performing her dance number at Sectionals is just too much pressure for her. Artie then gives her his "magic comb" (actually a comb he found on the floor and was on his way to throw it away) and Brittany thanks Artie for being "the best boyfriend ever" and kisses him on the cheek. Tina confronts Artie telling him that Brittany might be cheating on him with Mike. Artie tries to ask her if Brittany wants to go to the movies to prove that Tina is wrong, but she quickly declines his offer. At Sectionals, Artie confronts her for committing adultery, and Brittany confesses. While waiting for the curtains to go up, Brittany is seen stretching, and Artie asks her why she did it. Brittany, thinking adultery means being stupid like "a dolt," apologizes for thinking that. Artie realizes he was wrong and asks why she was avoiding him. Brittany explains that she lost his magic comb after motocross practice and was afraid to face him. Artie then confesses that he found the comb on the floor and was on his way to the trash when he decided to give it to Brittany. Brittany is astonished that he let her use the comb. Artie tells her she doesn't need a magic comb, because she is magic to him. She smiles and kisses him, and dedicates her performance to Artie. During Sectionals, Brittany and Mike perform a spectacular show in Valerie, and performs backing vocals in (I've Had) The Time of My Life.
Artie finds out that Brittany still believes in Santa. Artie wants her to keep believing so he and some of the other
Glee Club
members take her to the mall to see Santa. When it's Brittany's turn, she tells Santa the only thing she wants for Christmas is for Artie to walk. Artie knows it can't happen so he asks
Coach Beiste
to dress up as Santa to tell Brittany she can't make Artie walk.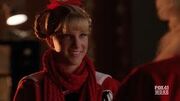 She does this and gives Brittany patience instead. Disappointed, Brittany tells Artie she doesn't see a reason to believe in Santa anymore because he can't make Artie walk. Artie tells her he is fine, but she still says it's not fair that he can't walk. Artie takes her home and they find a ReWalk for Artie under her Christmas tree. Later, Brittany and Artie go back to the glee club room to tell the rest of the club what happened. She is overjoyed as she watches Artie walk and as a result, regains her holiday cheer.
'Brittany first appears doing the dancing number
California Gurls
along with her fellow
Cheerios
, but later she (along with Santana and Quinn) is forced by
Sue
to choose between the Cheerios and Glee Club, with the risk of being shot from (and possibly killed by) a giant cannon so Sue can win the cheerleading Regionals competition. At first, she chooses the Cheerios but when Finn arrives and asks her if it's really worth it to risk her life instead of doing something she loves, she chooses Glee Club and tells Sue that she's quitting the Cheerios, with the line, "Sucks for you". She arrives in time to perform
Thriller/Heads Will Roll
and supports the football team along with the other girls.
Brittany is seen comforting Santana after Rachel makes a remark to Santana about her mean comments, being a bitch and that she's most likely to be a pole-dancer in the future. Later Artie sings P.Y.T. to her to declare he loves Brittany.
Brittany is paid by Rachel to dress like her. Brittany does so, and manages to make Rachel's little-girl-and-granny hybrid style of dressing more fashionable, making every girl in the school copy it. To Rachel's dismay, Brittany gets the credit for the style. Rachel is furious and confronts her, but Brittany tells her the truth about what everyone thinks about her and what she thinks of her before walking away. Brittany also assists Lauren for her first solo I Know What Boys Like, dancing along with Tina.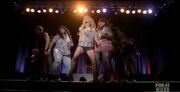 Brittany attends Rachel's party and Finn classifies her as the "drunk that turns into a stripper," while she dances/strips as Artie throws money at her. She also shares a kiss with Sam in Rachel's Spin The Bottle game, until Santana pulls them apart. Back at school and nursing a hangover, she drinks more before performing Blame It (On The Alcohol) with New Directions. She then gives Santana a comforting hug after she starts crying because Mr. Schuester says that nearly 400 people die every year from alcohol poisoning. At the school's alcohol awareness week assembly, Brittany leads New Directions in a performance of Ke$ha's Tik Tok. While singing, she says to Rachel that she doesn't feel good and ends up vomiting on Rachel.
Brittany is concerned that she might be pregnant because she had seen a stork by her window the night before (she still believes that storks bring babies).
Holly
addresses this and breaks into song with the number
Do You Wanna Touch Me (Oh Yeah)
while Brittany and Santana sing and dance back-up for her. Later, while Brittany stays over at Santana's, she asks her about what their relationship with each other means and is wondering if they should talk to Holly about it. It is revealed that Brittany and Santana are still sleeping together despite Brittany being in a relationship with Artie, though Brittany is not aware she is cheating as Santana convinces her that you can't cheat on a boy with a girl. Santana eventually agrees to talk to Holly about their relationship, and Brittany explains she doesn't know how she feels about it because Santana never seems to want to talk about it. Holly advises them to get it out in song and Santana has a song already chosen for the event, but she needs Holly's help.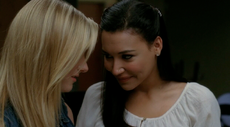 They sing
Landslide
and at the end of it, Brittany asks if Santana really meant it all. Santana tells her she does and they hug, though Santana refuses to be 'labeled' by anyone because she is in love with Brittany, although the rest of the glee club members did not interpret Brittany and Santana's duet as romantic. Afterward, Santana approaches Brittany and admits that the reason she is so bitchy is because she's in love with Brittany, but is worried about what others will think of her. Brittany tells Santana that she loves her too, but is also in love with Artie and will not break up with him. When she tries to hug Santana, she is pushed away and Santana runs off, leaving Brittany concerned and upset.
Brittany approaches Santana and tell her that she misses her and being friends with her. Santana declines and tells her that she's currently writing a song about Sam. Sue interrupts them and as they turn to open their lockers, dirt falls all over both of them. Brittany is confused and says, "I don't remember putting that in there." Brittany can be seen during the performances of Trouty Mouth (with Artie), Big Ass Heart, and Hell to the No. In Get It Right she is seen singing background vocals with Tina and she also sings background vocals in Loser Like Me.
It is revealed that Brittany is a member of the Braniacs, McKinley's academic decathlon team. She was recruited because they didn't have enough members, and they convinced Brittany to join by bribing her with Dots. In the competition, she single-handedly brought the team back from a 450-point deficit thanks to her extensive knowledge of cat diseases. When Sunshine says she can bring 600 Twitter followers to the benefit and Rachel agrees she does the Braniacs handshake with Artie, Tina and Mike. Kurt and Blaine turn up at the benefit and when Artie is telling them hurry to get a good seat Brittany is pushing him into the auditorium. Brittany is sad when Santana tells them Sunshine is not coming to the benefit. The Braniacs thought they wouldn't be able to go to the finals but then Sandy Ryerson had a change of heart and paid for the trip to Detroit. At the Academic Decathlon finals in Detroit they are tying 124 points each and the last question is about Hermaphrodite Nazi Sympathizers, which they all knew about because that was the same topic Holly Holiday taught.
Brittany appears to be jealous when Santana pretends to be in love with Karofsky. In the hallway Brittany shows Santana her "Born This Way" shirt, which reads, "I'm with stoopid [arrow pointing up]". Santana then shows Brittany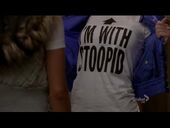 her shirt which read "Bitch", and Brittany shows Santana the shirt she made for Santana which says "Lebanese" (intending to say "Lesbian"). When Santana refuses to wear it and doesn't want Brittany to tell anyone she gets angry and tells Santana that she is the most awesomest girl in the school and if she loved herself she wouldn't hide her sexual orientation. During the performance of
Born This Way
she is seen dancing and wearing a blue jacket before revealing her Born This Way shirt.
Brittany's new internet gossip talk show called Fondue for Two, where she claims that Santana is playing for another team. When the school paper gets a hold of this information and starts discussing Santana's sexuality, Santana gets angry at Brittany. Brittany claims that, when she said Santana 'plays for another team', she meant that she used to be on the Cheerios and is now in New Directions, which angered Santana more that she thought Brittany couldn't have thought of any other way to say that. Later, Artie confronts Brittany, asking her if she is cheating on him with Santana. Brittany denies it, but then says that it wouldn't be cheating since Santana is a girl, an allusion to what Santana said in the episode Sexy. Artie tells Brittany that Santana is manipulating her and accuses Santana of purposely doing it because she knows he can't handle that someone else can provide better for Brittany. Brittany defends Santana and Artie, frustrated and angry, calls Brittany stupid. Brittany cries, telling him that he was the only person in their school who had never called her that, and runs off.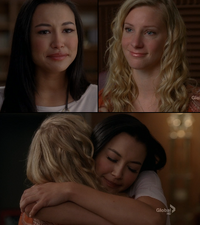 Santana later sings
Songbird
to Brittany when the rest of the glee club isn't there. Brittany asks why Santana couldn't say that in front of everyone, and Santana says she's not ready to make a big announcement about her love for Brittany yet. Brittany then offers to her to appear on her online chat show and will ask her to go to Prom with her and Santana says she'll accept. Meanwhile, Brittany is recruited by Sue Sylvester to be a journalist for the school's newspaper, the
Muckraker
. Brittany is given personal questions by Sue to ask Will, such as, "Boxers or briefs?" or "What age did you start shaving your back?" Will informs her that the questions she asks are too gossipy, which is disappointing to Brittany, who wanted to ask more hard-hitting questions after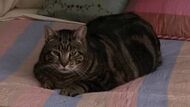 feedback that her questions on Fondue For Two were too gossipy as well.
Later, Brittany is seen filming another episode of Fondue for Two. It is revealed that Santana never showed up for the interview, only texting Brittany with the words "I can't" so Brittany interviews her cat, Lord Tubbington. When Brittany is seen in school the next day, Santana is being interviewed by Jacob Ben Israel about her relationship with Karofsky, in which Santana confirms that they are 'soulmates' while looking at Brittany, who is clearly upset by Santana's comments. Brittany later performs Don't Stop with New Directions, Stevie, and Stacey.
Artie is set on getting Brittany's forgiveness and taking her to prom. He finds her in cooking class and sings
Isn't She Lovely
to her, which Brittany is annoyed by at first but ends up enjoying by the end of the song, despite her efforts to avoid Artie during the number.
When Artie asks her to prom at the end of the song, Brittany turns him down, saying she wants to go to prom alone and still hurt from Artie calling her stupid. At prom, Artie attempts to spike the punch to impress Brittany, but ends up getting caught by Sue Sylvester and held in her office until nearly the end of prom. Brittany is seen dancing with Mike and then slow dancing with a female student during prom and sings backup with Tina to Blaine in
I'm Not Gonna Teach Your Boyfriend How to Dance With You
. After Kurt wins prom queen and Santana flees the gymnasium, Brittany follows and comforts her, also saying that she voted for Santana as prom queen and prompting her to get back to prom and supportKurt. At the end of the episode, Brittany is seen dancing to Santana and Mercedes's cover of
Dancing Queen
and takes her prom picture with Artie.
Brittany filmed Mr. Schue and
Jesse St. James
. Jesse also invited to interview her cat. Finally, Brittany sings
Pure Imagination
with New Directions at the funeral of
Jean Sylvester
.

Brittany gets three solos in songs My Cup (which she supposedly wrote), I Love New York/New York, New York, and Light Up the World. She helps Santana comfort Quinn, who is extremely distraught over her break-up with Finn; to help Brittany and Santana offer that Quinn should get a haircut. Later, after New Directions' loss at Nationals, Brittany and Santana are seen in the hallways together, Brittany is cool about losing nationals, coming in 12th place. She tells Santana how happy she is to spend another year with the Glee Club, because she loves everyone in the club. Santana asks Brittany about their relationship and Brittany confesses that she loves Santana more than she's ever loved anyone before. Santana then calls Brittany her best friend and the two hug and link pinkies. Later, Brittany is seen in Glee Club with the rest of New Directions as they celebrate with their 12th place trophy.
Brittany has rejoined the
Cheerios
along with Santana.
Jacob Ben Israel
asks Brittany about the future but Brittany believes that he is working on a time machine too.
Brittany seems to like the idea of purple pianos and runs to one of the purple pianos presented in the choir room by
Mr. Schuester
with Tina and Kurt. She wants Quinn to come back to the
Cheerios
so then they can be the three musketeers again, meaning the Unholy Trinity. When they perform
We Got the Beat
, Brittany has a solo and
Jacob Ben Israel
was filming her when she was sliding along the cafeteria table. Back in the choir room, Brittany thinks there is pepperoni in her bra from the food fight but Santana corrects her, pointing out that those are her nipples.
Sugar
then arrives and proceeds to put on a terrible performance of
Big Spender
; Brittany didn't seem to mind her bad singing even though everyone else is blocking their ears. When Santana gets kicked out of the club, Brittany stayed because she didn't pour lighter fluid onto the piano during
Blaine's
performance of
It's Not Unusual
with the other
Cheerios
, stating, "I was going to help but I'm a water sign so.." Brittany is now the only member of the Unholy Trinity (Santana, Quinn, and Brittany) in the glee club at this point in the show. In the closing number
You Can't Stop the Beat
from Hairspray she is seen wearing her hair in a plait and dancing with Kurt most of the time.
The very first scene is with Brittany and Kurt. Brittany states that she thinks Kurt's outfit is cute and that she thinks he is awesome. Brittany tells Kurt about unicorns and how when ponies do a good deed they become unicorns and when they lose their horn black unicorns turn into zebras. Kurt sarcastically tells her that the story is terrifying (thinking that was what Brittany wanted him to think) but Brittany disagrees.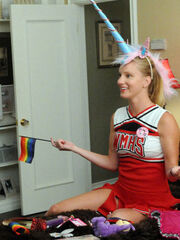 She says the point of that was that Kurt overcame hard things last year and tells Kurt she wants to help him with his campaign for senior president - she has lots of ideas. Kurt accepts her proposal and tells her to discuss the campaign posters later. Later on, they are discussing the campaign poster Brittany made (with Kurt and unicorns on it) but Kurt thought that was too gay - even for him - and said he may as well wear a neon sign on his head that said,"Gay-diddy-gay-gay-gay-gay-gay-gay." They then decide on the dark poster that Kurt made because he wanted something toned down; this makes Brittany sad and she even tells him it gave her "crippling depression."
Kurt finds Santana and Brittany putting up the unicorn posters and yells at them in anger. Brittany says that she feels like she has "failed her unicorn" but Santana restores her confidence by telling her "He doesn't deserve to have you as his campaign manager. You're amazing. You're a genius, Brittany. You are the unicorn." and prompts her to start her own campaign. Towards the end of the episode Kurt shows Brittany that he is now putting the unicorn posters up, but Brittany tells him that she is now running for class president also, because she is a unicorn too. She then corrects herself as a "bi-corn" and walks away. This could possibly be Brittany coming out as bisexual.
Brittany is first seen when Mercedes is singing
Spotlight
. She is talking with Tina when she starts singing backup vocals with her. This song then moves to the auditorium and Brittany and Tina are still swaying in the background singing backup. Brittany and Santana are then discussing with Kurt and Rachel how male leaders have ruined the world but Brittany thinks Girls can rule it so she tells Rachel that boys have caused economic ills, oil spills and the war in Afghanistan. Santana then says that she has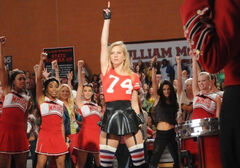 organized a flash mob in the gym to gain more votes for Brittany. Brittany then breaks into the song
Run the World (Girls)
which starts in the hallway, moves to the choir room and then moves to the gym. Brittany decides to join in
Booty Camp
now as well to try and dance into her "voters hearts". In
It's All Over
with Mercedes singing Brittany is Miss Perfect running for class president and all but Santana stands up for her in song. During
Out Here On My Own
Brittany and Santana are sitting next to each other in the auditorium to watch the "Maria Off". At the end of the episode in the song
Fix You
lead by
Mr. Schuester
Brittany is seen singing in the third row next to Kurt and Santana and when Santana gets the role of Anita in the school play, Brittany seems ecstatic for her and they laugh together.
Brittany is seen talking to Rory, the foreign exchange student from Ireland. She's hosting his stay in America and she's his first friend, however she can't understand much of what he says due to his accent. She thinks he's a leprechaun and he goes along with it hoping to get her "Pot O' Gold" (have sex with her). Her first wish from him is a box of Lucky Charms with only marshmallows in it. Rory approaches Brittany and gives her the box of marshmallow only Lucky Charms. She then tells him her second wish saying, "Every night I feed Lord Tubbington nougat and sprinkles, and then I rub his belly seven times with glitter sticks and so far nothing works". He gets confused as to what she wants and she tells him she wants Lord Tubbington to poop out candy bars. Rory laughs and she asks if its because a lot of people wish for the same, but he asks her out to dinner. To which she reveals she's going out with a friend so she can't. During Bein' Green she's shown in class eating her marshmallow only Lucky Charms and laughing next to Santana. She looks back and waves at Rory.
In the next scene she's shown at Breadstix with Santana, who questions if they are dating or not. Brittany says, "Wait isn't this a date? Aren't you paying? 'Cause I ordered shrimp. Wasn't last week when we we're taking a bath together a date?". Santana appears emotional and reveals its because she's happy. Then Brittany tells her if there's in controversy in her campaign she'll use one of her leprechaun wishes to win. So Santana questions if she believes Rory is a leprechaun and Brittany asks her "Isn't there anything you'd wish for?". Santana tells her yes actually and reveals her idea about leaving to Shelby's choir but says she won't go without Brittany. Brittany tells her she doesn't want to be known as a quitter so she'll think about it. Santana wishes for one thing. She asks Brittany to hold her hand, but then covers their hands with a napkin.
Before
Last Friday Night
she is seen sitting on the ground talking to Santana thinking Mr. Schuester knows about her leprechaun (Rory) because he writes "The Magic is Back" on the whiteboard. This leads to the LFN performance in which Blaine lays on the ground next to Brittany, singing and dancing along. Santana is unhappy with this and pulls Brittany away, but eventually she joins in again in the performance. Later on at her house she walks into her bedroom and finds
Rory
in there and the candy bars in Lord Tubbington's litter box. She asks why he's in her room and how he got in and then she finds the candy bars. They eat the candy bars on her bed and he reveals that Santana knows about him and made a wish for Brittany to defect to Shelby's glee club with her. She says she doesn't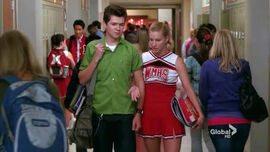 want to leave her friends but she can't say no if it was wished for.
The next day, Finn comes up to her and asks if it's true and she confirms that she is leaving the New Directions. With Santana by her side, Finn talks to her about staying in New Directions. He tells her leprechauns aren't real and to stop being an idiot, which he regrets shortly after and tries to apologize and says he doesn't mean it but Brittany doesn't stand for it. She and Santana follow Mercedes to Shelby's glee club which is named The Troubletones. They perform Candyman with Finn and Mr. Schuester watching. After watching, Finn told her that their performance was amazing and he doesn't want it to be like this but he understands and wants what's best for all of them. He went on to apologize for what he said to Brittany and doesn't want anything to come in the way of any of their friendships (Santana and Mercedes). After he walks away, Rory comes up to Brittany and says her third wish came true so he gets her Pot O' Gold. She disagrees and says leprechauns aren't real but, it would be nice if they were and walks away. At the end, she is seen rehearsing with The Troubletones.
Brittany does not appear in the early scenes, but is mentioned by Artie during a discussion with Blaine and Rachel about showing passion on stage. He notes that Brittany addressed him by the wrong name four times when they first had sex. Later, Brittany attends Rachel's emergency glee club girls meeting. Rachel asks them for advice about losing her virginity. Brittany tells Rachel that she lost her virginity at cheerleading camp to an unnamed male who "just climbed into [her] tent. Alien invasion." At the opening night performance of West Side Story, Brittany and the rest of the cast and crew present Artie a bouquet of flowers, then she appears as one of the Jet girls during America.
Brittany appears in the introductory section of
Hot For Teacher
, in which Puck imagines a classroom scene much like the one in Van Halen's original music video for the song. She and the Troubletones meet New Directions in the auditorium for Will and
Shelby
's performance of
You and I/You and I
, which she compares (in a favorable way) to having a stroke. Brittany backs up Santana when Finn and Rory try to trash talk Santana, then displays her acrobatic skills in a Troubletones vs. New Directions dodgeball match (
Hit Me With Your Best Shot/One Way or Another
). Though Brittany does not vote for Mercedes to be president of the Troubletones, she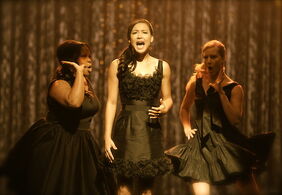 does help convince Santana to (briefly) follow Mercedes and Shelby's directive to play fair in their competition with New Directions. Brittany's campaign for senior class president continues; in a debate among the candidates, Brittany pledges to outlaw tornadoes and go topless on Tuesdays, to wild acclaim from the audience. After Santana learns that she will soon be outed to the general public, both Brittany and Santana appear distraught during the Troubletones' performance of
Rumour Has It/Someone Like You
.
Election Day has finally arrived and
Jacob Ben Israel
's exit polling indicates Brittany is well on her way to winning (even though Brittany says she is voting for
Rick "The Stick" Nelson
). It has also been showed that she has been buying student's votes by bribing them all with giant Pixie Stix. A montage of glee club members in the voting booth reveals that both Quinn and Santana vote for Brittany, though Brittany's own vote
is not shown, instead she is looking confused about the ballot box itself. After Reggie "The Sauce" Salazar's political ad airs, Santana is accosted by rugby captain
Josh Coleman
, who claims he is "just trying to make her normal." Brittany defends Santana – "She is normal" – and Brittany and the rest of the glee club girls sing
I Kissed a Girl
with Santana. The results of the election come in, and at first it seems that Kurt has won handily – until it is discovered that irregularities in the voting tilted the results in Kurt's favor. Later in glee club, Kurt congratulates Brittany for actually being elected senior class president, and she hugs him in thanks, saying, "You're still the most unicorn of them all, so..." At the conclusion of "Lady Music Week," Santana sings
Constant Craving
and Brittany rushes up to hug her at the end of the song.
Brittany performs Survivor/I Will Survive with the Troubletones at Sectionals. After the Troubletones finish in second place, Quinn invites them to return to New Directions. Brittany questions whether New Directions would take them back, and Mercedes assures Brittany they would, though she says she won't go. But as New Directions performs We Are Young on the auditorium stage, Brittany, Mercedes, Santana, and Sugar appear in the wings, singing along.
Brittany joins the rest of
New Directions
in enthusiastically decorating the choir room while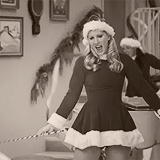 singing backup to
All I Want For Christmas Is You
. In order to prepare for their upcoming Christmas special, Rachel and Blaine sing
Extraordinary Merry Christmas
, and Santana and Brittany get up from their seats to dance. In the glee club's television special, Brittany sings
Christmas Wrapping
and performs a ribbon dance, backed by Santana, Tina, and the
Cheerios
. After the Lima PBS station has a change of schedule, the entire club (including Brittany) decides to honor Sue's initial request for them to volunteer at the Lima homeless shelter, where they sing
Do They Know It's Christmas?
.
At the beginning, she is with the girls listening to Mercedes and then they sing Summer Nights.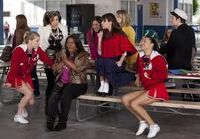 Brittany is seen with Santana, Mercedes, Kurt, and Blaine discussing why New Directions beat the Troubletones. She is seen dancing during Wanna Be Startin' Somethin'. She is later seen dancing to Bad. She is seen in the choir room later. A picture of her is visible in Quinn's locker during Never Can Say Goodbye. She is later seen in the choir room before leaving with the rest of the group to go to the auditorium. She is later seen dancing and singing along to Black or White.
Brittany is seen in the choir with the New Directions when Will introduces David Martinez. She watched his performance of Sexy and I Know It and provides backing vocals and dances with Mike Chang. Brittany is later seen performing with the Cheerios under Coach Roz Washington new routine. The next day Brittany witnesses Mercedes performance of Don't Wanna Lose You and also Sam's performance of Bamboleo/Hero. The next day at the auditorium, Brittany watches Santana and David perform La Isla Bonita. Brittany is next seen dressed as a Spanish Bull along with Mike and dances to Will's performance of A Little Less Conversation.
Brittany is seen with Santana the majority of the episode. She comes up to Santana in the hallway and with her computer in her arms. Santana is confused and Brittany explains that she was going to make Santana a playlist of all the songs she hears in her head when she is with Santana or thinking about her, but she couldn't get any farther without any help. Brittany and Santana are about to kiss in the hallway, but Princ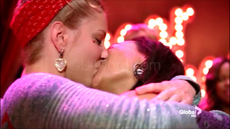 ipal
Figgins
comes up and calls them 'Teen Lesbians' and makes them come to his office. Brittany looks annoyed as he explains that her and Santana can't show PDA in the 'sacred halls of McKinley'. Somebody filed a complaint about Brittany and Santana kissing in the hallway. As Santana storms out we see Brittany looking sad. During Artie's performance of
Let Me Love You
Brittany is sitting on the floor in front of Santana. She looks like she enjoyed the song. The next day she witnesses Mercedes performance of
I Will Always Love You
. Then the day after that she looks sad as Rory announces that he won't be able to stay at McKinley next year. Then as he starts his version of
Home
she takes Santana arm and links it will hers. Next she is seen at
Breadstix
with Santana.
The God Squad
sings her
Cherish/Cherish
, which is from Santana. She is seen looking disbelieving and very happy. She gets up and dances with Santana during the song. At the end of the song her and Santana kiss. She sings
Love Shack
after that with Kurt, Blaine, Rachel,
Sugar
, and Mercedes.
Brittany comes to the Lima Bean with Santana, Kurt and Blaine to confront Sebastian about his blackmail attempt to Rachel only to discover he's decided to stop on his own.
Following the news
of
Karofsky's
suicide attempt, when Will asks the New Directions in the auditorium to think of something they are looking forward to in the future, Brittany says she wants
Lord Tubbington
to kick his ecstasy addiction. Brittany performs with the New Directions at Regionals and has a solo part in
The Troubletones
portion of the set,
What Doesn't Kill You (Stronger)
. She is dressed as a bridesmaid for Rachel and Finn's wedding as they wait for Quinn to arrive.
Brittany is seen to be having a great time at Six Flags with Santana for Senior Ditch Day.
The episode begins with Brittany, Blaine, and Mike singing
You Should Be Dancing
. Brittany also dances back up to Mercedes in
Disco Inferno
. Later on, Santana sings
If I Can't Have You
for the disco competition/assignment that is believed to be a song directed towards Brittany. When questioned about her song choice, Santana states that Brittany will always be her girlfriend and that the song was not necessarily directed towards her. Brittany then approaches a confused Santana in the hallway telling her that she posted a sex tape of them with clips of her cat Lord Tubbington online. She states that she did so to help Santana become famous. In the library,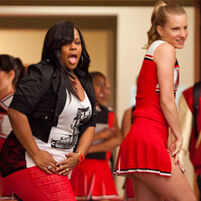 Brittany talks to Santana about becoming famous with ideas of Santana putting poo in her car to be showed on Hoarders and eating a bull testicle (she ate the other one) to be featured on Fear Factor. Though Santana is appreciative of what Brittany is doing, she says that it was the wrong way of going about things. Brittany believing that her ideas are full-proof, tells Santana that she should let her know how far she is willing to go for fame. She kisses Santana on cheek and leaves, with a mischievous look on her face. Brittany is again showed with Santana sitting in Sue's office where Sue proceeds to tell Santana of the college she got a full cheer-leading scholarship to, to help her towards what ever goal she wants to achieve. The college and the scholarship were revealed to be Brittany's idea, something Santana is greatly touched by, and the two share "I love you's" and hug. Brittany performs
Stayin' Alive
with the rest of the glee club, wearing the John Travolta suit.
Brittany sings
I Wanna Dance with Somebody (Who Loves Me)
with Santana. During th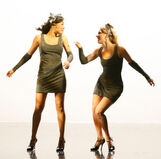 e song she dances with the boys, Quinn, and Santana. She then says that in her dreams Quinn is dancing (along with flying and breathing fire) out of her wheelchair. She thinks
Joe
is a girl. Before Blaine sings
It's Not Right, But It's Okay
, she believes he is talking about cheetahs instead of cheating. During
My Love Is Your Love
, she comes on holding hands with Santana.
Brittany approaches the New Directions Girls who are standing in a circle together, and tells them that she is thinking of a theme for their senior prom, and that she has "alien abduction" in mind. When Shannon then walks by, she listens to gossip about the latter's black eye, for which she is punished by Coach Roz Washington. They first have to listen to the teachers preaching about how that isn't alright, and then have to prepare a performance to a song that is about abusive men and that they should turn it into a song about empowerment. She then dances and sings to Cell Block Tango with the other girls, but Beiste runs out of the auditorium, for which Sue blames them because, in her opinion, they didn't follow the assignment. After Shannon Beiste comes to deal with her abuse, she admits it to the girls and thanks them for opening her eyes, Brittany among them. The girls later sing Shake it Out to encourage Shannon and Brittany is with them.
Brittany is seen sitting in Principal Figgins office. Principal Figgins explains to Brittany that during her reign as senior class president she has accomplished nothing: she's made the post so inconsequential that he's considering abolishing it. He also points out that given her failing grades the title is the only thing that might get into a college. After wasting her year exploiting her "fluid teen sexuality and getting caught up in Lord Tubbington's Ponzi schemes," Brittany vows to make her term relevant by delivering a prom theme to remember.
Brittany meets with the three-member prom committee for the first time, despite the fact that they formed months ago and have been routinely sending her memos. She immediately vetoes their prom theme suggestions, explaining that "Castles in Clouds" won't work because castles are too heavy and dangerous to be held aloft by clouds, while "Stairway to Heaven" is inappropriate because the disabled students wouldn't have escalator access. Declaring that the committee is incompetent - or perhaps a terrorist cell -Brittany fire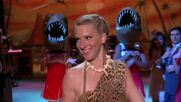 s them all and announces her own prom theme: dinosaurs (which she believes coexisted peacefully with cavemen for millions of years). Brittany was nominated for prom king.
In the choir room, Brittany announces her choice of prom theme, prompting some skepticism from everyone, but Santana. Brittany also details her impractical prehistoric menu and announces a ban on hair gel, along with her decree that Quinn and Santana will be tallying the prom court votes to keep each other honest. On prom night, the students are impressed by the results of Brittany's dinosaur theme, while Brittany herself kicks off the party by performing Ke$ha's Dinosaur in a cave girl costume with Cheerios in dinosaur masks. Brittany, along with Tina sang back up for Santana in Love You Like a Love Song. When Finn, Rachel, Kurt and Blaine arrive at the prom, Brittany welcomed them - but she still insists Blaine can only attend gel-less - while Joe, Sam, Artie, Mike, and Rory perform One Direction's What Makes You Beautiful, working the crowd into a frenzy. Santana came, grabbed Brittany's arm and they went to dance together. When the nominees for prom king were called, Brittany went on to the stage, but found out she lost when the winner of prom king was revealed to be Finn.
Brittany is seated beside Santana as Tina rants about being neglected by everyone. When Tina hit her head, Mercedes and Brittany switch places in Tina's dream. On their way to Nationals, Brittany sits beside Santana on the bus.
At their hotel room, Brittany is taking care of Mercedes, who is suffering from food poisoning. She is feeding Mercedes a white powder, which is believed to be sugar. During the chaos that occurred when the New Directions were practicing for Nationals, Brittany told Will that her pillow and blanket fell out the window and into the pool. She expressed that it is a "Disaster". After everyone calmed down, Brittany started to teach Tina, Quinn, and Sugar the The Troubletones choreography. At Nationals, before The Troubletones performance, Brittany, Santana and Quinn talked for a moment, holding each other hands. Santana said "...Unholy Trinity, starting together and ending together" and Brit responded by saying "Just the way it should be". She performed Edge of Glory and Paradise by the Dashboard Light with the Troubletones and New Directions respectively. After the New Directions victory at Nationals, Brittany celebrates, in the hallway at school, with her school mates. She and Santana kissed in the hallway while Tongue Tied was playing. During We Are the Champions, she hugged Mr. Schue, who won teacher of the year.
Brittany is seated on the piano during Mr. Schue's
Forever Young
performance. She performs
Single Ladies (Put A Ring On It)
with
Burt Hummel
and Tina for Kurt, in the auditorium. While having D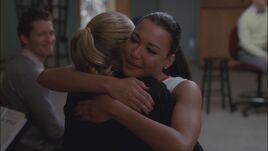 inner with Santana and
Santana's mom
, she told them that she wasn't graduating, stating that she has a GPA of 0.0. Instead of being sad she is surprisingly happy because she gets to do over her senior year and do it right this time. She says plans to do this by starting to attend her classes. Back in the choir room, when the seniors were performing
You Get What You Give
to the underclassmen and Brittany, Santana walks up to her (she was seated) and they hugged. She gets up and Santana pulls her to the center of the choir room along with the underclassmen. By the end of the performance Brittany is seen sad as
Sam
comforts her. At Graduation, Brittany is happy and smiling and as Santana is walking up to collect her Diploma, she stops when she gets to Brittany and they hug. At the end of the episode, she is at the train station with the rest of the glee club to say goodbye to Rachel as she departs for New York.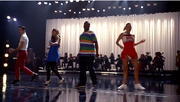 Brittany appears to be back in the New Directions, due to her having to repeat her senior year. When Jacob interviews her and the rest of the students, he asks who the new leader of the glee club will be, and she believes that she is. Her popularity has been taken to a whole new level, due to the New Directions winning the Nationals Championships. When Will Schuester announces that Wade has joined the glee club, she believes that it is Mercedes, and that her haircut looks great and that she though Mercedes had graduated. When Wade takes a seat and says that he'll be the New Rachel, Brittany, Tina and Blaine look at Wade with an envious expression. She, along with Blaine, Wade and Tina competes to see who's going to be "The New Rachel" and performs Call Me Maybe for Artie, who is asked to choose the winner. She gets a small solo here, and does some of the choreography. Despite her efforts,Blaine ends up getting to be the new lead, Brittany placing second and Tina and Wade placing third and fourth. She along with Kurt and Blaine are seen at The Lima Bean and Brittany seems to be upset about missing Santana because she hardly ever gets to speak to her because she's always busy with cheerleading practice. She says that it's hard to make out or "scissor" over Skype.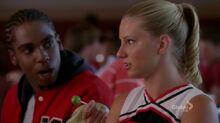 Later in the episode, Phil, Kitty, and Bobby were making fun of the lunch lady. They pressured the New Directions to says something mean to lunch lady. Brittany added, "Well, maybe she has, like, a medical condition, or she swallowed someone with a medical condition." She mentioned it with full concern and with all innocence eventhough, the popular kids thought she was simply adding up to the jokes. They also made Artie say something really mean.
But when Marley joins the glee club and sits with New Directions, she has enough and admits the lunch lady is her mom, leaving Brittany and the New Directions stunned and confused. Towards the end of the episode, Brittany and the rest of the glee club apologise to Marley as their new found popularity made them choose wrong decisions. Brittany comments saying she has always been popular and sometimes she forgets to wear her underpants. New Directions and Brittany perform Chasing Pavements as the closing performance, with Marley singing the lead solo.
The episode starts off with her walking down the hallway of McKinley High, doing a 'voiceover' aloud when Blaine interrupts her, asking who she is talking to, she responds by saying "I thought I was doing a voiceover" which was about how she's going to remain as 'Vice-Rachel' in
New Directions
, Head Cheerio and Senior Class President, she talks about how she missed Santana, how hard it had got without her. Next, she is singing
Hold It Against Me
with the
Cheerios
on the football field by starting with the infamous Britney line 'It's Britney, Bitch.' Sooner after they were finish Sue began commenting it was 'garbage,' Brittany was called to Sue's office, only to find that in the most recent Algebra test, Becky made her way up to a C+, whereas Brittany drew an ideal picture where Maths doesn't exist, and subsequently returned a F-.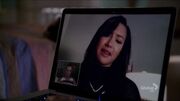 Sue attributed the Cheerios' average grade lowering for 3 points to Brittany, and kicked her off the team and gave the head spot to
Kitty
after she tolerated her for a year due to her pregnancy hormones. Back at Brittany's home, she Skypes with Santana in her bedroom, though it turns out to be a short conversation as Santana is busy.
They next day, Brittany enters Emma's office in an extra-large t-shirt saying "World's Best Grandma", pink crocs and baggy jeans, looking sad. Will reassures Brittany that just because she got kicked out of the Cheerios, it doesn't mean she's out of Glee club, and Emma hands her pamphlet titled "So You Look Like Crap". Will suggests she and Emma meet daily but Brittany claims she doesn't have time. She then leaves the office, setting up another said-aloud voiceover, "My voice over continuing down the hallway." Mr. Shue and the Glee club try to cheer her up, Blaine and Artie perform a mash up of Boys/Boyfriend and when they finished, Brittany proclaims she wants to recreate the awesomeness of Britney. Next, Tina, Sam and Joe sing an acoustic version of 3 together. Brittany looks uncomfortable throughout the entire performance and towards the end of the song, she gets up, confusing everyone. She goes to the corner of the choir room, plugs in a shaver and is just about to shave her hair like Britney Spears did when Will stops her. New Directions are in shock, Brittany explains that Coach Sylvester has taken away her high pony and if she hasn't got that high pony, she doesn't want anymore of her hair. She raises the shaver again and this time, everyone screams.
When Brittany gets out of class, Jacob Ben Israel begins to interview her, provoking Brittany to a breaking point. Just like Britney Spears did, she continually tries to get away from the interview, camera (paparazzi) but fails to do so and begins to hit Jacob. Artie, Blaine and Tina watch from the side and ponder on whether they should do something. But Tina tells Blaine and Artie not to worry about it, because Jacob deserves it. Artie nods in agreement but says Brittany misses being in the spotlight in the cheerios and they should give the solo at the assembly to Brittany.
Brittany is just incredibly depressed and seems slightly insane. New Directions is worried about her. They surround the piano, while they watch Brittany sitting on the choir room chairs. She holds an incredibly large Lima Bean coffee and holds a cheap version of an iPhone with "Kiki", a parody of "Siri", who she claims is Siri's smarter cousin. She constantly asks Kiki questions, and Kiki replies much to Brittany's approval.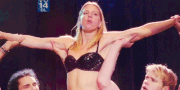 New Directions say they are worried about the way she is living now and that they'll give her the assembly solo. Brittany says she wants to lip sync like Britney Spears did at the VMAs, but Blaine says they don't lip sync in Glee Club. Brittany than asks Kiki if it's a good idea to lip sync. Kiki says it is not a good idea, much to New Directions relief. Then two seconds later, Kiki says, it is not a good idea, but a great idea, leaving New Directions disappointed.
At the assembly pep rally, Figgins speaks to the school in the gymnasium, introducing New Directions. Before he begins, he dismisses a quick rumour about himself. Backstage, Brittany continually feeds herself cheetos and drinks from a large bottle. New Directions asks why she isn't stretching and preparing, Brittany saying she'll be fine. When the curtain opens, New Directions performs Gimme More. The performance is similar to Britney Spears 2007 VMAs performance. New Directions lip syncs along with Brittany. Brittany drinks and eats at the same time, as well as sing. Kitty watches carefully, with a suspicious face. Brittany constantly forgets moves, or steps in the wrong direction, eating Cheetos at the same time. Emma, Will and Sue watch with shocked faces. In the heat of the moment, Brittany starts falling, and Kitty stands up, points and accuses them of lip-syncing. Unique then grabs the drink off Brittany as New Directions is booed off stage. Brittany carrying Cheetos and flinging them around as Kitty watches with satisfaction. Blaine quickly covers the stage with curtains.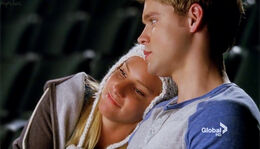 Brittany looks at a map and as she places it down, Sam's face is seen. They meet at the auditorium. Sam says he knows what Brittany is up to, for she is hitting rock-bottom. Brittany nods and says so she'll make a glorious comeback just like Britney. Brittany says that Britney Spears recovered from her breakdown and rose her way to the top, paid $14 million to go on the X-Factor and Britney has perfume that you can smell from miles away. Sam stops her, grabs her box full of food and tells Brittany that this is the last stop for Brittany's trainwreck disaster.Brittany lies her head on Sam, thanking him. She says she's ready for the comeback but she's upset that nearly everyone is mad at her, but Sam understood her. He laughs, saying it's because they just think the same way. She agrees, saying it's probably because they're both blonde. Brittany than says Santana would've understood her better and got to anyone who went against Brittany. She goes to say that she misses the little things, including lady sex but Santana was also her best friend. Sam smiles and says that now Brittany has a new friend, and better, he's blonde. Brittany looks confused, until Sam says that he's talking about himself and saying she should try to get back on the Cheerios.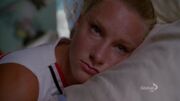 Next, Brittany finally finds a way to get herself back on the Cheerios. She enters Sue's office with her plan and fortunately, it works because she lets her rejoin the cheerios. She also improved her grades, earning a C+. Afterwards, she is in the choir room listening to Marley sing Britney Spears's Everytime. Then she is in her bedroom, on her bed staring at her laptop, looking sad, forlorn and on the verge of crying, while waiting for Santana to come on ichat.
Brittany is first seen when Blaine is signing his name on the sign-up sheet for Senior Class President after performing Everybody Wants to Rule the World. She asks him what is he doing? and he says that he is running of Senior Class President. Brittany did not look please with this. In the choir room, Brittany announces that she wants Artie to run with her for vice president to the New Directions. Afterwards Sam approaches Brittany in the hallway and expresses that he is sad and supprise that she didn't choose him instead of Artie to be her vice president. Brittany brings Sam to Blaine, offers Sam as Blains running mate, and then they agree on running against each other - Brittany and Artie against Blaine and Sam. While preparing for the debate, Brittany and Sam perform Celebrity Skin. During the performance she is seen being given a makeover by Artie.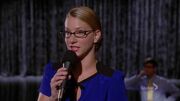 After Artie's long speech for vice president, which bored the students who attended the debate, and Sam's striptease after being asked about his stripping past, Brittany declares that she loves the students in McKinley. She states that, if elected class president, she would eliminate summer vacations and weekends. Moments later in the episode, it was revealed that she and Artie have lost the election.
Although defeated by Blaine and Sam in the election, Brittany has a closer friendship with Sam. At Blaine's and Sam's celebratory part at Breadstix, she and Sam are seen talking and Sam tells her that he had voted for her.
At the start of the episode, Brittany is having lunch with Blaine in the cafeteria. They are watching
Jake
and Marley interact across the room, to which Brittany says young love. Then they started to reminisce about the times they spent with their significant others before they graduated. She appears to be upset about missing Santana and Brittany mentions that she reckons that every day should be like Valentine's Day because they're only young.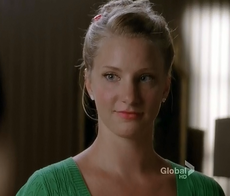 Next, she doing laundry with Santana in Santana's bedroom. She listens as Santana rants about Kurt getting an internship at Vogue.com. When Santana finishes Brittany told her that she could follow her dream too, since her mom gave her that money. Santana replies that she likes college and she likes that she is close to her. Then they share a quick kiss. Brittany starts to yawn and Santana asks if she is okay. She says that she was up late the night before reading 'Desecration: Antichrist Takes the Throne (Left Behind No. 9)'. Santana mentions how intense those books are and asks what teacher is making her read it. Brittany replies that it is a club, not a class and she invites Santana to one of the clubs meeting.
The next day, Brittany is sitting beside Santana at Breadstix during Rapture-based Left Behind club meeting. Kitty, the club leader tells Dottie(Tina's assistant) that there is someone that needs her help in the bathroom. Brittany starts to stand up and tells Santana that they should go help Dottie. Santana looks confused and then realizes what's going on and stops her. The groups tricks Dottie by leaving when she was in the bathroom so that when she returns she would think everyone was gone, which she did. Brittany and Santana enter the room and Santana asks Brittany if they can go home and a says that she doesn't think this club is good for Brittany. Brittany says no, refusing to leave and says and she says being left behind sucks. Brittany is watching Dottie freaking out on the floor when she says to Santana "That's exactly what it felt like when you left. You left me behind and it hurt".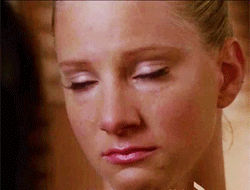 Later, Brittany enters the choir and Santana, who is sitting at the back starts to talk. Santana continues talk as she walks towards her and seats. Santana then sings a slow version of Mine to her. At the end, Brittany is in tears and she says "Wow, sad songs make me really sad and I don't want to be sad." Then Santana tells her she hasn't been a good girlfriend to her and they can't pretend everything is okay. She also says that she doesn't want their relationship end with one of them cheating, to which Brittany replies that she would never cheat on Santana. Santana says she knows and she wouldn't either. Brittany listens with tears build up in her eyes while Santana talks about the 'energy exchange' she had with a girl in the library at UoL. Brittany is crying and shakes her head when Santana takes her hands and says they should do the mature thing and it's not an official break up. She tells Santana that it sounds a lot like a break up to her. When Santana says "You know I will always love you the most.", Brittany looks broken and Santana leans forward and kisses Brittany. Santana then hugs her and as they hug Brittany breaks down crying more and tells Santana that she loves her too.
At the end of the episode she is seen singing The Scientist with Finn, Rachel, Blaine, Kurt, Will, Emma, and Santana. During a flashback in the song you can see Santana and Brittany staring and smiling at each other.

Brittany joins in with the rest of the
New Directions
,
Mercedes
and
Mike
during
Born to Hand Jive
in the auditorium, where she is seen being dragged across the stage by
Sam
. Later, She finds out that she was cast a 'Cha Cha' in the Grease school musical.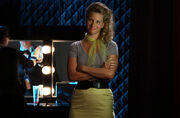 In Glease,
Brittany attends Kitty's and she seems to be enjoying herself especially when Kitty was singing Look At Me I'm Sandra Dee. She dances, sings along and messes around with Sugar a little. The next day at School, Brittany is seen smiling when Santana returns for the role of Rizzo in Grease. She is so happy that when Joe questions why Santana is back, she responded by saying "The important thing is that she is here, so the show can go on." She participated in the McKinley High Grease musical, playing the role of 'Cha Cha' and one of the back up dancers in Beauty School Drop Out. When Santana was preparing to go on stage for her Rizzo solo performance, Brittany approaches her from behind, surprising Santana. Brittany says "Hey," to which Santana replies "Hi." She speaks with Santana for a few minutes telling her that she misses her and she is not dating anyone. Then she wishes Santana good luck and leaves. While Santana is performing There Are Worse Things I Could Do Brittany is watching her with a soft expression on her face. Then later, she performs You're the One That I Want with the New Directions.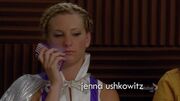 Brittany dresses up as a super hero called the Human Brain. She joins Blaine's Secret Society of Superheroes club. Dottie came into the meeting telling them to go to the choir room. They found out that their national trophy is missing.
During the Glee Club meeting, Finn announces that since the theme for this year's sectionals is "Foreign". His idea is to perform songs by Foreigner, in foreign languages, while wearing all the costumes of the world's nations. The New Directions were not into the idea and Brittany asks Kiki about what she thinks. Siri's smarter cousin responds to that with, "I think I'm alive and you are the machine."
When Blaine had left the New Direction for the Dalton Academy Warblers, Brittany notices his absence and makes a comment about Blaine being missing, making the other New Directions members aware too. At the cafeteria appeared on her super hero costume to help Jake from the jocks along with the New Directions. She also did some charity work with the New Direction and they perform Some Nights at the end.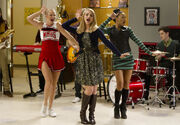 Brittany performs back up singing and dancing to Come See About Me to Quinn along with Santana to show the new Glee club members how to dance. Later on in the choir room shortly after Quinn and Santana slap eachother, Brittany enters the Choir Room and asks what's going on, then Quinn leaves. The following night, she is present during New Direction's traditional show circle previous to Sectionals. She and Jake are featured dance soloists in Gangnam Style.
Personality
As a Cheerio, Brittany could be expected to come across as cruel, but she is generally a kind, generous and caring person, although exceptionally naive and innocent to the point of being considered stupid, though she is very sensitive to this word, such as when she stood up for herself after Finn called her stupid, considering it as 'mean' and 'bullying'.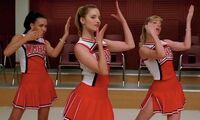 Although at the start of the series she demonstrated signs of bullying, in truth, any form of cruelty tends to spawn from the influences of her more mean-spirited fiends, such as Santana and for a time, Quinn, though often she's largely unaware of what she's really doing. In fact, her default personality and behavior, as previously mentioned, is far more kind and sympathetic, as demonstrated by her friendship with Becky, a girl with Down's Syndrome. Brittany tends to treat Becky with respect and kindness, although some claim it's only because Becky lets her cheat in class. While proudly promiscuous, Brittany has an innocent and fragile demeanor. She depends on the guidance of others, most notably her best friend, Santana, to the point that during the summer holidays, she gets lost in the sewers on the way back from motocross practice. She has an aversion to violence, particularly between her friends.
As the ultimate "dumb blonde", Brittany speaks without any mental filter, often resulting in unexpected statements, such as, "I'm pretty sure my cat's reading my diary." She also expresses a lack of basic knowledge and common sense. This often results in her doing strange things such as attempting to put the toilet paper back on the rolls. She is, however, aware of her lack of intelligence as evidenced in Duets where she calls Puck dumb while laughing and saying, "And that's coming from me!" Brittany is an accomplished dancer and often helps to choreograph some of New Directions' routines. She has some childish characteristics such as believing in Santa with all her heart and is extremely gullible as evidenced when Artie convinced her that his comb was magical and would help the glee club when competing. Her kindness and childlike innocence can often be used against her, such as when she almost put her life on the line when Sue convinced her to launch herself of a human cannon to help "mama cannon" support her family during a Cheerleading competition.
Her best friend is Santana who is noticeably protective of Brittany and only Santana understands her childish actions. Brittany is the only bisexual character on the show. Brittany can be quite competitive as she stated in Makeover to Sam that she really wants to win.
Even though she is generally a very kind and sweet girl, Brittany will become angry at people who call her stupid. Brittany does not tolerate being bullied by other people. When Finn called her an idiot in Pot O' Gold she stood up for herself, telling Finn that it was mean and bullying and that she wouldn't accept it. She has revealed that everyone in school at one time or another had called her stupid or an idiot. She also claims that because Finn is one of the leaders of New Directions, that makes his insult even worse.
Brittany appears to still believe in fictional and imaginary people. She still believes that Santa Claus is an actual person who can grant any wish. She also believes that Irish people are leprechauns who cannot be seen by anyone except for her, and have the power to grant three wishes. By the end of
Pot O' Gold
, Brittany appears to have realized that leprechauns are only fictional people.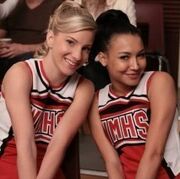 Brittany doesn't like seeing people sad and often shows sympathy towards people, especially her best friend Santana. This is shown in Silly Love Songs when Santana cries because the glee club ganged up on her and Brittany comforts her. This is also shown in Blame It On The Alcohol when Santana cries because Mr. Schue says that around 400 people die a year from alcohol poisoning, and Brittany gives her a hug to comfort her, and in Prom Queen when Santana is upset about losing Prom Queen and Brittany comforts her and encourages her to go back out and support Kurt. Brittany also helped Santana comfort Quinn in New York when Quinn was still upset about her breakup with Finn. Brittany also looked sympathetic towards Tina when she had a very big break down in Silly Love Songs and also in A Night of Neglect when Tina cries after getting heckled off stage.
Sexuality
Brittany is notorious for being exceedingly promiscuous at McKinley High, having slept with many males and apparently females, though the only known female she has slept with is Santana as revealed in the episode Sectionals. In Bad Reputation, she claims to have made out with everyone in the school. She aims to hook up with as many people as she can, stating that she's made out with boys, girls, and one of the school's male janitors, as claimed in Bad Reputation, even inviting Kurt to 'tap this' in Laryngitis. While Brittany has only dated one girl—Santana --, she has shown interest in other females in several episodes, such as in Audition where she claimed she wanted to touch Coach Beiste's boobs. She also was seen slow dancing with a girl at prom during Jar of Hearts in the episode Prom Queen.
The episode Britney/Brittany gave many hints about her sexuality, with Brittany having fantasies with her acting sexually during musical numbers towards both Carl Howell and Santana Lopez. During the episode, she also calls Britney Spears 'really hot' and gets overly excited when Rachel dresses up in Britney Spears' ...Baby One More Time outfit.
In Duets, Brittany and Santana are seen in bed together after having sex with Santana kissing Brittany's neck. When Brittany says they should sing a duet in glee club of Melissa Etheridge's Come To My Window, Santana gets defensive and rejects Brittany, causing conflict between them. Brittany begins dating Artie Abrams to make Santana jealous while also denying Santana sex. However, after Brittany makes a catty remark towards Santana, she says, "I'm mad at you, but you're still so hot."
Her sexuality was never directly addressed until Sexy, where it is revealed that Brittany is still sleeping with Santana despite being attached with Artie. Brittany prompts Santana to have a conversation about their relationship, which Santana rejects. Eventually, though, the two consult Holly Holiday about their relationship. When Holly asks whether either of them thinks they may be a lesbian, Brittany states that she doesn't know because Santana refuses to talk about it. Later, when Santana admits she's in love with Brittany, Brittany tells her that she loves her too but is also in love with Artie. In Born This Way, Brittany claims she 'thinks she's bi-curious', but as she is later seen trying to initiate a romantic relationship with Santana, it is made obvious that her feelings go deeper than curiosity. Brittany also urges Santana to come out of the closet in the following episodes.
In New York, when Santana asks about her relationship with Brittany, Brittany tells her that she loves Santana more than she has ever loved anyone before.
In I Am Unicorn, Brittany decides she wants to manage Kurt's campaign for class president, with the idea that students should celebrate being "unicorns", meaning that they're special and not afraid to show it. Eventually, with inspiration from Santana, Brittany decides to run for president herself, telling Kurt that she is a unicorn as well—or "maybe a bicorn", and thus confirming Brittany's bisexuality.
In Pot O' Gold, Santana and Brittany are seen out for dinner at Breadstix. Santana asks if they're on a date, and Brittany claims she thought that they were dating—since both Brittany and Santana are single, Brittany says she wanted to "mingle". Santana starts crying, and when Brittany asks why, Santana tells her that's she's just really happy. At the end of the scene, Santana tells Brittany, "I wish you'd hold my hand." Brittany takes her hand, and they both look happy, until Santana gets nervous and hides their joined hands under a napkin.
In Heart, Santana and Brittany are publicly dating. In the episode, the two share their first freely-public on screen kisses (one in the hallway, and one at Breadstix during Cherish/Cherish). Apparently they have kissed in public before since Principal Figgins tells them that they've had multiple complaints about their PDA from somebody for religious reasons. They are now a fully out couple; their relationship is known to the rest of Glee Club and the school-at-large.
In Prom-asaurus, Brittany is up for prom king (causing Sue to comment when reading her name, "That's weird"). She doesn't win, only receiving four votes; Santana refuses to accept winning prom queen if Brittany won't be her king.
Relationships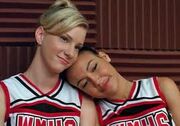 Brittany and Santana were best friends with benefits (in Season 1 and 2) and now, they are girlfriends in Season 3. They're often seen linking their pinkies together and cuddling. In Sexy, Santana confesses to Brittany that she loves her and wants to be with only her. Brittany tells Santana that she loves her too, but has feelings for Artie as well and doesn't want to hurt him because it wouldn't be right. In Pot O' Gold, they're on a date at Breadstix and it is revealed that they are dating. They are still currently in a happy relationship, they went to the Valentine's dance together in Heart where they kissed twice: at the lockers and at Breadstix. They both look lovingly towards each other and very commonly show signs of affection such as hugging, holding hands, or cuddling. They usually share glances and happy smiles in every episode and are always seen together. Their relationship shows a lot of sweetness and love and even though they haven't talked much throughout the season you can see how much they love and care for each other through all their little signs of affection.
Duets
, Brittany starts dating
Artie
to make
Santana
jealous. She also ends up taking his virginity, which upsets him
because she has done it many times with many other people and it doesn't mean anything to her, (but in
The First Time
he states that his first time with Brittany made him feel like a man, even though she called him the wrong name four times,) causing him to break up with her. In
Never Been Kissed
,
Artie
tells
Puck
that he wants her back. They end up going on a double date. In
Furt
, Brittany and Artie get back together and seem very happy to be dating again. When Tina asks if they are officially dating, Brittany says "deal with it." The couple are also seen acting coupley during the wedding. In
Rumours
, after getting into a fight about Santana, Artie gets frustrated and calls Brittany "stupid"; Brittany is incredibly hurt by this and they break up.
When Kurt tries to impress his father by appearing more masculine, Brittany offers to make out with him as she has made out with everyone except him because she always thought he was a 'capital-G Gay'. The two share a very brief relationship, which ends when Kurt finally accepts, with his father's encouragement, that he cannot change himself, nor should he. It was hinted in Glee Live! In Concert! that Brittany still had feelings for Kurt. However, it has not been seen in the show.
In Mash-Up, it appears that Mike and Brittany had some sort of relationship going on. When Mike decides to choose Glee over football, Brittany runs to give him a hug and is heard saying "I love you". They also have many background moments and are often paired up together, most likely because of their similar dancing abilities. At one point, they are also thought to be having an affair with each other when they are practicing a routine for Sectionals in Season 2, but this proves to be false, according to Brittany.
Sometime prior to sleeping with Quinn, Puck admitted to having a sexual relationship with Brittany. It is implied that Brittany had a threesome with Puck and Santana in Never Been Kissed. In the first episode of Season 3, Santana stated that they-Brittany, Santana and Quinn-had all slept with Puck in the same year.
During
Britney 2.0 (Episode)
, Sam notices what Brittany is up to and decides to meet up in the auditorium, where Sam is waiting to comfort her.
Sam run for Vice president and Brittany for President from different parties in Makeover. Brittany suggests that they run from different parties since she doesn't want them to be enemies. In a flashback, Sam is shown voting for Brittany and not his running mate, Blaine.
Songs
Solos
Season Two:
Season Three:
Season Four:
Solos (In a Duet)
Season Two:
Season Three:
Season Four:
​Solos (In a Group Number)
Season Two
Song
Episode
Solos with
Toxic
Britney/Brittany
Rachel, Will, Tina, Santana and Quinn
Touch a Touch a Touch a Touch Me
The Rocky Horror Glee Show
Emma, Santana, Will, Kurt, Carl and Finn
Time Warp
Finn, Quinn, Mercedes, Kurt, Santana and Tina
Marry You
Furt
Finn, Rachel, Sam, Quinn, Artie, Tina and Mike
The Most Wonderful Day of the Year
A Very Glee Christmas
Artie, Quinn/Kurt, Sam, and Tina
Landslide
Sexy
Santana and Holly
Loser Like Me
Original Song
Rachel, Finn, Santana and Mercedes
I Love New York/New York, New York
New York
Finn, Santana, Artie, Mercedes and Rachel
Light Up the World
Santana, Finn, Artie, Tina, and Rachel
Season Three
Song
Episode
Solos with
We Got the Beat
The Purple Piano Project
Rachel and Santana
Candyman
Pot O' Gold
Mercedes, Santana and Sugar
Rumour Has It/Someone Like You
Mash Off
Mercedes and Santana
Survivor/I Will Survive
Hold on to Sixteen
Mercedes, Santana, and Sugar
Do They Know It's Christmas?
Extraordinary Merry Christmas
Finn, Mercedes, Rachel, Blaine, Kurt, Artie, Tina, Puck and Santana
Love Shack
Heart
Blaine, Mercedes, Kurt, Rachel and Sugar
What Doesn't Kill You (Stronger)
On My Way
Mercedes and Santana
You Should Be Dancing
Saturday Night Glee-ver
Blaine and Mike
Cell Block Tango
Choke
Mercedes, Sugar, Santana and Tina
Paradise By The Dashboard Light
Nationals
Finn, Puck, Santana, Kurt, Blaine, Mercedes and Rachel
Season Four
Song
Episode
Solos with
Call Me Maybe
The New Rachel
Wade, Blaine and Tina
The Scientist
The Break-Up
Finn, Rachel, Blaine, Kurt, Santana, Will and Emma
You're The One That I Want
Glease
Marley, Ryder, Rachel, Finn, Santana, Kurt and Blaine
Don't Dream It's Over
Swan Song
Finn, Marley, Tina, Blaine and Sam
Unreleased Song
Season Two:
Back Up
Trivia
She is the ninth member of the glee club.
She is a Dutch American (as stated in Throwdown by Sue).
Her two favorite activities are eating hot melted cheese and talking to people (Rumours).
She is considered to be the best female dancer in Glee.
She claims to have made out, dated, or had sex with almost every boy in WMHS, including Kurt.
She's a "girl who turns into a stripper" when drunk (Blame It on the Alcohol).
She's a member of the Motocross team, or at least goes to Motocross practice (Special Education).
Her favorite song is My Headband, an original song by Rachel Berry (Original Song).
She, along with Joe, Sugar, Rory, and Jake have never been slushied on-screen, but there has been dirt put in her locker by Sue.
She has an internet talk show called Fondue for Two, which includes her two favorite things, "hot cheese and talking to people."
She claims that, until Rumours, Artie was the only person to have never called her stupid.
She wrote an original song called My Cup for Nationals, but it wasn't performed.
She lost her virginity at cheer camp (The First Time).
While taking Artie's virginity, she called him by the wrong name four times (The First Time).
She got angry for the first time when Santana wouldn't put on the Lebanese shirt (Born This Way).
She had a cavity in every tooth (Britney/Brittany).
She usually writes in crayon. (Grilled Cheesus, The Spanish Teacher, Big Brother, Saturday Night Glee-ver, Britney 2.0, Makeover).
Brittany loves unicorns and considers herself a bi-corn (I Am Unicorn).
She had her first solo (I'm a Slave 4 U), Duet (Me Against The Music), and Group Number Solo (Toxic) in the same episode (Britney/Brittany).
She could not graduate high school, as her GPA was a 0.0 (Goodbye).
In Mattress, when the Glee Club's picture gets vandalized in the yearbook, Brittany's picture is the only one that doesn't get drawn on.
She believes dolphins are gay sharks.
She thinks sour patch kids are gummy bears that use drugs.
She knows a lot about cat diseases (A Night of Neglect).
She thinks Joe is a girl (Goodbye).
She falls asleep whenever she prays (Grilled Cheesus).
She once became lost in the sewer system of Lima.
She doesn't know how to lock a door.
She made up her own language in middle school.
Scissors Santana over webcam. (The New Rachel, Britney 2.0)
Santana stated that she's been watching Brittany in the back of the choir room smiling, adding that the choir room was where they fell in love. (The Break-Up)
Said she would never cheat on Santana. (The Break-Up)
Brittany has quit and rejoined New Directions more times then any other member.
Gallery
Quotes