| | |
| --- | --- |
| |   This article is a stub. You can help by expanding it. |
Chandler Kiehl
General Information
Gender:
Male
Age:
18
Hair Color:
Blond
Eye Color:
Blue
Occupation(s):
Student
Aliases:
Mr. Between-The-Sheets (Rachel)
Family & Friends
Family:
Unknown
Relationships:
Kurt (crush, exchanged flirty texts)
Friends:
Kurt Hummel
Enemies:
Blaine Anderson
Other Information
Interests:
Music, Singing, Fashion
Education:
New York University
Strengths:
Singing
Series Information
First appearance:
Dance with Somebody
Last appearance:
Dance with Somebody
Portrayer:
Justin Castor
Chandler Kiehl is a character who meets Kurt Hummel at the sheet music store "Between the Sheets" in Dance with Somebody. He flirts with Kurt and they had a brief period of texting each other flirty texts. He told Kurt that he had an audition for NYU for the fall and planned to go to New York City.
Chandler Kiehl is portrayed by Justin Castor.
Biography
Chandler greets Kurt and compliments his taste in both fashion and music.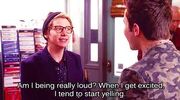 He talks about his audition for NYU and also Kurt's NYADA callback, and Kurt gives him his phone number. Kurt doesn't realise that Chandler likes him as more than just a friend.
During the episode, Chandler exchanges dozens of flirty messages with Kurt. Chandler's texts to Kurt include the following:
"Are you an astronaut? Because your smile is out of this world." (read by Kurt)
"I am pretty sure you were cleopatra in another life. You've got a great asp." (shown during "So Emotional")
"When we go to New York let's go to the front of the Plaza and re-enact the end of 'The Way We Were.'" (read by Blaine)
"Can you sing into my voicemail? I want to make your voice my ringtone." (read by Blaine)
Blaine is heartbroken, when he reads the messages on Kurt's phone. They argue about this and Kurt states that he did not consider this cheating but only harmless fun, but Blaine remains hurt and angry. Blaine and Kurt go to couples counseling and resolve their issues. Kurt tells Chandler to stop texting him. 
Chandler is only mentioned once more, in the fantasy sequence when Puck and Finn trade places with Blaine and Kurt. Puck-as-Blaine mentions his jealousy over Chandler and Kurt having texted, and Finn-as-Kurt reassures him that it meant nothing.
Trivia
He selected "Rainbow High" from Evita for his NYU audition, but the sheet music was not available at "Between the Sheets" so it is unknown if he used that number to audition.
Shouts when he gets overwhelmed and excited.
Was described as "enthusiastic" by Kurt.
Gallery