Cheyenne Jackson
Gender:
Male
Age:
40
Born:
July 12, 1975
Character:
Dustin Goolsby
Occupation:
Actor and Singer
Years Active:
2002-Present
Cheyenne David Jackson, born July 12, 1975, is a 40-year-old American actor and singer. On Glee, he portrayed Dustin Goolsby between 2010 and 2011.
Personal life
Jackson was born in Idaho and was raised in Newport, WA and has two brothers, Chris and Jon, and one sister, Amber.[1] Jackson's name came from the 1950s television Western, Cheyenne.[2] He is an openly gay actor and a LGBT rights supporter. He is an ambassador of American Foundations of A.I.D.S Research (AmFar) and the national ambassador of The Hetrick-Martin Institute.
In Seattle, he worked as an ad executive at a magazine and did some theater on the side, earning his Equity card. "As soon as I found out what theater was, what Broadway was, I thought, Oh, that's what I'll do with my life. Just a matter of getting all the pieces in place." Inspired to rethink his career after both a death in his family and the September 11 attacks, he moved to New York.[3]
Jackson had been in a relationship with Monte Lapka for almost thirteen years and almost married for two years, before they deicde to call it quits in August 2013.[4] The marriage ended in divorce in September 2013.[5]
Jackson is in a relationship with Jason Landau, which was made public when an Instagram picture was posted in October 2013.[6] Jackson and Landau got married on 13 September 2014 in Encino, California[7], after announcing their engagement in February.[5]
Career
He played 9/11 victim and hero Mark Bingham in the 2006 Academy Award-nominated film United 93, and has also made appearances and guest starred in multiple television shows, such as Ugly Betty, Lipstick Jungle, and Law & Order. He also has a recurring role on the NBC comedy series 30 Rock.
However, he is best known for his roles on Broadway, where he originated roles in All Shook Up and Altar Boyz. He starred in Thoroughly Modern Millie as well as opening as lead in Xanadu in 2007, for which he earned various award nominations. He most recently appeared on the Great White Way as Woody in the 2009 revival of the musical Finian's Rainbow.
Jackson released his first album "The Power of Two", a collaboration with Michael Feinstein, in 2009,[8] and his second album "I'm Blue, Skies" in June 2013.[9]
Jackson was announced to have joined the cast of American Horror Story: Hotel in March 2015.[10]
Glee
On Glee, Jackson portrayed Dustin Goolsby, the new coach of Vocal Adrenaline, and the main rival of the New Directions. Dustin already recruited Sunshine (Charice Pempengco) to Vocal Adrenaline, after a tip-off by Sue (Jane Lynch). Dustin returned in A Night of Neglect where he joined Sue's League of Doom as "Sergeant Handsome." His first assignment (which he failed to do) was to break-up Holly and Will. He later pulls Sunshine out of the benefit concert New Directions was holding, causing the amount of attendees to drastically drop (as Sunshine's Twitter followers were going to attend the benefit to see her). He was originally cast as Dakota Stanley in Acafellas, but had to pull out due to sickness. He was replaced by Whit Hertford. He also auditioned for the role of Will but didn't get it.
Filmography
Year
Title
Role
Notes
2005
Curiosity
Luke
short
2006
United 93
Mark Bingham
2008
Lipstick Jungle
Bryce
("Chapter Fifteen: The Sisterhood of the Traveling Prada")
Family Practice
Sebastian Kinglare
TV movie
2009
The Mentalist
Uniformed Police Officer
("A Dozen Red Roses" and uncredited)
Ugly Betty
Timothy D'Artagnan
("Sugar Daddy")
Life on Mars
Sebastian Grace
("Let All the Children Boogie")
30 Rock
Danny Baker
2009 - 2012 (12 episodes)
2010
Hysteria
Scott
Photo Op
Zig
short
Law & Order
Jon Sorrentino
("Innocence")
It Takes a Village
Scott
TV movie
Glee
Dustin Goolsby
2010 - 2011 ("Audition," "A Night of Neglect," and "New York")
2011
Smile
Doctor Steve
short
Curb Your Enthusiasm
Terry
("Car Periscope")
The Green
Daniel
2012
Local Talent
Dr. Tim Brody
Mockingbird Lane
Steve
TV movie
Before You
Man
short
Lola Versus
Roger
Price Check
Ernie
2013
Full Circle
Peter Barlow
("Trent & Trisha", "Trisha & Robbie" and "Celeste & Tim")
The Gay Christian Mingle
short
Mutual Friends
Christoph
Behind the Candelabra
Billy Leatherwood
TV Movie
Onion News Empire
Cameron Grey
TV Movie
2014
Opening Night
Eli Faisel
post-production
The One I Wrote for You
Ben Cantor
Six Dance Lessons in Six Weeks
Michael Minetti
Lucky Stiff
MC
Royal Pains
("Oh, M.G.")
Dragula
Mr. Newton
short
CSI: Crime Scene Investigation
Nebula1
("Kitty")
Love Is Strange
Ted
Beautiful Now
David
HR
Tim Harcourt
TV Movie
2015
Bear with Us
Hudson
filming
CSI: Cyber
Days Out of Days
Phil
post-production
American Horror Story: Hotel
Trivia
Gallery
Videos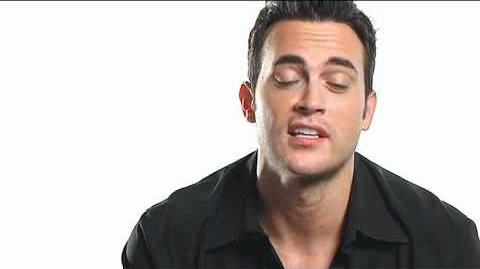 References
↑ Cite error: Invalid <ref> tag; no text was provided for refs named CJBio
↑ Broadway's 'It' Boy March 2009.