Cory Monteith
Gender:
Male
Age:
31
Born:
May 11, 1982
Calgary, Alberta, Canada
Died:
July 13, 2013
Vancouver, Canada
Character:
Finn Hudson
Occupation:
Actor, Musician, Singer
Years Active:
2004-2013
Cory Allan Michael Monteith (May 11, 1982 – July 13, 2013) was a Canadian actor, singer, and drummer. He was renownedly known for his role as Finn Hudson on Glee.
Personal Life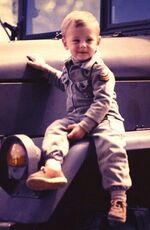 Monteith was born in Calgary, Alberta to Ann McGregor and Joe Monteith. He has an older brother named Shaun. He grew up in Victoria, British Columbia.[1] His parents divorced when he was 7, and by 13, Monteith—once a promising student who at age 5 could read at a fourth-grade level—was skipping school to get drunk and smoke pot.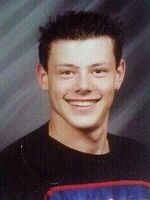 Monteith estimates that by the age of 16, when he quit for good, he had attended 12 different schools, including alternative programs for troubled teens.
[1]
At that point, Monteith turned to drugs.
[1]
He got his act together and began having odd jobs, which included begin a roofer, Wal-Mart greeter, school bus driver, and taxi cab driver.
He reunited with his father for the first time in 17 years in late 2009.[1]
Monteith received a high school diploma from an alternative school he attended in Victoria, British Columbia in the spring 2011.[1]
Monteith was in a relationship with ''Glee'' co-star, Lea Michele, until his unexpected death in July 2013.[2] He and Michele briefly dated at the beginning of Glee, but "no one really caught on."[3] They officially became a couple by late 2011.[3] Monteith and Michele had unknown matching tattoos that Michele confirmed in December 2013.
Michele added a new song to her album titled "If You Say So", which was his last words to her, that was co-written with singer, Sia Furler.[3]
Career
Monteith had a stint as the drummer in the band, Porchlife, in 2001.[4] Porchlife was based out of Victoria, Canada and he mentioned it once in an interview with GQ.[5] The band recorded six songs and only one was released for public - until December 2013.[5][6] A person managed to "get in contact with someone who had all of the songs recorded by the band," and that person released the songs on their tumblr page in order to share with the fandom.[5]
He played minor roles in Final Destination 3, Whisper and Deck the Halls, had a recurring role in Kyle XY and also appeared in Smallville, Supernatural, and Flash Gordon. In 2007, he starred in the MTV series Kaya. In 2009, Monteith was cast in the Fox series Glee, playing Finn Hudson, the male lead of the glee club and the quarterback of William McKinley High School. For his audition tape, he drummed on Tupperware using unsharpened pencils. The first time he sang in front of an audience was at his in-person audition, at which he sang "Honesty" by Billy Joel. He and Lea Michele, his Glee co-star, were included in Entertainment Weekly's 2009 "Summer Must List," being named "Summer's Must Songbirds" for their portrayals of Finn and Rachel on Glee, respectively.

In 2011, he starred alongside Selena Gomez, Leighton Meester, and Katie Cassidy in the comedy movie Monte Carlo.
Treatment and Death
Monteith's mother and a group of friends staged an intervention when he was 19 after he "used anything and everything." The rehab treatment was unsuccessful and he went back to his old habits.[1] After stealing an significant amount of money from a family member, and being caught, he was giving an ultimatum: Get clean, or the family member would report him to the police and press charges. Choosing the get clean option, Monteith moved in with a family friend in the small Canadian city of Nanaimo, where he quit using drugs, got a job as a roofer and began the process of rebuilding his life.[1]
Monteith had admitted himself into a treatment facility for substance addiction on March 31, 2013.[7] The treatment was reported to be completed on April 26, 2013.[8]
Monteith was found dead in a room at the Fairmont Pacific Rim Hotel in Vancouver, Canada on July 13, 2013.[9] His autopsy was held in July 15, and it was confirmed that his death was caused by toxic combination and alcohol overdose.[10] Monteith was privately cremated on July 16, 2013, in attendance was Michele, his mother, and brother.[11] On October 3, 2013, the coroner's report was released to reveal that his death was accidental, he also had codeine and morphine in system, and (sadly) found at the scene was drug paraphernalia along with two empty champagne bottles.[12]
Filmography
Year
Title
Role
Notes
2004
Stargate Atlantis
Genii Private
Episode: "The Storm"
2005
Killer Bash
Douglas Waylan Hart
TV movie
Young Blades
Marcel Le Rue
Episode: "To Heir Is Human"
Supernatural
Gary
Episode: "Wendigo"
Killer Instinct
Windsurfer Bob
Episode: "Forget Me Not"
Smallville
Frat Cowboy
Episode: "Thirst"
2006
Bloody Mary
Paul Zuckerman
Final Destination 3
Kahill
Deck the Halls
Madison's Date
Whistler
Lip Ring
Episode: "The Burden of Truth"
Stargate SG-1
Young Mitchell
Episode: "200"
Kraken: Tentacles of the Deep
Michael
TV movie
2006–2007
Kyle XY
Charlie Tanner
7 episodes
2007
Flash Gordon
Ian Finley
Episode: "Life Source"
Hybrid
Aaron Scates
TV movie
Kaya
Gunnar
10 episodes
White Noise 2: The Light
Scooter Guy
Gone
Davis Calder
Short Film
The Invisible
Jimmy
Whisper
Teenage Boy
2008
Fear Itself
James
Episode: "New Year's Day"
The Boy Next Door
Jason
TV movie
2009
Mistresses
Jason
TV movie
The Assistants
Shane Baker
Episodes: "Rehab," "The Star"
2009–2013
Glee
Finn Hudson
2010
The Simpsons
Flynn
Voice role, Episode "Elementary School Musical"
2011
The Cleveland Show
Finn Hudson
Voice role, Episode "How Do You Solve a Problem Like Roberta?"
2011
Breaking the Girl
2011
Monte Carlo
Owen
2012
The Glee Project
Himself
2013
All The Wrong Reasons
James Ascher
Post-production
2013
McCanick
Simon Weeks
post production
Awards and Nominations
Year

Award

Category

Result

Notes

2009

Teen Choice Awards

Choice TV: Actor Breakout Star Male

Nominated

Glee

2010

Won

Hollywood Style Awards

Male Future Style Icon Award

Won

Choice TV: Comedy Actor

Nominated

Choice Smile

Nominated

2011

Choice TV: Comedy Actor

Won

Summer: Movie Star Male

Nominated

Screen Actors Guild Award

Outstanding Performance by na Ensemble in a Comedy Series

Nominated

2012

Favorite TV Comedy Actor

Nominated

Glee

Do Something Awards

TV Star: Male

Won
Quotes
"I wonder if, in China, they have Canada Town. Am I the first person who has thought that before?"
"Evolved? As a dancer? Me? I don't fall down as much, unless it's part of the scripted dance. I don't step on other people's toes anymore. I think if I started the show a one out of ten dancer, now I am a two and a half."
"Instant hard on."
"I figure the only reason people get up this early is to prove a point or fly to New York." (5 AM)
"There is a way out. You never know what's in store for you."
"Best advice my mom gave me? Believe in yourself. Work hard. Never stop hustlin'."
"Finchel Is Forever."
"Love is how you stay alive even after you're gone."
"Just be you, that's good enough for me."
Trivia
He was 6 feet, 3 inches tall.
Zodiac sign was Taurus.
He grew up in Victoria, British Columbia and he considered it as his hometown.
He had odd jobs before becoming an actor, he was a Wal-Mart people greeter, cab driver and was into roof construction.
His parents divorced when he was 7.
He had one older brother named Shaun Monteith.
His hobbies included snowboarding and traveling.
Started playing drums when he was 7.
Played drums for the indie band called Bonnie Dune before.
His audition song for Glee was "Honesty" by Billy Joel.
He got specific when you asked him to say buddy.
He liked Italian Food.
The first time he cried like a little girl was a production of Equus.
His favorite color was blue.
His favorite sports were hockey and basketball.
His first car was a 1972 Dodge Colt.
He wanted to go to Eastern Europe.
His favorite game was Call of Duty 4.
Often joked with Lea Michele about marrying each other (Like when they said that they are taking pictures for their "save the date" wedding) and one time let it slip that Glee was like their little baby.
He was the one who gave Lea Michele her twitter name. (@msleamichele)
He loved using the flipcam.
Good friends with Lea, Dianna, and Mark.
He had a tribal tattoo on his upper arm.
His Twitter name was @frankenteen, which is also a common nickname given to Finn, but he changed it to @CoryMonteith (follow him on Twitter).
He had earrings when he was 17.
He suffered from drug addiction as a teenager.
When he was 13, he skipped school to get drunk and smoked pot.
Dropped out of high school when he was 16.
Was on the cover of Gay Parade.
Given an ultimatum by his family to get clean or get turned over to the police for theft charges after he stole a significant amount of money from a family member.
Supports Vancouver Canucks & was a proud Canadian.
At age of 5, he could read at a fourth-grade level.
He had attended 16 different schools, including alternative programs for troubled teens.
He went to Rehab when he was 19.
Lea Michele sometimes called him CoMo (Cory/Monteith), according to a tweet.
Had gone all naked for the film "Bloody Mary."
Received his high school diploma in the spring of 2011 from an alternative school he attended in his hometown
He was able to do an Australian Accent.
He once played a prank on Lea. He told Lea that she accidently scratched his car with her car, but the scratch on Cory's car was actually a sticker. When he peeled it off, Lea threw a sandwich at him.
Played a character similar to Finn on The Simpsons.
He was the Grand Marshall at the Grey Cup Parade in Vancouver, BC.
Had colored his hair to hide his gray hair.
He had a very unnoticeable stutter in some interviews.
Hosted the 2012 GLAAD awards with co-star, Naya Rivera.
He used to be blonde as a kid.
Was the tallest Glee Cast member.
Thought Lea Michele has the best body of all the Glee Cast. He also thought she is the nerdiest of the cast.
Dated co-star Lea Michele until his death in 2013; Coincidentally, Lea plays Rachel Berry, girlfriend of Cory's character Finn Hudson on the show.
He was also known as the dorkiest glee cast member.
He once went to a tanning salon.
He didn't take a shower for a week due to camping.
He was a drummer in a band called Bonnie Dune.
He was closest to his mom.
His dream trip was some where in Eastern Europe.
He was described by fellow castmate Darren Criss as "a gentleman and a scholar."
Was rated #60 on "BuddyTV's Sexiest Men of 2012." Source
He was a guest mentor on The Glee Project, episode 3 "Vulnerability."
Presented with the Olympic Gymnast Gabby Douglas award for 'Favorite Male Athlete' at 26th Kids' Choice Awards 2013.
Gallery
Videos
References