Dianna Agron
Gender:
Female
Age:
28
Born:
April 30, 1986
Character:
Quinn Fabray
Occupation:
Actress, Dancer, Director, Singer, Writer
Years Active:
2005-Present
Dianna Elise Agron, born April 30, 1986, is a 28-year-old American actress and singer. She is best known for her main (later guest) role as Quinn Fabray on Glee between 2009 to 2015.
She also stars as Sarah Hart in I Am Number Four with Alex Pettyfer, Natalie in Burlesque, and Minnow in The Romantics. In 2013, Agron played Belle Blake, the daughter of a mafia boss, in the thriller-comedy The Family and will be part of the main cast of Famous as Sophia. Additionally, she has appeared in other television shows such as Heroes and Mall World. In December 2011, she launched a website called You, Me, & Charlie as a place to stay positive and optimistic through art and designs.
Early life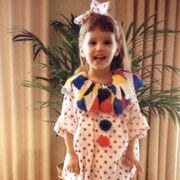 Dianna Agron was born in Savannah, Georgia, the daughter of Mary (née Barnes) and Ronald S. Agron, a general manager of Hyatt hotels. She was raised in San Francisco and also lived in San Antonio, Texas for several years. Agron's father's family is originally from Russia, and their original surname, "Agronsky," was altered by Ellis Island officials. Her father is Jewish and her mother converted to Judaism. Agron attended Hebrew school and had a bat mitzvah. She attended Burlingame High School in California. She performed in her high school's version of the musical
Grease
, as Marty.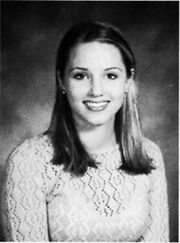 She has been dancing since the age of three, and began teaching dance as a teenager. She says she was not "popular" in the stereotypical sense in high school, though she had many friends from different cliques around the school.
When she was 15, she found out her dad had multiple sclerosis. In an interview for Cosmopolitan magazine, she revealed that "Quite a bit changed after that...at that age, you don't see mortality in your parents." The disease caused her parent's relationship to fall apart, and they decided to separate, which was devastating for her and her younger brother. "I had to play therapist to my family... be the glue...those kinds of things I'm not ready to speak about yet." 
Career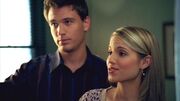 Dianna Agron has appeared on television shows such as Shark, Close to Home, CSI NY, Numb3rs and a recurring role on Veronica Mars. She then appeared as Harper on a 13-episode series of short films called It's a Mall World, directed by Milo Ventimiglia, and airing on MTV, and then on the second season of Heroes as Debbie Marshall, the head cheerleader/captain of the cheer squad at Costa Verde High School, also with Ventimiglia. Agron has also hosted a mini Music Festival for 826LA in Los Angeles called Chickens in Love.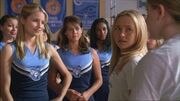 She was among many young Hollywood stars selected to be in Wal-Mart's Ocean Pacific spring 2010 marketing campaign. The national campaign debuted in fashion, lifestyle and entertainment magazines such as Elle, Teen-Vogue, Seventeen and Cosmopolitan, outdoor and online at the official Ocean Pacific website. In addition, the celebrities hosted an Ocean Pacific party in Los Angeles in late April and made personal appearances on behalf of the brand.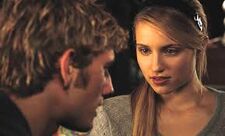 Her most notable role is Quinn Fabray, on Glee, which has received high ratings and critical acclaim, including a Screen Actors Guild Award and a Golden Globe, since the series began in May 2009. In 2010, Agron directed the music video for "Body" by Thao with the Get Down Stay Down. She also played the small role of Natalie, girlfriend to main character Ali's love interest Jack, in the movie Burlesque alongside Christina Aguilera, Cher, and Stanley Tucci. Agron was chosen by People to be part of their Most Beautiful 2010. She also came 26th in the 2010 Afterellen.com top Hot 100 list.
Agron appeared alongside Alex Pettyfer and Timothy Olyphant as Sarah Hart in the 2011 science-fiction action thriller I Am Number Four, directed by D. J. Caruso. The film success iniatially pulled a planned sequel, but Agron and Pettyfer real life break up stopped production. As of 2012, Agron will star in various commercials such as the Nintendo Game 3DS and 3DS XL games that involves games representing Arts.
On September 14, 2012, it was falsely reported by U.S Weekly that Agron had quit Glee, after being unhappy with the show for some time. Since Season 2, rumors had been circulating suggesting she was unhappy with the reduced screen time she had. She was also reportedly forced to turn down movie roles in order to be on Glee. During Season 3, it was reported that Ryan Murphy was upset with Agron's storyline about Beth (Quinn-Shelby Conflict) for it had created an uproar among critics and parents. She is also among notable absentees for many glee events and magazine photoshoots. A representative for her, however, has denied this claim. Her name is still no longer in the opening credits, and she has been demoted to recurring/guest star status for Season 4.
Although it was initially reported that she would not be returning for Glee's 5th Season, due to being "done" and "finished" with Glee, Agron was present for the two part 100th episode of Glee airing in March 2014. She expressed happiness while hinting at it while Ryan confirmed on his official Twitter. Agron returned for two episodes during the sixth and final Glee season and had a brief cameo at the end of the finale episode.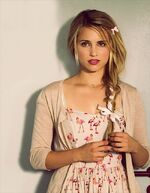 In July 2012, Agron confirmed reports of her role as Belle Blake in the film Malavita/The Family. Agron was cast in The Family as Belle after director Luc Besson thought of Agron while writing the Belle character. It was filmed from August - October 2012. The movie was released on September 13, 2013.
She will feature as a narrator for the documentary film Unity where she speaks about sexism. Agron was announced to have joined the cast of A Conspiracy on Jekyll Island in October 2013. Production was scheduled to begin in November 2013.
She appeared in the music video for "Just Another Girl" by The Killers and "I'm Not the Only One" by Sam Smith.
Musicals
| Year | Title | Role | Notes |
| --- | --- | --- | --- |
| 2015 | McQueen The Play | Dahlia | |