Everybody Wants to Rule the World by Tears for Fears is featured in Makeover, the third episode of Season Four. It is sung by Blaine.
The song begins to play as Blaine walks through the McKinley hallways with a voiceover, at the beginning of the episode. He says last year was all about letting the seniors shine, but this year, it's time for a big change. The scene then cuts to the auditorium where Blaine is singing and he signs up for many clubs on the bulletin board. When he signs up for the Superhero Sidekicks Appreciation Club, he is seen in a classroom as Robin from Batman, jumping around. He's seen opening his locker, looking at pictures of Kurt and him as he does another voiceover, explaining how he's doing all this to fill the days while Kurt's in New York, and how he and Kurt talk, text and skype as much as possible. It shows Blaine looking at a McKinley High Presidential Campaign sign up on a wall as the song ends.
Lyrics
Blaine:
Welcome to your life
There's no turning back
Even while we sleep
We will find you
Acting on your best behavior
Turn your back on mother nature
Everybody wants to rule the world

It's my own design
It's my own remorse
Help me to decide
Help me make the most
Of freedom and of pleasure
Nothing ever lasts forever
Everybody wants to rule the world
There's a room where the light won't find you
Holding hands while the walls come tumbling down
When they do I'll be right behind you

So glad we've almost made it
So sad they had to fade it
Everybody wants to rule the world

I can't stand this indecision
Married with a lack of vision
Everybody wants to rule the world
Say that you'll never never never never need it
One headline why believe it ?
Everybody wants to rule the world

All for freedom and for pleasure
Nothing ever lasts forever
Everybody wants to rule the world
Gallery
Videos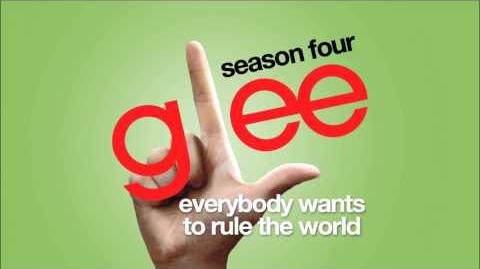 Ad blocker interference detected!
Wikia is a free-to-use site that makes money from advertising. We have a modified experience for viewers using ad blockers

Wikia is not accessible if you've made further modifications. Remove the custom ad blocker rule(s) and the page will load as expected.