Principal Figgins is a recurring character on Glee. He has appeared on the show since Pilot. He used to be the principal of William McKinley High School and had been for 27 years. He lost his position of being a principal for a short period of time during Season Two, with Sue Sylvester replacing him, but he returned to his job successfully. In Season Five, Sue took over his job once again due to her planting incriminating evidence in his office - pornography and gambling receipts. He was demoted to the position of school janitor. Prior to Loser Like Me, he was hired as a part time barista at The Lima Bean.
He is portrayed by Iqbal Theba.
Biography
Figgins was the principal of William McKinley High School, a job that he took very seriously. Although sometimes appearing unreasonable and a cheapskate, Figgins has the students' best interest at heart, as long as it doesn't cost the school too much money. He used to work for Mumbai Airlines, filming in-flight safety videos. He is highly religious, as seen in Showmance. He often uses the term "my hands are tied," usually when speaking to Will Schuester.
Personality
Figgins, although at times hard headed and penny-pinching, is by no means a bad guy in the school. For the most part he is a reasonable administrator whose chief concern is the smooth running of his school and what is best for the students. He also says that he wants a safe and stable learning environment for everyone in the school. Of course, if he can save money, he's more inclined to do that. Figgins does his best to make everyone happy, suggesting many compromises and for the most part offering people second chances, rather than just outright punishing them. It's revealed that he goes to therapy, which is why he's so willing to do this, as he wants everyone to be nice to each other. He will often invoke his therapy in his administrative methods, such as making Sue and Will hug after they have a blow out argument. In Theatricality, it is discovered that he has an irrational fear of vampires. He tells Tina not to dress in a goth fashion, so she tells him that if he does not let her dress like a goth, her father will bite him.
Figgins is unfortunately easily bullied by Sue, who often uses blackmail to get what she wants. This usually plays into her favor for a period of time, until Figgins can at last build up the courage to take away her power. For example, a questionable video she got access to, he in the end put it on YouTube himself before she could. Another example is his willingness to confess to his wife about a supposed one-night stand with Sue, rather than let Sue use it as blackmail.
Overall, Principal Figgins is caring about the school, staff, and students and pursues his passion – but his weak spot is that he is easily blackmailed by Sue and even Tina Cohen-Chang. He is seen to be slightly slow to the truth.
Relationships
Mrs. Figgins
Mrs. Figgins is Principal Figgins' wife. She briefly appeared in The Purple Piano Project, shown sleeping next to Figgins whilst he watches Sue's Corner on the news.
Main article: Figgins-Sue Relationship (Sueggins)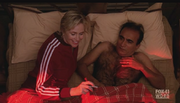 Although they have not had an actual relationship, after being suspended, Sue took Figgins out to dinner with Figgins assuring her he wasn't going to back down about her suspension. Sue then proceeds to slip a date-rape drug into Figgins' champagne after which he wakes up in bed naked, next to Sue, who then threatens Figgins to tell his wife about their 'night'. Whether she actually had sex with him is unknown, as she was shown wearing her tracksuit. Following the New Directions' loss at Regionals, Sue relinquished this blackmail in exchange for giving New Directions another year.
Trivia
He had been Principal for 27 years (1986-2013) when he was discharged between the events of All or Nothing and Love, Love, Love.
He has been blackmailed twice by Sue.
He believes vampires are real, and still believes Tina is one. (Theatricality)
He once modeled for a Mumbai Air video demonstrating how to put on anti-clotting stockings. (Preggers)
He calls Ke$ha as "Ke-Dollar-Sign-Ha."
His email address is GettinFiggywithit@aol.com and his password is "1234." (Funeral)
He wears Drakkar Noir cologne (revealed in Blame It on the Alcohol).
In his early 20s, he liked to dress up as Elvis Presley.
The door of his office opens to the inside and the outside.
He's not a good actor (as seen in Welcome to McKinley).
His favourite band is Air Supply, and the New Directions are his second favourite. (Prom Queen)
Is a Christian.
Figgins makes a cameo appearance in The Glee Project's second season music video for Here I Go Again and We Found Love.
Is implied to smell like curry. (On My Way)
His secretary is named Donna.
He is often seen to change and not enforce rules. At first the only songs that the glee club were allowed to sing were about Jesus and balloons, but then they are not allowed to sing religious songs. He also says the school has an anti-bullying policy, but this is rarely enforced because there is a lot of bullying.
Up until The Role You Were Born to Play, he thought Unique was a cisgender woman.
Almost all of his scenes are located in his office.
It is shown that he became Principal in 1986, and stayed until he was fired. (Puppet Master)
Iqbal said that Figgins is supposedly from India and how he got the name Figgins is still a mystery. Source
Iqbal said that he would choose Principal as Figgins' first name. Source
His sister is also a principal, but at Carmel High School.
Gallery
Quotes
Main article: Figgins' Quotes
Ad blocker interference detected!
Wikia is a free-to-use site that makes money from advertising. We have a modified experience for viewers using ad blockers

Wikia is not accessible if you've made further modifications. Remove the custom ad blocker rule(s) and the page will load as expected.