Glee: The Complete Second Season is the DVD and Blu-ray release of the second season of Glee. It was released on September 13, 2011 as a 7-disc set.
The glee club's fearless leader is Will Schuester (Matthew Morrison), a talented young teacher with hip-hop skills and a heart of gold. New Directions' aspiring stars include Rachel (Lea Michele), a pitch-perfect singer with an unfaltering determination to be popular; Finn (Cory Monteith), the heartbreakingly cool quarterback who struggles with his personal life; Kurt (Chris Colfer), the baby-faced soprano with a fierce eye for fashion; Mercedes (Amber Riley), a powerhouse vocalist whose diva attitude rivals the greats; Artie (Kevin McHale), a physically disabled performer with killer vocals and a dream to dance; and Tina (Jenna Ushkowitz), a goth chick with a soft side. There's also arrogant and cocky crooner Puck (Mark Salling); ice-cold queen-bee-turned-teen-mom Quinn (Dianna Agron); and the dynamic dimwitted cheerleading duo of Brittany (Heather Morris) and Santana (Naya Rivera).
Release History
Glee: The Complete second Season was released on September 13 in the US, September 19 in the UK and October 5 in Australia.
DVD Content
Disc 1
Special Features:
Disc 2
Special Features:
Disc 3
Special Features:
Glee Music Jukebox
Getting Waxed with Jane Lynch
The Wit of Brittany
Glee at Comic-Con 2010
Disc 4
Special Features:
Disc 5
Special Features:
Disc 6
Special Features:
Glee Music Jukebox
Building Glee's auditorium with Cory Monteith
A Day in the Life of Brittany
Shooting Glee in New York City
Guesting on Glee
Stevie Nicks goes Glee
Sue's Quips
Santana's Slams
Gallery
Videos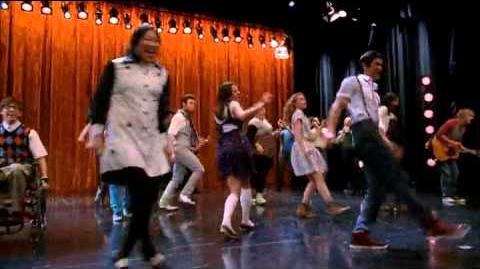 Ad blocker interference detected!
Wikia is a free-to-use site that makes money from advertising. We have a modified experience for viewers using ad blockers

Wikia is not accessible if you've made further modifications. Remove the custom ad blocker rule(s) and the page will load as expected.