Glee: The Music, The Power of Madonna
Comments

27
1,510pages on
this wiki
Glee: The Music, The Power of Madonna
EP by Glee Cast
Released
April 20, 2010
Recorded
2010
Length
30:38 (Bonus track included)
Label
Columbia Records
Produced by
Ryan Murphy, Adam Anders
Glee: The Music, The Power of Madonna
was released on April 20, 2010 and contained songs from the
Season One
episode
The Power of Madonna
, in which all songs performed are covers of Madonna songs.
Reception
The album has been given mixed reviews from critics. Fraser McAlpine of the BBC gave the EP a mixed review, writing: "At its best, it's a loving homage; at worst it's like the re-made pop music retailers play in shops to avoid paying proper royalties." He felt that: "As they are essentially photocopies of the originals, the songs depend on the context of the show to make sense. So listening to the album on musical merits alone is close to pointless." Allmusic's Andrew Leahey rated the album 3.5/5, writing: "It's a short release, but it also holds its ground against the two albums that preceded it, namely because the material is so compatible with the show itself. Madonna's music has always thrived on drama, and it lends itself well to Glee's theater-pop approach, which tends to bring out the cheese in even the most serious of songs.
Track list
Glee: The Music, The Power of Madonna
#
Title
Writer(s)
Original Artist(s)
Length
1.
"Express Yourself" (Performed by Lea Michele, Amber Riley, Naya Rivera, Dianna Agron and Jenna Ushkowitz)
Madonna, Stephen Bray
Madonna
4:00
2.
"Borderline/Open Your Heart" (Performed by Lea Michele and Cory Monteith)
Reggie Lucas/Madonna, Gardner Cole, Peter Rafelson
Madonna
2:17
3.
"Vogue" (Performed by Jane Lynch)
Madonna, Shep Pettibone
Madonna
5:15
4.
"Like a Virgin" (Performed by Matthew Morrison, Jayma Mays, Naya Rivera, Cory Monteith, Jonathan Groff and Lea Michele)
Billy, Tom Kelly
Madonna
3:15
5.
"4 Minutes" (Performed by Chris Colfer and Amber Riley)
Madonna, Timbaland, Justin Timberlake, Nathaniel Hills
Madonna (feat. Justin Timberlake & Timbaland)
3:11
6.
"What It Feels Like For a Girl" (Performed by Cory Monteith, Mark Salling, Kevin McHale and Chris Colfer)
Madonna, Guy Sigsworth, David Torn
Madonna
4:31
7.
"Like a Prayer" (Performed by Lea Michele, Jonathan Groff, Cory Monteith, Chris Colfer and Amber Riley)
Madonna, Patrick Leonard
Madonna
5:15
iTunes Bonus Track
#
Title
Writer(s)
Original Artist(s)
Length
8.
"Burning Up" (Performed by Jonathan Groff)
Madonna
Madonna
3:05
Charts
Chart (2010)
Peak
position
AMPROFON Charts
34
ARIA Charts
10
Canadian Albums Chart
1
Irish Albums Chart
5
UK Albums Chart
4
U.S. Billboard 200
1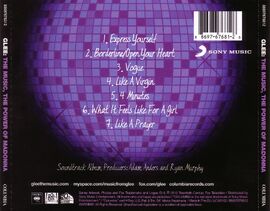 Trivia
It's the first album including songs from only one episode (The Power of Madonna).
It's the first album dedicated to a singer, Madonna in this case.
v - e - d
Albums
Season One
Glee: The Music, Volume 1 • Glee: The Music, Volume 2 • Glee: The Music, The Power of Madonna • Glee: The Music, Volume 3 - Showstoppers • Glee: The Music, Journey to Regionals • Glee: The Music, The Complete Season One • Glee: The Music, Best of Season One (UK and Netherlands exclusive)
Season Two
Glee: The Music, Volume 4 • Glee: The Music, The Rocky Horror Glee Show • Glee: The Music, The Christmas Album • Glee: The Music, Love Songs (Target exclusive) • Glee: The Music, Volume 5 • Glee: The Music, Volume 6 • Glee: The Music Presents The Warblers • Glee: The Music, Dance Party (Target exclusive) • Glee: The Music, The Complete Season Two
Season Three
Glee: The Music, The Christmas Album Volume 2 • Glee: The Music, Volume 7 • Glee: The Music, The Graduation Album • Glee: The Music, The Complete Season Three
Season Four
Britney 2.0 (EP) • Glee: The Music Presents Glease • Glee: The Music, Season 4, Volume 1 • Glee: The Music, The Christmas Album Volume 3
Miscellaneous
Glee: The 3D Concert Movie Motion Picture Soundtrack