Glee: The Music, Volume 4
Comments

29
1,510pages on
this wiki
Glee: The Music, Volume 4
Released
November 30, 2010 (USA)
Recorded
2010
Length
65:00
Label
Columbia
Produced by
Dante DiLoreto (exec.)
Brad Falchuk (exec.)
Adam Anders
Peer Åström
Tommy Faragher
Ryan Murphy
Glee: The Music, Volume 4 is an album that was released on November 30, 2010. It contained 18 songs, starting from Audition. Songs from The Rocky Horror Glee Show are not featured on the album, as they were already included on Glee: The Music, The Rocky Horror Glee Show (similar to the Season One episode, The Power of Madonna, as all those Madonna songs were released on a separate CD).
Reception
The album received mixed reviews from most critics. According to MTV News, "Empire State of Mind" lacked gravitas and the Washington Post thought it was "maybe-trying-too-hard." However, the latter also deemed "Billionaire" the best performance of the episode. Artists like Alicia Keys and Travie McCoy approved of their songs covered, while Spears was impressed with the cover of "Stronger" and Hayley Williams complimented Lea Michele's vocals on "The Only Exception" and Katy Perry praised Darren Criss' vocals for the a cappella version of "Teenage Dream" and Cee-Lo Green expressed flattery of Gwyneth Paltrow performing his song. 
Chart Performance
The album charted at number five on the Billboard 200 and number two on the Billboard Soundtrack Charts.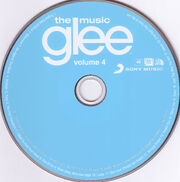 Tracklist
Glee: The Music, Volume 4
#
Title
Writer(s)
Original Artist(s)
Length
1.
"Empire State of Mind" (Performed by Kevin McHale, Mark Salling, Cory Monteith, Amber Riley,Naya Rivera, and Lea Michele)
Angela Hunte, Alicia Keys, Jane't Sewell, Jay-Z, Sylvia Robinson
Jay-Z feat. Alicia Keys
4:37
2.
"Billionaire" (Performed by Chord Overstreet, Mark Salling and Kevin McHale)
Travie McCoy, Bruno Mars, Ari Levine, Philip Lawrence
Travie McCoy feat. Bruno Mars
3:31
3.
"Me Against the Music" (Performed by Heather Morris and Naya Rivera)
Britney Spears, Madonna, Christopher Stewart, Penelope Magnet, Thabiso Nikhereanye, Terius Nash, Gary O'Brien
Britney Spears feat. Madonna
3:45
4.
"Stronger" (Performed by Kevin McHale)
Max Martin, Rami
Britney Spears
3:23
5.
"Toxic" (Performed by Matthew Morrison, Lea Michele, Heather Morris, Jenna Ushkowitz and Naya Rivera)
Cathy Dennis, Henrik Jonback, Christian Karlsson, Pontus Winnberg
Britney Spears
3:24
6.
"The Only Exception" (Performed by Lea Michele)
Hayley Williams, Josh Farro
Paramore
4:26
7.
"I Want to Hold Your Hand" (Performed by Chris Colfer)
John Lennon, Paul McCartney
The Beatles
2:36
8.
"One of Us" (Performed by Jenna Ushkowitz, Cory Monteith, Chris Colfer, Lea Michele, Amber Riley and Dianna Agron)
Eric Bazilian
Joan Osborne
4:01
9.
"River Deep, Mountain High" (Performed by Amber Riley and Naya Rivera)
Phil Spector, Jeff Barry, Ellie Greenwich
Ike & Tina Turner
3:32
10.
"Lucky" (Performed by Chord Overstreet and Dianna Agron)
Jason Mraz, Colbie Calliat, Timothy Fagan
Jason Mraz & Colbie Calliat
3:07
11.
"One Love (People Get Ready)" (Performed by Mark Salling and Kevin McHale)
Bob Marley, Curtis Mayfield
Bob Marley & The Wailers
2:34
12.
"Teenage Dream" (Performed by Darren Criss)
Katy Perry, Bonnie McKee, Benjamin Levin, Max Martin, Lukasz Gottwald
Katy Perry
3:40
13.
"Forget You" (Performed by Gwyneth Paltrow, Amber Riley, Kevin McHale and Naya Rivera)
Cee Lo Green, Bruno Mars, Philip Lawrence, Ari Levine, Brody Brown
Cee Lo Green
3:41
14.
"Marry You" (Performed by Cory Monteith, Lea Michele, Chord Overstreet, Dianna Agron, Heather Morris, Kevin McHale, Jenna Ushkowitz and Harry Shum Jr.)
Bruno Mars, Philip Lawrence, Ari Levine
Bruno Mars
3:44
15.
"Sway" (Performed by Matthew Morrison)
Pablo Beltran Ruiz
Pablo Beltran y Su Orchestra
3:09
16.
"Just the Way You Are" (Performed by Cory Monteith)
Peter Hernandez, Philip Lawrence, Ari Levine, Khalil Walton, Khari Cain
Bruno Mars
3:40
17.
"Valerie" (Performed by Naya Rivera)
Dave McCabe, The Zutons
The Zutons
3:33
18.
"(I've Had) The Time of My Life" (Performed by Chord Overstreet, Dianna Agron, Amber Riley and Naya Rivera)
Franke Previte, John DeNicola, Donald Markowitz
Bill Medley & Jennifer Warnes
4:37
v - e - d
Albums
Season One
Glee: The Music, Volume 1 • Glee: The Music, Volume 2 • Glee: The Music, The Power of Madonna • Glee: The Music, Volume 3 - Showstoppers • Glee: The Music, Journey to Regionals • Glee: The Music, The Complete Season One • Glee: The Music, Best of Season One (UK and Netherlands exclusive)
Season Two
Glee: The Music, Volume 4 • Glee: The Music, The Rocky Horror Glee Show • Glee: The Music, The Christmas Album • Glee: The Music, Love Songs (Target exclusive) • Glee: The Music, Volume 5 • Glee: The Music, Volume 6 • Glee: The Music Presents The Warblers • Glee: The Music, Dance Party (Target exclusive) • Glee: The Music, The Complete Season Two
Season Three
Glee: The Music, The Christmas Album Volume 2 • Glee: The Music, Volume 7 • Glee: The Music, The Graduation Album • Glee: The Music, The Complete Season Three
Season Four
Britney 2.0 (EP) • Glee: The Music Presents Glease • Glee: The Music, Season 4, Volume 1 • Glee: The Music, The Christmas Album Volume 3
Miscellaneous
Glee: The 3D Concert Movie Motion Picture Soundtrack