Glee: The Music, Volume 7
Comments

558
1,511pages on
this wiki
Glee: The Music, Volume 7
Released
December 6, 2011
Recorded
2011
Length
53:14
Label
Columbia
Produced by
Ryan Murphy, Adam Anders
Glee: The Music, Volume 7 is a Glee album that features 15 songs from the first eight episodes of Glee's third season. This album is the second album to feature songsRefrom Season Three, the first being "Glee: The Music, The Christmas Album Volume 2". The exclusive Deluxe Edition is the third album was only released at Target (the first one was Glee: The Music, Love Songs and the second Glee: The Music, Dance Party). The album containes five bonus songs, just like Glee: The Music, Volume 3 - Showstoppers contained bonus songs.
The album was released on December 6th in North America, and was released on the 2nd of December in Australia.
Background
This album was confirmed to be separately released in standard and deluxe editions, but only appeared in a standard album that included fifteen songs consisting of sixteen covers (as one includes a mash-up of Adele). A version at Target features five bonus tracks for a total of twenty songs, although not marketed as a deluxe edition.
Reception
The album was given favorable reviews, Heather Phares of Allmusic gave the album a rating of three out of five stars, stating that the show's "music is as reliable as ever, a mix of traditional glee club favorites with some seemingly risky choices thrown in for good measure."
Tracklist
Glee: The Music, Volume 7
#
Title
Writer(s)
Original Artist(s)
Length
1.
"You Can't Stop the Beat (Performed by Lea Michele, Cory Monteith, Chris Colfer, Jenna Ushkowitz, Kevin McHale and Amber Riley)"  
Marc Shaiman, Scott Wittman
Cast of Hairspray
3:43
2.
"It's Not Unusual (Performed by Darren Criss)"  
Les Reed, Gordon Mills
Tom Jones
2:05
3.
"Somewhere (Performed by Lea Michele and Idina Menzel)"  
Leonard Bernstein, Stephen Schwartz
Cast of West Side Story
2:51
4.
"Run the World (Girls) (Performed by Heather Morris and Naya Rivera)"  
Terius Nash, Beyoncé Knowles, Wesley Pentz, David Taylor,Adidja Palmer, Nick van de Wall
Beyoncé
4:00
5.
"Fix You (Performed by Matthew Morrison and Kevin McHale)"  
Chris Martin, Jonny Buckland, Guy Berryman, Will Champion
Coldplay
4:35
6.
"Last Friday Night (Performed by Darren Criss and Kevin McHale)"  
Katy Perry, Lukasz Gottwald, Max Martin, Bonnie McKee
Katy Perry
3:48
7.
"Uptown Girl (Performed by Curt Mega, Eddy Martin and Grant Gustin)"  
Billy Joel
Billy Joel
3:01
8.
"Tonight (Performed by Lea Michele and Darren Criss)"  
Leonard Bernstein, Stephen Sondheim
Cast of West Side Story
2:51
9.
"Hot for Teacher (Performed by Mark Salling, Cory Monteith, Darren Criss and Harry Shum Jr.)"  
Eddie Van Halen,David Lee Roth,Michael Anthony, Alex Van Halen
Van Halen
4:46
10.
"Rumour Has It/Someone Like You (Performed by Amber Riley, Naya Rivera and Heather Morris)"  
Adele, Ryan Tedder/Adele, Dan Wilson
Adele
3:29
11.
"Girls Just Want to Have Fun (Performed by Cory Monteith and Kevin McHale)"  
Robert Hazzard
Cyndi Lauper
2:43
12.
"Constant Craving (Performed by Naya Rivera, Idina Menzel and Chris Colfer)"  
k.d. lang, Ben Mink
k.d. lang
4:38
13.
"ABC (Performed by Jenna Ushkowitz, Harry Shum Jr., Chris Colfer and Dianna Agron)"  
Berry Gordy, Freddie Perren, Alphonzo Mizell and Deke Richards
The Jackson 5
2:54
14.
"Control (Performed by Dianna Agron, Darren Criss and Kevin McHale)"  
James Harris III, Terry Lewis, Janet Jackson
Janet Jackson
3:56
15.
"Man in the Mirror (Performed by Cory Monteith, Mark Salling, Chord Overstreet, Kevin McHale, Darren Criss and Harry Shum Jr.)"  
Siedah Garrett, Glen Ballard
Michael Jackson
4:06
Target Exclusive Tracklisting
#
Title
Writer(s)
Original Artist(s)
Length
7.
"Take Care of Yourself (Performed by Damian McGinty)"  
Teddy Thompson
Teddy Thompson
3:13
8.
"Uptown Girl (Performed by Curt Mega, Eddy Martin and Grant Gustin)"  
Billy Joel
Billy Joel
3:01
9.
"Tonight (Performed by Lea Michele and Darren Criss)"  
Leonard Bernstein, Stephen Sondheim
Cast of West Side Story
2:51
10.
"Hot for Teacher (Performed by Mark Salling, Cory Monteith, Darren Criss and Harry Shum Jr.)"  
Eddie Van Halen,David Lee Roth,Michael Anthony, Alex Van Halen
Van Halen
4:46
11.
"Rumour Has It/Someone Like You (Performed by Amber Riley, Naya Rivera and Heather Morris)"  
Adele, Ryan Tedder/Adele, Dan Wilson
Adele
3:29
12.
"Perfect (Performed by Chris Colfer and Darren Criss)"  
Pink, Max Martin, Johan Schuster
Pink
3:31
13.
"I'm the Only One (Performed by Mark Salling)"  
Melissa Etheridge
Melissa Etheridge
4:26
14.
"Girls Just Want to Have Fun (Performed by Cory Monteith and Kevin McHale)"  
Robert Hazzard
Cyndi Lauper
2:43
15.
"I Kissed a Girl (Performed by Lea Michele and Naya Rivera)"  
Katy Perry, Lukasz Gottwald, Max Martin, Cathy Dennis
Katy Perry
3:00
16.
"Constant Craving (Performed by Naya Rivera, Idina Menzel and Chris Colfer)"  
k.d. lang, Ben Mink
k.d. lang
4:38
17.
"Red Solo Cup (Performed by Chord Overstreet, Cory Monteith, Dianna Agron, Jenna Ushkowitz and Harry Shum Jr.)"  
Brett Beavers, Jim Beavers, Brad Warren, Brett Warren
Toby Keith
3:41
18.
"ABC (Performed by Jenna Ushkowitz, Harry Shum Jr., Chris Colfer, and Dianna Agron)"  
Berry Gordy, Freddie Perren, Alphonzo Mizell and Deke Richards
The Jackson 5
2:54
19.
"Control (Performed by Dianna Agron, Darren Criss and Kevin McHale)"  
James Harris III, Terry Lewis, Janet Jackson
Janet Jackson
3:56
20.
"Man in the Mirror (Performed by Cory Monteith, Mark Salling, Chord Overstreet, Kevin McHale, Darren Criss and Harry Shum Jr.)"  
Siedah Garrett, Glen Ballard
Michael Jackson
4:06
Charts
| Chart (2011) | Position |
| --- | --- |
| Australian Singles Chart (ARIA) | 18 |
| Irish Singles Chart | 41 |
| Netherlands Singles Chart (MegaCharts) | 65 |
| Recording Industry Association of New Zealand | 25 |
| UK Singles Chart | 55 |
| U.S. Billboard Hot 100 | 9 |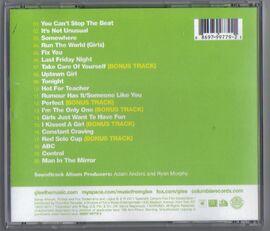 v - e - d
Albums
Season One
Glee: The Music, Volume 1 • Glee: The Music, Volume 2 • Glee: The Music, The Power of Madonna • Glee: The Music, Volume 3 - Showstoppers • Glee: The Music, Journey to Regionals • Glee: The Music, The Complete Season One • Glee: The Music, Best of Season One (UK and Netherlands exclusive)
Season Two
Glee: The Music, Volume 4 • Glee: The Music, The Rocky Horror Glee Show • Glee: The Music, The Christmas Album • Glee: The Music, Love Songs (Target exclusive) • Glee: The Music, Volume 5 • Glee: The Music, Volume 6 • Glee: The Music Presents The Warblers • Glee: The Music, Dance Party (Target exclusive) • Glee: The Music, The Complete Season Two
Season Three
Glee: The Music, The Christmas Album Volume 2 • Glee: The Music, Volume 7 • Glee: The Music, The Graduation Album • Glee: The Music, The Complete Season Three
Season Four
Britney 2.0 (EP) • Glee: The Music Presents Glease • Glee: The Music, Season 4, Volume 1 • Glee: The Music, The Christmas Album Volume 3
Miscellaneous
Glee: The 3D Concert Movie Motion Picture Soundtrack