Ad blocker interference detected!
Wikia is a free-to-use site that makes money from advertising. We have a modified experience for viewers using ad blockers

Wikia is not accessible if you've made further modifications. Remove the custom ad blocker rule(s) and the page will load as expected.
Glee Live! In Concert!
is the debut concert tour by the cast of the FOX television series 
Glee
in 2010 and 2011.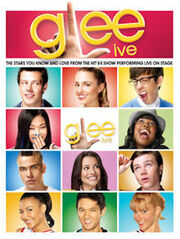 Background
Plans for a Glee tour was first announced in September 2009, described by series creator Ryan Murphy as an additional revenue stream for Fox. The tour was officially confirmed by Fox on March 1, 2010, when Murphy stated: "The response of the fans to our little show has been so immediate and so gratifying, we wanted to get out and thank them live and in person. And what show lends itself more to a concert than Glee?." Series star Lea Michele commented: "This has been such an extraordinary year for Glee and I can't think of a better way to finish up the first season than performing live on stage with the cast."
In June–July 2011, Glee Live had its first UK and Ireland tour, including two dates at London's O2 Arena. A movie of this tour was released in August: Glee: The 3D Concert Movie.
Concert Schedule
| Date | Place | Venue |
| --- | --- | --- |
| May 15 | Phoenix, AZ | Dodge Theatre |
| May 26 | Phoenix, AZ | Dodge Theathre |
| May 20 | Los Angeles, CA | Staples Center |
| May 21 | Los Angeles, CA | Staples Center |
| May 22 | Los Angeles, CA | Staples Center |
| May 25 | Rosemont, Il | Rosemont Theathre |
| May 26 | Rosemont, Il | Rosemont Theathre |
| May 28 | New York, NY | Radio City Music Hall |
| May 29 | New York, NY | Radio City Music Hall |
| May 30 | New York, NY | Radio City Music Hall |
Setlist
| Song Title | Original Artist | Performer(s) |
| --- | --- | --- |
| Don't Stop Believin' | Journey | Finn Hudson and Rachel Berry with New Directions |
| My Life Would Suck Without You | Kelly Clarkson | Finn Hudson and Rachel Berry with New Directions |
| Push It | Salt 'n Pepa | Artie Abrams, Finn Hudson, Mercedes Jones and Rachel Berry with New Directions |
| Don't Rain on My Parade | Cast of Funny Girl | Rachel Berry |
| Beautiful | Christina Aguilera | Mercedes Jones |
| Sweet Caroline | Neil Diamond | Noah Puckerman |
| The Boy Is Mine | Brandy and Monica | Mercedes Jones and Santana Lopez |
| Lady Is a Tramp | Cast of Babes in Arms | Mercedes Jones, Noah Puckerman, and Santana Lopez |
| Defying Gravity | Cast of Wicked | Kurt Hummel and Rachel Berry |
| Bust Your Windows | Jazmine Sullivan | Mercedes Jones with Cheerios |
| Bad Romance | Lady Gaga | Kurt Hummel, Quinn Fabray, Santana Lopez, and Tina Cohen-Chang with New Directions |
| Dancing with Myself | Generation X | Artie Abrams |
| It's My Life/Confessions Part II | Bon Jovi/Usher | Artie Abrams, Finn Hudson, and Noah Puckerman with New Directions Boys |
| Halo/Walking on Sunshine | Beyoncé/Katrina and the Waves | Mercedes Jones and Rachel Berry with New Directions Girls |
| Rehab | Amy Winehouse | Vocal Adrenaline |
| Mercy | Duffy | Vocal Adrenaline |
| Jump | Van Halen | Artie Abrams, Finn Hudson, Mercedes Jones, and Rachel Berry with New Directions |
| Faithfully | Glee | Finn Hudson and Rachel Berry |
| Any Way You Want It/Lovin' Touchin' Squeezin' | Journey | Artie Abrams, Finn Hudson, Kurt Hummel, Mercedes Jones, Noah Puckerman, and Rachel Berry with New Directions |
| Like a Prayer | Madonna | Finn Hudson, Kurt Hummel, Mercedes Jones, and Rachel Berry with New Directions and Choir |
| Hello | Lionel Richie | Jesse St. James and Rachel Berry |
| Over the Rainbow | Judy Garland | Noah Puckerman and Will Schuester |
Encore
Gallery
Videos