Glee Sings the Beatles
Glee Cast
Released
September 24, 2013
Recorded
2013
Label
Columbia Records
Produced by
Adam Anders and Ryan Murphy
Glee Sings the Beatles is a Glee music album. It features all the songs from the Season Five premiere Love, Love, Love and the second episode, Tina in the Sky with Diamonds (except Revolution), which were tributes to The Beatles.
The album was released on September 24, 2013, two days before the Season Premiere airdate on September 26.
Tracklist
Glee Sings the Beatles
#
Title
Original Artist(s)
Length
1.
"Yesterday" (Performed by Lea Michele)
The Beatles
2:33
2.
"Drive My Car" (Performed by Kevin McHale and Becca Tobin)
The Beatles
2:32
3.
"Got to Get You into My Life" (Performed by Darren Criss and Chris Colfer)
The Beatles
2:29
4.
"You've Got to Hide Your Love Away" (Performed by Kevin McHale and Becca Tobin)
The Beatles
2:43
5.
"Help!" (Performed by Darren Criss and Chord Overstreet)
The Beatles
2:18
6.
"A Hard Day's Night" (Performed by Lea Michele and Naya Rivera)
The Beatles
2:27
7.
"I Saw Her Standing There" (Performed by Jacob Artist, Blake Jenner, Darren Criss, and Chord Overstreet)
The Beatles
2:40
8.
"All You Need Is Love" (Performed by Darren Criss)
The Beatles
3:16
9.
"Get Back" (Performed by Lea Michele and Chris Colfer)
The Beatles
2:26
10.
"Here Comes the Sun" (Performed by Naya Rivera and Demi Lovato)
The Beatles
3:00
11.
"Something" (Performed by Chord Overstreet)
The Beatles
3:01
12.
"Sgt. Pepper's Lonely Hearts Club Band" (Performed by Alex Newell, Melissa Benoist, Jacob Artist, and Blake Jenner)
The Beatles
1:54
13.
"Hey Jude" (Performed by Jenna Ushkowitz, Chord Overstreet, Darren Criss, and Becca Tobin)
The Beatles
4:51
14.
"Let It Be" (Performed by Jenna Ushkowitz, Becca Tobin, Lea Michele, Kevin McHale, Naya Rivera, and Chris Colfer)
The Beatles
4:03
Charts
| Chart (2013) | Position |
| --- | --- |
| Australian Albums Chart | 48 |
| Irish Albums Chart | 92 |
| UK Albums Chart | 89 |
| US Billboard 200 | 38 |
| US Billboard Soundtracks | 2 |
Gallery
Videos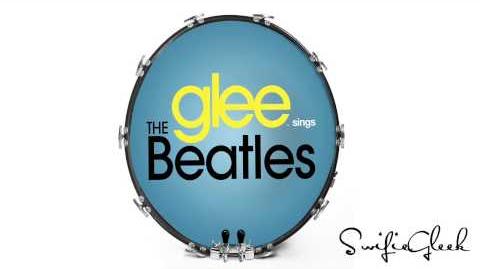 v - e - d
Albums
Season One
Glee: The Music, Volume 1 • Glee: The Music, Volume 2 • Glee: The Music, The Power of Madonna • Glee: The Music, Volume 3 - Showstoppers • Glee: The Music, Journey to Regionals • Glee: The Music, The Complete Season One • Glee: The Music, Best of Season One (UK and Netherlands exclusive)
Season Two
Glee: The Music, Volume 4 • Glee: The Music, The Rocky Horror Glee Show • Glee: The Music, The Christmas Album • Glee: The Music, Love Songs (Target exclusive) • Glee: The Music, Volume 5 • Glee: The Music, Volume 6 • Glee: The Music Presents The Warblers • Glee: The Music, Dance Party (Target exclusive) • Glee: The Music, The Complete Season Two
Season Three
Glee: The Music, The Christmas Album Volume 2 • Glee: The Music, Volume 7 • Glee: The Music, The Graduation Album • Glee: The Music, The Complete Season Three
Season Four
Britney 2.0 • Glee: The Music Presents Glease • Glee: The Music, Season 4, Volume 1 • Glee: The Music, The Christmas Album Volume 3 • Glee: The Music, The Complete Season Four
Season Five
Glee Sings the Beatles • The Quarterback • A Katy or A Gaga • Movin' Out • Glee: The Music, The Christmas Album Volume 4 • City of Angels • Glee: The Music, Celebrating 100 Episodes • New New York • Bash • Tested • Opening Night • The Back-Up Plan • Old Dog, New Tricks • The Untitled Rachel Berry Project
Season Six
Loser Like Me • Homecoming • Jagged Little Tapestry • The Hurt Locker • The Hurt Locker, Part 2 •
What The World Needs Now Is Love • Transitioning • A Wedding • Child Star • The Rise and Fall of Sue Sylvester •
We Built This Glee Club • 2009 • Dreams Come True
Miscellaneous
Glee: The 3D Concert Movie Motion Picture Soundtrack