Grant Gustin
Gender:
Male
Age:
23
Born:
January 14, 1990
Character:
Sebastian Smythe
Occupation:
Actor, Dancer, Singer
Years Active:
2003-present
Thomas Grant Gustin (born January 14, 1990), better known as Grant Gustin, is a 23-year-old American theater and television actor from Norfolk, Virginia. Grant portrays Sebastian Smythe, on FOX's hit TV show, Glee.
In January 2012 it was announced that he was being considered for regular status for Season Four, however there was no official confirmation of it. Despite this, he has only appeared in two episodes in Season Four, Dynamic Duets and Thanksgiving.
Life and career
Grant attended the Governor's School for the Arts in Norfolk, Virginia for Musical Theater. He went on to attend the BFA Music Theater Program at Elon University in North Carolina for two years. He left school to take the role of Baby John in the Broadway Revival Tour of West Side Story, and performed with the tour from its opening on September 30, 2010 through September 23, 2011.
On November 8, 2011, he debuted on the television series Glee as Sebastian Smythe, an openly gay member of the Dalton Academy Warblers. Gustin won the recurring role after "an exhaustive, weeks-long casting search", and Sebastian is referred to as "promiscuous" and "scheming". He began filming the role early on Monday, September 26, 2011, after having finished his final West Side Story (as Baby John Source) performance the Friday night before. In January 2012 he played a set of twins on episode 10x13 of CSI Miami along with Romy Rosemont.
On September 29th 2012, he played the main character, Chris Stewart, in a lifetime movie A Mother's Nightmare opposite Annabeth Gish and Jessica Lowndes. He will also make his film debut as the lead in an indie film called Affluenza. This film has been described as the modern day The Great Gatsby. Filming began in mid July and he finished in mid August.
On October 29th, it was announced that he will play a character called Campbell, a charming and good-looking college student from a wealthy and privileged background on CW's 90210. He will be appearing in multiple episodes. This would be the second time he will working with Jessica Lowndes.
Quotes
"That just broke my weird red carpet cherry."
"Cyberbullying is not cool. Even less cool than normal bullying. Anyone this applies to (you know who you are) STOP. You make me sick!"
"I had slushie practice with a dummy for that one scene. At first, they gave me water to practice the momentum, and then I practiced throwing water in a dummy's face probably a hundred times before I was allowed to throw a slushie."
"Darren would have to go through hair and make-up again if I messed up. They were riding me, so I felt a lot of pressure. Thank God I got it in one take."
"That was my intention..."
[after being asked who he would sing with] "Darren! I think we need a Sebastian/Blaine duet! That would be great."
[to Chris Colfer] "Happy birthday you beautiful man! Oh so sorry I'm missing the best themed birthday party ever. Good times upon my return?"
Trivia
He has an older brother named Tyler and a younger sister named Gracie.
He is very good friends with Kevin McHale.
He has a tattoo on his right forearm, that says "Love Above All Else", which he had done on March 13, 2012.
He was in West Side Story with Joey Haro who also portrays a Warbler.
He has a different tattoo, the state of Virginia with a star on the location of Norfolk as well as the area code "seven-five-seven", on his rib cage and his brother Tyler has a tattoo on the back of his shoulder.
He was a mentor on The Glee Project: Season 2.
Auditioned for Sebastian with I'm Yours by Jason Mraz and Crazy Little Thing Called Love by Queen.
He is 6'2" tall.
He is a self-confessed "mama's boy" according to his Twitter.
He's been performing since he was ten years old.
Superman is his favorite superhero.
He had highlights in his hair when he was younger.
His lucky number is 9.
Gallery
Videos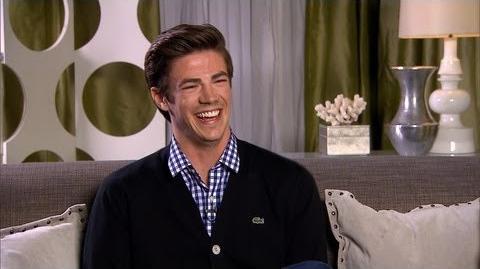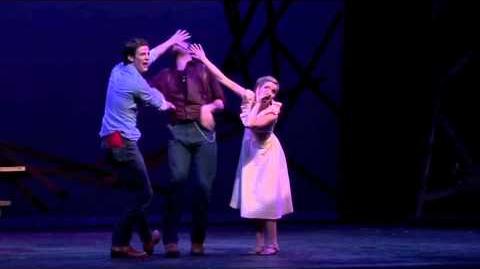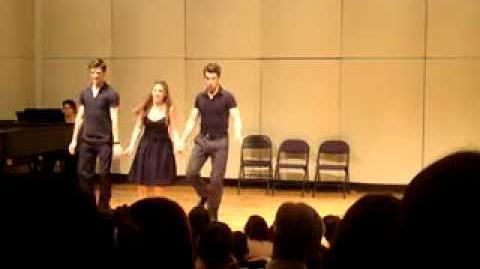 External links