Haverbrook School for the Deaf
Comments

23
1,510pages on
this wiki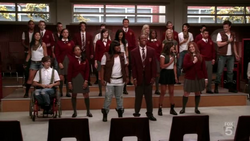 Haverbrook School for the Deaf is a fictional school on the television show Glee. It is located in Dayton, Ohio.
About
The earliest reference to Haverbrook is likely in the Season One episode Preggers, when Ken Tanaka says of the McKinley football team, "We gave up our pride when we lost to that school for the deaf."
The first definite mention of Haverbrook is in Vitamin D, when the names of New Directions' opponents for Sectionals are revealed. However, it is still referred to only as "School for the Deaf, in Dayton".
The school's show choir first appears onscreen in Hairography. After Will Schuester invites Jane Addams Academy to perform in the McKinley auditorium, Haverbrook's show choir director Dalton Rumba comes to McKinley to protest the lack of a similar invitation for his club. Will agrees to invite the Haverbrook show choir for a scrimmage at McKinley. After New Directions performs Hair/Crazy in Love, Haverbrook sings Imagine, enhancing it with sign language when they perform. Their effective yet non-gimmicky performance inspires Will to abandon the use of hairography in New Directions' choreography. He gives Sue Sylvester a revised set list, which Sue promptly leaks to Dalton Rumba and Jane Addams choir director Grace Hitchens.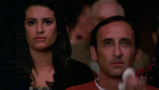 In the episode Sectionals, New Directions learns that their set list has been leaked when Haverbrook sings Don't Stop Believin' during the competition. In the judging room, Sectionals judge Candace Dystra bluntly criticizes Haverbrook's singing, though others in the audience (including fellow judge Rod Remington) were apparently quite moved. Based on the deliberation shown in the judge's room, it is thought that they came in third, but this was not made clear on the show.
They have were briefly mentioned in the Season Four episode, Makeover, during a meeting run by Mr. Schuester. Mr. Rumba mentions that their school lost its funding and the show choir is dismembered, leaving him sad and emotional.
Staff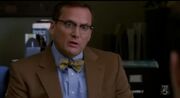 Gallery
Videos