This article has been nominated for deletion.




Please share your thoughts on the matter in the talk section below. For more information, visit candidates for deletion. Feel free to edit the article, but do not blank the article or remove this notice until the discussion is closed.
Henri St. Pierre is a character on Glee. He was a woodshop teacher who lost his thumbs during one of his projects. He joins the Acafellas on Will's insistence. After being under too much pressure, he downs cough syrup, resulting in him being sent to the emergency room and then to rehab. It is unknown what has happened to him ever since.
He is portrayed by John Lloyd Young.
Biography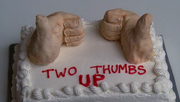 Henri only appears in this episode, as the woodshop teacher who just got back from the hospital after cutting his thumbs off. When he returns, he is given a cake baked by
Terri
 that says "Two Thumbs Up!," which only makes him more upset. After being sung
For He's a Jolly Good Fellow
by the others, he soon joins Will,
Ken
, and
Howard
 in a boy band called the "
Acafellas
." However, he quits soon after joining because he can't handle the pressure. He is said to have downed six bottles of cough syrup, causing him to be sent to the emergency room, and then directly to rehab. It is unknown whether he has returned to work yet or not, or whether he will make any future appearances.
Gallery
Ad blocker interference detected!
Wikia is a free-to-use site that makes money from advertising. We have a modified experience for viewers using ad blockers

Wikia is not accessible if you've made further modifications. Remove the custom ad blocker rule(s) and the page will load as expected.