Holly Holliday is a recurring character on Glee during the second and fifth seasons. She is a former substitute teacher, who worked at William McKinley High School. She seems to be able to teach many subjects such as Sex-Ed, English, History, Spanish, Math, and French.
She is portrayed by award winning actress Gwyneth Paltrow.
Biography
Personality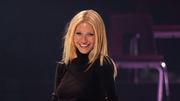 Holly Holliday is a laid back, 'cool' substitute teacher who replaced Will Schuester as both the Spanish teacher and the glee club director in Season Two, when Will was sick and unable to work. Not much is known about her, but it is revealed in Sexy that she can also teach Sex-Ed. Holly has a kind nature, as demonstrated when helping Santana admit her feelings for Brittany.
Songs
Total - 10
Gallery
Quotes
Main article: Holly's Quotations
Ad blocker interference detected!
Wikia is a free-to-use site that makes money from advertising. We have a modified experience for viewers using ad blockers

Wikia is not accessible if you've made further modifications. Remove the custom ad blocker rule(s) and the page will load as expected.