Julia Chang is the mother of Mike Chang, she made her first appearance in Asian F.
She is portrayed by Tamlyn Tomita.
Biography
Tina says that she and Mike often have dim sum with Julia. Tina also mentions that Julia had a salad which contained chicken feet last time they went.
Mike says that whenever he gets the flu, she makes him drink a traditional tea made of panda hair.
Her husband, Mike Chang Sr., disapproves of their son being a dancer. However, Julia is more supportive. She reveals that she once wanted to be a dancer, but gave up on her dream, and so she tells Mike not to give up on his. She supports Mike to audition for West Side Story, unlike his father.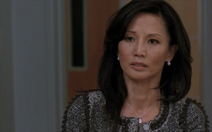 Julia watches Mike in the school production of West Side Story. Backstage, he smiles at her, and she smiles back, showing her pride in her son.
Mike mentions to Tina that his father has not talked to him or Julia since West Side Story. Later in the episode when Mike Chang Sr. changes his mind, says he and Julia will help him apply to the best dance schools.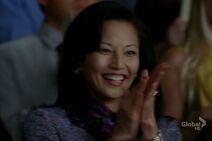 In Goodbye, Julia and her husband, Mike Chang Sr., attend her sons graduation ceremony at William McKinley High School. She can be seen standing beside her husband and Burt Hummel cheering with the others.
Trivia
Julia is named after Harry Shum Jr.'s mother.
Mike and Julia are very close when Mike starts to help her dance.
She passed down her dancing talent to her son.
She wanted to be a dancer when she was younger.