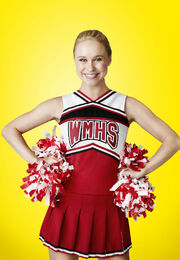 Kitty's Quotations are the quotations made by 
Kitty Wilde
, portrayed by
Becca Tobin
.
"

Kitty: My iced latte is too cold.
Kurt: It's an iced latte...
Kitty: It's an iced latte that is too cold.

"

—Kitty to Kurt, The New Rachel
"

We could handle gimpy and the tarantula head and Richie Poor because you guys were national champs like us, but our invitation was not extended to pre-op Precious based on the novel Barf by Sapphire, and Mike and Molly's daughter, as part of our crew.

"

—Kitty to the New Directions, The New Rachel
"

Y'all are sinners, and you'd better get right with God tout-de-suite because Jesus just logged onto Orbitz and booked himself a plane ticket back to Earth. See, he's got an awesome dad named God who's throwing him a bitchin' party called Armageddon, where he's gonna get to kick off his sandals, dance a little bit, and judge the crap out of everybody.

"

—Kitty to the Left Behind Club, The Break-Up
"

Heard they're opening up a new Ronald Mcdonald House in Lima, just for you and your Finger-licking, Lard-loving, Gilbert Grape-looking mama.

"

—Kitty to Marley, The Break-Up
"

You do not want to break up with me, okay? I am like a bad Carrie Underwood song once I get going.

"

—Kitty to Jake, The Break-Up
"

You're both gonna regret this turn of events because I will tell you one more thing: Obama's gonna lose.

"

—Kitty to Jake and Marley, The Break-Up
"

Jake: Who wants to have Justin Bieber hair?.
Kitty: Half black guys who can't grow it.

"
"

Well, Spray Tan, Hawk Nose, to quote Shakespeare, "There's no small parts, only fat actresses."

"
"

I'm confused... Are you playing the lead in Grease or Hairspray?

"
"

These are called fingers. Just stick them in your pie hole and Bingo!
You're magically super model thin forever.

"
"

Kitty: Jesus is the only almighty superhero.
Joe: Amen.
Kitty: Nobody asked you.

"

—Kitty and Joe, Dynamic Duets
"

Kitty: Every day I ask myself 'What would Quinn Fabray do?'
Quinn: It's really nice to know that people still remember me.
Kitty: Remember you? Oh no, we aspire to be you. Me especially.


"

—Kitty and Quinn, Thanksgiving
"

I realize Marley's super sweet, and I'm sure you have great conversations when you share milkshakes down at the drive-in about how you both love President Eisenhower, but good luck getting past first base with that girl.


"
"

Kitty: Look, I usually avoid dating Jewish guys, on account that you people are killing ma Jesus. I was willing to make an exception because of your biceps but I'm gonna end this little experiment in religious tolerance if you don't stop dancing like an idiot.
Puck: One night with me and you'll be studying for your Bat Mitzvah.
Kitty: Not a chance. I like bacon too much.


"

—Kitty and Puck, Sadie Hawkins
"

If you're done dancing like you lost your leg in a motorcycle accident, why don't we go back to my car and have at each other in the backseat?


"

—Kitty to Puck, Sadie Hawkins
"

Those Twilight books were poop on paper and we've turned them into a million dollar business.

"
"

Joe: I'd be willing to cut off some of my hair to earn some extra cash.
Kitty: To who, Jamaican kids with Rastafarian cancer or as riggin on a haunted pirate ship?

"
"

Now excuse me because just thinking about me and you dating makes me dryer than the cast of Hot in Cleveland.

"

—Kitty to Ryder, Shooting Star
"

Marley, when we were doing Grease I took in all of your costumes so that you'd you think you were fat.

"

—Kitty to Marley, Shooting Star
"

Please, nobody wants to hear a song about a fat mom, or a song about barfing, or a song about loving a octoroon.

"

—Kitty about Marley's original songs, Sweet Dreams
"

I don't know why I have such terrible luck with guys. It's probably because I come on really strong and pretend to be all slutty, and then I freeze up right away and get distant and drop weird hints that my vagina has teeth.

"

—Kitty to Ryder, Lights Out
"

I understand what it feels like to have something like that happen to you and feel like nobody understands. I guess I just wanted you to know that... I do.

"

—Kitty to Ryder, Lights Out
"

And for the record, and not that it's anyone's business, especially not yours, Tina Cohen-Agitator, I did wanna keep it 'hush-hush'.

"

—Kitty to Tina, Love Love Love
"

Artie: This Katy/Gaga lesson is killing me. It's like Mr. Shue did it on purpose to keep us apart.
Kitty: I don't think he plans that much ahead. I'm pretty sure he makes up these rando lessons a split second before he writes 'em on the board.

"

—Kitty and Artie, A Katy or A Gaga
"

All right you basic bitches!

"
"

Marley: Okay, I was just trying to be nice.
Kitty: I have a very low tolerance for nice. I may seem really cool and loving for a week or two, but then my body rejects it like a virus and I move back into my natural state of cruel, selfish insensitivity.

"

—Kitty to Marley, Puppet Master
"

Marley: I'm a virgin!
Kitty: To think nobody's tickled inside your musty mildew granny panties except for the family of crickets that nest in there.
Marley: Yeah well... You wear a smaller bra than me.


"
"

Kitty: Shocker. The virgin Marley gets to play the Virgin Mary. Aren't you worried about typecasting?
Marley: What's with the snark? I asked you to audition and you said...
Kitty: ...I didn't want it.
Marley: You obviously do. I don't get it. If this is something that is so important to you, maybe we can talk to Mr. Schue...
Kitty: Don't you get it? I'm a Christian, and I know what it means to have the Virgin Mary's spirit in your heart. I don't have it. And I don't deserve to be her. To tell you the truth, I'm more like Mary Magdalene.


"
"

Virgin in the house, bitches!

"
"

Unique: Unique will not be standing in the back swaying while you guys go all Three-yoncé in the spotlight.
Kitty: Why does everything you say have to sound like that?

"
Ad blocker interference detected!
Wikia is a free-to-use site that makes money from advertising. We have a modified experience for viewers using ad blockers

Wikia is not accessible if you've made further modifications. Remove the custom ad blocker rule(s) and the page will load as expected.