Kurt's Quotations are the quotations made by Kurt Hummel, portrayed by Chris Colfer.
Season One
"

Kurt: Is she gonna diva out after every rehearsal?
Will: Probably.

"

—Kurt and Will, referring to Rachel, Deleted scene from Pilot
"

Kurt: You and your friends threw pee balloons at me.
Finn: I know.
Kurt: You nailed my lawn furniture to my roof.

"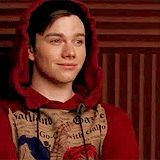 "

Did I miss the election for queen? Because I didn't vote for you.

"
"

Mercedes: This song is terrible.
Mr. Schuester: Okay, no, no. It's not the song, you guys just need to get into it.
Kurt: No, it's the song. It's really gay.

"

—Kurt, Mr. Schuester, and Mercedes, Showmance
"

Rachel: ...because we're gonna give them (students) what they want.
Kurt: Blood?

"
"

One day you will all work for me.

"
"

Kurt: You need to call me before you get dressed.
Mercedes: Whatever.
Kurt: You look like a Technicolor zebra.

"
"

You busted my window. How could you do that? You busted my window!

"
"

OK, stop it right there, Mercedes. We are in Glee club. That means we are the bottom of the social heap. Special Ed kids will get more play than we will.

"
"

Every moment of your life is an opportunity for fashion.

"
"

My dad bought it for me when he made me promise to stop wearing form-fitting sweaters that stop at the knee. [camera shows he is wearing one] What he doesn't know won't hurt him.

"
"

Mercedes: So, listen Kurt. This is like the third we've gone out, can't we just make it official?
Kurt: Make what official?
Mercedes: You know, that we're dating.
Kurt: I'm sorry Mercedes, but I thought I made it very clear. I'm in love with someone else.
Mercedes: [Watching Rachel and Finn]Rachel?
Kurt: Yes. For several years now.

"
"

It's OK. My Dad took my baby [car] away when he found my tiara collection in my hope chest.

"
"

Mercedes: Have you ever kissed anybody?
Kurt: Yes. If by somebody you mean the tender crook of my elbow.

"
"

Finn: Put your helmet on.
Kurt: It'll mess up my hair.

"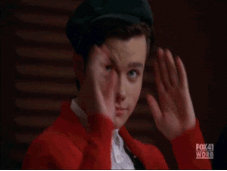 "

My body is like a rum chocolate souffle. If I don't warm it up right, it doesn't rise.

"
"

Hello. I'm Kurt Hummel and I'll be auditioning for the role of kicker.

"
"

Putting on night cream is part of my post-game ritual.

"
"

Emma: Kurt, I'm a girl who knows her solvents and your breath smells like rubbing alcohol.
Kurt: Oh, Bambi. I cried so hard when those hunters shot your mommy. (vomits)

"

—Kurt and Emma, The Rhodes Not Taken
"

I don't see how lightning is in competition with an above ground swimming pool.

"
"

Although I've been grouped with the boys, my allegiance remains with you ladies. They declined my offer to do their hair in cornrows, and all my artistic decisions have been derided as too costly because they involve several varieties of exotic bird feathers.

"
"

Someone get me to a day spa stat!

"
"

Mercedes: You are NOT gonna slushie on my man Kurt.
Rachel: Why wouldn't he? He's made his choice. He doesn't care about us losers anymore.
Finn: No, that's not true! It's just if I don't do it, the guys on the team are gonna kick the crap out of me!
Kurt: Well we can't have that, can we? [grabs the slushie from Finn]
Finn: What are you doing?
Kurt: It's called taking one for the team. [Splashes himself in the face with the slushie, and pauses]
Kurt: Now get out of here. And take some time to think whether or not any of your friends on the football team would have done that for you.

"
"

We all know I'm more popular than Rachel.. and I dress better than her.

"
"

Your lashing out at me is fantastically compelling and inappropriate.

"
"

Kurt: How do you explain the constant irritation with you. It's because she's a Girrrrrl.
Finn: I think it's the pregnancy hormones or something, they make her kinda nuts.
Kurt: It's enough to give up women all together. (giggle)

"
"

I don't know why I find his stupidity charming. I mean, he's cheating off a girl who thinks the square root of four is rainbows.

"
"

He was my knight-in-shining armor. My feelings lingered stronger as we bonded over Glee, then football, then skincare.

"
"

She's going to end up disappointing him and breaking his heart and then he'll be crying into my shoulder pads.

"
"

I can totally sing this song with Finn. But screw him if he thinks he's taking the Diana Ross part from me.

"
"

Girls, they're your problem. They're up, they're down. Girls.

"
"

Rachel manages to dress like a toddler and a grandmother at the same time.

"

—Kurt to Quinn, Hairography
"

You need something to distract from your horrible personality. Most of the time I find it hard to be in the same room with you, especially this one which looks like where Strawberry Shortcake and Holly Hobbie come to hook up.

"
"

Sometimes it's hard to appreciate what a good singer you are because all I think about is shoving a sock in your mouth.

"
"

Based on my investigation, I am of the opinion that a yearbook photo would only fuel the flames of anti-Glee club terror.

"
"

Kurt: I say we lock Rachel up till after sectionals. I volunteer my basement
Mercedes: We can't. We need her to sing.
Kurt:Damn her talent.

"

—Kurt and Mercedes, Sectionals
"

As much as it pains me to admit it, and it does, Rachel is the best singer we've got.

"
"

Will: (While drawing a stick figure on the board.) Hello. (Turns around to face the students.) Hello?
New Directions Members: (Scattered and in different tones.) Hello.
Will: What do you guys say when you answer the phone?
Mercedes: What up?
Artie: Who 'dis be?
Kurt: No she's dead, this is her son.

"

—Will Schuester, Mercedes Jones, Artie Abrams, and Kurt Hummel, "Hell-O"
"

Mercedes is black. I'm gay. We make culture.

"
"

Will: Hey, guys, how's your assignment coming along?
Mercedes: Amazing! You know how Madonna reinvented the video, right?
Will: Right.
Mercedes: Well, we got Artie and the A/V Club to help out. We're gonna make a Madonna video of our own.
Kurt: It's gonna be "Madge"-ical. (Kurt laughs, but Mercedes looks confused) "Madge.".. (Mercedes shakes her head) You know, Madonna's nickname. Girl, you really gotta get up to speed with this.

"

—Kurt, Mercedes and Will, The Power of Madonna
"

"You both have dead spouses. Maybe you should talk.

"
"

"Rachel and Jesse refuse to accept that all of us would rather die before we allow them to become the next Beyonce and Jay-Z.

"
"

"We're as menacing as Muppet Babies.

"
"

Kurt: (about Quinn's Lady Gaga costume) You look like you should be in orbit.
Tina: My balls keep falling off.
Kurt: I've been there.

"

—Kurt and Tina, Theatricality
"

I'm so depressed I've worn the same outfit twice this week.

"
"

Will: We could steal their school statue.
Kurt: Their school statue is a bronze Great White Shark, eating a seal pup. It weighs three tons.

"

—Kurt to Will, after a suggestion to prank Vocal Adrenaline, Funk
"

Mr. Schue, Rachel is one of us. We're the only ones who get to humilate her!

"
Season Two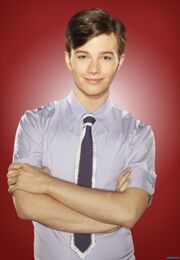 "

Kurt: You know what Jacob? It doesn't take much courage for people to park their cottage cheese behinds in their Barkaloungers and log onto the Internet and start tearing people down, does it. But you know what does take some courage? Standing up and singing about something. So here's a message for everyone that reads your blog. Next time, instead of posting an anonymous comment online, say what you have to say TO MY FACE!!
Azimio: (throws slushie in Kurt's face) Welcome back, Lady!
Kurt (to Jacob): I don't suppose you could just cut out that last part, is there?

"
"

We get it Mr. Schue. Everyone still hates us. So what? So we're plankton on the high school food chain. The only difference now is that none of us really care.

"
"

Mercedes: Is that a men's sweater? (The sweater in question clearly is not.)
Kurt: Fashion knows no gender.

"
"

Kurt: Geesh! Let loose will ya! STOP BEING SO FREAKIN' UPTIGHT ALL THE TIME!!!! Will: Kurt, I will see you in the principal's office.

"

—Kurt (To Will), Britney/Brittany
"

(seeing Rachel has blue teeth) Kurt: Oh My God

"
"

There's a burgeoning Facebook campaign that has swelled to over FIVE members. Their ardent demand? That this week, at the fall homecoming assembly, the McKinley High School Glee Club perform a number by -- wait for it -- Ms. Britney Spears!"

"
"

Burt: And last week you had to camp out early so you could be first in line for those Grey's Anatomy DVDs.
Kurt:"SEASON SIX Dad."

"

—Kurt and Burt, -Grilled Cheesus
"

Sorry, uh, but if I wanted to sing about Jesus I'd go to church. And the reason I don't go to church is because most churches don't think very much of gay people. Or women. Or science.

"
"

"You can't prove there isn't a magic teapot floating around the dark side of the moon with a dwarf inside of it that reads romance novels and shoots lighting out of its boobs, but it seems pretty unlikely, doesn't it"?

"
"

Thank you Mercedes. Your voice is stunning but I don't believe in God... You've all professed your beliefs, I'm just stating mine. I think God is kind of like Santa Claus for adults. Otherwise, God is kind of a jerk, isn't he? I mean, he makes me gay and then he has his followers going around telling me it's something that I chose. As if someone would choose to be mocked every single day of their life. And right now I don't want a heavenly father, I want my real one back.

"
"

I'm very impressed with everyone's Sunday best. It's so Christ-chic. I hope our genuflection to the great Spaghetti Monster in the sky doesn't take too long...

"

—Kurt to Mercedes, -Grilled Cheesus
"

I don't believe in God, dad. But I believe in us.

"
"

Rachel: I think you and I are more similar than you think.
Kurt: That's a terrible thing to say.

"
"

He's on Team Gay. No straight boy dyes his hair to look like Linda Evangelista circa 1993.

"
"

Rachel: Hey, I have something I want to talk to you about.
Kurt: Please, not another pregnancy.

"
"

When you're different, when you're special, sometimes you have to get used to being alone.

"
"

I have three gifts: My voice, my ability to spot trends in men's fashion and my ability to know when it comes from a bottle.

"
"

Finn: You can't do this to him.
Kurt: You're overreacting.
Finn:If he sings with you, you're painting a bull's eye on his back.
Kurt: Once again your closeted homophobia seeps in the surface on the contents of a cracked cesspool.

"
"

Sam: Aren't duets supposed to be like, between a girl and guy?
Kurt: Well, Gene Kelly and Donald O'Connor would protest.
Sam: Who?
Kurt: Make'em Laugh? Singing in the Rain?
Sam: (looks confused) Sorry.
Kurt: 1952? Nothing? Okayyyyyyy, maybe you are straight.

"
"

Don't worry, I'm not going to go all Shawshank on you.

"
"

Kurt: You know they make shampoo for color treated hair.
Sam: I don't die my hair!
Kurt: Uh-huh.

"
"

No. There is no way I'm playing a transvestite in high heels and fishnets and wearing lipstick.

"
"

You, like everyone else at this school, are too quick to let homophobia slide. And your lessons plans are boring and repetitive.

"
"

It's very civilized for you to invited me for coffee before you beat me up for spying.

"

—Kurt (after being caught at Dalton's), Never Been Kissed
"

There's this Neanderthal who's made it his mission to make my life a living hell - and no one seems to notice.

"

—Kurt (to Blaine), Never Been Kissed
"

You can't punch the gay out of me any more than I can punch the ignoramus out of you.

"
"

Kurt: Hey, You! I am talking you!
Dave: Girl's locker room is next door.
Kurt: What is your problem?
Dave: 'Scuse me?
Kurt: What are you so scared of?
Dave: Besides you sneaking in here to peek at my junk?
Kurt: Oh, yeah, every straight guys nightmare that all us gays are out to secretly molest and convert you. Well guess what hamhock. You're not my type!
Dave: That right?
Kurt: Yeah. I don't date chubby boys who sweat too much and are going to be bald by the time they are 30.
Dave: (holds up fist) Do not push me Hummel.
Kurt: You gonna hit me? Do it.
Dave: (angrier) Don't push me!
Kurt: Hit me cause it's not gonna change the way I am. You can't punch the gay out of me more than I can punch the ignoramus out of you!
Dave: GET OUTTA MY FACE!
Kurt: You are nothing but a little boy who can't handle how extraordinarily ordinary you are!
(Dave Kisses Kurt) (Dave attempts to Kiss Kurt again and is pushed away)
Dave: UGH! (Dave leaves, leaving Kurt shocked.)

"
"

Ms. Holliday's right. Mr. Schuester's set list sometimes makes it seem like he hasn't listened to the radio since the 80s.

"
"

You smell homeless, Brett. Homeless.

"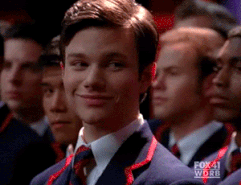 "

Kurt: On the count of three, name your favorite 2010 Vogue cover. 1...2...3!
Blaine and Kurt (together): Marion Cotillard!
Blaine: (gushes) Oh my god, stop it!
Kurt: I know, I know. She's AMAZING!
Blaine: She's Amazing!

"

—Kurt and Blaine, The Substitute
"

Kurt: Gay, gay, gay, gay, gay, gay, gay, gay...
Blaine: Gay, gay...
Kurt: Oh my God, I opened my mouth and a little purse fell out! How'd that get there?
Blaine: That's so gay!

"

—Kurt and Blaine (in Mercedes imagination), The Substitute
"

Long story short – you're having a Glee wedding!

"
"

I will take care of it from here. I have a trunk full of wedding magazines hidden under my bed. I'm thinking of a russet and cognac theme. Those are colors, Finn. Fall wedding colors.

"
"

Finn: Are you sure we should free 300 live doves indoors? Won't that get messy?
Kurt: That's why we feed them glitter.

"
"

Trust me on this. I've been planning weddings since I was 2. My Power Rangers have gotten married and divorced in so many combinations it's like they're Fleetwood Mac.

"
"

Kurt: How come you were never this nice to me before?
Rachel: You were my only REAL competition.
Kurt: (smiles) True, true.

"

—Kurt and Rachel, Special Education
"

Mr. Schuester: Who's that? Someone special? Kurt: Just a friend. But on the upside, I'm in love with him and he's actually gay. I call that progress.

"
"

Why hasn't Finn told me anything about this? We live together. I bring him a glass of warm milk every night just in hopes that we'll have a little lady chat.

"

—Kurt to Rachel and Mercedes, The Sue Sylvester Shuffle
"

Blaine: Warm milk? Really?
Kurt: It's delicious.

"
"

Jeremiah: No one here knows I'm gay.
Kurt: Can I be honest?... Just with the hair, I think they do...(rolls his eyes)

"

—Kurt to Jeremiah, -Silly Love Songs
"

Kurt: So, it's just like 'When Harry Met Sally'. But I get to play Meg Ryan.
Blaine: Deal. (pauses) Don't they get together in the end?
Kurt: (smiles and ignores the question)

"

—Kurt and Blaine, -Silly Love Songs
"


Kurt: Are you not drinking?
Finn: No. Designated driver. What about you? Kurt: I'm still trying to impress Blaine. Can't get too sloppy.
[Blaine is seen dancing drunkenly]
Kurt: Clearly he doesn't have the same concern.

"
"

Bisexual is a term that gay guys in high school use when they want to hold hands with girls and feel like a normal person for a change.

"
"

Rachel: The date was lovely. We saw Love Story at the Revival Theatre - we even dressed up as the characters.
Kurt (sarcastically): That's not gay at all.

"
"

I don't doubt that you and Blaine would have a jolly good time shopping at Burberry's and arguing who would make the best Rum-Tum-Tugger, but there's something you and Blaine will never have and that's chemistry.

"
"

Blaine is the first of a long line of conflicted men that you will date, that will later turn out to be only the most flaming of homosexuals.

"
"

Rachel: Blaine and I have a lot in common.
Kurt: A sentiment expressed by many a hag about many a gay.

"
"

"I've tried watching those movies but I just get horribly depressed and I think about how they were all kids once, and how they all have mothers and - God, what would their mothers think of them and WHY would you get that tattoo there?"

"

—Kurt to Blaine, Sexy
"

Can I be really honest with you.. because it comes from a place of caring? Been there, done that!

"

—Kurt to Blaine
"

Kurt: Look, Blaine, I don't feel like we're the Warblers. I feel like we're 'Blaine and the Pips'.

"
"

(After Kurt and Blaine's first kiss)
Blaine: We should practice
Kurt: I thought we were. (Both boys lean in for another kiss)

"

—Kurt to Blaine, Original Song
"

Kurt: I just really, really wanted to win.
Blaine: You did win. So did I. We got each other out of all this. That's better than a lousy trophy, don't you think? (Blaine holds out his hand and Kurt takes it, and they walk away together)

"

—Kurt and Blaine at Pavarotti's funeral, Original Song
"

Oh, how I've missed your insanity.

"

—Kurt to Rachel, Rumours
"

Blaine Warbler will you go to Junior Prom with me?

"

—Kurt to Blaine, Prom Queen
"

Eat your heart out, Kate Middleton.

"

—Kurt, Prom Queen
"

Doesn't matter if they are yelling at me or whispering behind my back: they can't touch me. They can't touch us or what we have.

"

—Kurt, Prom Queen
"

I think the color is wrong. Let's go navy! It's chic and slimming.

"

—Kurt to Lauren, Prom Queen
"

Go with God, Satan... Santana.

"

—Kurt, Prom Queen
"

Jesse St. James totally Jesse St. Sucks!

"

—Kurt about Jesse, Funeral
"

She can be difficult, but, boy, can she sing.

"

—Kurt about Rachel, Funeral
"

We have to go in. Strike that, we have to break in.

"

—Kurt to Rachel, New York
"

Kurt: We all just looked at the top ten list for showcase and we all just went numb. And then Jesse just kept going on and on about how Rachel and Finn's kiss was what cost us nationals.
Blaine: While I do understand passion I do think that was unprofessional. Sorry keep going.
Kurt: And then we get back to the hotel, and Santana loses it.

"
"

Kurt: I mean, on the plane ride home it was completely silent, like no one said a word. We just sat there with our faces buried in our complimentary issues of SkyMall.
Blaine: Wait a second...I don't get it. You don't seem that sad at all.
Kurt: It was still amazing. I mean, I flew in a plane for the first time in my life, I had breakfast at Tiffany's, I sung on a Broadway stage.
Blaine: I love you.
Kurt: [swallows his coffee with a shocked expression on his face, then silent for a few seconds] I love you too. You know when you stop to think about it, Kurt Hummel's had a pretty good year.

"
Season Three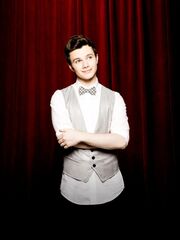 "

I want my senior year to be magic, and the only way that's gonna happen is if I get to spend every minute of every day with you.

"
"

I agree. That is like wearing a red dress to a bull fight.

"
"

Finn and Rachel's 'The Kiss That Missed' already has 20,000 views on YouTube. And the comments section is just full of pithy banter, like 'Why is that T-Rex eating the Jew?'

"

—Kurt about Finn and Rachel, The Purple Piano Project
"

Coach Beiste: Isn't that a Streisand song?
Kurt: Don't worry. I got written permission from the woman herself: Rachel Berry.

"

—Kurt and Coach Beiste , I Am Unicorn
"

I might as well have a big neon sign above my head that says 'gay-diddy-gay-gay-gay'.

"

—Kurt to Brittany, I Am Unicorn
"

I don't know if you've noticed, but no one's really looking for a Kurt Hummel type to play the opposite Kate Hudson in a rom com.

"

—Kurt to Burt, I Am Unicorn
"

If anyone else got Tony, including me, the wrath of Sondheim would fall upon William McKinley like a plague of Shubert Alley locusts.

"
"

Rachel: Sorry I'm late, I was putting up posters for...[sees Kurt glaring at her]...for my campaign.
Kurt: Did you airbrush out your jowls?

"

—Kurt and Rachel, Pot O' Gold
"

Rachel: I just really want to be your friend again.
Kurt: Well maybe you should have thought of that before you walked all over me on your borderline sociopathic climb to the top.

"
"

Finn: What happens when the Pope dies?
Kurt: Heaven, you'd think.

"
"

Kurt: I don't like you.
Sebastian: Fun... I don't like you either.
Kurt: I don't like the way you talk to my boyfriend, I don't like your smirky little meerkat face, I don't like your obnoxious CW hair. I'm on to you.
Sebastian: Let's get a few things straight, Blaine's too good for you, New Directions is a joke, and one of us has a hard luck case of the 'Gay Face' and it ain't me. Odds are by the end of the school year, I'll have Blaine and a Nationals trophy, and you'll have khakis and a Lima Bean apron and that gay face.
Kurt: You smell like Craigslist.

"

—Kurt and Sebastian, Hold on to Sixteen
"

Does he live here or something? Seriously, you are always here!

"
"

I take a lot of crap from a lot of people, but I refuse to take it from Sebastian, the criminal chipmunk.

"
"

Do you guys just, carry those around?

"
"

I'm sorry I didn't hear you, I was distracted by your giant horse teeth.

"
"

You give a bad name to the entire gay community.

"
"

Puck: We all know why we're here. I've waited 5 years for this. I want ideas for Senior Ditch Day, go!
Kurt: Oh, Gershwin song lines scavenger hunt!
Santana: That sounds like torture.
Puck: I want actual ideas, Kurt.
Mike: Footloose movie marathon. Footloose, Footloose 2011!
Mercedes: What about a non-alcoholic pub crawl?
Puck: It's Senior Ditch Day, not senior citizens ditch day.
Brittany: It's springtime, I'd like to see something give birth.


"

—Senior Class of WMHS 2012, Big Brother
"

Kurt: I'm starting from scratch. I need something fresh. I need something edgy. Something completely unpredictable. Or maybe I just need more candles. Blaine: Oh, God, no. No more candles.

"
"

Afterwards we're gonna make-out because your boobs look slightly bigger today for some reason

"
"

In this room, it doesn't matter if you're gay or straight. What matters is that we're friends.

"

—Kurt to New Directions, Goodbye
Season Four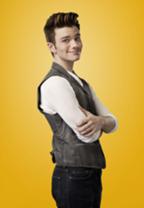 "

I feel like unexpected leather should be in the back pages of The Village Voice.

"
"

Kurt: You okay?
Rachel: I just want to go home.
Kurt: I thought this was home.
Rachel: It doesn't feel like it anymore.


"
"

What are you gonna tell me?
That it wasn't serious?
That you only made out?
That you didn't care about him.?
You think any of that matters to me?
Relationships are about trust. And I don't trust you anymore. I was stupid to come back.
Rachel's right . This isn't home anymore.

"
"

Kurt: You've said you're sorry a million times, and I believe you. And I'm trying to forgive you, but I'm just not there yet. But it's Thanksgiving and it's sectionals, and I miss you like crazy, and I can't stand not talking to you even though I'm mad at you, because you're still my best friend.
Blaine: You're mine, too.

"

—Kurt to Blaine, Thanksgiving
"

Why is your boyfriend's bare ass on one of my vintage flea market chairs?

"
"

Kurt: A year ago you were all plaid skirts and "Do you think Finn really likes me?" and now you're Slutty Barbie asking Misogynist Ken to move in with you, doing pornos. What's happening to you?


"
"

Hello, my name is Kurt Hummel and I'll be auditioning for the role of... NYADA student.

"

—Kurt, about Being Alive, Swan Song
"

You are a diva. And you have been a nightmare. But you're not a diva because you're a nightmare. You're a diva because you're talented, and ambitious, and because no one else in the world can do what you, Rachel Berry, can do. That's what being a diva's all about. Being an original. One of a kind. So hold the nightmare, but bring the diva.

"
"

Had I known I was gonna get groped in the back of a Prius, I would have brought a change of clothes. I'm gonna go in there looking like prom the morning after.

"
"

Did you vapo-rape my ex-boyfriend?! Don't you walk away from me Tina Cohen-Chang!

"
"

Mercedes: You do realize how trashy blasphemous this is, right?
Kurt: Mercedes, everyone hooks up at weddings.

"
"

Tina: I love you, Mike. I love all my exes. But this isn't wonderful news, it's shocking. Now we need some guy to help us dance? #Gleehatesgirls. And What are you here to lecture us about, Kurt? Our horrible tast in clothing?

Kurt: My dad has cancer.

Blaine: Thanks, Tina.

"

—Tina, Kurt and Blaine, Wonder-ful
Videos