Kurt Elizabeth Hummel
General Information
Gender:
Male
Age:
19
Hair Color:
Brown
Eye Color:
Glasz
Birthday:
May 27, 1994
Height:
5'11"
Address:
415 Whitman Avenue Lima, Ohio 45802
Occupation(s):
Former WMHS Student
Intern at Vogue.com
NYADA Student
Aliases:
Lady (Azimio, Sue)
Lance Bass (Puck)
Lady Hummel (Jacob, Santana, Brittany)
Gash (Dakota)
New Kid, Dummy, The Person I Love, The Single Most Interesting Kid In All Of Ohio, The Love Of My Life, Stranger, My Soulmate, My Ex (Blaine)
My Best Gay, Glinda, Gaylinda, Babe (Rachel)
Fancy, Homo, Ladyboy (David)
The Queen Freak (Azimio)
(Sweet) Porcelain, Kiddo, Gay Kid, Yasser, Eddie Munster, Gelfling, Tickle-Me-Dough-Face, Lady Face, Lady Trousers, Son of Burt 'Baboon Heart' Hummel, Porcelina, He/She, Twinkle Tush (Sue)
My Happy Happy Unicorn (Brittany)
The Mayor of Gaytown, Arm Gays (with Blaine), Baby (Mercedes)
Lady Lips, Teen Gay, Grandma, Prancy Smurf, Wonder Twin, Pretty Pony, Richard Simmons, Gay Winklevii Twin, Porcelain, Hardy Boys (with Adam), Lady Elaine Fairchilde (Santana)
Lady Fabulous (Tina)
Chazz Dolaldswoth (Fake ID)
Old Betty White (Sebastian)
The Pasty Faced Ghost Boy (Jesse)
Mr. Wedding Planner, Gay Hutch (Burt)
Certain young wedding planner (Minister)
Sassy Male Student (Figgins)
Garçon (Kitty)
My Friend (Isabelle)
Little Brother, My Gay Stepbrother (Finn)
Little Lord Gay Boy (Ryder in Artie's Dream)
Super Homo (Finn in Artie's Dream)
Kurt Elizabeth Hummel (himself)
Family & Friends
Family:
Burt Hummel (father)
Mrs. Hummel (mother; deceased)
Carole Hudson-Hummel (stepmother)
Finn Hudson (stepbrother)
Aunt Mildred
Uncle Andy
Relationships:
Adam Crawford (went on one date, details unknown)
Blaine Anderson (ex-boyfriend; in love with; sexual; best friends)
Chandler Kiehl (crusher, exchanged flirty texts)
Brittany Pierce (ex-beard; friends)
Tina Cohen-Chang (ex-beard; friends)
Finn Hudson (ex-crush; step-brothers)
Sam Evans (ex-crush; friends)
David Karofsky (crusher, kissed involuntarily)
Mercedes Jones (former crusher; friends)

Friends:
Blaine Anderson (best friend)
Mercedes Jones
Rachel Berry
Finn Hudson
Tina Cohen-Chang
Sam Evans
Quinn Fabray
Santana Lopez
Artie Abrams
Brittany Pierce
Mike Chang
Noah Puckerman
The Adam's Apples
Rory Flanagan
Lauren Zizes
Joe Hart
Matt Rutherford
Sugar Motta
David Karofsky
Wade "Unique" Adams
Isabelle Wright
Brody Weston
Kitty Wilde
Adam Crawford
Jake Puckerman
Marley Rose
Ryder Lynn
Pet(s):
Pavarotti (canary; deceased)
Employer:
Isabelle Wright
Enemies:
Sebastian Smythe
Harmony
Other Information
Interests:
Fashion
Music
Broadway
Clique:
New Directions

NYADA (New York)

Education:
Dalton Academy (Former)
William McKinley High School (Graduated)
NYADA (New York Academy of the Dramatic Arts).
Talent:
Singing, Fashion, Football, Piano, Acting,
Vulnerabilities:
Makeovers
Homophobia
Strengths:
Vocal range, flexibility, eye for fashion, keeping secrets, ability to know when it comes from a bottle
Weaknesses:
Bullies
Awards:
'09 Show Choir Sectionals, first place

'10 Show Choir Sectionals, first place tied '11 Show Choir Regionals, first place '11 Show Choir Sectionals, first place '12 Show Choir Regionals, first place '12 Show Choir Nationals, first place 2011 WMHS Prom Queen

Series Information
First appearance:
Pilot
Portrayer:
Chris Colfer
Adam Kolkin (Young Kurt)
Cory Monteith (Tina's Dream)
Kurt Elizabeth Hummel is a main character on Glee. He is an alumnus of William McKinley High School. Kurt is the first known openly gay student to attend McKinley. He is also a former member of the New Directions, the Dalton Academy Warblers, the McKinley Titans, and the Cheerios. He currently lives with his friends Santana Lopez and Rachel Berry in New York. Before and in Season One, he was living alone with his father, as Kurt's mother died when he was eight.
In Season Two Kurt transferred to Dalton Academy, due to being bullied by David Karofsky, because of his sexuality. It is at Dalton where he first meets Blaine. David was struggling coming to terms with his own sexuality at the time. However, he later returns to McKinley in the episode Born This Way. Kurt was in a relationship with Blaine Anderson starting in season two, but split at the end of The Break Up. During Season Four he moves in with Rachel Berry in New York and works at Vogue. He is now attending NYADA after he was accepted in Swan Song.
Kurt Hummel is portrayed by two-time Emmy nominee and Golden Globe winner, author, singer, and actor Chris Colfer. His middle name is Elizabeth and it was confirmed by Ryan Murphy via Twitter. 1
Biography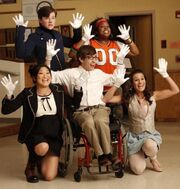 Kurt is introduced as an independent, stylish student at McKinley who often gets thrown into the dumpster. He auditions for the glee club with
Mr. Cellophane
after
Mr. Schuester
signs on as the new director. He is then accepted into the glee club and is seen singing
Sit Down, You're Rockin' The Boat
, the first song the glee club sings together. At the end of the episode Kurt is seen singing
Don't Stop Believin'
with the other new members.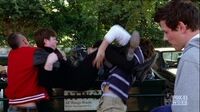 Kurt is first seen in the choir room practicing Freak Out with the rest of the glee club and calls the song "really gay." He is later seen when Rachel calls together the club to plan another number for the assembly, and sarcastically remarks that the school wants blood instead of the number that Mr. Schue wanted them to perform. He performs Push It with the club at the school assembly.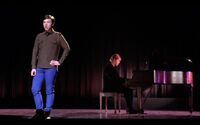 Kurt and Mercedes Jones form a friendship out of their fashion rivalry. Mercedes also develops a crush on Kurt. Kurt sees that Mercedes is lonely and he offers to cheer her up by taking her out shopping. The cheerleaders, driven to stir up some petty drama for the glee club, manipulate Mercedes into thinking that Kurt is straight and has feelings for her. When she confronts him about their relationship, Kurt, still closeted, lies to Mercedes and tells her that he has feelings for Rachel, although the subject of his real crush is Finn. Jealous and embarrassed, Mercedes throws a rock through the windshield of his car. When Kurt eventually tells her that he is gay, she asks why he wasn't honest with her. Kurt admits that he is afraid and does not want anyone other than her to know the truth of his sexuality.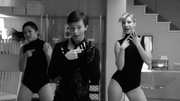 When Burt walks in on Kurt dancing to Single Ladies with Brittany Pierce and Tina Cohen-Chang, Kurt attempts to hide his sexuality by claiming that he has joined the football team and that he is dating Tina. Desperate to gain his father's approval, Kurt actually "auditions" for the team. Much to the surprise of Coach Tanaka, his father, and his teammates, Kurt turns out to be a spectacular place kicker and he scores the final point to win the first game of the season. The players lift Kurt onto their shoulders after the winning kick; he looks to the stands where his father is proudly shouting that Kurt is his son. After the game, Kurt nervously admits to his dad that he is gay. Burt reveals that he has known since Kurt was three and asked for a pair of "sensible heels" for his birthday. Even though he's not entirely comfortable with the situation, Burt reminds his son that he loves Kurt no matter what: that he will always support and be proud of him.
When former Glee club member April Rhodes joins the Glee club, Kurt is initially reluctant to accept her into the club but is moved to the point of tears after she performs Maybe This Time. April attempts to get him fully on her side by sneaking him alcohol (which he dislikes at first but accepts after she tells him it will give him courage) and vintage male muscle magazines, which he happily accepts. Emma Pillsbury, the school guidance counselor, eventually sees a haggard-looking Kurt walking through the hallway, drunk. Kurt mistakes her for Bambi and vomits on her shoes.
During a mash-off between the boys and the girls, Kurt tries to work with the girls, only for Mr. Schuester to make him cross back over. When the boys perform their mash-up rather enthusiastically, Kurt reveals to the girls that, still technically with them, that all the boys took pseudoephedrine tablets to enhance their performance. Kurt watches with great interest as the girls perform Halo/Walking on Sunshine.
Kurt is nicknamed "Gay Kid" by Sue when selecting kids for her glee club. Kurt performs Hate on Me with Sue's kids and later performs Ride wit Me and Keep Holding On.
Finn debates throwing a slushie on Kurt. Though his teammates will beat him up if he doesn't do it, Finn is torn. Eventually Kurt slushies himself and asks Finn if he thinks a football player would do that for him.
Mr. Schuester decides that one of the possible song selections for Sectionals will be Defying Gravity from the musical Wicked. Kurt is overjoyed at the idea of getting the chance to sing the song, but his hopes are dashed when Mr. Schuester immediately awards the solo to Rachel Berry. Kurt relays his disappointment to his father and a furious Burt storms down to the school, demanding his son be given the chance to at least audition for the part. Will agrees that it was unfair of him to ignore Kurt's interest in the piece and agrees to let both Rachel and Kurt audition for the solo. It is decided that the club members will vote for the winner, which worries Rachel because she knows that the rest of the students like Kurt better. Kurt, however, asks that the kids choose fairly on the merits of their musical talent, despite him being more popular and a better dresser. Before the competition takes place, Burt receives an anonymous phone call at work calling Kurt a fag. Kurt has intercepted similar calls for some time and is more disturbed at how badly his father takes the incident. Kurt, not wanting to give his father more grief by singing a girl's song in public, throws the high note during the audition. Burt is disappointed that his son took a dive for his sake but is touched by his actions, calling Kurt "strong" like his mother had been. Kurt responds by saying that his father is more important than stardom. Kurt later performs Proud Mary with the rest of the club.
When the Glee group is split into pairs and asked to sing ballads to their partners, Kurt and Finn are assigned as partners. Finn of course, is reluctant to pair with a boy, for fear of being pegged as gay. Kurt however, is overjoyed at the idea and attempts to flirt with Finn through the guise of friendship and giving advice for Finn's personal problems. His plan works in that he and Finn become closer friends, but backfires in other ways. In the end, Kurt hints to Finn that he has feelings for the other boy, with his ballad choice I Honestly Love You, but Finn seems to misunderstand.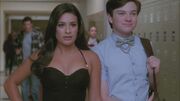 Kurt's feelings for Finn continue to lead him to behave in a manipulative fashion when he manipulates Rachel with false advice on how to win over Finn. He convinces her to take on a sultrier look, like the character Sandy in 
Grease
. While the look does get Finn's attention, Finn admits that he prefers Rachel as she normally is. Rachel then confronts Kurt, who admits that they are both in love with the same man and that as long as Quinn is in the picture, neither of them will ever have him—Kurt less so, because Finn isn't gay. In the end, although not quite friends, both have bonded over their shared heartbreak. Kurt is seen wearing a blonde wig and dancing with Quinn during the group performance of the mash-up
Hair/Crazy in Love
.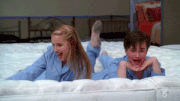 It is Kurt who suggests the group not fight the fact the glee club is cut from the yearbook, due to all the previous years' glee club photos being defaced by the rest of the student body. But in the end, the kids allow themselves to be photographed for the yearbook (which goes on to be defaced as usual). Kurt also joins the rest of the group in taping a mattress commercial. Kurt performs backup vocals during Jump.
After Sectionals, Kurt, along with the rest of the Glee club, feel elated at their victory and think that their social status will be elevated. This fantasy is quickly dashed, as he, Rachel and Mercedes all receive slushies to the face. At Glee rehearsal, the group is given the assignment of singing songs involving the word "Hello." When Mr. Schue asks the group how they say "hello" on the phone, Kurt gives the morbid response of "No, she's dead. This is her son." When the group later discovers that Rachel is dating the male lead of their rivals Vocal Adrenaline, Jesse St. James, it is Kurt who promises to kick Rachel out of Glee if she doesn't end things with him.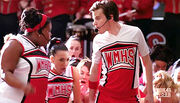 When Will grows concerned about how the boys are treating the girls, Kurt suggests that all of them perform Madonna numbers to strengthen the girls' sense of self-worth. Kurt is ecstatic along with the girls to perform Madonna's iconic works, and asks to be allowed to do a multimedia project with Mercedes in honor of Madonna. While working on their project, both witness
Sue Sylvester
insulting Will's hair again and are surprised to see Will knock the wind out of Sue by insulting her hairstyle. Sue is so shocked and hurt by the low-blow, she begins to assault and terrorize the students. Feeling bad for her, Kurt and Mercedes go and offer their make-over services to her in exchange for borrowing the male Cheerios for their Madonna project. Sue agrees and together the three of them recreate Madonna's Vogue music video under the direction of Artie. Despite the new looks they offer Sue, she decides in the end that she's better being herself and that rather than change herself, she changes everyone else. Starting with Kurt and Mercedes. She then extends an invitation to them to join the Cheerios, doing musical performances to the cheerleading routines. Seeing as neither Kurt nor Mercedes have gotten solos under Will's Glee guidance, they accept and decide to do both Glee Club and the Cheerios. Their first performance with the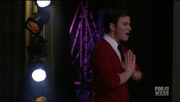 Cheerios is a sexy duet to Madonna's
4 Minutes
at a pep rally, shocking Will. He is not pleased by them "joining the enemy camp" asking if they could have warned him beforehand. Mercedes and Kurt however respond that he never warned them about passing them up for solos. In the end, Will has no choice but to accept their decision. At the end of the episode, Kurt and Mercedes receive solos in the episode's closing number,
Like a Prayer
.
Kurt again attempts to woo Finn with disastrous results, this time by manipulating their widowed parents. During Parent/Teacher Night, Kurt attends the function with his father, in the hopes of introducing him to Carole Hudson. His hope is that that if Burt and Carole connect, it would allow for him and Finn to grow closer, perhaps even move in together. The parents hit it off and soon begin dating. However, it is not until later that Finn discovers the relationship, leaving Kurt unprepared for Finn's angry rejection. In the hopes of convincing Finn otherwise, he sings the ballad A House Is Not a Home. Aside from Finn joining in for the bridge of the song, A House Is Not a Home is the first song since Mr. Cellophane that Kurt has performed entirely on his own. As part of his plan, Kurt plans a family night, where the Hudsons and Hummels would be allowed to get better acquainted. His plan however has an unexpected downside, as he find himself to be completely shut out of the conversation when Finn and his father begin talking sports, which Finn's mother gladly jumps in on. That evening, Burt confronts Kurt about his change in behavior, to which Kurt reveals how much it hurt to see his father connect so much better with Finn than with his own son. Kurt then dismisses his father, so as to avoid crying in front of him. Before leaving, however, Burt asks Kurt if he introduced him to Carole for Burt's sake or for something else, implying he suspects Kurt's attraction to Finn. Unable to deal with this, Kurt conspires with Finn to break their parents up. However, in the end, Finn comes to accept that Burt's relationship with his mother is beneficial to her, after seventeen years of being alone. Finn invites Burt to watch the basketball game with him, during which the two fall into a discussion of sports again. Both however are unaware of Kurt watching them from a nearby window outside crying. Alongside all of this, his relationship with Mercedes hits choppy waters when he suggests she needs to lose weight so she can keep herself on the Cheerios. He strongly desires to no longer be considered a loser, enjoying his interaction with the Cheerios, such as in the group's hatred of Rachel's personality, stating that "The Glee Club would rather die than see Rachel and Jesse be the new Beyoncé and Jay-Z." He is humbled, however, when Mercedes, thanks to the help of Quinn, realizes that she is fine the way that she is and proceeds to sing Beautiful at a pep rally, after which Kurt apologizes to her.
Kurt sneaks around Sue Sylvester's office and steals her video of Physical, in which she is doing exercises. It is immediately posted on YouTube by Finn. When the "Glist," a list of the hottest members of the Glee club, Kurt is upset to find that he (along with Artie, Mercedes, and Tina) isn't on the list. Kurt holds a meeting in the music room, with Mercedes, Tina, and Artie, as well as Brittany, who was only there because she had forgotten how to leave - but, she admits that she wants to be higher than fourth on the Glist. The five try to earn a "bad-ass" reputation in hopes that it will get them on (or higher on) the Glist. They come up with an idea of causing chaos in the library, by having an impromptu performance of U Can't Touch This, led by Artie. To their dismay, the librarian enjoys the performance. Still wanting to earn a bad rep, Kurt admits to Sue Sylvester that he stole the Physical tape, but again, it backfires.
Kurt is saddened by the fact that his dad is paying more attention to Finn and in the mistaken belief that if he becomes "straight" his father will love him again, he changes his persona to straight, becoming "Butch Kurt"—a "man's man." He dons flannel and trucker wear instead of his usual lingerie, speaks in a deeper voice, and sings Pink Houses by Mellencamp for glee, to which everyone listens uncomfortably. Afterwards, Will feels that Kurt perhaps didn't understand the assignment as he was supposed to express himself and says that it is important Kurt not give up who he is because it might be easier to be someone else. However, one fan of the performance is Brittany, who tells Kurt the song was hot, and that before, she had thought he was "Capital G Gay," but now wants to make out with him. Later, Kurt makes sure his father "catches" him and Brittany kissing, which Burt finds extremely odd but proceeds to humor him, all the while encouraging his son to be true to himself and saying that he will always support him. After being rejected by his father again in favor of spending time with Finn, Kurt has finally gives up and returns back to his true persona singing Rose's Turn in the The April Rhodes Civic Pavilion, where he is confronted by his dad, who tells him that he likes him as he is, not what Kurt thinks he wants him to be; "Butch Kurt." After finally accepting that his father loves him no matter what, Kurt is at last free again to pursue his feelings towards Finn.
Not much of Kurt is really seen in this episode, but he is seen getting excited and leaping off his seat when Bryan Ryan presents the 'New Directions Jean Jackets' and looks thoroughly irked when the one he took is taken from him. It is unknown what Kurt wrote down as his dream on the piece of paper. 
His earlier hope comes true where Burt invites Carole and Finn to move in with them. Carole is of course excited by the idea; however Finn is extremely reluctant, primarily out of the fear that because he and Kurt will be living together in the same room, it will convince everyone else that he is pursuing a sexual relationship with the other boy.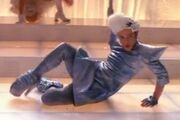 His fears are made more intense by the class assignment of performing a Lady Gaga song for Glee. Kurt, in an attempt to seduce Finn goes to elaborate attempts at making Finn feel welcomed, however cross the line of Finn's existing comfort levels. When Kurt final re-decorates the room in an overly flamboyant manner, Finn finally snaps, demanding that the room be changed to be less "faggy." Kurt is horrified by Finn's explosion of homophobia, but not nearly as much as Burt, who overhears and becomes furious. Storming into the room, Burt tears into Finn, stating that he thought he was a better person.
Burt then proceeds to throw Finn out of his home despite the problems it might cause his relationship with Carole. Finn rushes out of the room, while Kurt is left devastated. Finn proceeds to make several attempts reconciling with Kurt, all of which are rejected, until at last Finn saves Kurt from several bullies attempting to assault Kurt for wearing his Lady Gaga costume, while wearing one of his own.
Will attempts to seduce Sue and break her heart in the hopes of teaching her a lesson. The plan works but results in Sue becoming horribly depressed and unwilling to take the Cheerios to the National Cheerleader finals. Kurt is the only Cheerio not distraught over Sue's recent bout of depression, as he has glee club to keep him sane. When Will fixes things, Kurt proceeds to lead the Cheerios to victory, by singing a selection of Celine Dion songs in French, winning Sue Nationals for the sixth year in a row. Meanwhile, the glee club is horrified to discover that Jesse has returned to Vocal Adrenaline and a more intense rivalry explodes between the two groups, climaxing with Rachel being egged by the rival group. Furious, the boys of the group proceed to set out for vengeance. Kurt joins the rest of boys, stating that despite everything Rachel is their friend and that only they may belittle and insult her. In the end, New Directions gets vengeance by performing a funk number in which Kurt shows off the low notes in his range at the beginning. Vocal Adrenaline is not capable of doing a funk number because they are self-admitted "soulless automatons."
Finally the group makes it to Regionals in which they are shocked to learn that Sue is one of judges. Will urges the kids to push on, and they sing a selection of songs from the group
Journey
. Their performance is a hit, and they receive the support of
Josh Groban
who feels they had the most heart. However, after
Olivia Newton-John
dismisses their entire performance, everyone thinks that New Directions should lose. It is only Sue who votes for them to win the competition. They rank third place, which means that, according to Figgins, the group will be forced to disband. All the kids talk about their lives before joining the Glee club and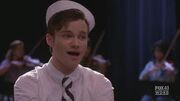 Kurt shares how he wasn't honest about who he was. They sing a "farewell" song to Will,
To Sir, With Love
, which Sue overhears. Moved by the love that the kids show for Will, Sue asks the principal to give them one more year, allowing the group another chance to win Regionals after the summer.
Following events of last year's Regionals, New Directions grew closer over the summer break. However, despite the personal friendships, the group finds themselves still suffering a major rep issue as a result of being in Glee. Kurt, in particular, is slushied on the first day back for trying to stand up for himself. In an effort to expand the group's ranks, they attempted to promote Glee club to the rest of the school. Unfortunately, their efforts such as singing Empire State of Mind to the student body in the lunchtime courtyard gained few results. Rachel managed to sway Sunshine Corazon into auditioning but grew fearful of her joining their group when she discovered how good of a singer she really was. Rachel tried to get Kurt and Mercedes to join her in taking down Sunshine, supposedly for "their benefit." Neither of them were impressed with Rachel and were later furious to discover that she had intentionally sent Sunshine to a crackhouse rather than to auditions.
Kurt was the one who insisted the most on doing Britney Spears music. He is the only one aware of a Facebook campaign that is pleading for New Directions to perform Britney Spears music at the fall homecoming assembly. Most of the kids are excited about the campaign but Mr Schuester is adamant about his no Britney Spears policy, as he believes she is a bad role model. After listening to Dr. Howell's speech about oral hygiene, it is discovered that Brittany, Artie and Rachel each need to go to the dentist. While under anesthesia, each of them has a vivid Britney Spears fantasy, which in turn influences their lives in a positive way. Kurt is very quick to pick up on this connection, immediately pointing it out to Mr. Schuester, who does not want to hear it. During a passionate argument about the importance of Britney Spears to pop culture, Kurt releases his anger verbally on Mr. Schue, which leads him to send Kurt to the principal's office. Eventually, Mr Schuester changes his mind and allows the group to perform Toxic at the Homecoming assembly, provided that he gets to sing with the kids also. The performance does not have the result the kids are hoping for, as it creates a "Britney Spears Sex Riot." Sue pulls the fire alarm, stopping the performance, and the students evacuate.
Kurt brings his dad a healthy breakfast in contrast to the "two Slim Jims and a Coke" he normally has. He is a little taken aback, and Kurt states that he needs to start taking care of himself. Burt concedes that with enough hot sauce it should be fine, and asks Kurt to a dinner with Carole and Finn. Although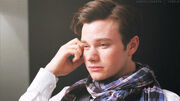 the four of them are no longer living together, they still have dinner together every Friday night. Kurt announces that he isn't going to go to dinner, because the Sound of Music Sing Along that he had been looking forward to, a once a year event is on at another theater. While Burt understands Kurt's point that he's a teenager and has a busy life, he reminds Kurt that this tradition was started with Kurt's mom and is really all they have to connect them. Kurt still refuses, unable to see the effect his selfishness is having on Burt. He walks out, telling Burt that he won't be attending dinner with the Hudsons. At work later that day, Burt has a heart attack.
Emma
runs to Kurt's French class to tell Kurt the news. Will and Emma rush Kurt to the hospital to see his father. Kurt goes to his Dad's hospital room and asks his Dad to hold his hand. Kurt seems to want to bear the burden alone, only letting Finn in after he points out that he thought they were a family and Burt would be the closest he's ever going to get to a father. Later, everyone in the glee club comforts him. Kurt finds Rachel singing
Papa, Can You Hear Me?
to his father and asks them to leave. He remembers all the good times with his dad and sings
I Want to Hold Your Hand
in Glee club, showing all his emotions (as he had been acting very calm through the dilemma) at the end of the song. Mercedes Jones asks him to come to church with her. Although he doesn't believe in God, Kurt agrees,and at church Mercedes sings
Bridge over Troubled Water
with everyone in the church comforting him. Kurt goes back and holds Burt's hand again saying that he doesn't believe in God, but he believes in both of them and Burt starts to squeeze his hand, signaling that he is going to be all right.
Kurt initially believes that the newest member of the Glee Club, Sam Evans, may be gay because Kurt can tell Sam dyes his hair, and proposes that they sing a duet together for the duets competition. When Finn finds out, he pleads with Kurt to break it off as he believes that doing a duet with Kurt may cause Sam to be harassed by others for singing with a gay male which may potentially lead to him leaving Glee Club. Kurt doesn't listen, but after a talk with his dad, he comes to the conclusion that, while incredibly unfair, it would be the right thing to do to let Sam sing a duet with someone else. He then decides that he will sing Le Jazz Hot on his own, wearing a costume that represents both the male and female side of the human psyche, thus making it a "duet." At the end, Rachel confronts Kurt and informs him that she knows he is lonely. During this heart to heart talk, they come to the realization that they aren't as different as they believe they are, and sing a duet of Happy Days Are Here Again/Get Happy as the episode closes.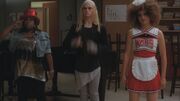 Mr Schuester decided to have the kids perform the famed and controversial musical Rocky Horror Picture Show under the pretext that it pushes the artistic envelope, but in truth, he's doing it solely to gain the attention of Emma Pillsbury. He immediately casts Kurt in the role of Doctor Frank-N-Furter, but he refuses the part, saying there's no way he'd play a transvestite in fishnets, high heels and lipstick, to which Santana mockingly asks if Kurt is opposed to playing the role "because that look was last season." Instead Mike Chang takes the role instead. (later to be replaced by Mercedes). Kurt is instead cast as Riff-Raff, and joins in on singing backup on Dammit Janet and shares the male lead with Finn in Time Warp.
Kurt begins to suffer increasing physical and verbal abuse from Dave Karofsky, being painfully shoved into lockers and openly insulted. After Kurt is slammed into a locker by Dave, the glee club welcomes Puck back from juvie as Will unveils their upcoming sectional competitors - including the all boys Dalton Academy and a school of elderly people completing their GEDs. Will revives last year's boys vs girls tournament to fire up the glee clubbers. Dave hammers Kurt again and when Kurt speaks out, Dave threatens to unleash "The Fury" - aka his fist - on him. Sensing that Kurt's been growing more tense and belligerent in recent weeks, Will offers to help. Kurt tells Will that he, like everyone else in school, too easily lets homophobia slide and that he's not feeling challenged musically. In response, Will alters the competition, requiring the teams to tackles songs better suited to the opposite gender and Kurt takes the lead in shaping the boys' approach. While Kurt attempts to stay strong, he finds himself slowly cracking under the strain of being so easily bullied as well as being the only openly gay student in the school. To add insult to injury, when Mr Schuester presents that the group perform another boys vs girls mash-up competition, Mr Schuester again forces Kurt to join the boys' team as opposed to the girls' team, which he would have preferred.
Later, Will sees the aftermath of Kurt again being bullied by Dave and attempts to reach out to him. Kurt feels so isolated that even the support of Schuester does nothing to help make his life easier at the school and even forces him to do stuff he'd rather not; such as have to sing with the guys. Hoping to help ease Kurt's feelings, Will suggests the boys perfor[[Never Been Kissed|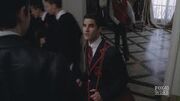 ]]m music done primarily by girls and that the girls performed songs primarily by boys. This raises Kurt's spirits, but only for a moment; when he attempts to offer up suggestions, Puck and the other boys dismiss his efforts and also manage to insult him, suggesting that he do something "useful" and go investigate their rivals from
Dalton Academy
. Furious about his ideas being shot down and feeling rejected by his peers, Kurt does just that, and sneaks into Dalton. Noticing the boys all are rushing off to somewhere, he stops one of them, claiming to be a new student and asks what's happening. The student introduces himself as
Blaine
and explains that Dalton's Glee Club are about to throw an impromptu performance.
When Kurt asks if the Glee club is cool at Dalton, Blaine says that the Warblers are like rock stars. Taking Kurt's hand, he rushes them to where the Warblers will perform and is revealed to be the lead singer for their show choir. Kurt is enthralled with their performance of Katy Perry's
Teenage Dream
. Kurt is overwhelmed by how accepting everyone at the school is and seems smitten by the attention that Blaine shows him during the song. Afterwards, it's revealed that Blaine and two of his friends
Wes
and
David
are aware that Kurt was a spy but actually found the fact that he was "such a horrible spy" endearing and did not hold it against him. Instead, they have coffee with him. Confessing to being a spy, Kurt asks several of the Warblers if they're all gay. Blaine says that he is, but the others explain that their school has a zero-tolerance policy on harassment. Alone with Blaine, Kurt reveals that he's the only out student at McKinley High and is constantly harassed by Karofsky. Blaine had a similar experience at his school before Dalton and regrets running away. He advises Kurt that prejudice is ignorance and by confronting Karofsky he'll teach him that he can't get away with it. Blaine suggests that while Kurt could do what he did and transfer schools, another option would be to confront his bully. Staying in contact, Blaine urges Kurt to have "courage" via a phone text. Kurt takes his advice, and after being shoved into a locker by Karofsky once more, Kurt calls him out and follows him, demanding to know what his problem is.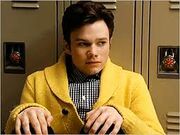 Dave becomes extremely defensive and says he doesn't want Kurt "peeking at his junk," ordering Kurt to back off. Kurt refuses to do so, stating that Karofsky isn't his "type," that Dave can't "punch the gay out of [him] any more than [he] can punch the ignoramus out of [Karofsky]." Mid-insult, Dave grabs Kurt and kisses him. Dave attempts for a second one but Kurt immediately pushes him away, completely in shock by what just happened, causing Karofsky to punch a locker and run from the room, clearly upset. Kurt gets Blaine to help him confront Karofsky about his closeted homosexuality. Kurt and Blaine approach Dave, who's back to his insulting persona, denying his feelings and growing more violent when they try to talk him into accepting his feelings. Dave first attempts to deny what happened but then becomes violently defensive, pushing Blaine into a fence. When Kurt defends Blaine by pushing Dave away, he runs off. Still in a sense of shock after what happened, Kurt explains to Blaine that before Dave, he had never been kissed when it actually "counted." Blaine offers to buy Kurt lunch. It is later revealed that Kurt now sees Blaine as a mentor, hanging a picture him in his locker with the word "courage" beneath.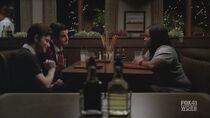 Kurt begins to blow off Mercedes, in favor of his new friendship with Blaine. Mercedes is curious about Kurt's budding relationship with Blaine, but he assures her that it's not a romantic situation. This new friendship results in Mercedes spending most of her time focusing her attention on fighting Sue Sylvester's new healthy food amendment in the school. Mercedes is still fuming about the new lunch menu when Kurt reveals that he's set her up on a date to ease her left-out feelings over his relationship with Blaine, but she's miffed that Kurt's knee-jerk choice is one of the school's few black students as her match, and she instead throws herself into her Tater Tot protest, full-on "Norma Rae" style and sparks a student revolt in the school.
Kurt begins to grow concerned about Mercedes and attempts to fix her up with one of the school jocks, who seems interested in her. He talks about how love "is around the corner." Dave Karofsky then appears and winks at Kurt, leaving Kurt unsettled. Kurt takes Blaine and Mercedes out for dinner. It is evident during the outing how close Blaine and Kurt have become as they share a lot in common; including similar interests books and magazines. Mercedes seems to fade out during their chatting. Kurt is comfortable and relieved that he can discuss "gay issues" with another. He high fives, pats, and touches Blaine throughout the conversation. When Mercedes smuggles Tater Tots into the school, Kurt tells her she's substituting food for love - and substituting Kurt for a boyfriend. He assures her that she'll find someone and urges her to take care of herself in the meantime. After Mercedes agrees with him and goes off to meet the jock he tried to set her up with, Dave confronts Kurt asking if he told anyone else about the kiss they shared, with Dave claiming that Kurt kissed him, rather than the other way around. Kurt replies he hasn't told anyone to which Dave says, "Good, because if you tell anybody, I'll kill you." He walks off, leaving Kurt terrified for his life.
Kurt and Finn discover that their parents are finally getting married, and Kurt is made the wedding planner. He first appoints
New Directions
to sing at the wedding. At the same time, Kurt is terrified by
Dave Karofsky
and begins to panic whenever Dave is near him. Dave walks up to him, touches his upper chest, and attempts a smile at Kurt. He then grabs the wedding figurine Kurt is holding, asking "Can I have this?"before walking off, leaving Kurt looking unsettled. Will sees this and asks Kurt if he's alright, causing Kurt to shake and cry; Will takes him to the principal. After Will and Sue say they cannot do anything to help him, the boys on the football confront Dave in the locker room and demand he leave Kurt alone. Dave pushes Mike into Artie. This causes Sam to step in, and a fight escalates between the two of them until Coach Beiste steps in. Sam is left with a black eye as a result of the fight. Later, while Kurt is giving Finn and Burt dancing lessons, Dave sees and mocks them, angering Burt, who asks who the boy mocking them was. Kurt hesitates and when Finn tells Kurt to tell his father the truth or he will, Kurt tells Burt that Dave has been harassing him for a few weeks. When his dad presses Kurt for more information, he admits that Dave threatened to kill him, which shocks both Finn and Burt. Burt rushes after Dave and throws him up against the wall, threatening Karofsky to pick a fight with him. He is pulled off of himby Finn and Kurt. The situation causes Sue to call Dave's dad, Paul Karofsky, to the school. Paul notes that Dave has been acting differently and takes Kurt's side. Upon Kurt telling Sue that Dave threatened to kill him, Sue expels Dave. Burt marries Carole, making Finn and Kurt stepbrothers. At the reception, Finn says that "Furt" has been born, and he has Kurt's back no matter what it costs him.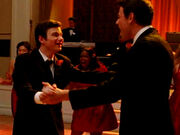 Finn and the rest of the Glee Club proceed to sing Bruno Mars'
Just the Way You Are
to him, with Finn putting his past insecurities with Kurt aside, and they dance, ending with a hug. Sue reveals that her expulsion of Dave has been overridden by the school board and he'll be returning the next day. She resigns in protest, allowing Figgins to return as acting principal and says she'll be a set of eyes and ears for Kurt in the hallway. Kurt leaves the office and runs into Burt and Carole, who offer to use their honeymoon money to pay for his tuition at Dalton Academy. Kurt goes into the choir room and announces he's transferring to Dalton Academy, effective immediately, because Dave is returning the next day. All the guys offer to protect him, "like the Secret Service," but Kurt refuses. He walks out of the choir room in tears, leaving all of glee club stunned and upset, not only about Kurt's leaving, but also that Kurt would be their competition for Sectionals (Rachel's worry).
Kurt, who is now a member of Dalton Academy finds himself struggling to adjust to the energy of the place. Meanwhile, Lauren Zizes decides to join New Directions. The Warblers invite Kurt to join them for a meeting. He must first watch over the Warblers mascot, a canary named Pavarotti, in order to join the glee club. He makes jokes that no one laughs at. Kurt presents an idea for Sectionals, that the Warblers sing a Duran Duran song, but the council politely declines. Blaine comes over to him and offers Kurt the chance to audition to sing a solo at Sectionals, because Kurt showed guts by suggesting new ideas. Kurt goes to Rachel for help and she helps him learn Don't Cry for Me Argentina for his audition. When he is talking to Rachel, he mentions that he was hiding in his car for an hour to make sure he didn't run into anyone who would bully him. Blaine tries to get him not to show off during the song but he does. Unfortunately, Kurt is not selected; Nick and Jeff, both of whom had auditioned multiple times for the solo, are told they can go forward to the next level of auditions. Blaine tells Kurt that he doesn't have to show off or try so hard, and to try to blend in. At Sectionals, Kurt runs into Rachel, where she admits her own shock that he didn't get the solo and jokingly states that the reason she had never been as nice to him before was because of the fact he was her biggest competition. She admits they all miss him, and he says he misses his old school as well. He also explains how he felt that leaving, he let the team down. Rachel admits that the most important thing is for Kurt to be safe. During their talk, he accidentally lets slip that he knew Finn had slept with Santana, assuming that Rachel had known already. Blaine comes up and gets Kurt, telling him it is time to go on stage. The Warblers perform Hey, Soul Sister, before New Directions goes up, and Kurt is pleased to see that a majority of his friends from New Directions smile up at him from the audience with pride and support, even giving them a standing ovation at the end. He returns the kind gesture and leads the audience to give a standing ovation for New Directions after they perform. He is seen sitting next to Blaine. In the end, both the Warblers and New Directions tie for first place at Sectionals, meaning both groups will be competing again at Regionals against Westvale High School's Aural Intensity. After the competition, Kurt, who is still taking care of Pavarotti, becomes scared that the bird might be dying, when he notes that he is becoming weak and his feathers are falling out. He texts Blaine, who assures him that the warbler is simply molting. Blaine assures Kurt that Pavarotti will be fine by claiming, "He's got food, water, he seems to like his cage. Just give it a little while. He'll be singing again in no time." This can be perceived as a metaphor for Kurt's transfer to Dalton. Later we see Kurt smiling at the canary.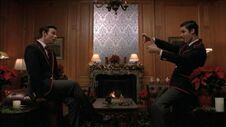 Kurt continues to find life at Dalton Academy somewhat daunting, with regards to the academic work itself. He is pleased when Blaine arrives and convinces him to stop studying, so as to help him with a duet he is doing for an out of school performance. He expresses how sad he is that "the world" would never let him and Blaine sing together (as duet partners). Together Blaine and Kurt sing Baby, It's Cold Outside in a flirtatious manner. Upon ending the song, Blaine and Kurt end up on the sofa sitting and share a small smile. Before leaving, Blaine admits that he knows his female partner will not be as good as Kurt is. After Blaine departs, Will Schuester arrives and noting the happy look on Kurt's face, and asks if Blaine is someone special. Kurt admits that they are simply friends, but that he thinks he is in love with Blaine. He also explains how much harder the school work is at Dalton. Will then explains that the point of his visit, aside from checking in on Kurt, is for help figuring out a Christmas gift for Sue (who rigged the staff secret Santa). Kurt suggests a fur-lined track suit.
At Dalton Academy, Kurt, Blaine, and the other Warblers work out a routine to Destiny's Child's Bills, Bills, Bills, in preparation for Regionals. Rachel and Mercedes fill Kurt and Blaine in on what's happening at McKinley (Finn hasn't uttered a word of it at home): the football team is short of players and Coach Beiste has posted a sign-up sheet looking for new recruits, but the other students are afraid to volunteer. Blaine informs them that according to regulations, all they need are four additional players and they'll be allowed to compete. Blaine tells the girls some facts about high school football and tells them he and Kurt will be at the game, cheering them on. Later we see them cheering Finn and the team on, sitting by Burt and Carole.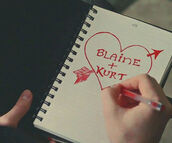 We see Kurt daydreaming and writing "Blaine plus Kurt," with hearts in a notebook, which he hides when Blaine approaches. While getting coffee, Blaine confesses to Kurt that he is in love. Kurt is thrilled, thinking Blaine is in love with him, in part because Blaine pays attention to him and even knows his favorite coffee order. Blaine pulls Kurt into an emergency meeting of the Warblers, where Blaine announces that he's in love. Blaine then asks the Warblers to help him serenade the object of his affection with a performance off campus, a major breech of Warbler tradition since 1927. Kurt deftly defends Blaine's request and persuades the Warblers to agree, but he's stunned to discover that Blaine wants them to sing at The Gap because the one he's pining for is a junior manager there. Kurt is upset and goes to a sleep over with Rachel and Mercedes. They convince Kurt to go to the mall and check out the competition. It dawns on Kurt that he may have made the whole relationship with Blaine up in his head. At The Gap, Kurt scopes out Blaine's love interest, Jeremiah, and supports Blaine's bid to win him over. Blaine is nervous when they get to the Gap and wants to back out but Kurt tells him to "man up," and reminds Blaine that Jeremiah will "love" him because he is amazing. Blaine and The Warblers sing Robin Thicke's When I Get You Alone to Jeremiah, the junior manger, in the store. Kurt is shown sulking of to the side during the duration of the song.. Later, they sit together waiting for Jeremiah to come out of the store, Kurt still looks a bit jealous. Jeremiah comes out with an upset look on his face and clearly, though politely, rejects Blaine. His plan backfired: Jeremiah gets fired because his manager didn't like the disruption- and neither did Jeremiah, who's just been publicly outed at work. He tells Blaine that, despite their coffee meetings, they aren't dating and that anything between them would be illegal because Blaine is underage. This breaks Blaine's heart and Kurt finds him in a very negative mood the next day. Blaine says he made the whole Jeremiah thing up in his head, the same way Kurt said he had. To cheer him up, Kurt has the Warblers perform at Breadstix for his "Lonely Hearts Club." They sing Silly Love Songs to New Directions and the other Breadstix patrons.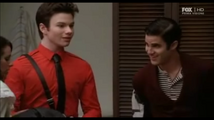 Kurt accompanies Blaine to Rachel's house party. Kurt pretends to drink, telling Finn that he is still trying to impress Blaine, who is quickly becoming intoxicated. During Rachel's turn in a game of Spin the Bottle, the bottle lands on Blaine. They kiss and, to everyone's surprise, both Rachel and Blaine seem to enjoy it. Rachel and Blaine then perform Don't You Want Me, with Kurt watching uncomfortably. The next morning, Blaine is in Kurt's bed, passed out from the night before. Burt comes to his son's room only to discover Blaine, who groggily asks where he is. Burt later asks his son why there was a boy in his bed; Kurt explains that Blaine was drunk from the party and couldn't drive, so he brought him home. He then chides Kurt for being inappropriate, but Kurt claims that nothing sexual happened between him and Blaine. Kurt angrily concedes not to have anyone who "might be gay" spend the night without asking Burt first. Kurt asks his father to step out of his comfort zone and learn about gay relationships, so that he can come to him with questions regarding romance, just like any other son would be able to do. Later, while Blaine and Kurt are having coffee, Rachel calls Blaine to ask him out. Kurt asks Blaine why he agreed and tells Blaine that he shouldn't be leading her on. Blaine explains that he's not leading her on. He said the kiss felt good, and he's never really been anyone's boyfriend before, so he doesn't know if he is gay. Kurt immediately tells Blaine that bisexuality is just something that gay guys hide behind when they "want to hold hands with someone in the hallway and feel normal about it." Blaine defensively asks why Kurt is so upset by this. Kurt tells Blaine that he looks up to him and says that he is proud of who he is, but now he's afraid that Blaine is going to tiptoe back into the closet. Blaine yells at Kurt. Blaine tells Kurt that it's great Kurt is sure about who he is but "some of us aren't so lucky." Blaine then proceeds to storm out of the shop, sarcastically saying that he would say "bye," but he doesn't want to risk offending Kurt. Kurt helps Rachel clean her basement after her date with Blaine to find out what happened."Rachel claims that it was "lovely." Kurt, still believing that Blaine is gay, agrees to a bet with Rachel: she will kiss Blaine and see if there are any sparks when they aren't drunk. Rachel and Kurt await Blaine's arrival at the coffee shop, with Rachel excited to learn if she will end up "with a new boyfriend who can keep up with me vocally and give me vaguely Eurasian-looking children." As soon as he enters, Rachel kisses Blaine passionately. His response: "Yep, I'm gay. One hundred percent gay." He thanks her for clearing that up for him, before walking away. Kurt's about to console her but Rachel is surprisingly happy as well: "I just had a relationship with a man who turned out to be gay," she explains. "That is songwriting gold!"
Sue surprises Kurt and Blaine with a visit to the coffee shop, sharing with them her intel that New Directions will be sexing up their routines for Regionals, but when she asks for some "quid pro quo" inside info to bolster her coaching of rival glee club
Aural Intensity
, Kurt dismisses this as typical Sue nonsense. He tells her that he is not in cahoots with her schemes, and she informs him that he just made a powerful enemy. Blaine, however, thinks the Warblers need to respond to the info by adding sex appeal to their performances.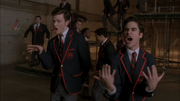 Blaine unveils the Warblers' sexed-up new routine (complete with foam machine and beach balls), the Neon Trees'
Animal
, for the girls at their sister school. Blaine tells Kurt that his "sexy faces" looked like he was having gas pains, causing Kurt to think his lack of sexual experience and knowledge is going to be a problem. Kurt admits that he's about as "sexy as a baby penguin." At the time, Blaine is attempting to teach Kurt how to be sexy by practicing more sultry facial expressions in front of a mirror at Kurt's home. Kurt admits that he can't act sexy because he knows nothing about sex. He admits he's watched pornography before but can't find any of it arousing due to it bringing up thoughts about whether or not the stars' mothers would have approved. Blaine then seriously asked Kurt if they could have a conversation about sex, offering to tell Kurt what he knows. Kurt turns this offer down, saying he doesn't what to know the details, that he prefers romance, and that he's learned enough for one day. He then asks Blaine to leave. Blaine approaches Burt at the auto shop, asking if he's ever spoken with Kurt about sex. Burt said that he feels Kurt will bring up sex when he's ready. Blaine, however, is concerned that Kurt may already be behind the curve and might make a serious mistake in the heat of passion one day. Blaine envies Kurt and Burt's relationship and urges Burt to take advantage of their closeness but apologizes if he's overstepping his bounds - which Burt tells him he is. Blaine explains that he cares about Kurt and doesn't ever want to see him hurt. This leads to Burt having a heartfelt conversation with Kurt about sex and treating his body with respect by not hooking up with any random stranger. Burt presents, to a very resistant Kurt, free clinic sex pamphlets to pave the way for a sex talk. "This is going to suck for both of us," admits Burt, "but we're going to get through it together, and we're gonna both be better men because of it." Burt patiently explains that he wants Kurt to do what he wants to when he's ready, but he also wants Kurt to use sex as a way to connect to another person, saying, "Don't throw yourself around like you don't matter, because you matter."
The episode opens with an enthusiastic Blaine singing
Misery
, by Maroon 5, occasionally being flirty with Kurt, who is less than pleased. Kurt can't stand Blaine having all the solos. After the performance ends, Kurt informs Blaine that, though the vocals were great, singing
Misery
for Regionals would ensure them a loss—and that all of the songs going to Blaine was wasting the talent of the other Warblers. Kurt admits he is jealous of Blaine's leading vocals in every song. Pavarotti suddenly dies, so Kurt goes to school in black clothes, rather than the standard uniform, and decides to perform
Blackbird
by the Beatles for the other Warblers as a way of mourning as well as having an excuse to have a solo. Blaine joins in on the backup vocals halfway through the song, which leads the rest of the glee club to sing along as well. Blaine stares at Kurt throughout the entirety of the song. Afterwards, Blaine organizes a duet as their opening number for Regionals, stating that if the Warblers made Blaine carry the weight of the competition on his shoulders, they would surely lose. He specifically asks Kurt to be his duet partner. Kurt is shocked, saying that it isn't right, because everyone should have a chance to audition.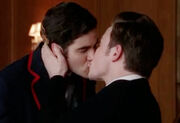 Later, while Kurt is decorating the coffin for
Pavarotti
's funeral, Blaine approaches him to talk about the duet, saying that he picked the song
Candles
by Hey Monday. Kurt suspiciously asks why Blaine asked him to sing the song with him. Blaine admits that, after he watched Kurt perform
Blackbird
, he realized he wants to be with Kurt. He takes Kurt's hand and the two kiss, and when Blaine pulls back, claiming the two should "practice," Kurt says, "I thought we were." The two then lean towards each other and kiss again. At Regionals, Kurt admits to Blaine that he is nervous about singing the duet, fearing that he will forget the words to the song or that he will open his mouth to sing and no sound will come out. Blaine assures Kurt that his nervousness is adorable and is confident that they will do well. The two sing the duet, after which Blaine follows up with Pink's song,
Raise Your Glass
. After the Warbler's loss at Regionals, Blaine goes with Kurt to bury Pavarotti. Blaine asks Kurt if the burial reminds him of his mother's funeral. Kurt agrees but says his mother's coffin was bigger. Blaine notices Kurt is visibly upset, and Kurt says that he really wanted to win. Blaine assures Kurt that they did win in another aspect—they found each other. The two then hold hands as they walk under the tree.
Kurt is seen showing Blaine around McKinley before the benefit concert. He comments that Kurt looks as though he misses McKinley. Dave Karofsky then enters and starts taunting both Kurt and Blaine. Blaine, aggravated, shoves Dave. Kurt doesn't get into the violent exchange but reminds Dave that he is knows the truth about Dave's sexuality. Santana sees this happening and intervenes. Later in the episode, Kurt and Blaine are seen watching the performances in the balcony at the benefit concert, cheering for everyone performing.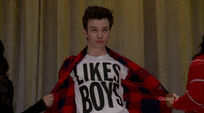 Kurt and Blaine are seen sitting next to each other at the Lima Bean, across from Santana and Mercedes. Blaine mentions that he knows that Kurt loves McKinley and misses everyone there, but the problem is Dave. He wants Kurt to be safe and says that they have talked about this before. After Santana pieces everything together (whilst seeing Dave check out Sam's butt), she blackmails Dave into being her Gay Beard (and also admits to him that they "play on the same team;" something he might use against her later), and to bringing Kurt back to McKinley, so that they can sway the votes for Prom King and Queen in their favor. After Dave, Paul Karofsky, Burt, Mr Schuester, Kurt, and Principal Figgins have a meeting, which includes Dave apologizing to Kurt. Burt is not convinced that his son will be safe returning to McKinley, despite Figgins' assurance that the new club Dave and Santana formed, the Bullywhips, has curtailed the school's bullying problem. The bullying stopped, Burt thinks, because Dave was the chief offender. Paul pleads with Burt, insisting that his son has reformed and mentioning that, in the past, Dave was a good citizen and a good student. Kurt tries to reassure his dad that he's satisfied with the improvements but wants to speak to Dave alone. When the adults clear the room, Kurt demands to know what Dave's angle is. When Dave expresses surprise that Kurt didn't reveal Dave's true orientation earlier, Kurt tells him, "I don't believe in denying who you are, but I don't believe in outing people either." Kurt insists that Dave owes him the truth, and Dave reveals Santana's scheme. Kurt agrees to the subterfuge, but only if Dave also helps him establish a parents-and-friends support group for gay students (PFLAG) - Kurt tells Dave (who insists he's still not sure if he's gay) that he doesn't have to come out, but he does need to be educated. Meanwhile, Burt asks Finn to keep an eye out for Kurt, and Finn tells him he's one step ahead of him. At the mall, Kurt tries to talk Rachel out of her nose job by evoking her idol, Barbra Streisand, who redefined the then-prevailing standards of beauty. Not only would Rachel be letting Barbra down, but she'd also be letting down the girls to come who will admire Rachel. To hammer his point home, Kurt and the New Directions launch a flash mob to Duck Sauce's
Barbra Streisand
. At school after screaming "Kurt Hummel is back at McKinley!" and being hugged by all the girls of ND, his boyfriend, Blaine, and the Warblers serenade him with
Somewhere Only We Know
, during which he is hugged and patted on the back by the Warblers. He receives a huge hug from Finn, who is very excited to have his brother back. Blaine states that he and Kurt will still have each other on weekends and after school, but the other Warblers won't, so they've come to say their goodbyes.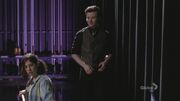 At the end of the song, Kurt and Blaine hug and Blaine says, "I'm never saying goodbye to you." Shortly after, Kurt sings his "audition" for the New Directions. Kurt reflects on his happy return to the school, singing a joyous version of Sunset Boulevards
As If We Never Said Goodbye
. At the end of the episode, Kurt is seen singing the lead on
Born This Way
with Mercedes and Tina, sporting a T-Shirt that reads, "Likes Boys."
After reading about Quinn's reportedly secret encounters with Sam in the school's gossip newspaper The Muckraker, Finn and Rachel go on a stakeout to spy on Sam, only to spot Kurt leaving his motel bedroom. They immediately assume he's cheating on Blaine and are convinced of it when Sam appears at school next day wearing Kurt's old jacket. Rachel confronts Kurt about it and tells him that an affair isn't worth losing Blaine, but instead of denying or admitting adultery, he replies that he is a team player and that a minute of discussing the subject means a minute less to prepare for Nationals. He also calls her insane. It is later revealed that Sam's dad lost his job and due to their financial problems, he started delivering pizza. He once had to deliver a pizza at Dalton,which is how Kurt found out about his situation. Upon discovering this, Kurt decided to help by giving him some of his old clothes. Sam sings lead performing Don't Stop as the closing number for his little brother and sister; Kurt and the rest of the New Directions join in.
Kurt asks Blaine for his hand and then asks Blaine to be his prom date. Blaine explains his hesitation: at his previous school the recently outed Blaine was going to attend a Sadie Hawkins dance with the only other gay guy but on their way there, they were bashed by three other students. Kurt gives Blaine an out, but suggests that since Blaine couldn't face the bullies at his old school, they can face McKinley's together - Kurt suggests otherwise they could go to a movie instead, but Blaine says he wants to make Kurt happy. Despite the old hurts and the fear, Blaine agrees to go. Kurt is happy and tells his female friends he is going to wear something special. At Kurt's house, Finn accepts Blaine's request to jam with New Directions at prom. Burt informs the boys that his tux shop-owning buddy is giving them half off their formal wear. Kurt debuts his self-created kilted tux look, inspired by the recent Royal Wedding ("like gay Braveheart" admires Finn) but Burt and Blaine aren't thrilled. Burt said he won't stop his son from wearing it, but he thinks it's a shameless bid for attention and will stir the pot. Blaine agrees, thinking that they might not want to attract negative attention, but Kurt is determined to wear what he wants. He tells Blaine if he doesn't want to go, he doe
sn't have to. Dave Karofsky has taken to escorting Kurt from class to class, as part of the
Bullywhips
group that he and Santana run, in order to make certain that he is not attacked or harassed. Kurt then proceeds to talk to Dave about being gay, saying that eventually, when Dave is ready, he'll need to come out. Kurt suggests that maybe the reason no one's been harassing him all week isn't because of the Bully Whips' protection - it might be because no one cares that he's different anymore. Because he now can sees Dave's pain rather than his bullying, Kurt suggests that maybe Dave doesn't need to torture himself over his sexuality - maybe soon he can feel free to be himself. Breaking down, Dave sincerely apologizes for tormenting Kurt. Kurt reassures him that he believes him. Seeing students pass by them, Dave regains his composure and rushes off to his next class, Calculus, but not before pleading with Kurt to wait for him. At the actual prom, Kurt enjoys himself. Kurt and Blaine don't slow dance (although they dance the fast ones, they don't touch) because of Blaine's fear of the school's bullying situation. Kurt admires the inclusiveness of this year's prom - Becky has a date- but is sad at Dave's and Santana's attempts to appear to be straight. The prom court candidates are assembled onstage, where Figgins reveals that Dave has been named King - but in a shocking twist, Kurt is named Prom Queen by secret write-in vote. Kurt stands there shocked for a moment while the students stare at him, before running out of the gym, followed by Blaine. Kurt is devastated to learn that despite the lack of daily bullying, no real progress has been made. They used a secret ballot to tell him how they really felt instead of telling him to the face. He believed that McKinley students had grown past or at least learned to ignore the fact that he's gay. He tells his frustrations to Blaine in the hall. Blaine offers to leave the prom with Kurt, but Kurt doesn't want to walk away. He says he wants to leave, but he doesn't want to let the bullies win, and chooses to rise to the challenge instead. He realizes that no matter what bullies try to do to him they can't hurt him or his relationship with Blaine. After he regains composure, he decides to return and accept his coronation, showing the student body that he can't be brought down.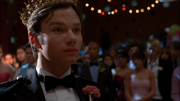 His bravery earns him enthusiastic applause from many of the students (as well as the Figgins patting him on the back).
Principal Figgins
then announces that, as per tradition, the King and Queen are to dance together. Dave gets up and walks with Kurt to the dance floor, during which Kurt suggests that perhaps this is the time for Dave to come out to the school. Dave finds himself unable to go through with it saying, "I can't." As Mercedes and Santana begin to sing ABBA's
Dancing Queen
, Kurt is left alone as Dave bolts from the dance floor. Blaine walks up and asks if he may have this dance. As they spin around the dance floor, the glee club and the rest of the student body clap. They finish the night with the couple portrait.
Kurt is one of the four Glee members (he, Santana, Mercedes, and Rachel) to audition for a solo at Nationals, singing Some People from the musical Gypsy, which Mr. Schuester applauds. However, the Glee club's new consultant Jesse St. James dismisses his performance, due to the fact he is a boy singing a girl's song, much to Kurt's annoyance. Later, Kurt's primary concern during the episode becomes Sue. After learning about Sue's sister, Jean Sylvester's, passing, Kurt and Finn, both of whom lost parents, step up to help Sue deal with her loss. Together, they spearhead the organization of Jean's Funeral, giving it a Willy Wonka and the Chocolate Factory theme, and New Directions sing Pure Imagination, with which Kurt has leading vocals, since it was Jean's favorite song. Sue appreciates their efforts. In the end, she directs her thank you to Kurt, who smiles.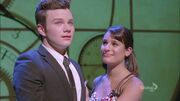 New Directions at last arrives in New York City for Nationals and the kids find ways to sneak out of the hotel room against Mr Schuester's wishes. One morning, Kurt wakes Rachel up early and the two of them have breakfast at Tiffany's, when it is revealed that Kurt plans to go to college in New York after graduation with Blaine, as does Rachel. Kurt and Rachel then sneak into the Gershwin Theater, where Wicked is performed, and Kurt tries to help Rachel find some perspective regarding her romantic and professional lives. The two are caught by theater staff, but are permitted fifteen minutes to live out their dream of singing on the stage. Together they sing For Good on the Wicked stage, with Rachel taking Elphaba's part and Kurt taking Glinda's. The duet helps Rachel make her decision. New Directions' perform at Nationals, but unfortunately they fail to place in the Top Ten school rankings, and the glee club members fly back to Lima in defeat. Back in Lima, Kurt recounts the fallout for Blaine at the coffee shop: most of the New Directions members were outraged and/or crushed by the outcome, but Blaine notices that Kurt doesn't seem too upset, Kurt admits that he was thrilled just to have the experience, and Blaine tells him he loves him. After a few moments, Kurt tells Blaine he loves him too, adding, "When you think about it, Kurt Hummel's had a pretty good year." They're surprised to run into Sam and Mercedes, who nervously say they happened to run into each other in the parking lot and they discuss their summer plans, Blaine's auditioning for the summer show at Six Flags, while Kurt plans to compose "Pip, Pip Hooray," a Broadway musical about Pippa Middleton. Blaine then presents the nominees for his set list for the audition to Kurt.
Kurt is back at McKinley High as a senior. He is interviewed, with Rachel, by Jacob, as he's asking them what they are going to do after they graduate. They both answer confidently that they will be going to a performing arts school in New York. Kurt and Rachel, who are both graduating, talk to Emma in her office about school next year; they've decided they want to go to Juilliard. However, Ms. Pillsbury informs them that there is no musical theatre program there and that their best choice is to go to The New York Academy of Dramatic Arts (
NYADA
); however, it's very competitive. Kurt and Rachel find out about an open mixer from Emma, for those planning to attend NYADA. Kurt has a scene at the Lima Bean, where he tries to convince Blaine that he should transfer from Dalton to McKinley, so they can spend more time together. Kurt states that he wants his last year to be a special, and implying that Blaine's presence at McKinley will help it to be so. Due to the new year and members leaving McKinley, the glee club are short of members. Mr. Schue attempts to have purple pianos placed throughout the school, whereby the New Directions must play something to attract new recruits. When a piano appears in the cafeteria, no one wants to perform and risk the humiliation. However, after some convincing from Rachel, the group performs
We Got the Beat
, and Kurt is seen dancing on the lunchroom tables. After the performance, a food fight breaks out, where the kids are pelted with food, and Kurt is trying to hide by covering himself behind a lunchroom tray.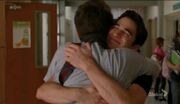 After the fiasco, Sugar is the only one to step up and offer to join the club. When she performs, Kurt and his fellow members are left unimpressed and convince Mr Schuester that she cannot join. With the open mixer arriving soon, Rachel and Kurt get ready to show off their talent. They use the auditorium and practice
Ding Dong! the Witch is Dead
, where they both agree, after performing, that they are going to be a big hit. Meanwhile, Blaine comes to Kurt during school, without his Dalton uniform. He then tells Kurt that he has transferred to McKinley and decides to make a public audition outside with
It's Not Unusual
. Rachel and Kurt then have to get ready for the NYADA meeting in Ohio. They arrive to be greeted by an excitable group of people that look and sound similar to them. They're then talk to
Harmony
, who claims to have been singing and acting since she was a fetus. The group performs a mash-up of
Anything Goes/Anything You Can Do
, which leaves Kurt and Rachel shell-shocked and shaken. They are then seen crying in Rachel's car, feeling humiliated and untalented. They realize that they may be big in McKinley, but there is a whole outside world that has a wealth of talent. Kurt then comforts Rachel by reminding her how special and driven she is. Rachel tells Kurt the same, though he isn't convinced, having no extracurricular activities to present. Back at McKinley, Blaine is officially welcomed to Glee Club and sits beside Kurt. Kurt also announces to the group that he is running for class president and thanks everyone beforehand for their vote.
Kurt tries out for the lead role of Tony for the school musical, West Side Story, only to find he isn't considered manly enough for the role. In order to convince his judges, he performs a scene post coitus from Romeo and Juliet with Rachel, who is a shoo in for the female lead of Maria. The result being that Artie and Coach Beiste chuckle at his efforts and Ms. Pillsbury looks on helplessly, while even Rachel breaks scene with a laugh. Humiliated, Kurt storms off. Later in the episode, Blaine also auditions for West Side Story, but requests to play a supporting role, allowing Kurt take the lead as Tony. After Blaine's performance of Something's Coming, Artie requests that he reads for Tony. Kurt is hiding at the back of the theater watching on where no one can see him; he leaves before Blaine can answer.
Kurt and Rachel walk through the hallway, talking about how Kurt is in the lead for the class president candidacy. Santana and Brittany show up and Brittany explains how men have ruined the world. Kurt attends the flash mob in the gym, and at the end of the scene, looks shocked by how many people (mostly girls) might vote for Brittany. Later, Kurt surprises Blaine with some roses and tells him that he's a shoe-in for the lead role of Tony in the school play. Kurt sings a part in It's All Over and is also in the audience for the "Maria-off." Kurt finds out Rachel is also running for senior class president against him. Rachel offers Kurt a chance to be her vice president, but he declines and walks away, letting her know that she is just tossing their friendship aside. In the end of the episode, Kurt, along with the rest of the New Directions, sing back-up vocals when Will sings Fix You.
Kurt is visibly disturbed at the falsetto talents of new Glee club member Rory Flanagan. When Blaine performs Last Friday Night (T.G.I.F.), he and Kurt can be seen dancing together.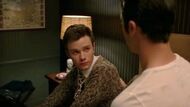 We see Kurt alone with Blaine in his bedroom with Blaine dancing to Roxy music. Kurt asks if Blaine thinks he is "sexually boring." Kurt expresses concern that they are playing it "safe" and asks if Blaine has ever felt the desire to "rip off [his] clothes." Blaine says that he thought that they both wanted to move slowly and that he has, but "that's what masturbation is for." He expresses that he wants Kurt to be comfortable so he can be comfortable. He then jokes that it would be a tall order to rip off Kurt's clothes anyway, because of all the layers he wears. Kurt agrees, and the couple kiss. Later, Kurt walks into the
Lima Bean
on
Sebastian
and Blaine talking about how much he cares for him and how he would never want to jeopardize his relationship. Wary that something isn't right, Kurt asks how they met. Sebastian invites Kurt and Blaine to "Scandals," a local gay bar in West Lima, to which Blaine replies that "it isn't really our thing"- but Kurt decides to be a bit spontaneous. When Kurt and Blaine arrive at Scandals with their fake IDs in hand, Sebastian buys Blaine a beer but an alcohol free Shirley Temple with extra cherries to Kurt, stating that he's the designated driver. A little while later, Blaine is seen dancing with Sebastian, while Kurt talks with Dave. Kurt has a few moments with Dave updating him about what has happened since his transfer to his new school. Dave lets Kurt know that he starting to come to terms with his sexuality and they share a toast to "baby steps." Kurt then gets up and gets in between Blaine and Sebastian, in order to dance with Blaine. After leaving the bar, Kurt and Blaine walk to the car. When they reach it and Kurt gets Blaine to lay down on the back seat, Blaine pulls Kurt into the back seat of the car and tries to drunkenly initiate sex with him but Kurt resists, yelling that he "has never felt less like getting intimate with somebody." Blaine becomes upset at Kurt's outburst, and walks home. After the opening night of the show, Blaine is seen dancing in slow motion on the stage. Kurt approaches him, saying Blaine should be out celebrating. Blaine and Kurt exchange congratulations on their respective parts in the musical. Blaine then apologizes for treating Kurt badly and calls Kurt towards him. He tells Kurt that Sebastian means nothing to him, saying that that he loves Kurt and that their first time should be special. Kurt also apologizes for agreeing to go to Scandals, saying that he wanted to be Blaine's "Gay Bar Superstar," realizing that he's just a silly romantic. Blaine says it's not silly and kisses Kurt. Kurt tells him how proud he is to be with him. Blaine then asks Kurt to accompany him to Artie's after party at BreadstiX, but Kurt assertively says no - saying he wants to go to Blaine's house instead.
At the end of the episode, Blaine and Rachel perform One Hand, One Heart while the scene switches to Kurt and Blaine lying happily on Blaine's bed, establishing that the couple had, or were about to, have sex.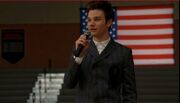 Kurt confronts Sue on her campaign mudslinging against Burt; she advises him to start his own mudslinging, seeing as how Brittany's making ridiculous promises for her presidency, but appealing to students. When the New Directions/Troubletones dodgeball game ends with Rory getting a nosebleed, Kurt goes to Rory's side and tells Santana and The Troubletones off for ganging up on him. In his class president speech, he promises to put an end to dodgeball, seeing as how it's an easy way to bully others. Rachel, seeing how much she has hurt him and realizing that she wants to experience New York with Kurt, withdraws from the race and urges everyone to vote for Kurt.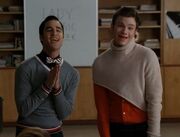 Kurt and Blaine sing Perfect to show their support for Santana, but she doesn't accept their help. Kurt is seen in the beginning of the episode worrying about whether or not he will win the election for class president. Rachel tries to calm his nerves by telling him that he will win and that Quinn was going in to vote for him right now. After Rachel stuffs the ballet box, he is called to the principal's office thinking that he was the one to do it. He then loses the election and Rachel confesses to stuffing the ballet box. During Constant Craving he looks very upset as he fills out his NYADA application with Blaine.
Kurt and Blaine have coffee together at the Lima Bean. Kurt questions his chances of going to NYADA, assuming that the New Directions doesn't win Sectionals. Sebastian abruptly interrupts their conversation moments later, paying attention to only Blaine. Kurt gets jealous and a conflict starts between the pair after Blaine excuses himself to get more coffee. During Red Solo Cup, Kurt isn't shown enthused about singing. The New Directions perform at Sectionals with Kurt singing ABC along with Tina, Mike, and Quinn. Kurt glares at Sebastian during the performance while Sebastian stares at Blaine, smiling.
Kurt overhears the New Direction boys converse on an idea for a gift for Rachel, to which he shamelessly disagrees and informs Rachel about the possible gift. Kurt, along with Artie and Blaine, are called to Sue's office for a request to sing at the homeless shelter, which they all agreed to, but after knowing that the Glee Club is to be featured in the Christmas Special, the three do the Christmas special, instead of helping to tend the helpless shelter. Kurt co-hosts the Christmas Special with Blaine. They begin the special by singing a duet of Let It Snow and when Rachel and Mercedes arrive, the quartet do a rendition of The Sound of Music's My Favorite Things. Later, Kurt is seen with New Directions helping the homeless shelter. They sing Do They Know It's Christmas? (Feed The World) to the homeless.
Kurt joins the New Directions girls in the number
Summer Nights
.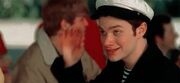 Kurt is later seen with Rachel and Finn at Breadstix. The three discuss about their futures post-graduation, and Kurt gets depressed because he doesn't think he will get into NYADA. He then orders a full cheesecake. Finn then scolds him and asks him why he said those things.When the glee club finally decide on a number for
Mr. Schuester's
proposal to
Ms. Pillsbury
, Kurt sings with New Directions
We Found Love
by Rihanna. During the number, he is mainly paired with Quinn. When Emma answers yes to Will, you can see Kurt and Rachel jumping up and down.
Kurt is seen walking with Blaine, Mercedes, Santana and Brittany talking about how The Troubletones lost Sectionals. Kurt says the reason that New Directions won was due to the fact that they had sung Michael Jackson and reassured them that it had happened weeks ago and that they shouldn't worry about it. He is later seen performing
Wanna Be Startin' Somethin'
with the rest of the New Directions. Kurt joins Artie, Blaine, Rachel, and Santana at the Lima Bean reminiscing their favorite Michael Jackson memory, which he reveals is Michael in a sequin military jacket and making it iconic. He then judges Rachel's lack of understanding of Michael, telling her that Michael was best friends with two of Rachel's idols: Liza Minnelli and Liz Taylor. They are interrupted by Sebastian. Kurt mocks him, saying, "Does he live here or something? Seriously, you are always here." Sebastian makes his own snide remarks, saying that he didn't see Kurt there due to the fact that Kurt was wearing "boy clothes." Kurt and New Directions battle the Warblers by singing
Bad
, to see who would reign supreme and take honor of singing Michael at Regionals. The song ends with Sebastian throwing a tampered slushy at Kurt, but accidentally hitting Blaine, instead. If you listen very closely when Kurt is comforting him, you can actually hear Kurt say, "Honey, are you okay? What's wrong?" Kurt tells everyone in the choir room that Blaine has a scratched cornea which will require surgery.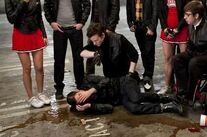 Santana finds him sitting alone in the classroom, thinking of ways he could get back at Sebastian. He told Santana about his consideration for violence but decided against it due to his past experiences and his moral stance. Burt comes in, asking to speak to Kurt privately. At first he is initially worried that something was wrong with Blaine, but was in fact a letter from NYADA. It is revealed that Kurt is a finalist for NYADA. He is congratulated with a hug and some recognition from Burt. He finds Rachel, and informs her of the news. She congratulates him. Kurt finds out that Rachel hasn't received a letter yet. Kurt tries to reassure her by saying that she still has time, but fails to do so. Kurt hugs Rachel in support and in sympathy. Kurt, Finn, and Rachel go to visit Blaine. They sing
Ben
to Blaine to bring a little sense of Michael to him after he had missed out. The New Directions come together to reveal that Sebastian has been caught. Kurt decides to throw out the incriminatory tape, saying that payback isn't the right option. He suggests a performance to settle their differences with the Warblers, performing
Black or White
. The episode ends with Kurt sharing a brief moment of happiness with Rachel as he finds out that she has also been accepted as a finalist.
Kurt learns of Finn and Rachel's engagement at a sleepover at Rachel's with Mercedes. At first, he is in objects and questions whether or not Rachel is making the right decision. She then asks what he would do if Blaine proposed to him, to which he doesn't respond. Later, he approaches Finn in the McKinley weight room with a series of pamphlets for New York City based schools. He expresses his upset at finding out about the engagement from Rachel rather than his own brother and gives a heartfelt speech, telling Finn that he should be more than just the guy who holds Rachel's purse on the red carpet and that he shouldn't give up on himself.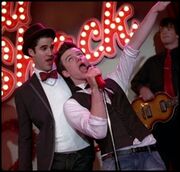 Kurt is seen receiving gifts from a "secret admirer" whom he assumes is Blaine Anderson.And when Artie and Rory were fighting who would take sugar to Breadstix. Rory pulls out a four-leafed clover and Kurt says do you people just carry that aroung with you all the time. He smiles in joy with every card and present he has received especially from the gorilla to whom he thinks is the messenger. After being requested into Breadstix, he finds out that is wasn't Blaine who had sent those cards and gifts but was in fact David Karofsky, who revealed that he may be in love with Kurt. Kurt lets him down gently due to him only liking Dave as friends and nothing more. Also he mentions that he is with Blaine and is happy with him. Kurt tries to reassure Dave but fails as he walks out. When a classmate from Dave's new school spots them and calls Dave out, Kurt attempts to make an excuse for Dave. Dave leaves in a panic, leaving Kurt to contemplate his gift and confession. Blaine shows up during Sugar's party, stunning Kurt and they dance together to the tune of Love Shack.
Kurt, along with Rachel have coffee at the Lima Bean looking through photos of wedding dresses. Kurt looks in shock as he sees a photo shopped image of a somewhat naked Finn given to them by Sebastian. Kurt then walks into the auditorium to see if Blaine is okay. Blaine initially has an angry outburst about Sebastian, but then controls himself and sings
Cough Syrup
to Kurt as his song choice for Regionals. During the song, David is seen being bullied and tries to commit suicide. After hearing about Dave's attempted suicide, Kurt is shaken and goes to
Joe Hart
to ask if his can sit in on the
God Squad
's prayer for David. He confesses to them that he feels guilty for not answering any of David phone calls during his crisis. He and Quinn get into a small argument about people's breaking point and being driven to suicide. Kurt joins Blaine, Santana, and Brittany at the Lima Bean to confront Sebastian about the photo he threatens to put up online. When Sebastian apologizes, Kurt is suspicious as to whether Sebastian's intentions are legitimate or not. After New Directions wins Regionals, Kurt heads to the hospital to see Dave and find out how he is doing. Dave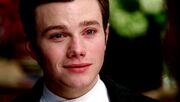 opens up to him about the pain and struggles he has had to deal with. Kurt comforts him by telling him that even though that struggles are there, there is always a better way. He then tells Dave to imagine his life in ten years time, which included having a loving partner and a child, and it eventually makes Dave smile again. Dave requests Kurt to be his friend, which he accepts proudly. Kurt reaches over to hold Dave's hand. He is seen sitting with Blaine along with Rachel's bridesmaids during her wedding as Quinn goes through her accident.
Kurt looks upon in shock as he is introduced to Blaine's brother, Cooper. He then jumps in excitement after meeting him but his excitement has been cut short after being disrupted by Sue. Kurt then introduces Blaine to a stuffed dog to comfort Blaine saying that family matters and encourages him to communicate to Cooper through song.
Kurt along with Mercedes meet Wade at their lockers, who drops by to the school hoping to get some advice, to which Kurt agrees to. Kurt and Mercedes head to Sue's office after being suspected of giving tips to the enemy, but in fact was only giving tips to which Sue helps them out. After finding Wade, Kurt turns back his initial plan saying that he should perform as a guy but Wade turns him down going on stage as "Unique." He is turns out to be relieved that Wade did turn out to relieve his dream.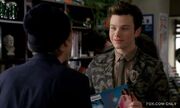 Kurt sings How Will I Know along with Santana, Mercedes, and Rachel in memory of the singer to whom they've all cherished. As it is Whitney week, Kurt goes off to the music store to find inspiration for his Whitney tune. He meets Chandler, with whom he starts interacting regarding their future, both set in New York, and Kurt's Whitney song choice for the week. After talking, Chandler asks for Kurt's number which he provides. While cleaning his locker, Rachel runs into Kurt complaining about the difficulty of her song for her audition. Kurt then receives a text and is smiling. Rachel assumes will is Blaine, but is proven wrong when Kurt tells her that it is Chandler that is texting him. Rachel tells him that he shouldn't do that, but Kurt tells her that its all fun and games and doesn't mean anything. During So Emotional, Kurt receives more text messages to which he giggles upon and continues to text back. When meeting up with Blaine, he finds those text messages and starts to get furious with Kurt. Kurt tells him that its all innocent. Then he tells them that he makes him feel good and complains that he isn't cheating on him. He then gets a message from Blaine through song singing It's Not Right But It's Okay. Burt runs into Kurt "tri-aging" on what he should leave to take with him to New York and what should be left behind. Burt then tells him that it wouldn't be the same without him at home with him. Kurt tells him that he'll miss him. In the choir room, he sings I Have Nothing to make up what he did to Blaine and dedicate the song to him. He then goes to counseling with Blaine to talk about what has happened and is willing to change whatever Blaine wants him to do. He then realizes that Blaine is scared of losing him and not talking to him again as they have to embrace the fact that they won't be seeing one another next year. Kurt tells him otherwise and comforts him saying that they will Skype everyday. They announced their love for one another and embrace each other by hugging. Blaine runs to him complimenting him on his hat to which Kurt thanks him for. He then receives a text message but Kurt reassures him that it's not Chandler but then is surprised to be told that it was a text from Blaine. Blaine asks Kurt to skip Glee practice but Kurt says that he wants to cherish every last moment here. Blaine agrees and heads to the auditorium together and is met by the rest of the New Directions.
Kurt (accompanied by Tina) tries out his audition piece for NYADA with his rendition of
The Music of the Night
. At the end of it, he reveals to Blaine that he needs to exceed himself in order to heighten his chances of getting into NYADA.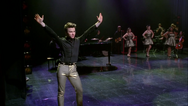 He decides to do
Not the Boy Next Door
, which doesn't impress Rachel as she convinces him to revert to his original, safer plan. He is shown to be terrified about performing in front of
Carmen Tibideaux
and, after announcing his song title and seeing Carmen's reaction to it, he changes his song. Instead of
The Music of the Night
, he performs
Not the Boy Next Door
, which turns out to impress Carmen greatly. Later he is seen looking completely taken aback and horrified by Rachel's choke during her audition. He then goes to reassure Rachel after her failed audition, but it didn't work, with Rachel still upset. He tells her that she will be coming to New York too whatever the circumstances, but she rebukes him and he leaves after a single hug as Rachel begins to perform
Cry
.
Kurt and Blaine join in with Rachel as she sings Big Girls Don't Cry. Kurt agrees with Blaine saying that the song is too much of a downer to sing at the prom, but Rachel says she's just expressing how she feels. Kurt joins Rachel, Blaine, Puck and Becky at the anti-prom for a bit of a party themselves. They do however change their minds and end up going to the prom. Kurt tells Blaine that he can do it. Kurt looks in shock as he sees a fro-ed up Blaine and tells Brit that it is indeed Blaine. Kurt stops Blaine from gelling his hair back saying that he wants to dance with his bushy-haired boyfriend. They dance to Take My Breath Away and take a couple photo together.
Kurt and Mercedes are first seen in Sue's office, where she discusses Unique/Wade Adams, and his ascent to fame, and how Vocal Adrenaline are now the team to beat, as a result of their actions (which Jesse St. James is taking full credit for). Sue requests Kurt to dress like a woman to gain some popularity within contests like the Vocal Adrenaline to which he declines, even though the previous Halloween, Kurt and Blaine had dressed up as Snooki and the Situation, from Jersey Shore, stating that just because he was gay, it didn't mean he liked cross-dressing. Sue insists that if the New Directions wanted to win, then he needed to do it. He is then seen sitting in a massage chair at the mall with Blaine explaining the situation that had recently occurred, and Blaine is shown to be supporting Kurt, agreeing with the statement that just because they're gay, it didn't mean they dressed up as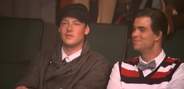 women. He is next seen rushing with Blaine to the fountain where Tina had fallen into and hit her head. In Tina's dream, Kurt (who'd switched with Finn in Tina's dream) requests Rachel (Tina) to come to the music sheets store to check out some music with him, and Blaine(Puck) makes a comment about him visiting Chandler. The two are seen discussing it as Rachel(Tina) walks away. He is also seen smiling lovingly at and with Blaine to
Because You Loved Me
putting his head on Blaine's shoulder, and reminiscing. When Tina comes back to consciousness,outside of the dream, he is seen to be whispering to Blaine about the fabric that Tina was carrying when she'd fallen in, and its monetary value.
Kurt is next seen when the group are practicing the 'Flashdance' routine, which does not go as Sue had planned. Kurt continues to insist he will not dress in drag to Sue, and says he has an idea. Kurt later sneaks into a Vocal Adrenaline rehearsal, and covertly records their practice, showing the team in synchronization, and shows this to the Glee Club. Kurt is last seen on the bus, on the seat next to Blaine, dancing to Flashdance, as the episode ends with the team heading to Nationals.
Kurt along with his New Directions members perform Paradise By The Dashboard Light singing a part of the song. During Tongue Tied, he is seen being forcefully hugged by a football player.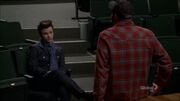 Kurt remembers his previous years at McKinley and how much he has helped established individuals on accepting themselves. He walks into the auditorium where Burt is. They have a conversation about Kurt's past and how Burt felt that he and Kurt were slowly drifting apart. As a graduation gift, Burt reenacts the
Single Ladies (Put A Ring On It)
dance, a symbol of how their relationship evolved for the better. In the next scene, Kurt and Blaine are talking about the future of their relationship, and Kurt tells Blaine that they can make a long distance relationship work, and that he will never say goodbye to him. He also sings
I'll Remember
as his final song, dedicated to everyone, but specifically the males.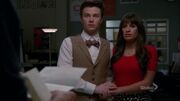 Immediately after, Kurt, Finn, and Rachel are talking in the halls about their acceptance letters. They agree that they would open them up in the choir room, all together, At graduation, Kurt is very emotional and starts crying a little - to which Blaine gives him a handkerchief to wipe his tears. After, the three of them (Rachel, Kurt and Finn) are in the choir room preparing to open their letters to find out their possible future. After Finn doesn't get accepted into his acting school, Kurt is next to open his letter from NYADA, where he also receives unfortunate news as he didn't get accepted and now leaves him questioning for his future.
Kurt is talks on the phone to Rachel, asking questions about the guy she just met. Kurt then explains that he's been keeping busy, walking through the halls of McKinley High and tells Rachel that he was there to meet the newest edition. Sue introduces him to her newborn daughter named Robin. Kurt stands next to Sue, and explains that Kitty is Sue's new head cheerleader. Kitty makes a few insults towards Kurt assuming that just because Kurt is gay, he's not successful. Kurt defends himself, telling her that he is successful, Sue cuts Kurt off, telling him not to pay any attention to Kitty. Sue sarcastically admits that she is very proud of him, pointing out that the straight ex football players would lurk the halls of high school, after graduation. She then makes a comment saying that just because he's in the Hall's of McKinley he is a "sad sack, clinging to the past." Kurt says, that he isn't a sad sack, because he start his classes at a community college next week.
In the Lima Bean, Kurt is wearing an apron and is handing both Brittany and Blaine a coffee. Kurt then tells Blaine and Brittany he's excited for the glee club auditions. Kurt then notices that Brittany and Blaine aren't as excited about it, and questions them. They of course deny it, and soon Kitty calls Kurt over to give him their order. Kitty complains that the latte is too cold, Kurt then looks over to Blaine, who turns away, and Kurt listens to a guy who tells him he has to do another job. Kurt then looks over to Brittany and Blaine who are walking out the door.
Later, Kurt is sitting next to Blaine in the auditorium along with the others, helping Will with the auditions. Kurt made a comment after Jake finished performing his song when he threw papers and the music stand away, claiming that was rude of him. In the next scene, Kurt is in the choir room, laying down sheet music on the floor, in rows, Blaine and Tina walk in, asking what he is doing. Kurt tells them that he is organizing the sheet music. When Wade walks in, a couple of people make a few comments on what he's wearing. Kurt tells the glee club, that when they first joined, they never use to worry about who the biggest star is.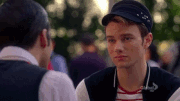 Kurt is then seen in the court yard sitting across from Blaine, Blaine tells Kurt that he shouldn't be there anymore, he says that he doesn't belong in Lima but in New York, and is advising him that it's where he should be. Kurt tells Blaine that he is pathetic, but Blaine reassures Kurt and because the two of them are here, in Lima, and Kurt should be in New York. Blaine says that right now, he is ready and it's Kurt's time. Kurt is then serenaded by Blaine, singing
It's Time
.
Kurt and Burt in the car together, Kurt looking rather worried. Burt tells Kurt that as soon as he has a place to live Burt will ship the rest of his stuff. Burt asks if Kurt has enough money, which should give him at least two weeks in a motel, and an emergency credit card. Kurt tells his father that what he is doing is ridiculous and that he shouldn't need to go to New York to reapply for NYADA. Burt explains that this is a perfect opportunity for an adventure. Burt asks Kurt if he is scared, Kurt replies that he's terrified. Burt gives another pep talk, explaining how New York is going to be a breeze compared to where he is now. He reminds Kurt as to how far he has come over the last few years and tells him that people in New York aren't afraid to be different, and that he can feel at home. Kurt tears up a little, and tells Burt that he is the world's greatest dad. They both hug, and Kurt leaves for his flight to New York.
In the last scene, during Chasing Pavements, there is a small montage of Rachel talking on the phone with Kurt. Kurt asks why she is sad, and she explains. Kurt tells her to turn around, and immediately Kurt runs up to Rachel and gives her a big hug in New York City.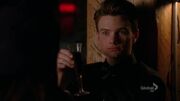 In
Britney 2.0
,
Kurt
is seen with
Rachel
, on a bicycle in an apartment, in which the two friends think about buying. After a while, they are then seen sitting down eating Domino's Pizza, and Kurt having a glass of wine in his hand. Kurt tells Rachel that he hasn't heard from
Finn
since the last time she had asked him and says that he heard from
Blaine
they're doing Britteny Spears again, he that he explained his plans while being in New York. He says that he was going to re audition for NYADA for next semester, but until then, he applied for a job at the only place he will truly appreciate 'style and sophistication' Vogue.Com.
Kurt tells Rachel, that although his plan sounds crazy, he's glad that he hasn't made it his first try, because he learned so much about himself over these last few months. He says that it makes him feel like a new found and focus of what he wants. Kurt listens to Rachel as she talks about what it was like during her first lessons, and he suggests a few things. Kurt was surprised when he found out that Cassandra July was her dance teacher, He lists on about Cassandra being called "crazy July" and also "Biggest train wreck in Broadway history," Kurt was shocked to find out that Rachel doesn't know about Cassandra's story.
Kurt then explains to Rachel about Cassandra's pass life, showing her videos from YouTube. After explaining, Kurt suggests to Rachel to never give in to Cassandra, he suggests to keep on fighting, and that she should give Cassandra sexy if she wants it.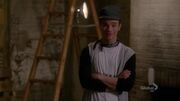 Later we see Kurt and Rachel in their apartment painting, Rachel asks if her painting on the wall was a bit obvious, and Kurt says that Finn hasn't called her because he loves her and not because he has forgotten.
Kurt goes on and says that Finn is afraid of the gift he gave Rachel, and advises her to accept it. Kurt then suggests that they should have cake because Rachel feels lonely, he tells her about the bakery down the street. A few minutes later, there was a knock on the door, so Kurt politely answers it and introduces himself. Kurt says to Brody that he was about to get some cake, and walks out the door to leave Rachel and Brody alone.
In Makeover, we see Kurt on Skype with Blaine watching a movie while eating popcorn, They talk about the movie. The next scene is Kurt in front of a mirror looking at his clothes, in voice over, he says that he has to have the perfect outfit for his interview at Vogue.com. While in New York, Kurt continues to explain how nervous he is because of the interview. He then meets the one and only Isabelle Wright who everyone talks about. They talk about his online resume and looks through all of his pictures. Kurt explains all the outfits he made, and describes that some of them were inspired by her designs.
Isabelle asks Kurt interview questions and he explains where he wants to be, such as if he does any writing, and he says he has written some blogs, she also asks him in four years where he would be. Kurt says he would be working at Vogue.com part-time, Graduating from NYADA, and starting his own Broadway show. Kurt is then accepted straight away into the industry, Kurt is over the moon with the opportunity and hugs Isabelle. Later we see Kurt's mentor in a meeting, he walks in with cups of coffee and hands them to her colleges. Kurt also gives Isabelle's colleges other items, as they all work on pitches for her, While Kurt passes on the items, Kurt is listening into the conversations, and after a while he is then asked to go to Isabelle's office. Kurt was then asked by Isabelle about the ideas the other people gave her, he states that they were fascinating but then honestly tells her he hated them. Kurt knows that he is just an intern, but suggests that leather should be in the back page of the village voice. Kurt also suggests to Isabelle that they could do a music video for the most cutting edge fashion. Kurt listens to Isabelle about how stressed she has been lately with the things that she was given, and she tells Kurt she has no idea what she is doing Kurt comforts Isabelle and suggests to her that she could stay with himself and Rachel.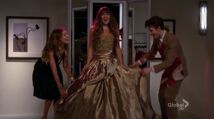 Kurt meets up with Rachel and walks with her getting coffee, he listens as she talks about NYADA, Kurt and Rachel are then in their apartment and he tells her that New York isn't Ohio and he takes out a glass of wine and explains that she doesn't need to wear the clothes she wore in high school. Kurt and Rachel sneak into Vogue.com at midnight. Kurt shows Rachel the room with full of clothes. Kurt and Rachel are then caught by security and Isabelle and they try to explain why they were there. Kurt says that he was going to do the music video he suggested earlier, and says that Rachel was going to model. Kurt sings The Way You Look Tonight/You're Never Fully Dressed, along with Rachel and Isabelle.
After the music video shooting, Kurt and Blaine are in a Skype call, Kurt shows Blaine the video and tells Blaine about what's happening next. Later Isabelle asks to see Kurt, he asks Isabelle if the video in which she forward to Anna would get him fired, and Kurt finds out that his video was a great success. Kurt tells Isabelle that Rachel is more confident then she was before all because of the video, he also says that it's funny how an image can change everything. Kurt agrees that he and Isabelle are like kindred spirits, and tells her that she is the best fairy godmother, he ever had. As Kurt chats with his fellow new colleges, suddenly his phone buzzes with a call from Blaine, he ponders over whether to answer it or not, and decides to not pick up and continues talking.
In the beginning of the episode Kurt is flipping some eggs, Rachel walks up to him, and says hello. Kurt notices that Rachel slept in late, and states that it's lunch time. Kurt was thankful for the earplugs he had and said to Rachel how much he didn't want to hear anything. Kurt decides to leave Finn and Rachel and head to the park to eat his lunch. Later we see Kurt calling Blaine, and Blaine answers. They have a small conversation that got cut when Kurt takes another phone call, turns out it was still Blaine on the phone line. Kurt explains that he has taken over Isabelle's phone, and says that the phone has not kept ringing. Kurt says that he doesn't want to miss Kurt and Blaine's phone dates, but because of how busy he is with the phone calls, it could be a big career for him.
Kurt asks if Blaine is coming to New York in two weeks time no matter how much he misses Blaine, He says that he has another call coming in, and says he'll call Blaine in the next break. But before Blaine says I Love You, he hangs up. During Barely Breathing Kurt appears to Blaine in the auditorium, as Blaine looks at him and sings. Back at Kurt and Rachel's apartment, Kurt and Finn discuss about what to wear during their date and also explains what the "Call backs" is in New York. Kurt suggests Finn to sing Don't Stop Believin' as a way to make Finn feel better going. There is suddenly a knock on the door, and Kurt opens it. To his surprise he sees Blaine with a bunch of flowers and was so happy to see him there.
Kurt says that he wasn't expecting Blaine for another two weeks, but Blaine says that he couldn't wait. They both exchange how much they miss each other, and then they kiss. At the karoake bar, Kurt asks if Blaine is okay, as Blaine seems to be a little distracted. Kurt was so glad that Blaine made it all the way to New York regardless of how horrible the plane trip was since it was their first date together since Kurt left. Kurt admits that he'll never forget this moment. After Rachel sings she suggest Kurt to go up there and sing, but he declines as he hasn't warmed up yet. During the song of Teenage Dream sung by Blaine, Kurt smiles but halfway through the song Kurt's expression changes and it stays like that for the duration of the song. At the end of Teenage Dream, Kurt takes a moment before clapping, although he doesn't seem that happy about it. After the karaoke bar, Kurt and Blaine went to central park and walked behind Finn and Rachel, Kurt tells Blaine that his performance was rather moving, and asked why that would be.
Kurt tells Blaine how much he misses him, and once again says how happy he is for Blaine to be there with him. Kurt explains that lately Blaine has been "weirdly emotional and weirdly sad" asks Blaine to stop pretending that there's nothing wrong. Both of them stop walking, and Kurt turns to face Blaine with a worried look on his face. Kurt stands there stunned after finding out that Blaine was with someone. Kurt asked if it was Sebastian, Kurt demands to know who Blaine was with. Kurt listens to Blaine's explanation but says that he too has been feeling lonely, and that he too has had temptations, he says that he didn't act on it, because he knew what it would mean to their relationship.
Don't Speak
begins to play, and Kurt walks away crying.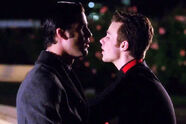 kurtsad
They walk around in Central Park, and during the song Kurt and Blaine are close up together sitting on the fountain, but after a few minutes, he walks away. Kurt then goes back to the apartment and slept next to Blaine without talking. The next morning, Kurt sits alone in the apartment, and sees Finn walking out, he discuss that he can't ran away and says that he has been waiting for someone to come out and that he was hoping it would be Blaine. Kurt tells Finn that he feels like he's going to die because of what happened the night before. Kurt and Finn have a brother heart to heart, and then both gave each other a hug.
Back at Kurt's office, Kurt looks at a note which he came with flowers. They are from Blaine, asking for his forgiveness. Kurt talks to one of the guys in the office and talk about who was giving him the flowers as if the guy knew what was going on, He offered to go get some drinks but Kurt politely says that he's okay. Kurt then drops the apology note into the trash. Later Kurt along with the others sings The Scientist during the Scientist there was a flashback of Kurt and Blaine running through the halls of Dalton from the first time they met.
This marks the second episode of Glee in which Kurt does not appear, following Comeback. He is mentioned briefly, however, in a conversation between Blaine and Sam. Sam is signing up to audition for McKinley's production of Grease, and Blaine retorts that he won't be doing the musical this year, due to his depression. He claims Kurt was his soulmate, and then sings Hopelessly Devoted To You with Kurt in mind.
In the beginning, Kurt was helping Rachel with her Ballet excersies, Kurt receives a text from Tina, informing him and Rachel about Marley not being able to fit into her costume. Kurt was being introduced by Rachel to Cassandra July, and says that it was such an honor to meet her and then complimented on her abs. Kurt explains to Cassandra that their old high school was going to put on a school production in which they're debating they should go or not. Kurt tells Rachel that he is going because he hasn't seen Blaine since their break up, he explains that he hasn't been sleeping, and begs for Rachel to go with him because he couldn't do it alone. Later in the episode, Kurt and Rachel are walking down the school hallway, side by side, Kurt then sees his old locker next to Rachel's and they remember things from the past. They then turn around to see Mercedes walking up to them, and Kurt hugs her. Kurt then goes back stage, and sees Blaine, and smiles at him. Kurt agrees with Rachel that he wouldn't miss the play for the world, and tells Finn and Blaine that Rachel has her audition next week.
Kurt watches Blaine as he walks away, and tells Rachel that it was a mistake to come to see the show and that he wouldn't be able to make it through. During the song Beauty School Drop Out, Kurt was looking sadly at Blaine, while in Rachel's imagination we see Kurt and Blaine dancing together in You're The One That I Want. After the play, Kurt notices Rachel wasn't standing, as everyone was having a standing ovation, she then leaves, and Kurt watches her. After a while, Kurt comes out of the auditorium and sees Finn and Rachel talking, he says that Will wants to see Finn in the Choir room, and asks if Rachel is okay. Kurt notices Blaine walking up to him, and tells him that whatever Blaine has to say he's not interested and walks away, as Blaine began explaining, Kurt turns around and interrupts him, asking him many questions regarding the cheating. Kurt says it doesn't matter that Blaine didn't care if it meant something or not, Kurt says that relationships are about trust and that he doesn't trust Blaine anymore, he also says it was stupid for him to visit Mckinley, and tells Blaine that it isn't home anymore. Kurt then walks away linking hands with Rachel.
Kurt does not appear in this episode because he was in New York. However, He is mentioned briefly, in a conversation between Blaine and Sam and again by Blaine and Finn, as Blaine was explaining to Finn that being in the Choir room reminds him of Kurt, therefore decides to go to Dalton. While Blaine was talking to Sam, he discusses his feelings about the break up and cheating and realized that Kurt was the one who he was meant to be with.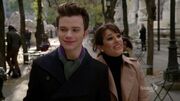 At the beginning of the episode there was a short mention of
Kurt
not answering to Blaine's messages. In New York,
Rachel
and Kurt take a walk through the City, Kurt was asked by Rachel if he put in his application for NYADA, and he said yes stating he had put it on vogue.com so it would stand out. Kurt and Rachel discuss their plans for Thanksgiving and Kurt says that he misses his dad. They continue to discuss their priorities rather than their boyfriends and Kurt understands what Rachel is saying when she explains that they'll be having the best Thanksgiving ever, while being in New York, Kurt and Rachel gave each other pinkie promises to ensure themselves, it then turns out that Kurt and Rachel have decided on having a so-called "orphan" Thanksgiving.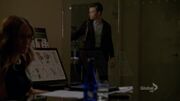 Later in the episode, Kurt is in the office, turning off the lights and ready to go home to his apartment, he accidentally forgets that Isabelle Wright was in her office and quickly apologizes to her, Kurt and Isabelle discuss movies they are most looking forward to. Kurt then asks Isabelle if she had any fantabulous Thanksgiving plans. Kurt invites Isabelle over for Thanksgiving, he accepts that she brings friends and then shortly after she asks Kurt about his Ex, Blaine. Kurt tells Isabelle that he is done thinking about Blaine and the break up and he says that he's done thinking if he'd ever get back together with Blaine, and officially says that it's over. Kurt sent Blaine a text message saying "please don't send me a text saying you're sorry, What's done is done."
Kurt shakes his head and Kurt interrupts Isabelle saying that he was reaching out to him as guilt, and states that the petal needs to move on. Kurt is seen inside his apartment with Rachel and Brody, Kurt helps Brody cook and Kurt says that he would never cook Turkey in a bag. Kurt tells Rachel and Brody that it's 5 o'clock which they should put the turkey in the oven. Kurt asks Rachel why everyone is there at Thanksgiving so close to sectionals. Later, Kurt and Rachel are looking over a candle, and Kurt asks if Rachel is okay. Kurt advises that the holiday melodies will never be over, Brody asks Kurt if he'd like to do the honor in cutting the Turkey, and Kurt kindly declines saying that he doesn't want touch it after the way Brody and Rachel have been manhandling it. Kurt stands up to open the door to see who was there and a whole bunch of Isabelle's friends arrived and quickly tells Rachel they're having a party. Kurt ask the guests if they have heard from Isabelle as he tried calling her earlier, and says he got voice mail.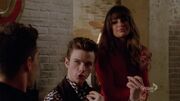 Kurt gets a call from Isabelle and answers. To Kurt's surprise, Isabelle walks in and they start singing Let's Have A Kiki and he joins in, at the end of the song Kurt and Rachel jump up and down while holding each other arms as Rachel says "This is the best Thanksgiving ever!" Before The William McKinley High School, Glee Club performs, Kurt calls Blaine. Kurt asks if Blaine can hear him, as it's a bit loud where Kurt is. Kurt asks Blaine if he has performed yet, and Blaine simply says no. Kurt interrupts Blaine saying that he wants Blaine to hear him out, and Kurt says to Blaine that he apologizes so many times that Kurt has finally decided he believes Blaine.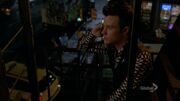 While on the phone, Kurt says that he's trying to forgive Blaine, and begins to tear up as he says that he's just not there yet. Kurt says that because it's Thanksgiving and that it's sectionals he misses Blaine like crazy. Kurt also says that he can't stand not talking to him, even though he's mad, because Blaine is still his best friend. Kurt suggests that at Christmas they both need to have a mature heart to heart, and maybe if it's cold enough they could go ice skating. Kurt then agreed on seeing Blaine for Christmas.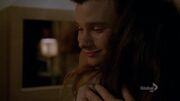 They both paused for a moment before Kurt finally says not to let any of the Warblers win, and tells him to break a leg. After Blaine says I love you to Kurt, Kurt then says it back, and hangs up.
Kurt goes back inside to the party where he sees Isabelle, and embraces her hug, to which he ends up all teary-eyed.
In Kurt and Rachel's apartment, Kurt received a message from Blaine explaining what happen at the competition, in which they lost. Kurt tells Rachel what happened, by saying that The Warbler's have won. Kurt and Rachel discuss all the details that's been going on in the Glee Club while putting away dishes. Kurt tells Rachel that because of what happened with the Glee Club, he says that it made him realize he has one more chance at his NYADA Audition and he won't allow himself to blow it. Kurt says that he can't live his life chasing his dreams in which the universe is telling him he can't achieve them. Kurt then asks Rachel if Carmen Tibideaux has handed out any tickets for the winter showcase, to which Rachel replies with a 'No.' Kurt, while inserting a record into a record player says that he found out about the tickets by reading a few online blogs. He says it's best if he knows more, the more chance he'll get in with his application and Audition. Kurt explains what the winner showcase is and why it is so important, he says even just getting an invitation is an honor.
Later in the episode, Kurt arrives at Carmen's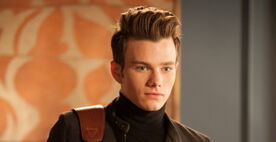 office, Kurt explains to Carmen that he applied at NYADA for second semester, he asks her what she thought of his application video, she says that Kurt is a very talented young man who knows how to sell a number. Kurt was confused with what Carmen was saying, but she elaborated and said that she wanted soul instead of complex audition. Kurt tells her that he has all of the things that she wanted in a NYADA student, and she states that she rarely gives anyone a second chance, although when she does, it's right. Unfortunately she tells Kurt that she has been rather busy with the winter showcase, and simply lets Kurt go, and so Kurt sadly walks out of Carmen's office.
A little while later, Kurt is on top of the staircase in which Brody and Rachel, are standing at and talking. He tells Rachel to hurry up because she's next. Kurt then sits down next to Brody and watches her perform. At the end of Rachel's performance, Carmen says that after the intermission Kurt will be performing next, Kurt is looking rather shocked at this announcement. He and Rachel both walk out during intermission, and Kurt is suddenly panicking, Kurt is so worried about the fact that Carmen did not give him any time to prepare and is certain he'll fail. Kurt suggests a few songs to Rachel in which might save him, after a few songs, he then suggested 'Being Alive' with a shrug. Rachel agrees, and Kurt tells her that he thinks that's the song that Carmen will hate. Kurt panics some more, worried that it's not going to work without any props or costumes, however Rachel reassures him that he doesn't need anything. Kurt explains that he does not perform well if he does not have anything that will give him the confidence when performing. Rachel reminiscence the time when Kurt sang I Want to Hold Your Hand, she said that the performance was so emotional and so simple, she gets chills every time she thinks about it.
Kurt tells Rachel that of course he remembers the song because he dedicated it to his dad when he was sick in hospital, but asks Rachel who is he going to dedicate 'Being Alive' to? Rachel suggests that Kurt should dedicate the song to himself, and so, with that, Kurt walks on stage and introduces himself to the NYADA winter showcase audience. He tells them, that he has loved the song since he was six years old, but for the first time, he finally understands what it means and starts to sing
Being Alive
. At the end of his performance, Kurt sheds a small tear, as everyone was applauding him.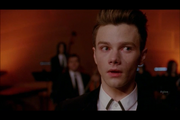 During the song Don't Dream It's Over Kurt receives a letter and starts to read it, Rachel asks what's happened, with Kurt saying that he got his NYADA letter. Kurt with a huge smile, announces to Rachel that he got in and Rachel ran over to Kurt giving him a big hug.
During Artie's dream, Kurt was being pushed into the lockers by Sam, Ryder, Finn, Mike, and Puck, saying they were having some fun. Artie asked Kurt if he graduated, and Kurt said, he should have, but he couldn't bear to attend school, only going twice a week because of all the bullying. He walks off with Artie, and states that he has done homeschooling, which sent him back a year. Artie asked Kurt what Blaine thought about Kurt's situation, and Kurt turned around and asked Artie who is Blaine. Kurt along with the New Directions, sat in Coach Sue's craft room, he watched Artie singing and dancing around with a shocked face. Later Kurt and Rachel are at their apartment in New York, Rachel was packing to go to Ohio while Kurt, was decorating a small tree. Kurt says there is no reason for him to go to Lima, and tells Rachel that Blaine knows that he is saving money for NYADA, with a positive attitude he says that it'll be good for him to be by himself for a while. There was a knock on the door, so Kurt hurries over to answer it, there was a giant Christmas tree, and standing behind it, was Burt Hummel, Kurt was surprised to see his father there, and both gave each other hugs.
Kurt invites Burt inside along with the tree, and so they all set the tree up, and stood back to get a look at it. Burt tells Rachel all about the first Christmas Kurt had without his mom, Kurt looks down and sees his mothers perfume bottle, and says that he always loved the way his mother use to smell. But continues telling Rachel the first time that Kurt smiled after his mother died, and Kurt listening, says that there will be no sadness on Christmas Eve and Kurt holding up little Christmas decorations talks about them, He and his father both decorates the tree with smiles on their faces. Kurt and Rachel also decorate the Christmas tree with an ornament that Burt has given Rachel as a gift for their first New York Christmas together. In the evening, Kurt and Burt both go for a walk in New York, Kurt discussing that he'd never see this day. They continue on remembering performances, and decided to get the family tradition; Hot Chocolate. While drinking hot chocolate, Burt says that he has something to say, to which Kurt doesn't like the sound of, Burt announces to Kurt he has prostate cancer, and Kurt, says he felt like he was going to be sick.
They talk about how they discovered the cancer early, and Kurt tells Burt that it's just really scary that when he reached his destiny that Burt won't be around to see it. Burt reassures he will be around, and gives Kurt small advice, He tells Kurt that even though he has been close to death three times, he learned that he has to hold onto those you love no matter what.Kurt and Burt both hold hands, and went back into the apartment. Kurt offered Burt if he wanted any drinks or refreshments, and Burt says that he wants Kurt to focus on happy things, such as their Christmas traditions. They reminiscence the Christmas's they had, and says they exchange one gift to each other on Christmas Eve. Kurt gave Burt his present, which was a NYADA Hat, and a NYADA T-shirt. Burt then explains that his gift to Kurt was a bit big to put under the tree, which intrigues Kurt, and gave Kurt an address to where it was. Burt says that if Kurt doesn't like his gift he can always return it. Kurt then heads down to the ice skating rink, and waits for his present, he hears his name being called and turns around to see it was Blaine in the ice skating rink.
Blaine tells Kurt that the reason why he was there, is that Burt didn't want Kurt to miss out on another holiday tradition, with Kurt knowing it was their Christmas Duet, which they had two previous years. Kurt rushes over to put his skates on, and White Christmas begins to play with Blaine starting off. During the song, Kurt and Blaine skate around while singing to each other like they use to, Burt watches from the side and sees how flirtatious the two were. After their duet, Kurt and Blaine started walking together drinking hot chocolate, Blaine tells Kurt that even though they're not going to be together, they will always be there for each other and so Kurt gives Blaine a hug.
At Kurt and Rachel's apartment Kurt walks over to Burt and Blaine, where they were watching TV. Kurt asked who is wining and so Kurt tried to join in watching the game, during the game Kurt and Blaine both exchange looks, before finally giving up watching the game and reading Vogue. While Blaine was talking to Burt about applying to NYADA, Blaine asks Kurt if that's okay, and Kurt agrees that it would be a great idea. During Have Yourself a Merry Little Christmas, Kurt and Blaine are back at the apartment setting up dinner plates and food around the table, and had dinner together.
At the beginning of the episode, Kurt in voice over discuss what it is like for his first week at NYADA, and talks about all the cliques. Kurt explains what he and Rachel thought what they would be doing but unfortunately for Kurt he says that Rachel has been too busy for him. Kurt looks at all the extra-curriculum so that he could make new friends. Kurt in the apartment was happily singing to himself. Rachel then comes up to him and says that Brody had spend the night. Kurt is shocked at Rachel's decision but he is happy for her. Kurt then tells Rachel about his week at NYADA, he admits that he has been lonely but he says that so he could meet new people he then thinks about joining the show choir called Adam's Apples.
Rachel warns Kurt that being in the show choir at college is the last thing he would want to do when making friends. At NYADA Kurt meets Adam which therefore they discuss Kurt joining the choir. He simply declines which Adam takes Kurt to listen to the Adam Apples, Where he is seen enjoying their performance. In New York Rachel and Kurt walk side by side, Rachel and Kurt talk about gong on double dates with their partners and Kurt says that he has an eye on someone yet he couldn't figure out why because each class Kurt attends Adam seems to be there and compliment him.
Adam compliments Kurt on his dance moves and says that Blaine is more of a dancer than he was in Kurt and Blaine's former relationship. Adam repeats the compliment more slowly which Kurt stops and turns around and says thank you. Rachel advises Kurt to ask Adam out.
Back at NYADA Kurt sees Adam then notices Kurt and invites him to a mash up event. Kurt then asks Adam for a drink to which they exchange numbers.
At Kurt and Rachel's apartment, Kurt is seen eating breakfast, Brody walks in naked, and Kurt notices shortly after and makes a comment to Rachel about it. When Rachel tells Kurt about her nudity scene, he is shocked and says that Rachel is a serious actress who doesn't do that kind of thing. Kurt then observes how much Rachel has changed, he comments that back then she was the kind of girl who was insecure about her body, and now she known as the 'slutty barbie'. Kurt gets frustrated at Rachel about her choice and asks Rachel what is wrong with her. Later in the episode, It was mentioned that Kurt had called Quinn and Santana to New York in order for them to help Rachel with an intervention.
The episode starts off with a voice over of Kurt. During the voice over, Kurt starts to complain about Rachel and her singing. He also mentions other little things that makes him more annoyed with her. Kurt realizes that he is the only one that can bring Rachel down. In the apartment Kurt awakens and after Rachel asks Kurt to do a favor for her, Kurt suddenly sarcastically says he will go to the store to get her whatever she needed. Kurt angrily tells Rachel the truth about her attitude and then he yells at her, calling her an 'annoying, self-righteous, Lima Rachel on steroids.
They argue about the Winter Showcase, with Kurt saying that he blew Rachel away. Kurt then challenges Rachel to a Diva off, Kurt and Rachel then remember the time when they did Defying Gravity.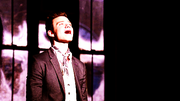 Kurt explains that he didn't win that challenge simply because he didn't want to, and he wanted to save his father from embarrassment. At NYADA everyone is getting ready to watch Kurt and Rachel's Diva Off. The area has been split into two sides, one for each competitor. After the song, the audience will choose who to stand beside, either Rachel or Kurt. It was said that this challenge was not a performance but a blood sport. Kurt and Rachel go head to head, both singing
Bring Him Home
. Kurt began to sing the song first, as it was his idea that they should do the challenge. At the end of the challenge, the audience got up from their seats to and chose who they thought sang the song better. It turns out the winner won by so many votes was Kurt Hummel.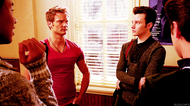 Back at NYADA, Kurt tells
Adam
, about how he is feeling, he admits that he is torn, and conflicted, Adam reassures Kurt and says how much of an amazing singer he is. A few moments later, a couple of NYADA students come up to Kurt and invites him to Mamma Mia. Kurt declines the offer, and says that the boys were shallow and obnoxious, he also says a few other things that make the two boys gobsmacked. Kurt then says, the next time they make nasty comments about Adams Apples, he will challenge them to the next Midnight Madness. The boys walk away, and Kurt receives a compliment from Adam, as he turns around he sees Rachel standing alone. He runs up to her, and invites her to go with him to Funny Girl auditions. Rachel sadly says that Kurt should try out, as he would be great at it, and walks away. In Rachel's bedroom, Kurt tells Rachel that he had gave them both open slots to Funny Girl. Rachel, however is still upset about losing, and Kurt reassures to Rachel that it meant nothing, besides the fact that they are even, he also says that this doesn't change the fact that Funny Girl is Rachel's favorite musical.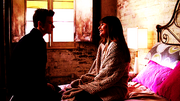 He tells Rachel that it's her once and a life time opportunity for this role. Kurt admits that Rachel has been a Diva, but at the same time a nightmare. He explains that Rachel is a Diva because she is talented and ambitious. He reassures her that no one else could do the things that she has done, and he says that's what being a Diva is about. Kurt and Rachel then hug each other, and Rachel says that she hates fighting with Kurt. Kurt says that it keeps the relationship between them fresh. At the end of the episode, Kurt answers the door to his and Rachel's apartment, and to his surprise it was
Santana
, entering and telling them that she's moving in.
Before the wedding begins, Kurt is in the backseat of his car with Blaine, making out passionately. Kurt remembers that he was supposed to be dating someone in New York, but Blaine reassures him that he isn't in New York so it doesn't count. Kurt also worries the fact that this might lead Blaine to thinking they will get back together, which Blaine knows won't happen. So they continue on making out trying to go all the way and Blaine says they were "bros helping bros." When, there is knocking on the window, he says, "Tell me it's not Tina again." However, it is not Tina, but Mercedes, who was telling them that it was trashy that they were making out in a backseat of a car at a wedding, but Kurt says that's what everyone does at weddings.
While inside the church, Kurt sits next to Rachel, who watches Becky as the flower girl.
At the reception, Kurt and Blaine sing Just Can't Get Enough. After the song, Blaine decides to go get himself and Kurt some punch, to which Kurt reminds Blaine that they are not dating. As Kurt look at the cupcakes, Tina walks up to him, and comments on the way Kurt treats Blaine. Kurt then replies with his comments on Tina about how creepy it is that she is in love with Blaine, and tells her to stop. Tina explains that it was her that supported Blaine, while Kurt has been away in New York. Tina admits that she used vapor rub on Blaine, to which Kurt was shocked and starts questioning for more.
During We've Got Tonight, Kurt and Blaine are slow dancing together as friends. Afterwards, Kurt and Blaine go into a hotel room, with Kurt pulling Blaine in by his tie.
After, Kurt is seen buttoning up his shirt, implying that they slept together, while Blaine asks if he and Kurt are back together. Kurt says that what they did was fun, however, Blaine points out that it was no accident that both boys were together on Christmas and Valentine's Day. Blaine is determined that he and Kurt will get back together, no matter how long it takes. Kurt walks out of the room, whispering to Blaine that he'll see him downstairs and leaves.
Back at the school, Kurt and Blaine both walk behind Tina. She apologizes for the way she attacked Kurt and how she was acting lately around Blaine, claiming that it was only because she was lonely and wanted a boyfriend of her own. She wanted the chemistry that Kurt and Blaine had. Kurt reassures Tina that he and Blaine are just friends. Kurt then tells Tina the only reason why he called her a hag was the fact that she was trying to bring out the tradition of 'hagdom.'
In the beginning of the episode, Kurt was in his apartment along with
Santana
,
Rachel
and
Adam
, They were making expressions and impressions of the movie they had seen. Kurt states that the school was closed because of the snow and so he tells Rachel and Santana that instead of bickering, they should watch a movie, and although Santana had chosen a few movies herself, Kurt decides they should watch Moulin Rouge.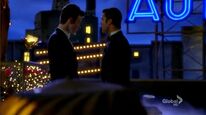 Later, Kurt and Blaine sang Come What May on a roof top, with smoke everywhere, in a romantic setting. They both dance around each other, and then together slowly. At the end of the song, the two held each other close, not wanting to let go.
While watching the movie, Kurt is seen crying, which he claims was because of the contacts he wears. Even though the others had no idea he wore any contacts. 
When Santana told Kurt and Rachel that she had gone through their items, Kurt was not impressed with her, neither was Rachel.
When Rachel and Santana were bickering again, Kurt tries to change the subject by talking about how bad the snow was getting. He couldn't stand watching Rachel and Santana argue, so he said they should re-watch Moulin Rouge so neither of them would each each other out of boredom and frustration.
Back in NYADA, K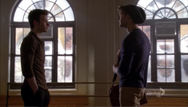 urt is seen dancing and spinning alone, until Adam walks in and compliments him. They talk about the weather, and Kurt admits it was nice to hang out with Adam. Adam then asks if he and Blaine used to sing Come What May as a duet, to which Kurt says yes, but he says it felt like a lifetime ago. Adam then ask Kurt if Kurt still loved Blaine, and whether or not Adam was a rebound, which Kurt was hesitant to answer, but says no. 
Kurt admits that he desperately wants to get over Blaine, so Adam tells him they are going to the movies to find their own sappy love story. Kurt tries to smile, but does not respond.
In the episode, Santana announces that she has received a job, Kurt and Rachel sat and watched while she talked about her new job. Kurt and Rachel asked if Santana could sit down for a loft session. Kurt asked Santana if she had confronted Brody at NYADA with a Paula Abdul song. After a bit of silence, Kurt says to Santana that she should move out, as Santana was gathering her things Kurt comments and says "Bitch took my pillow."
At NYADA, Kurt is in Acting class, sitting around in a circle with his classmates. The teacher asks Kurt into the middle of the circle, which prompts Kurt to do a voice over. Kurt explains that his guilty pleasures are watching marathons powerhouse woman in TV history, Golden Girls, Murder She Wrote, Moon-lining woman, and Richard Simmons. Kurt then says that his most guilty pleasure as of late, is his boyfriend arm saying that he had ordered it online one night and says that he loves being warm gentle embrace. Kurt states that if anyone ever finds out including his best friends and ex-boyfriend, it would totally destroy him.
In his apartment, Kurt was brushing his teeth, when
Santana
walks in and started complaining about the shelf space in the bathroom, Kurt tells Santana that she is a bitch, and compliments
Rachel
by saying that she is beautiful. He also explains, that with using all the products that Rachel has, she wouldn't have to worry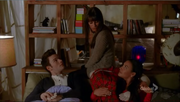 about the oil on your face. Kurt is then threatened by Santana, by saying she will tell Rachel about her boyfriend and his cheating ways. Kurt says that he and Santana had a deal, to which Kurt says that Rachel can't find out until her Funny girl audition.At night, Kurt then is awaken by Santana and Rachel who happen to see him with his boyfriend arm, to which he says that he couldn't resist to what the commercials were saying about it. Kurt admits that he named his pillow Bruce, and says that it is an exclusive pillow and neither Santana or Rachel could borrow him. Later in the episode, Rachel and Santana are Blind folded, because Kurt decided to give them a boyfriend arm each, with one of which Kurt changes the sex of it so that it would suit Santana.
Kurt notices Rachel not being as happy about the gift, but that was because she explains to both Kurt and Santana that she isn't lonely. Kurt is then shocked at Santana for telling Rachel the truth about Brody, and Rachel asks Kurt if it's the truth to which Kurt doesn't answer. Kurt asks Santana, why she had to do that, and Santana replies with "It's for her own good." Kurt then looks down and shakes his head.
Towards the end of the episode, Kurt and Santana are seen watching TV with their boyfriend/girlfriend arms, Kurt says that he knew Santana would like the Facts Of Life Marathon, and says he already recorded some of the episodes. Kurt and Santana talk about the episode they are watching, and stops the TV after Rachel asks if she can join in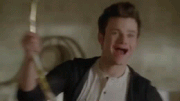 .
Kurt then asks Rachel why she is still upset, adding that she has a hot boyfriend pillow named Collin, and says he named that pillow Collin after watching the boy in the secret garden, because he knew she loved that movie. Kurt, Rachel and Santana then sing Mamma Mia, after Rachel says she wants to watch the movie. While singing, Kurt along with Santana and Rachel are seen dancing and spinning hoola hoops around the apartment.
In this episode, Kurt is seen dancing and singing to Don't Stop Believin' with Rachel during her Funny Girl audition song along with the very first glee club members. In New York, Kurt is baking cookies, and notice Rachel was fiddling with her phone, Kurt then makes conversation with her, He then walks over to her with the plate of cookies and says "No news is good news, right?." Kurt offers Rachel a cookie, to which she talks about her dreams. Suddenly Rachel's phone starts to ring, and Kurt tells Rachel to answer it. Kurt eats a cookie, and jumps up and down with Rachel as she told him the good news. 
In the beginning
Kurt
along with
Rachel
have a serious talk with
Santana
about her life and how she has been waiting her life away by doing such things she's doing. Kurt suggests that while Santana is trying to figure out her dreams she should doing something else in the mean time, such as dance lessons at NYADA.  Kurt yells at Santana, asking her if she would take her chair with her when she walks away. Later, Kurt walks in
Isabelle
's office while she's on the phone, Kurt was asked by Isabelle how his father is, and h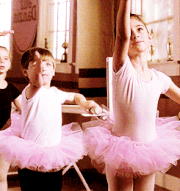 e appreciates her asking about him. He then answers the question by saying Burt is doing good, and is back at work, and in between time all of his treatment seems to be working. Kurt then says to Isabelle that he was worried because she called him to her office to fire him, and he explained that he hasn't been at work as much because of all his NYADA work. Isabelle, says that she likes the quality that Kurt brings, she would never stop anyone pursuing their dreams.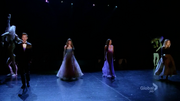 Isabelle then asks Kurt for help, for the New York City Ballet educational Programs. She ask Kurt to be her assistance, to which Kurt gratefully accepts, she then mentioned about bringing a few friends to help him out as well. Back at the apartment, Kurt tells Rachel and Santana about his big event which he gets to attend to, and he and Rachel discuss how important Ballet meant to them. Kurt says that he started Ballet at the age of three, and explains that the dance class he attended when he was young was the only place he felt like he fit. And even though he heard parents and children laughing at him, he didn't care because he continued what he loved doing, regardless of what people thought of him. Kurt says that his "Can do Attitude" was born in that dance studio.
As Kurt, Rachel, Santana and Isabelle arrive at the Ballet event, they were told they were going to watch the performance on the wings of the stage. Kurt mentions to Isabelle that Santana doesn't like Ballet and was only there because of the dress. Kurt then sings At The Ballet with Santana, Rachel and Isabelle at the front of the stage, while there are dancers behind them. 
In Kurt and Rachel's apartment, Kurt was crossing off the days off his calender, until his dad gets his test results. Kurt explains that whether the cancer is there or not, he still has to be there for the appointment, he packs up all the important clothes such as socks and a couple of shirts because at this moment he's getting rather anxious, but according to his best friend, Rachel it's natural. Kurt says that he should cut himself some slack, as it shouldn't matter if he has a few new routines. Kurt worries about losing his dad because he was the only one who was with him when his mother died, so he decided because of that he wasn't going to think about it. 
Kurt then says that while he's visiting his dad, it's a good excuse to visit the Glee Club and
Blaine
. He says that he's not going to hook up with Blai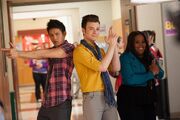 ne, while it does feel weird seeing him still it's not as weird as before they hooked up, however Kurt isn't sure if it's sad or not but he knows he doesn't have to face it all alone due to
Mercedes
and
Mike
being there with him. They all run into the classroom together, high-fiving everyone. Kurt watches
Kitty
as she sings,
Signed, Sealed, Delivered I'm Yours
, He appears to be enjoying the performance.At the end of the song, Kurt is angered by how rude Kitty's comment was to Mercedes, so as a friend he was to Mercedes he defended her. Kurt is annoyed as to Tina's question as to why he was in Ohio and says that his dad has cancer. Kurt and Blaine grab a coffee, and they talk about Marriage equality in New York. Blaine compliments Kurt in a very sexual way but Kurt didn't respond. The two of them go and sit down next to Mike and Mercedes and they discuss Mercedes next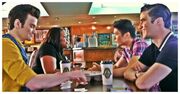 album. Kurt then makes a comment to Mercedes while lining up all the sugars and organizing them. Kurt was then asked by Mercedes if he and Blaine are back together, to which Blaine says they aren't. Angrily Kurt shouts at them and says that it's not important because he was more worried about his dad than getting back together with Blaine. Kurt hold hands with Blaine and Mercedes, saying that Blaine's right about those two being here because they all need them. In the Auditorium Kurt along with Mercedes and Mike stand side by side and while Mercedes was singing 
Superstition
Kurt happily joins in and dances.  
Kurt anxiously waits in the hospital with Burt and Carole, Kurt then panics about what Burt is wearing saying that he doesn't know for sure what will happen. Burt yells at Kurt saying he's barely keeping it together and asks him to sit down. Good news is that the tumor is gone, and it's under control. Kurt and Burt hug it out, and are so happy, Kurt then hugs Carole. Later, Kurt stands in front of the class waiting for Burt, Kurt then tells Burt why he has bought him there today, as it is to do with a song. Kurt thens remembers the last time he sang a song dedicated to him was in hospital, but this time Kurt is dedicating it to Burt because of second chances. Kurt explains when he was little Burt would sing a song to him in the car ride, which therefore Kurt wants Burt to listen, while Kurt sings so that Burt can smile. Marley, Kitty and Tina dance as Kurt sings You Are The Sunshine Of My Life. Later, Kurt and Mike go to the auditorium to see Mercedes on the phone. Kurt is shocked at what Mercedes had said about her Album and her CD.
Kurt says to Mercedes that those people are crazy and asks if she's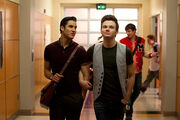 actually considering of doing what her producers asked of her. During
Higher Ground
, Kurt watches Mercedes and dances in his seat moving about and going along with it. When Mercedes threw her coat at him, he pulls it inside out and wears it and continues having fun. Towards the end of the episode, Kurt and Blaine were walking down the hallways, and Kurt asks "what's up," Blaine says that it's going to take a lot of courage because of their complicated history, and says that he's going to say it anyway. Kurt waits and says that Blaine gets kinda cute when he's nervous. Blaine then asks Kurt if he would stick around for Regionals, to which Kurt was shocked and surprised about and says he'll be there with Mercedes to cheer him on. Kurt watches the glee club sing
For Once in My Life
in the Auditorium, then he gets up and dance with the others.
Kurt and
Blaine
were in Breadstix with Liz and Jen, Kurt asked how Blaine an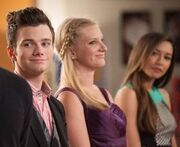 d Jen and Liz met, to which they said it was at a mall. They continue to talk about the two relationships and to Kurt's surprise he witnessed yet another wedding proposal to which they were very happy about. Later, before the Glee Club's performance Kurt is Backstage with the others as he stands in the show circle listening into Brittany's goodbye. After their performance, Kurt then wheels Artie back into the dressing room after their victory win where he and the rest of the Glee Club witness
Will
and
Emma
getting married.
Personality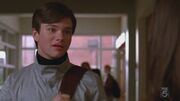 Kurt's definitely one of the most diverse characters in the show, having interests in everything from cars to fashion, and seems to have very high standards for himself. In the beginning of the show, he appears to be somewhat superficial; Kurt is obsessed with the latest fashions, which are normally of the highest quality and most expensive brands. He is also very obsessed with his hair, spending hours preparing it, and often adjusting it at random intervals, even when performing. While many assume him to just be a snob, the truth is, this is simply a mask that Kurt wears in order to hide his insecurities and fears. He can be brutally honest, once telling Mercedes she looked like "a technicolor zebra" because of her hoodie. He's very smart, as proven through his quick-witted sense of humor and use of intelligent vocabulary. This was further proven when speaking to Mr. Schuester he told him he wasn't "challenged in the least" at McKinley. He can be manipulative at times, as seen when he tricks Rachel into dressing more like Sandy from Grease in order to win over Finn's affections, despite Kurt's knowledge Finn is attracted to the opposite look in a girl. This side of Kurt is also shown when he sets up Finn's mother with his father to get closer to Finn. As the only openly gay boy at McKinley, he tries his best to keep strong, a trait that his father and many in the Glee club value in him. However, having no friends at school who he can completely talk to about being gay, he is often seen as a very lonely individual. This loneliness has at times caused his romantic interest in certain boys to become a bit unsettling, as seen during the course of his crush with Finn. However Kurt is also a strong character as he is able to persevere through the cruelties of high school. When Kurt develops a crush he seems to fall hard, as shown with Finn in Season One and Blaine in Season Two. Kurt puts those he cares about before his own wants, despite his superficial exterior, as in
Wheels
where he throws a high note, thus giving up a solo in order to spare his father the stress of being ridiculed for his son singing a girl's song, and somewhat in
Laryngitis
, trying to change himself so that he and his father can better relate and because he felt that he wasn't doing enough to help his dad feel comfortable (though this all may or may not be a cover-up). Kurt, like Rachel and Mercedes, can be a bit of a diva at times, but he cares deeply for his fellow Glee Club members, as seen when he wanted to help the boys get revenge against
Vocal Adrenaline
for egging Rachel. Tina was also picked on by two bullies but is defended by Kurt. He also told the bullies to pick on him instead. He has tendencies to lash out and get defensive under pressure, as illustrated particularly in his and Blaine's fight in 
Blame It on the Alcohol
. Kurt, while ambitious, seems to always be generous enough to appreciate real talent. He contends with both Rachel and Blaine for solos, but always acknowledges Rachel's talent and singing ability. Even when competing with her for the lead solo in
Funeral
, he rises to his feet and applauds and is pulled down by Santana. He is extremely good at keeping secrets, even when his safety is at stake, as seen in his relationship with Karofsky. He is also sensitive enough to forgive him later because he realizes that Karofsky is miserable. Kurt is shown throughout to be a very caring individual, even towards people he isn't close to; such as defending 
Rory
, and shouting at Santana for "attacking" him in
Mash Off
. He also has a strong "family first" mentallity, as shown in
Wheels
 when he throws the high F in order to protect his father. Kurt is also an extremely forgiving person, seen when he forgives Dave for bullying him,  when he forgives Rachel for running for class president, when he forgives Mercedes for busting his window, and when he forgives Blaine for cheating on him.
Appearance
Kurt is slender and quite tall in regards to the rest of his New Directions teammates. His eyes are glasz (blueish, greyish, greenish color), and his skin is very pale and clear. His hair is chestnut and wavy. His pale skin earned him the nickname "Porcelain" from Sue Sylvester. He takes very good care of himself. 
He seems to never wear the same outfit twice a week unless under stress or depressed, as shown in Funk. Throughout the seasons, Kurt's fashion trends change, Season One he would always wear large amounts of clothing and as the series continued the layers began to decrease. Ryan Murphy has said this is due to Kurt's journey of accepting himself for who he is.
Relationships
Main article: Mercedes-Kurt Relationship  
Mercedes and Kurt have been friends since the beginning of the first season, but their relationship is slightly petty because they have fights over things such as religion. They are always having sleepovers and they like to hang out a lot. In Acafellas Mercedes develops a crush on Kurt and gets angry when he rejects her, but when he confesses to her that he's gay, she supports him.
Main Article: Rachel-Kurt Friendship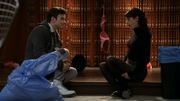 Rachel and Kurt, for the longest time, have had a love-hate relationship. They both saw themselves as being superior to each other and their personalities clash more often than not, probably because they are so similar. They often compete in diva-offs, but they ultimately look to each other for advice. They become close mid Season Two. Season Three opens with Kurt and Rachel portrayed as best friends. They audition for NYADA together and Kurt supports Rachel when she gives up hope. Then when Rachel moves to New York for NYADA, Kurt later joins her and the two of them find a place to live together. Though their friendship can sometimes take a back seat to their ambition, they so far have always ended up all right.
Main article: Finn-Kurt Relationship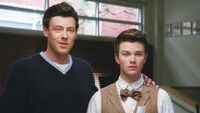 Even before they joined Glee together, Kurt and Finn had a great deal of interaction, due to the Football team constantly targeting Kurt and throwing him in a dumpster. Despite the fact Finn never tried to stop the abuse, it was clear that he was never comfortable with mistreating Kurt, and often tried to help him in small ways, such as allowing him to take off his expensive clothing before getting tossed in the trash. After joining glee, it is implied that Kurt has developed a crush on Finn. Kurt sets up their parents and they eventually become step brothers, they are shown to look out for each other and they want what is best for each other.
Main article: Kurt-Blaine Relationship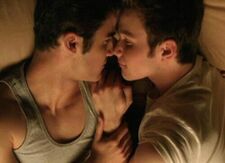 Kurt first meets Blaine at Dalton in Never Been Kissed when the Warblers sing Teenage Dream to Kurt and develop a strong foundation, and Blaine even transfers.Kurt develops a crush on Blaine who he is seen with in many episodes, this shows they were close before dating. Kurt first admits to being in love with Blaine after their duet of Baby, It's Cold Outside to Mr. Schuester in the Season Two Christmas episode, A Very Glee Christmas; however, their relationship remained platonic. In Silly Love Songs, Kurt finds out that Blaine has a crush on somebody and Kurt then believes it is him as Blaine knows his coffee order and admits that Valentine's Day is his new favorite holiday. Kurt along with the Warblers find out that Blaine has a crush on a guy who works at the GAP (Jerimiah) and Kurt is shocked and upset. During a sleepover with Rachel and Mercedes Kurt asks whether he should go with Blaine to serenade his crush which they reply he should check out the competition for Blaines heart. Kurt encourages Blaine to sing to Jeremiah and then comforts him when he gets turned down. At the Lima Bean Blaine is still upset and Kurt finally confesses to Blaine that he thought Blaine was interested in him, bringing up that they "hang out together," sing "flirty duets," and that Blaine knows his coffee order by heart. At this point, Blaine admits to Kurt that he is "clueless" and has never been anyone's boyfriend and doesn't want to screw up their friendship.They then start a Lonely Hearts Club for Valentine's Day in which you see the Warblers singing Silly Love Songs to the New Directions Blaine and Kurt are still friends and their relationship is deepening. In Sexy Sue approaches Blaine and Kurt at the Lima Bean explaining the New Directions are getting sexy which Kurt dismisses but Blaine believes it is necessary for the Warblers to be sexier. They organise that their Sister School watch their performance of Animal and provide them with feedback on whether they are scream worthy. During the song Blaine notices Kurt is pulling weird facing and asks him about it afterwards. Kurt explains he does not know how to be sexy as he has as much sexual appeal and knowledge as a baby penguin. Blaine then is seen trying to help Kurt pull sexy faces which Kurt fails to do. Kurt then explains he knows nothing about sex and Blaine offers to help which Kurt declines. Blaine approaches Burt telling him he needs to have the talk with Kurt and admits he is jealous of their relationship. This shows Blaine cares about Kurt. Their relationship develops in Original Song from the passing of Pavarotti and Kurt sings Blackbird in rememberance, but also opens Blaine's eyes and realizes that he's falling for Kurt. He plans for them to do the duet Candles at Regionals, but he really wants to do the duet to spend more time together and tell Kurt how he feels, where after he kisses Kurt.After their first kiss they both blush before lunging into their second kiss showing the boys have created a romantic relationship. After they lose Regionals Blaine admits that he and Kurt still won as they got each other in the end which Kurt agree's with before taking Blaines hand and going back to Dalton. Blaine also show support when Kurt wants to return to Mckinely and serenades him when he does transfer. They still continue to date when Kurt transfers back, attend prom together where Kurt shows Blaine that he will stand up for their relationship by being given his prom queen crown. Blaine then shows Kurt he too will stand for their relationship by sharing with Kurt the first dance infront of
everybody after David ran off. They later share "I Love You" for the first time in New York. Kurt admits that he has had a pretty good year he got Blaine and went back to be with his friends while going to the city of his dreams. 
In Season Three, Blaine switches schools and attends McKinely to be with Kurt. They take their relationship to the next level in The First Time, where they become sexually active. They prove to be a strong couple, only fighting two times in the year. They remain strong and support each other when they need to. Blaine supported Kurt when he lose his presidency and sent his application of to NYADA without any extra curriculums and also when he was insecure about Sebastian flirting with Blaine. Kurt supports Blaine when he gets slushied by Sebastian  by accident and then when his big brother comes to town. They prove they love each other in this episode as they are always close and always look at each other lovingly during love songs.
In Season Four, Blaine tells Kurt that he needs to move forward to New York, and that they would continue a long distance relationship. This doesn't work out though because in The Break-Up, Blaine admits to cheating on Kurt and they break-up, and compromise their friendship. Blaine and Kurt reconcile in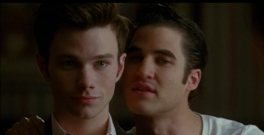 Thanksgiving as Kurt admits that he misses Blaine and they are still best-friends. Blaine agree's with this and they share I Love You's. In Glee Actually Blaine with the help of Burt visits New York as Kurts Early Christmas present. Kurt and Blaine sing together for their annual Christmas Duet and ice skate while showing the chemistry. Blaine also admits his plans on going to NYADA which Kurt believes would be great showing they are wanting to get back together. Blaine and Kurt talk on the phone to keep their friendship up. Blaine and Kurt become friends with benefits in I Do as they make out in the back of Kurts car which is heated as the boys are trying to undress the other. They then go to a hotel room and have sex. Blaine tries to get Kurt to admit it meant more than fun but he neither disagree's or agree's to anything before they are hanging out as friends again before Kurt returns to New York. In Girls and Boys Kurt imagines that he and Blaine are singing their love song together, Come What May, before Kurt admits to Adam he is still in love with Blaine. He and Adam are still dating and Blaine has a crush on Sam, but the latter still believes he and Kurt will end up together.
Main article: Kurt-Chandler Relationship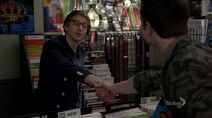 Chandler is a character that first appears in
Dance With Somebody
, Kurt meets him in a music store, while looking for sheet music. Both share an interest in Broadway and both intend to move to New York for school the following year. Kurt and Chandler later exchange flirtatious text messages behind Blaine's back. When Blaine notices the messages on Kurt's phone, he says it is cheating. Kurt claims that he is not cheating, only texting Chandler because Blaine has been distant from him and hasn't giving him any compliments, as Kurt says Chandler's texts makes him "feel good." Apparently, Kurt told Chandler to stop texting and so the one sided crush may or may not have been finished.
Main article: Adam-Kurt Relationship   '

Added by

Soholade
Adam made his first appearance in Sadie Hawkins. Kurt meets Adam during his first week at NYADA, when Kurt was standing in front of the sign up sheets for the Adam's Apples. Kurt was about to introduce himself to Adam, but Adam said that he already knew Kurt from the performance at the Winter Showcase and so he congratulates him. While Kurt's looking at the Adam's Apples sign up sheet, Adam decides to take Kurt and show him a performance, which Kurt enjoyed. As the days go by, the two boys get closer and closer as Adam compliments Kurt whenever they happen to run into each other.
Kurt later tells Rachel that he has an eye on someone, remembering the days he encountered Adam at NYADA. Rachel advises Kurt to take the chance he could get, and so with that thought in mind, Kurt asks Adam out for drinks, to which Adam agrees and they then exchange numbers.
In Girls (and Boys) on Film, they officially start dating, even though it's not something exclusive.
Songs
Solos
Season One:
Season Two:
Season Three:
Season Four:
Duets
Season One:
Season Two:
Season Three:
Season Four:
Solos (In A Group Number)
Season One

Song

Episode

Solos with

Like a Prayer
The Power of Madonna
Rachel, Finn, Mercedes and Jesse
What It Feels Like For a Girl
Finn, Artie and Puck
Bad Romance
Theatricality
Tina, Santana, Quinn and Mercedes
Give Up the Funk
Funk
Artie, Mercedes, Tina and Finn
Any Way You Want It / Lovin' Touchin' Squeezin'
Journey
Finn, Rachel, Mercedes, Puck and Artie
Don't Stop Believin' (Regionals Version)
Finn, Rachel, Puck, Santana, Artie and Mercedes
To Sir, With Love
Rachel, Mercedes, Artie, Santana, Tina and Finn

Season Two

Song

Episode

Solos with

One of Us
Grilled Cheesus
Tina, Finn, Rachel, Quinn and Mercedes
There's a Light (Over At the Frankenstein Place)
The Rocky Horror Glee Show
Finn and Rachel
Time Warp
Quinn, Santana, Finn, Artie, Brittany, Tina and Mercedes
We Need a Little Christmas
A Very Glee Christmas
Mercedes and Tina
The Most Wonderful Day of the Year
Glee: The Music, The Christmas Album
Tina, Artie Sam and Brittany
Born This Way
Born This Way
Mercedes and Tina
Pure Imagination
Funeral
Finn, Tina and Artie

Season Three

Song

Episode

Solos with

You Can't Stop the Beat
The Purple Piano Project
Rachel, Finn, Artie, Mercedes and Tina
It's All Over
Asian F
Mercedes, Will, Santana, Finn, Puck and Mike
Constant Craving
I Kissed a Girl
Santana and Shelby
ABC
Hold on to Sixteen
Tina, Mike and Quinn
Do They Know It's Christmas?
Extraordinary Merry Christmas
Finn, Mercedes, Rachel, Blaine, Artie, Brittany, Puck, Tina and Santana
My Favorite Things
Rachel, Mercedes and Blaine
Summer Nights
Yes/No
Mercedes, Sam, Rory, Sugar, Puck, Tina, Finn and Santana
Ben
Michael
Rachel and Finn
Black or White
Artie, Rachel, Mercedes and Santana
Love Shack
Heart
Blaine, Mercedes, Rachel, Sugar and Brittany
How Will I Know
Dance with Somebody
Mercedes, Rachel and Santana
My Love Is Your Love
Mercedes, Artie and Blaine
Big Girls Don't Cry
Prom-asaurus
Rachel and Blaine
Paradise by the Dashboard Light
Nationals
Finn, Puck, Rachel, Blaine, Santana, Brittany, Mike and Mercedes
We Are the Champions
Finn, Puck, Quinn, Rachel and Santana

Season Four

Song

Episode

Solos with

The Way You Look Tonight / You're Never Fully Dressed
Makeover
Rachel and Isabelle
Don't Speak
The Break-Up
Finn, Rachel and Blaine
The Scientist
Finn, Rachel, Emma, Will, Brittany, Santana and Blaine
You're the One That I Want
Glease
Ryder, Marley, Rachel, Finn, Santana, Blaine and Brittany
Let's Have a Kiki
Glee: The Music, Season 4, Volume 1
Rachel and Isabelle
Let's Have a Kiki / Turkey Lurkey Time
Thanksgiving
Have Yourself a Merry Little Christmas
Glee, Actually
Marley, Puck, Jake, Brittany, Sam and Blaine
We've Got Tonite
I Do
Rachel, Finn, Blaine, Marley, Jake, Quinn, Santana, Artie and Betty
Mamma Mia
Guilty Pleasures
Rachel, Santana, Kitty, Marley, Blaine, Sam and Unique
At the Ballet
Lights Out
Rachel, Santana, and Isabelle
Back-Up
Unreleased Songs
Season One:
Season Three:
Piano Playing
Trivia
He has his official fashion website, HireHummel.com.
The role of "Kurt" was created for Chris Colfer. Chris had actual originally auditioned for the role of Artie but when he auditioned the producers felt differently. The role was previously an Indian character under a different name, but after he auditioned it was changed.
Chris had played the role of "Kurt" from The Sound of Music, and "Hummel" after the Hummel collector dolls with rosy cheeks.
Appears to be a fan of the British Royal Family, espcially Kate Middleton. He has a picture of Kate in his locker, says "eat your heart out Kate Middleton" when crowned Prom Queen, when saving his voice for NYADA auditions agrees to only speak with Rachel if "Kate and Will get pregnant" and says he is writing 'Pip Pip Hooray', about her sister, Pippa.
Is the thirteenth member of the club, and before leaving, he was the second.
Kurt writes his name down as "Kurt Elizabeth Hummel" in Duets, which is likely a reference to Julie Andrews' middle name, Elizabeth, as Kurt sang one of her songs in the duet competition. It could also be a reference to the character "Roger Elizabeth DeBris," the gay director from the musical The Producers. There is speculation that "Elizabeth" is his deceased, biological mother's name. Ryan Murphy has since confirmed on Twitter that Elizabeth is Kurt's middle name. 1
Can hit an F5 ("high F") as shown in Wheels (Defying Gravity) and Duets (Le Jazz Hot), and has the ability to go higher. In fact, while practicing for hitting the high F in Wheels, he actually sang a high A flat, which is higher.
Used his rarely seen male vocal range in 4 Minutes, Pink Houses, Give Up the Funk, Animal, Le Jazz Hot and his Riff Raff vocals in The Rocky Horror Glee Show.
He is one of the 12 LGBT characters on the show, others being Santana (lesbian), Brittany (bisexual), Unique (transgender), Sebastian, Sandy, David Karofsky (Gay), Blaine (Gay), Hiram Berry, and Leroy Berry (gay), and Chandler and Adam (unknown).
Is an atheist. (Grilled Cheesus)
Has little knowledge of (or interest in) sports, sports lingo, or athletes. (Acafellas, Preggers, Home).
Considers his voice, his ability to spot upcoming trends in men's fashion, and his ability to tell when hair is dyed to be his three main gifts. (Duets)
Drives a Navigator. (Acafellas)
Assumes the paternal role in his relationship with Burt when it comes to health and nutrition. (Home, Grilled Cheesus, Duets)
Is a big fan of Grey's Anatomy, going as far as to camp out to get the Season Six DVD as soon as it was available. (Grilled Cheesus)
Loves The Sound of Music, particularly the sing-along version. (Acafellas, Grilled Cheesus)
Has a collection of tiaras, a "Maria Von Trapp" bonnet, and a hope chest. (Acafellas, Grilled Cheesus)
Claims that he "cried so hard" when he saw the movie Bambi. (The Rhodes Not Taken)
Has been planning weddings since he was two years old, using his Power Rangers as practice. (Furt)
Often says "If I may" before he speaks to a group of people.
Can speak French rather fluently, as shown when we see him on TV saying "Vive la différence!" ("Long live differences!"). (Funk) He has also been seen insulting Azimio in the language during Grilled Cheesus, with the line "Je vais chanter "La Mélodie du Bonheur," et en deux heures je vais absorber plus de culture et de talent artistique que toi dans ta vie entière." ("I'm going to the Sing-a-long "Sound of Music," and in two hours I'll absorb more culture and artistic talent then you will in your entire life.").
He likes to drink warm milk at night. (The Sue Sylvester Shuffle)
He is the only male to be a featured soloist in a Lady Gaga number. (Bad Romance and Born This Way)
Brittany Pierce was his first—and only—kiss with a girl. (Laryngitis)
Has worn skull printed clothing items both times he sang a song from "Gypsy" (a scarf during Rose's Turn and pants during Some People)
Has a moisturizing routine on mornings and nights (Preggers, Home, Blame It on the Alcohol). Since dating Blaine, he has apparently begun to include Blaine in the ritual at nighttime. (The First Time)
He blackmails Finn ever since he saw his browser history. (Blame It on the Alcohol)
Can play the piano and has never missed a lesson. (Ballad)
Much like Chris Colfer who portrays him, he is skilled at sai swords which is shown during his audition for the part of Tony. (I Am Unicorn)
He, Tina and Mercedes are the only three from New Directions to also be part of the Cheerios (The Power of Madonna - Journey and Swan Song) and the Titans (Preggers) at one stage in the show.
Has a bucket list. On his bucket list, he wishes to arrive at school in a hot air balloon, get into Juilliard, have relations on a dewy meadow of lilac with Taylor Lautner before he gets fat, become CEO of Logo, find the right combination of colognes to match his unique body chemistry and attend a circuit party on Fire island. (The First Time)
Has been intimidated by two of The Glee Project Season One winners
The only character who slushied himself. (Mash-Up)
Mentions having an uncle named Andy (Furt) and an Aunt named Mildred. (The Rhodes Not Taken)
Kurt has provided vocals for every song from two musicals:
He has sung 16 solos on the show.
He is implied to be afraid of vampires, as seen in On My Way when Svengoobles is announced as a judge; Blaine is seen scaring Kurt as a joke, who is noticeably scared and uncomfortable.
Snaps his fingers at restaurants' wait staff when the cheesecake takes too long, according to Blaine. (Dance with Somebody). Likewise, he is seen snapping his fingers at the ‎Breadstix wait staff in Yes/No when he wants to order a cheesecake.
According to Mike Chang, he only has one dance move, a "super-distracting" sashay. (I Am Unicorn)
Patti LuPone is his idol. (Silly Love Songs)
Tried watching porn but started feeling bad because he started thinking about what the porn stars parents would say about their kids, and why they would get odd tattoos. (Sexy)
In the deleted "Klaine Box Scene" from Extraordinary Merry Christmas, he mentions that his favorite gum is Wrigley's.
Lost his virginity to Blaine. (The First Time)
Although he has seen wearing female clothes, he doesn't like to dress up as a female and drag like Frank-N-Furter (The Rocky Horror Glee Show) and Porcelina (Props), but did for Halloween as Snooki (Props).
While most of the clothes he wears appear to be extremely expensive, in the deleted "Klaine Box Scene" from Extraordinary Merry Christmas, he mentions that he buys all his clothes cheap online at Rue La La.
Wants to be married by thirty legally. (The Purple Piano Project) Ryan Murphy said on his Twitter that Kurt would be married by twenty-one. [1]
Has an iPhone. (Never Been Kissed, Dance with Somebody)
Kurt said that he had liked the song Being Alive since he was six years old, but also admitted that he didn't understand the meaning until he sung it. (Swan Song)
His favorite dessert at BreadstiX is their cheesecake, as implied in Yes/No and Dance with Somebody.
Every Christmas, Kurt and Burt had the tradition where they give each other one gift on Christmas Eve.
His guilty pleasure is his boyfriend pillow, which he named Bruce. (Guilty Pleasures)
Participated in ballet class as a child (Lights Out)
Has a copy of Men of McKinley High Calendar. (Wonder-ful)
Gallery
Quotes
Main article: Kurt's Quotations