This article has been nominated for deletion.




Please share your thoughts on the matter in the talk section below. For more information, visit candidates for deletion. Feel free to edit the article, but do not blank the article or remove this notice until the discussion is closed.
Lady Tubbington is the cat Sam buys for Brittany in the Season Four episode Shooting Star.
Biography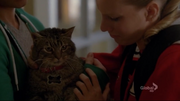 After some thought, Sam decides that he and Brittany should start a "fake family." He ends up buying a cat who is as big as Lord Tubbington (so he doesn't feel self-conscious, according to Sam), naming her Lady Tubbington. Sam pulls Lady Tubbington out of the bag and hands her to Brittany. It's revealed at the end of the episode- thanks to Artie's recording of Sam's message to his parents- that if he didn't make it out alive from the shooting that he wanted them to find the cat in his locker, revealing that he had kept Lady Tubbington in there for a while.
Lady Tubbington appears in this episode, while making out with Lord Tubbington during an episode of Fondue for Two. Rachel notices it, shocked. Brittany is delighted.
They appear again in Fondue For Two. At the start of the episode, they are hitting a piñata, and shortly after they are seen reading, as pointed out by Alma Lopez.
Gallery
Ad blocker interference detected!
Wikia is a free-to-use site that makes money from advertising. We have a modified experience for viewers using ad blockers

Wikia is not accessible if you've made further modifications. Remove the custom ad blocker rule(s) and the page will load as expected.