This article has been nominated for deletion.




Please share your thoughts on the matter in the talk section below. For more information, visit candidates for deletion. Feel free to edit the article, but do not blank the article or remove this notice until the discussion is closed.
Lillian Adler
was the head of 
McKinley High
's
Glee Club
before she died in 1997 of an unknown cause at the age of sixty.
She is portrayed by Jane Galloway Heitz.
Biography
Lillian Adler was born in 1937. She used to be head of McKinley High's Glee Club. She was the former director of Will Schuester, Bryan Ryan and April Rhodes when they went to high school at McKinley and they were in their "Glee Club" days. She is assumed to have been a great choir director, because the McKinley team won Nationals during her time of coaching the club. She died in 1997 at the age of 60.
In the uncut version of the first Glee episode, Lillian's team performs That's the Way (I Like It)/(Shake, Shake, Shake) Shake Your Booty after giving them an inspiring speech saying "Glee is about opening yourself up to joy."
Lillian's picture is framed in a trophy cabinet at the William McKinley High School. Will looks at the picture in Pilot, inspiring him to take over as head of the Glee Club.
Her picture is seen when Will takes it off the wall and puts it in a box, before Sue tells him he has another year. It sometimes seems, as if Will attempts to be more like Lillian, using her as a role model. After this, she is only seen in the picture.
She is known as an inspiration to Will, as she trained the 1993 Glee Club at McKinley High to Nationals victory.
Finn is shown looking at Lillian's photo and quote, perhaps looking for inspiration for his first assignment.
When Sue is cleaning out the choir room with the help of the Cheerios, it is shown that she takes down the plaque. Finn then takes it from her, as Sue tells him that she had it re-engraved to say, "I died a slow horrible death, choking on the fluid in my own lungs." It is then shown again, having been restored to its original quote.
After the New Directions regained control of the music room, Lillian's photograph and plaque are back in its original spot.
Lillian is mentioned by Will as he tries to apologize to New Directions for his antics towards them.
Finn's plaque is placed next to Lillian's in the choir room by Rachel and Will.
Both her plaque and Finn's one are placed in the auditorium, because The Choir Room is no longer used by New Directions, since they've been disbanded.
At the beginning episode, Will remembers the time she gave a pep talk to the Singsations before they perform at the 1993 Nationals.
After the I Lived performance, a new plaque, made after the auditorium's rededication is added together with the plaque of her's and Finn's.
Trivia
Her plaque was a permanent feature of The Choir Room until 100.
Lillian's plaque, along with Finn's, now resides in the auditorium.
Quotes
"

By its very definition, Glee is about opening yourself up to joy.

"

—Lillian Adler, Seen on a Plaque in Pilot
Gallery
Video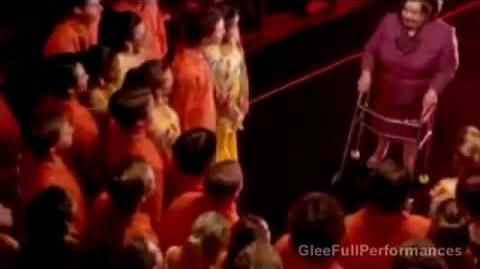 Ad blocker interference detected!
Wikia is a free-to-use site that makes money from advertising. We have a modified experience for viewers using ad blockers

Wikia is not accessible if you've made further modifications. Remove the custom ad blocker rule(s) and the page will load as expected.