Mark Salling
Gender:
Male
Age:
30
Born:
August 17, 1982
Character:
Noah Puckerman
Occupation:
Actor, Singer, Songwriter
Mark Wayne Salling (born August 17, 1982) is an actor and musician. He currently portrays the character Noah Puckerman on FOX's hit musical comedy, Glee.
Early life
Salling was born in Dallas, Texas. He is the younger of two children of Condy Sue (née Wherry), a school secretary, and John Robert Salling, Jr., an accountant. He was home-schooled at an early age. Salling was raised in a "strict Christian home" and attended Providence Christian School and Our Redeemer Lutheran during elementary school. He attended, but did not graduate from Culver Military Academy, and later graduated from Lake Highlands High School in 2001. While he attended high school, he was a member of the school wrestling team. Performing was also an integral part of his teenage years; he often performed in bars despite being underage and participated in school talent shows.
After graduating from high school, he attended the Los Angeles Music Academy College of Music in Pasadena, California and began studying guitar, giving guitar lessons to make a living.
Work
Salling previously acted in the films
Children of the Corn IV
and
The
Graveyard
. He also acted in an episode of
Walker Texas Ranger
. He is currently playing the role of Puck in Fox's
Glee
. Salling sings, writes, and plays guitar in the solo project Jericho. Jericho's debut album,
Smoke Signals
, was released in 2008.He also has an album called
Pipe Dreams
that was released in October 2010.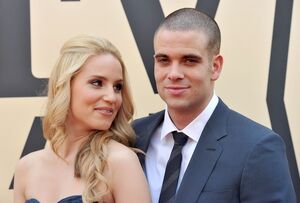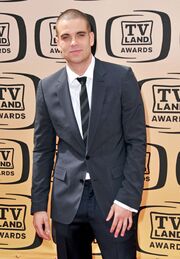 Trivia
He has his nipple pierced.
His favorite movie is Amadeus.
He enjoyed slushing Lea.
Before Glee, he used to give guitar lessons at the "Hollywood Academy Of Music on Melrose."
He and Lea joke about the make out sessions that their characters often have.
He thinks that Puck and Quinn are a great couple.
He thinks that Lea has cute hands.
It took him 8 years to write the songs for his album Pipe Dreams.
He likes to look at birds, especially Corvids.
He has a dog named Hank.
He is a fan of the music from Radiohead, Elliott Smith and Rufus Wainwright.
He calls himself a night owl.
His celebrity crush is Emma Watson.

Added by

DiannaAgron xo

Lea Michele sometimes calls him MaSa (Mark Salling) in her tweets.
He has played piano since age 5.
In real life he is Christian.
He is close friends with Dianna Agron, Lea Michele, Cory Monteith, Harry Shum Jr, Chord Overstreet, Naya Rivera, Ashley Fink and Darren Criss.
He used to be in a relationship with Naya Rivera.
He is six feet tall.
Lea has taught him how to speak Gibberish.
He is good friends with Rob Kardashian (Kim Kardashian's brother). They usually hang out together or play golf.
Dianna Agron's nickname for him is 'Ookie', according to a handful of tweets.
Has a dog named Noah Saw Salling for which Lea Michele helped him pick out that name.
He refers to Lea as Shell and himself as Saw in his tweets.

He volunteers with the James Hunter Wildlife Rescue charity.
Top 40/70 in Sexiest & Hottest Men in 2011.
Mark predicted that Puck would probably flunk out of high school.
Unlike Puck, Mark is actually quite shy.
He claims to be "nothing like Puck," but "worse" instead.
Mark is a baritone.
He auditioned for Glee with Juanes' La Camisa Negra.
He is the third person on Glee to sing his audition song, La Camisa Negra, on the episode, Acafellas.
He was voted the Biggest Flirt by the Glee Cast.
According to Chris he is the Most Adventurous of the Glee Cast.

It was his idea to let Puck have a mowhawk.
He plays the guitar and he can also play the drums, and bass.
He is a fan of Family Guy and The Simpsons.
He had an obsession with corvids.
His favorite actor is Edward Norton.
His favorite musical is Wicked.
His favorite animal is a raven and a crow.
His favorite singer is Stevie Wonder.
His favorite book is Indian in the Cupboard
His favorite food is sushi and ribs.
He likes to sketch nature and animals.
In 2010 he wrote a song about Glee and his cast-members.
Gallery
Videos