Me Against the Music
Comments

102
1,510pages on
this wiki
Me Against the Music by Britney Spears and Madonna is featured in Britney/Brittany, the second episode of Season Two. It is sung by Brittany who sings all of Britney's lines, and Santana who sings all of Madonna's lines.
They sing it in a dream sequence while in Carl's office. As with Artie's Safety Dance, some of the other Glee members made small appearances in the video. These include Puck (catches Brittany's hat), Tina, Finn, Rachel (Finn and Rachel are sitting behind a table), Kurt (sits at the bar), Quinn, Mercedes and Mike, despite the fact that they did not play a major role in the scene.
Mark Kanemura, current Lady Gaga dancer, appears dancing with Brittany and sitting on the couch while Santana dances. He is friend of Heather Morris. He also appears in I'm a Slave 4 U as back-up dancer.
Lyrics
Brittany and Santana:
All my people in the crowd
Grab a partner, take it down!

Brittany (Santana):
It's me against the music (Uh uh)
It's just me (And me)
Yeah, c'mon, who-ah

Santana (Brittany):
Hey Brittany! (Are you ready?)
Uh-Huh, are you? (Ooh)

And no one cares (It's whippin' my hair, it's pullin' my waist)
To hell with stares (The sweat is drippin' all over my face)
And no one's there (I'm the only one dancin' up in this place)
Tonight I'm here (Feel the beat of the drum, gotta get with that bass)

Brittany:
I'm up against the speaker, try'na take on the music
It's like a competition, me against the beat
I wanna get in the zone (Get in the zone)
I wanna get in the zone (I wanna get in the zone)
If you really wanna battle, saddle up and get your rhythm
Try'na hit it, chic-a-tah
In a minute I'ma take ya on (I'ma take ya on)
I'ma take ya on (I'ma take ya on)

Brittany and Santana:
All my people on the floor; Let me see you dance (Let me see ya)
All my people wantin' more; Let me see you dance (I wanna see ya)
All my people round and round; Let me see you dance (Let me see ya)
All my people in the crowd; Let me see you dance (I wanna see ya)
So how would you like a friendly competition
Let's take on the song (Brittany: Let's take on the song) (Santana: Let's take on the song)
It's you and me baby, we're the music
Time to party all night long (Brittany: All night long) (Santana: All night long)

Santana (Brittany):
We're almost there (I'm feelin' it bad and I can't explain)
My soul is bare (My hips are movin' at a rapid pace)
Can you feel it burn (From the tip of my toes, runnin' through my veins)
And now's your turn (Let me see what you got, don't hesitate)

Brittany:
I'm up against the speaker, try'na take on the music
It's like a competition, me against the beat
I wanna get in the zone (I wanna get in the zone)
I wanna get in the zone (I wanna get in the zone)
If you really wanna battle, saddle up and get your rhythm
Try'na hit it, chic-a-tah
In a minute I'ma take ya on (I'ma take ya on)
I'ma take ya on (I'ma take ya on)

Brittany and Santana:
All my people on the floor; Let me see you dance (Let me see ya)
All my people wantin' more; Let me see you dance (I wanna see ya)
All my people round and round; Let me see you dance (Let me see ya)
All my people in the crowd; Let me see you dance (I wanna see ya)

Get out on the floor, baby lose control
Just work your body and let it go (Let it go)
If you wanna party, just grab somebody
Hey Brittany, we can dance all night long!

Santana:
Hey Brittany, you say you wanna lose control
Come over here, I got somethin' to show ya
Sexy lady, I'd rather see you bare your soul
If you think you're so hot, better show me what you got
All my people in the crowd, let me see you dance
C'mon Brittany lose control, watch you take it down

Brittany and Santana:
Get out on the floor, baby lose control
Just work your body and let it go
If you wanna party, just grab somebody
Hey Brittany, we can dance all night long

All my people on the floor; Let me see you dance (Let me see ya)
All my people wantin' more; Let me see you dance (I wanna see ya)
All my people round and round; Let me see you dance (Let me see ya)
All my people in the crowd; Let me see you dance (I wanna see ya)
All my people in the crowd, let me see you dance
C'mon Brittany take it down, make the music dance
All my people round and round, party all night long
C'mon Brittany lose control, watch you take it down.

(laugh)
Gallery
Videos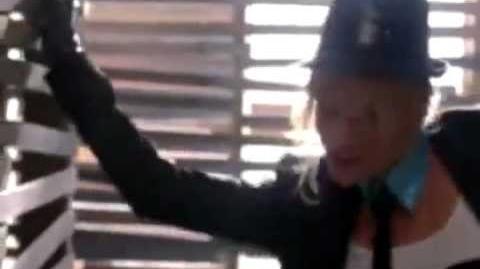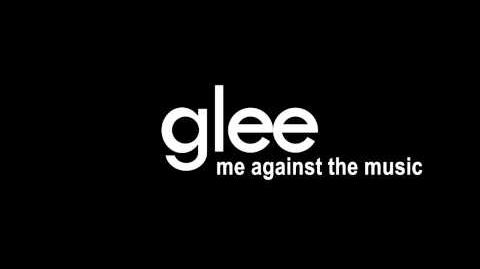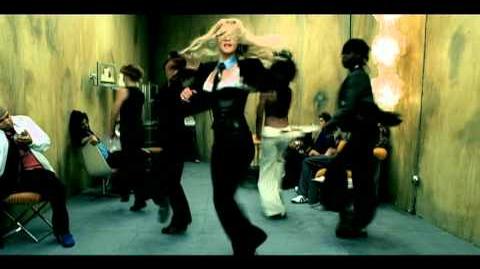 v - e - d
Season Two Songs
Audition
Empire State of Mind • Every Rose Has Its Thorn • Telephone • Getting to Know You • Billionaire • Listen • What I Did for Love
Britney/Brittany
I'm a Slave 4 U • Me Against the Music • Baby One More Time • Sailing • Stronger • Toxic • The Only Exception
Grilled Cheesus
Only the Good Die Young • I Look to You • Papa Can You Hear Me? • I Want to Hold Your Hand • Losing My Religion • Bridge over Troubled Water • One of Us
Duets
Don't Go Breaking My Heart • River Deep, Mountain High • Le Jazz Hot • Sing! • With You I'm Born Again • Lucky • Happy Days Are Here Again/Get Happy
The Rocky Horror Glee Show
Science Fiction Double Feature • Planet, Schmanet, Janet • Damn It, Janet • Whatever Happened to Saturday Night? • Sweet Transvestite • Touch a Touch a Touch a Touch Me • There's a Light (Over at the Frankenstein Place) • Time Warp
Never Been Kissed
One Love (People Get Ready) • Teenage Dream • Start Me Up/Livin' on a Prayer • Stop! In the Name of Love/Free Your Mind
The Substitute
Forget You • Make 'Em Laugh • Nowadays/Hot Honey Rag • Singing in the Rain/Umbrella
Furt
Ohio • Marry You • Sway • Just the Way You Are
Special Education
Don't Cry for Me Argentina • The Living Years • Hey, Soul Sister • (I've Had) The Time of My Life • Valerie • Dog Days Are Over
A Very Glee Christmas
The Most Wonderful Day of the Year • We Need a Little Christmas • Merry Christmas Darling • Baby, It's Cold Outside • You're a Mean One, Mr. Grinch • Last Christmas • Welcome Christmas
The Sue Sylvester Shuffle
Thriller/Heads Will Roll • She's Not There • Need You Now • Bills, Bills, Bills
Silly Love Songs
PYT (Pretty Young Thing) • Firework • When I Get You Alone • My Funny Valentine • Silly Love Songs • Fat Bottomed Girls
Comeback
Baby • Somebody to Love • Take Me or Leave Me • I Know What Boys Like • This Little Light of Mine • Sing
Blame It on the Alcohol
My Headband • Don't You Want Me • Blame It (On the Alcohol) • One Bourbon, One Scotch, One Beer • Tik Tok
Sexy
Do You Wanna Touch Me (Oh Yeah) • Animal • Kiss • Landslide • Afternoon Delight • Do Ya Think I'm Sexy?
Original Song
Misery • Only Child • Blackbird • Trouty Mouth • Big Ass Heart • Hell to the No • Jesus Is My Friend • Candles • Raise Your Glass • Get It Right • Loser Like Me • Back in My Arms
A Night of Neglect
All by Myself • I Follow Rivers • Turning Tables • Ain't No Way
Born This Way
I Feel Pretty/Unpretty • I've Gotta Be Me • Somewhere Only We Know • As If We Never Said Goodbye • Born This Way
Rumours
Dreams • Never Going Back Again • Songbird • I Don't Want to Know • Nice to Meet You, Have I Slept with You? • Go Your Own Way • Don't Stop • It's 10 am and I'm Drunk
Prom Queen
Rolling in the Deep • Isn't She Lovely • Friday • Jar of Hearts • I'm Not Gonna Teach Your Boyfriend How to Dance with You • Dancing Queen
Funeral
Back to Black • Some People • Try a Little Tenderness • My Man • Pure Imagination
New York
My Cup • I Love New York/New York, New York • Still Got Tonight • Bella Notte • For Good • Yeah! • As Long as You're There • Pretending • Light up the World