Mercedes Jones is a character on Glee. Mercedes was the first student to audition for New Directions. At the beginning of the series, she develops a close friendship with Kurt Hummel. At the end of Season Three, she reveals that she accepted a recording contract at an indie label and moves to Los Angeles, where she attends classes at UCLA. She occasionally returns to McKinley to mentor the younger students as a vocal coach. In Season Five, she moves to New York to work on her album and rekindles her relationship with Sam Evans.
Mercedes is portrayed by Amber Riley.
Biography
Personality
Mercedes has a confident, and sometimes pushy, personality. She is more than willing to be aggressive and speak her mind, unafraid of how others will take it. If provoked to true anger, she has demonstrated the ability to be violent, as demonstrated when she broke the window to Kurt's car upon realizing that he had feelings for someone else. However, despite her strong street-like attitude, there is no denying that she is extremely a sensitive young girl, who wants to love and be loved. Furthermore, Mercedes is unquestionably supportive of those around her, more than willing to give someone a shoulder to cry on and a helping hand, such as when Kurt came out, and when Quinn was thrown out of her house for her pregnancy. However, despite her big heart, she is very lonely, and at one point found herself fixating on food as a means to deal with that loneliness. She was confronted about this by Kurt, who set her up with one of the football players in the hopes of helping her deal with this issue. Mercedes has such a love of tater tots, to the point of building a crusade against Sue when they were banned. Her best assets are her self-designed clothes and her powerful voice.
Relationships
In Acafellas, Mercedes develops a crush on Kurt, despite him being obviously gay. However, after she is rejected, she angrily breaks the windshield of his car, but later apologizes to him. Kurt then reveals that he is gay and they become close friends.
In Laryngitis, Puck decides to date Mercedes in an attempt to boost his popularity after shaving his mohawk causes him to be labeled "uncool". However, after getting into a fight with Santana over him and seeing Puck bully other kids, Mercedes breaks things off with him.
Mercedes agrees to go on a date with Anthony after Kurt spends most of his time with Blaine. However, she doesn't pursue any romantic relationship with him in the future.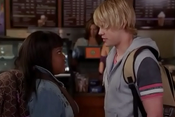 Mercedes and Sam begin a relationship over the summer, but it ends when he moves away prior to The Purple Piano Project. After Sam returns to McKinley, he declares that he will never give up on them, even though she's in a relationship with Shane. During the events of Yes/No, Mercedes realizes she still has feelings for Sam and cheats on Shane. Feeling guilty, she breaks things off with Sam in Heart, but they reunite in Saturday Night Glee-ver. They break up again prior to The New Rachel. When Sam and Mercedes move to New York, they decide to rekindle their romance again, but break things off because Merecedes doesn't want to hold Sam back when it comes to sex.
Mercedes begins a relationship with Shane after ending a summer fling with Sam. However, after Sam returns, Mercedes cheats on Shane. Filled with guilt, she confesses to Shane in Heart and officially ends things with both him and Sam.
Songs
Trivia
Mercedes is the first character to sing a solo. However, the song was unreleased.
Mercedes is the very first member of New Directions.
Mercedes is named after her mother's favorite actress, Mercedes Ruehl.
Gallery
Quotes