Mercedes-Artie Relationship
Comments

21
1,510pages on
this wiki
Mercedes-Artie Relationship
General Information
Nickname:
Artcedes
Intimacy Level:
Good friends
The Mercedes-Artie Relationship, also known as Artcedes, as referred to by Santana in Blame It on the Alcohol, the fourteenth episode of Season Two, is the close friendship of Mercedes Jones and Artie Abrams.
Episodes
Mercedes is shown being sympathetic and comforting to Artie after enduring Dakota's harshness and bullying.
Artie latches on to Mercedes' arm for comfort when Sue while she picks her elite glee club. After Will and Sue's confrontation and New Directions being back to normal, they both sing Keep Holding On for Quinn.
Artie and Mercedes share a moment when the glee club tells Mr. Schue they couldn't find a song that went together with Bust a Move, Mercedes wheels Artie forwards before the glee club slushies Mr. Schue.
Mercedes laughs when Artie says a patriotic wedgie did make him feel more American. They both have solos in Proud Mary.
Mercedes and Artie have lunch with
Tina
. Artie tells Mercedes that they are worried about her dieting and that she doesn't need to lose weight.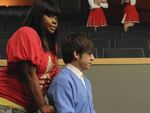 Mercedes and Artie decide to give themselves a 'bad reputation' and along with Brittany, Tina, and Kurt, they perform U Can't Touch This in the Library. They support Kurt when he plans to confess to Sue that he posted her Physical video. They are then both very shocked to see Sue performing Physical with Olivia Newton-John.
Mercedes and Artie share moments together in the choir room when they plan to switch names. During Forget You, they share a solo and dance together.
They are seen together during a phone conversation with Santana, Brittany, and Puck. They also share some moments during New Directions' performance Blame It (On the Alcohol), which they lead.
In the auditorium, Mercedes and Artie are the only two members there, since Will said it wasn't mandatory and start singing My Love Is Your Love. Eventually, all the remaining members join them.
During
Tina's dream
,
Brittany
as Mercedes is pushing
Santana
as Artie and down the halls. Later on, Mercedes as Brittany and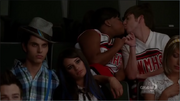 Artie as Santana share a kiss during
Because You Loved Me
.
During Forever Young, Artie leans his head on Mercedes' shoulder.
Artie calls Mercedes and Mike to help Finn with the musical and they share a hug.
Artie and Mercedes are dance partners during You're the One That I Want.
Songs
Duets
Sang Together (In a Group Number)
Season One

Song

Episode

Solos with

Gold Digger
Showmance
Will
Push It
Rachel, Tina and Finn
Somebody to Love
The Rhodes Not Taken
Rachel and Finn
Proud Mary
Wheels
Tina
Imagine
Hairography
Rachel and Finn
Jump
Mattress
Smile
You Can't Always Get What You Want
Sectionals
Give up the Funk
Funk
Kurt, Tina and Finn
Any Way You Want It/Lovin', Touchin', Squeezin'
Journey
Rachel, Finn, Kurt and Puck
Don't Stop Believin'
Rachel, Finn, Kurt, Puck and Santana
To Sir, With Love
Rachel, Finn, Santana, Kurt and Tina

Season Two

Song

Episode

Solos with

Empire State of Mind
Audition
Finn, Puck, Rachel and Santana
Time Warp
The Rocky Horror Glee Show
Kurt, Finn, Quinn, Santana, Tina and Brittany
Forget You
The Substitute
Holly and Santana
Welcome Christmas
A Very Glee Christmas
Rachel
Blame It (On the Alcohol)
Blame It on the Alcohol
Santana and Puck
I Love New York/New York, New York
New York
Finn, Santana, Brittany and Rachel

Season Three

Song

Episode

Solos with

You Can't Stop the Beat
The Purple Piano Project
Finn, Rachel, Kurt and Tina
Do They Know It's Christmas?
Extraordinary Merry Christmas
Finn, Rachel, Kurt, Tina, Puck, Santana, Brittany and Blaine
Black or White
Michael
Rachel, Kurt and Santana
Fly/I Believe I Can Fly
On My Way
Finn, Rachel, Blaine and Santana
My Love Is Your Love
Dance With Somebody
Kurt and Blaine
Related Songs
Gallery