Mercedes-Quinn Relationship
Comments

20
1,689pages on
this wiki
Mercedes-Quinn Relationship
General Information
Nickname:
Quinncedes
Intimacy Level:
Friends
The Mercedes-Quinn Relationship, commonly known as Quinncedes, is the friendship between Mercedes Jones and Quinn Fabray.
Episodes

Mercedes, along with the rest of the New Directions, is really surprised to find out that Quinn is pregnant. She tells Rachel the "news" after she comes back to the Glee Club.
When Mercedes asks what his problem is, Puck tells her that Finn is not the father, he is. Mercedes tells him that he should forget about it because Quinn chose Finn and he had no business screwing up her life more than he already had. This shows that she cares about Quinn. Mercedes performs lead vocals in Lean on Me along with Artie as a ballad to Quinn and Finn. During the performance, both Mercedes and Santana hug Quinn.
Quinn appears to enjoy Mercedes' performance of And I Am Telling You I'm Not Going. When Finn finds out Puck is Quinn's baby's father, Quinn begins to cry and Mercedes is visibly upset at this.
Mercedes gets very hungry, however, she does not want to eat anything due to Sue's ultimatum to lose ten pounds by the end of the week or to be kicked out of the Cheerios. Soon, she starts to see everyone dressed as food, and faints. Quinn goes to see Mercedes in the infirmary and says that she knows how Mercedes is feeling. Quinn says that everything will be alright and that she needs to be who she wants to be. Also, Quinn says that Mercedes' mom is coming, and Mercedes says that Quinn is a good friend. When Mercedes sings Beautiful, Quinn is the first person to join her on stage and also the first to raise her hand, they often smile at each other while Mercedes sings. At the end of the episode, during April's number Home, they often look at each other. 
After Mercedes starts dating Puck, Quinn appears to talk with Mercedes. Mercedes thinks that Quinn is jealous of her and Puck, however, Quinn says that she isn't jealous, and that she will be happy if Mercedes is happy. Quinn says that Santana will be jealous and that Mercedes should be careful.
When Quinn says that she wants to do a funk performance, Mercedes says, mockingly, that white people can't do funk. Quinn says that she will try, even after Mercedes' racist comment. After Quinn sings, everybody gets up to hug her, with the exception of Mercedes. Afterwards, Mercedes goes to talk with Quinn in the library where she is studying. Quinn says that she is sorry about her song. While Mercedes always suffers racism and is called fat, Quinn only suffers while she is pregnant. She asks Mercedes why she doesn't get angry. Mercedes says that there is no sense in getting angry and also apologizes for discouraging Quinn. Quinn tells Mercedes that she can't stand living with Puck and his mother to which Mercedes invites her to live at her house, as there is a vacant room. Quinn smiles, thanks Mercedes, and accepts the offer. Both dance together at one point in the final performance of the episode, Give up the Funk. 
Quinn requests for Mercedes to come with her to the delivery room while she's giving birth. Mercedes was the only friend she wanted to be with and she encourages Quinn throughout the birth. During the performance Over the Rainbow, they are both seen exchanging friendly smiles and playing around, holding their hands with Kurt.
Both Quinn and Mercedes agree with Finn to pay tribute to Jesus through music. After that Quinn and Mercedes dance together during
Only The Good Die Young
.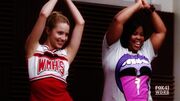 Quinn (along with
Tina
) sing back up during
I Look to You
.
Quinn appears to be very happy and enjoys Mercedes' and Santana's duet, River Deep, Mountain High.
As Rachel is talking to Will about his plans for Christmas, Quinn and Mercedes can be seen in the background laughing together. Quinn cups her hand around Mercedes' ear and whispers to her and they giggle.
Mercedes compliments Quinn to defuse the tension between Finn and Jesse, at Breadstix while she is with Sam, Rachel and Jesse.
They dance together during I Love New York/New York, New York. They hold hands and laugh and then wrap their arms around each other, smiling.
When Quinn comes back to glee club, Mercedes hugs her and tells her that she has been missed.
When Mr. Schuester tells Mercedes off for not working hard enough, Quinn bites her lip and looks concerned about her. They also have an interaction when Mercedes enters the booty camp and Mr. Schue tells her that she is late to which she replies "Sorry Mr Schue! My alarm clock was late," Quinn gives her back an immediate reply: "It's 4:30 in the afternoon." This causes Mercedes to get a little bit angry.
Quinn invites Mercedes, Santana, and
Brittany
to rejoin New Directions after
The Troubletones
lost at sectionals. Quinn also tells them they can bring anyone they want. Later during the
We Are Young
performance, Quinn is the one to "guide" Mercedes back into New Directions, as they dance on the auditorium stage with everyone else. Quinn with hand in hand pulls Mercedes onto the auditorium stage as she spins her around.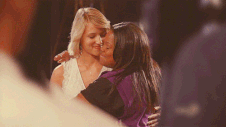 When Quinn announces her acceptance to Yale, Mercedes screams and yells "Oh my God!," obviously very happy for her. She then tells Quinn that she is proud of her; she is the only person in Glee Club to personally say so.
Mercedes and Quinn are now part of The God Squad and sing together in Stereo Hearts and Cherish/Cherish. Also, during a meeting, Quinn talks about how being true to one's self is a way to be Christian which gives Mercedes insight on a situation she was going through.
Mercedes and Quinn sit next to each other during a Glee Club meeting in the auditorium, where they talked about what they are looking forward to in the future.
Quinn is present when Mercedes was sick in bed and Mr. Schue gives Quinn, along with Tina, Mercedes' spot in The Troubletones performance, something which Quinn is unsure about. Just before the New Directions are about to go on, Mercedes comes in feeling a lot better and Quinn uses this as a chance for Mercedes to take her spot back, but Mercedes insists that Quinn still performs with the Troubletones. Mercedes and Quinn perform Edge of Glory with the rest of the Troubletones. When it is announced that the New Directions have won Nationals, the two embrace in a hug.
They dance together during You Get What You Give and smile and laugh with each other. As Quinn passes her down the hallway, they smile at each other and Mercedes waves. At the Graduation Ceremony, Quinn and Mercedes embrace in a hug and appear to be saying "I love you so much" to each other.
They reunite while singing
Homeward Bound/Home, 
along with Puck, Finn,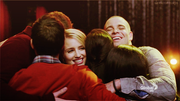 Santana and Mike. They have a group hug on stage and the six of them go to Breadstix together. Finn asks them to then mentor the newbies of New Directions before Sectionals to which they happily agree. At Breadstix, Mercedes has an interaction with Quinn, saying that it's nice to know she and Rachel are in touch with each other by e-mail. 
Mercedes along with the rest New Directions members and Alumni help Puck with Keep Holding On performance for Quinn.
Mercedes, alongside Kurt, compliment and mention Quinn having another pregnancy with Puck as a way to congrate their rekindled relationship. Quinn seems to react awkwardly to this.
Mercedes mentions Quinn, when she talks about Sam's former girlfriends.
Songs
Related Songs
Trivia
Gallery
v - e - d

Glee Relationships




Character relationship(s) displayed:

Adam

Artie

Becky

Betty

Blaine

Bree

Brittany

Brody

Burt

Cassandra

Chandler

Cooper

Dani

Dave

Elliott

Emma

Finn

Holly

Jake

Joe

Kitty

Kurt

Lauren

Mario

Marley

Mercedes

Mike

Millie

Puck

Quinn

Rachel

Rory

Roz

Ryder

Sam

Santana

Sebastian

Shannon

Shelby

Sue

Sugar

Sunshine

Tina

Terri

Unique

Will