Mercedes Jones
General Information
Gender:
Female
Age:
19/20
Hair Color:
Black
Eye Color:
Dark Brown
Birthday:
1994
Height:
5'3"
Address:
Lima, Ohio
New York
Occupation(s):
Recording singer at Sony Music Entertainment Record
Church-choir singer
Aliases:
Jackée, Whoopi, Brassy Hag, Wheezy, Sister, Mo'Nique (Sue)
Wheezy (Santana)
Aretha (Santana, Sue)
'Cedes (Santana, Artie)
Stealth-Attack Jones (Shannon)
Mama, The Black Girl From The Glee Club Whose Name I Can't Remember Right Now (Puck)
Lazy B-O-N-E-S (Jesse)
Effie (Dakota
Happy Girl Drunk (Finn)
Little Oprah (Roz)
Beyoncé (herself)

Family & Friends
Family:
Dr. Jones, DDS (father)
Mrs. Jones (mother)
Unnamed Older Brother
Julius Jones (uncle)
Relationships:
Sam Evans (ex-boyfriend; in love with)
Shane Tinsley (ex-boyfriend; friends)
Kurt Hummel (former one-sided crush; friends)
Noah Puckerman (ex-boyfriend; friends)
Anthony Rashad (been on a date with)
Friends:
Santana Lopez
Kurt Hummel
Rachel Berry
Sam Evans
Tina Cohen-Chang
Finn Hudson
Artie Abrams
Blaine Anderson
Quinn Fabray
Matt Rutherford
Noah Puckerman
Mike Chang
Brittany Pierce
Lauren Zizes
Joe Hart
Sugar Motta
Rory Flanagan
Unique Adams
Kitty Wilde
Marley Rose
Jake Puckerman
Ryder Lynn
Will Schuester
Shaynice
Tesla
Employees:
Lauren Zizes (A Night of Neglect)
Other Information
Interests:
Singing, Fashion, Performing
Clique:
New Directions
Troubletones
The God Squad
Education:
University of California, Los Angeles (Current)
William McKinley High School (Graduated)
Talent:
Singing, Dancing, Fashion
Vulnerabilities:
Diva Attitude (Occasionally)
Strengths:
Her voice
Weaknesses:
Diva Attitude (Occasionally)
Awards:
'09 Show Choir Sectionals, first place
'10 Show Choir Regionals, third place
'10 Show Choir Sectionals, first place (tied)
'11 Show Choir Regionals, first place
'11 Show Choir Sectionals, second place
'12 Show Choir Regionals, first place
'12 Show Choir Nationals, first place
Series Information
First appearance:
Pilot
Last appearance:
The Untitled Rachel Berry Project
Portrayer:
Amber Riley
Jada Harris (Toddler Mercedes)
Heather Morris (Tina's Dream)
Mercedes Jones is a recurring character on Glee. She was a main character up until Season Four. She is an alumna of William McKinley High School, where she actively participated in the school's main glee club, the New Directions and The God Squad, along with being the leader of the school's second glee club, The Troubletones, run by Shelby Corcoran. Mercedes considers herself a diva at heart, and is content with being labelled as such.
Mercedes was the first to audition for the Glee Club. At the beginning of the series, Mercedes develops a close friendship with Kurt Hummel, being the first person that he came out to about his sexuality. In the past, she has also spent time as a member of the Cheerios, which she joined alongside Kurt. At the end of Season Three, her future plans are revealed. She accepts a recording contract on an indie label and moves to Los Angeles, where she also attends classes at UCLA.  
She returns to McKinley at times to be the vocal coach for the school's production of Grease and in order to mentor Unique before Sectionals. She was also back in Wonder-ful, to be the vocal coach in preparation for Regionals. It is revealed in City of Angels that she got a record deal at Sony Music Entertainment. She was in New York, sharing an apartment with Sam, Santana and Blaine Anderson. In Bash, Mercedes and Sam restart their relationship, but end it again in The Untitled Rachel Berry Project . Currently, she is on a mall tour with Santana Lopez, and Brittany Pierce. She is portrayed by actress and singer Amber Riley.
Biography
Personality
Mercedes has a confident, and sometimes pushy, personality. She is more than willing to be aggressive and speak her mind, unafraid of how others will take it. If provoked to true anger, she has demonstrated the ability to be violent, as demonstrated when she broke the window to Kurt's car upon realizing that he had feelings for someone else. However, despite her strong street-like attitude, there is no denying that she is extremely a sensitive young girl, who wants to love and be loved. Furthermore, Mercedes is unquestionably supportive of those around her, more than willing to give someone a shoulder to cry on and a helping hand, such as when Kurt came out, and when Quinn was thrown out of her house for her pregnancy. However, despite her big heart, she is very lonely, and at one point found herself fixating on food as a means to deal with that loneliness. She was confronted about this by Kurt, who set her up with one of the football players in the hopes of helping her deal with this issue. Mercedes has such a love of tater tots, to the point of building a crusade against Sue when they were banned. Her best assets are her self-designed clothes and her powerful voice.
Relationships
Main article: Mercedes-Shane Relationship (Shanecedes)
Shane is a McKinley Titans linebacker, whom Mercedes dates in Season Three. The couple first appears together in the The Purple Piano Project in which she refers to him as "the new man in her life" (after her latest relationship ended over summer). Due to the talk of their future and them someday having kids, it's probable that they've been together rather long in the summer and have become quite serious. He supports her during her West Side Story audition, but she eventually breaks up with him; they still remain friends.
Main article: Mercedes-Kurt Relationship (Kurtcedes)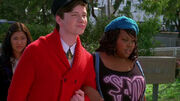 Kurt and Mercedes have been best friends since Glee Club began. In the beginning of the first season, Mercedes was told by Quinn Fabray and the other Cheerios she should be Kurt's girlfriend. After he says that he is in love with Rachel (when it was actually Finn), causing Mercedes to throw a stone into the window of his car. After she apologizes to him, saying that Kurt and Rachel will have "really cute, loud babies," Kurt tells her that he lied, and that he is gay, also saying that she is the first person he has ever told. Soon after, they become best friends.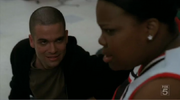 Main article: Mercedes-Puck Relationship (Puckcedes)
In Laryngitis, Puck and Mercedes start dating, but Puck is only using her to be popular after he shaved his mohawk off. At first she is reluctant to his advances but then when he sings Lady Is a Tramp to her they start dating. Santana becomes very jealous and angry at Mercedes because she likes Puck and they sing The Boy Is Mine together. Mercedes breaks up with him after seeing him throwing "dweebs" in the dumpster.
In The Substitute, Kurt's new friendship with Blaine begins to take up more of his time, and he grows concerned that Mercedes is feeling left out. He then attempts to set her up with Anthony, a member of the football team who he seems to be on good terms with. Anthony seems interested in Mercedes as when she looks in his direction, he smiles and waves in greeting. Mercedes is initially reluctant to talk to him, but after Kurt voices his concerns about her recent behavior regarding tater tots, Mercedes decides to take a chance and goes to talk to Anthony. Their relationship status is currently unknown. Mercedes wasn't seen at the New Direction girls meeting to discuss how their boyfriends were going to stop Dave from bullying Kurt. It can be assumed that a romantic relationship didn't happen; also, in Silly Love Songs she discusses being single with Kurt and Rachel.
Main article: Mercedes-Sam Relationship (Samcedes)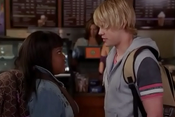 Mercedes and
Sam
go to prom together just as a simple three way date with their friend
Rachel
, but it turns into something more and they start dating in secret (shown at the end of
New York
). In
The Purple Piano Project
, Mercedes confirms they dated to
Jacob Ben Israel
. but that now she has a new boyfriend. After coming back to Lima, Sam tells her that he doesn't care how big or bad her boyfriend is he's gonna fight to win her back. During
Yes/No
, Mercedes realizes that she still has feelings for Sam after thinking of him while she was singing her part in
The First Time Ever I Saw Your Face. 
In Michael, Sam invites her to sing a duet with him; though at first she didn't want to, they end up singing
Human Nature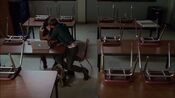 and acting flirty during the song. They kiss after their duet in the auditorium, which leaves Mercedes confused about her feelings and asks 
Emma
 to help them; she tells them to stop talking for a week so they can figure out their feelings for each other. Mercedes sings
Don't Wanna Lose You
to Sam and he sings
Bamboleo/Hero
to her, however in the end of the episode she seems to have chosen Sam but she ends up leaving with 
Shane
 (her boyfriend in that time). In
Heart
 is revealed that she told Shane about Sam and her, he looks happy because he believes that means they can be together now but Mercedes actually feels awful about cheating on him. Sam tries to kiss her; but she rejects him and says that until she finds out who she is when it comes to love she can't be with anyone, she can't be with Sam. He leaves heartbroken and Mercedes starts singing
I Will Always Love You
, Sam is seen in tears during the performance and especially at the end when he leaves immediately the choir room after the song ends up. They get back together in
Saturday Night Glee-ver
when Sam helps Mercedes to make a decision about her future and cheers her up to follow her dreams (posting a video of her 
Disco Inferno
performance on YouTube and showing all the good comments about it.) and tells her she's talented enough to make it and then they share a kiss. They go to prom together again in
Prom-A-Saurus
. They seem to have broken up prior to
Season Four
, though Sam tries to rekindle their relationship in 
Season Five's
 episode,
New New York
to which he is successful and they start dating in
Bash
.
Songs
Solos
Season One:
Season Two:
Season Three:
Season Four:
Season Five:
Duets
Season One:
Season Two:
Season Three:
Season Five:
Solos (In a Group Number)
Season One

Song

Episode

Solos with

Gold Digger
Showmance
Artie and Will
Push It
Artie, Finn, Rachel and Tina
Somebody to Love
The Rhodes Not Taken
Artie, Finn and Rachel
Proud Mary
Wheels
Artie and Tina
Imagine
Hairography
Artie, Finn and Rachel
Jump
Mattress
Smile
You Can't Always Get What You Want
Sectionals
Hello, Goodbye
Hell-O
Finn and Rachel
Express Yourself
The Power of Madonna
Quinn, Rachel, Santana and Tina
Like a Prayer
Finn, Jesse, Kurt and Rachel
Bad Romance
Theatricality
Kurt, Quinn, Santana and Tina
Good Vibrations
Funk
Finn and Puck
Give up the Funk
Artie, Finn, Kurt and Tina
Any Way You Want It/Lovin' Touchin' Squeezin'
Journey
Artie, Finn, Kurt, Puck and Rachel
Don't Stop Believin'
Artie, Finn, Kurt, Puck, Rachel and Santana
To Sir, With Love
Artie, Finn, Kurt, Rachel, Santana and Tina

Season Two

Song

Episode

Solos with

Empire State of Mind
Audition
Artie, Finn, Puck, Rachel and Santana
One of Us
Grilled Cheesus
Finn, Kurt, Quinn, Rachel and Santana
Start Me Up/Livin' on a Prayer
Never Been Kissed
Brittany, Rachel, Santana and Tina
Forget You
The Substitute
Artie, Holly and Santana
We Need a Little Christmas
A Very Glee Christmas
Kurt and Tina
Welcome Christmas
Artie and Rachel
God Rest Ye Merry Gentlemen
Glee: The Music, The Christmas Album
Quinn, Rachel, Santana and Tina
Deck the Rooftop
Artie, Finn, Rachel, Santana and Tina
Last Christmas
Finn and Rachel
Blame It (On the Alcohol)
Blame It on the Alcohol
Artie, Puck, and Santana
Loser Like Me
Original Song
Finn, Brittany, Rachel and Santana
Born This Way
Born This Way
Kurt and Tina
I Love New York/New York, New York
New York
Artie, Brittany, Finn, Rachel and Santana

Season Three

Song

Episode

Solos with

You Can't Stop the Beat
The Purple Piano Project
Artie, Finn, Kurt, Rachel and Tina
It's All Over
Asian F
Finn, Kurt, Mike, Puck, Santana and Will
Candyman
Pot o' Gold
Brittany, Santana and Sugar
Rumour Has It/Someone Like You
Mash Off
Brittany and Santana
Survivor/I Will Survive
Hold on to Sixteen
Brittany, Santana and Sugar
We Are Young
Finn, Quinn, Rachel, Sam, and Santana
My Favorite Things
Extraordinary Merry Christmas
Blaine, Kurt and Rachel
Do They Know It's Christmas?
Artie, Blaine, Brittany, Finn, Kurt, Puck, Rachel, Santana and Tina
Summer Nights
Yes/No
Finn, Kurt, Puck, Rory, Sam, Santana, Sugar and Tina
The First Time Ever I Saw Your Face
Rachel, Santana and Tina
Black or White
Michael
Artie, Kurt, Rachel and Santana
Stereo Hearts
Heart
Joe and Sam
Cherish/Cherish
Joe, Quinn, and Sam
Love Shack
Blaine, Brittany, Kurt, Rachel and Sugar
Fly/I Believe I Can Fly
On My Way
Artie, Blaine, Finn, Rachel and Santana
What Doesn't Kill You (Stronger)
Brittany and Santana
Stayin' Alive
Saturday Night Glee-ver
Finn and Santana
How Will I Know
Dance with Somebody
Kurt, Rachel and Santana
My Love Is Your Love
Artie, Blaine, and Kurt
Cell Block Tango
Choke
Brittany, Santana, Sugar and Tina
Shake It Out
Santana and Tina
Edge of Glory
Nationals
Quinn, Santana and Tina
Paradise by the Dashboard Light
Blaine, Brittany, Finn, Kurt, Mike, Puck, Rachel and Santana
You Get What You Give
Goodbye
Finn, Puck/Sam, and Rachel

Season Four

Song

Episode

Solos with

Born to Hand Jive
The Role You Were Born to Play
Jake, Marley and Ryder
Homeward Bound/Home
Thanksgiving
Finn, Mike, Puck, Quinn, and Santana
Getting Married Today
I Do
Emma and Will
Superstition
Wonder-ful
Blaine and Marley

Season Five

Song

Episode

Solos with

Seasons of Love
The Quarterback
Kurt, Mike, Puck, Santana, and Tina
Defying Gravity
100
Kurt and Rachel
Happy
Blaine and Holly
Not While I'm Around
Bash
Blaine, Rachel and Sam
I Melt with You
Old Dog, New Tricks
Rachel and Sam
Take Me Home Tonight
Artie, Blaine, Kurt, Maggie, Rachel, Sam, and Santana
Pompeii
The Untitled Rachel Berry Project
Artie, Blaine, Brittany, Kurt, Rachel and Sam
Backup Singing
Season One:
Respect by Otis Redding (Pilot)
Season Three:
Seasons of Love by The Cast of Rent (With New Directions; cut from an unknown episode)
Trivia
Mercedes is the first character to sing a solo. However, the song (R-E-S-P-E-C-T) was unreleased.
Mercedes is the very first member of New Directions.
Along with Tina and Artie, Mercedes is the only other character that has been present on every competition so far.
Mercedes is named after her mother's favorite actress, Mercedes Ruehl.
Even though Mercedes was demoted to a recurring character status for the fifth season, she appeared in more episodes than the previous season, while she was still a main character.
Gallery
Quotes
Main article: Mercedes' Quotations