Mister Monotony
Comments

28
1,510pages on
this wiki
Mister Monotony by Judy Garland was to be featured in Makeover, the third episode of Season Four, but the song was cut from the episode. It was originally to be performed by Sue and Will.
Some of the clips of them dancing were included in Season Four promos. A preview of the song was released but it is unknown if the performance will be featured on any DVD's or released later on.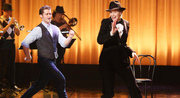 Lyrics
TBC:
Playing on his slide trombone in a certain monotone
He was known as Mister Monotony
Any pleasant interlude that would mean a change of mood
Didn't go with Mister Monotony

Sometimes he would change the key
But the same dull melody
Would emerge from Mister Monotony
Folks for miles would run away
Only one prefer'd to stay
She would come around and say
"Have you got any monotony today?"

Will and Sue:
They got married as they should and around the neighborhood
She was known as Missus Monotony
They were happy as can be and they raised a family
Six or seven little monotonies

TBC:
From another village came a snappy clarineter
She heard him play and strange to say she liked him better
'Twas the end of Mister Monotony

She refused him when he tried
Bringing her back to his side
She just answered when he cried
"Have you got any monotony today?"
"Haven't got any monotony today
Can't play
Today
Haven't got any monotony today"
Trivia
This was to be the second Judy Garland song Will sings on the show, the first being Over The Rainbow in Journey.
This song/scene was unreleased and cut from the episode but a preview of the song was released.
Mister Monotony is a deleted scene and song from the film featuring Judy Garland, Easter Parade. Coincidentally, the song was cut from Glee's "Makeover" episode.
Videos