Mock United Nations Club
Comments

9
1,709pages on
this wiki
Help!




It seems this article is a stub and needs more information.
Feel free to edit the article and expand it.
The Mock United Nations Club is a club at William Mckinley High School. Rachel is involved with the Club, but only because she loves being in Thunderclap photos. 
Biography
In Mattress, the Mock united Nations club's photo appears in the Thunderclap. Rachel is the only named member of the club, and appears to have all the attention focused on her by other students in the Yearbook Photo.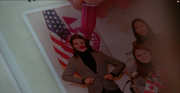 It appears again in the episode when Santana and Brittany vandalise Rachels face in their photo.
It is briefly mentioned in Journey, when Emma said to Will that Figgins was giving The Choir Room to the Mock United Nations club instead of the Glee Club.