Mrs. Schuester is the mother of Will and the wife of Mr. Schuester. She and her husband appeared once in the Season One episode, Acafellas.
She is portrayed by actress Debra Monk.
Biography
She is first shown sipping wine out of a glass and appears rather happy, to the point that she seems intoxicated. With a slight slur she complimented Terri on the meal that she cooked, and showed much excitement when Will announced that Terri was pregnant. Both she, her husband and Will seemed completely oblivious to the fact that Terri seemed unhappy that the information was revealed and even tried to stop Will. In order to give Will and his father a chance to talk, Terri and Mrs. Schuester left so that she could see how Terri had turned the craft room into a nursery.
Later, she attended a performance of her son's group, the Acafellas, with her husband and Terri. Like before, she carried with her a glass of liquid, presumably full of some sort of alcoholic beverage. Throughout the performance she wears an obvious look of drunken contentment at her son's performance. After, she sold all of the Acafellas CDs - without sexually bribing any potential customers, she added with a drunken laugh.
Later while Will and her husband discuss Mr. Schuester going to law school, Mrs. Schuester disappears and is revealed to be having a private moment with Josh Groban who romantically and or sexually pursued her later, and reveals that he has a thing for drunk older women.
Personality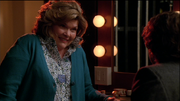 Mrs. Schuester at first glance appears to be unintelligent and easy to manipulate, but she is very loving and excitable. Her lowered intelligence may however stem from an alcoholic dependency that may stem from her relationship with her husband. She is almost always seen with an alcoholic beverage in her hands, and the manner in which she talks and even stands seems unbalanced and inebriated. Mrs. Schuester may also be rather promiscuous, as she commented that she would have been willing to use sexual bribery to sell her son's music CD's and is later seen accepting sexual advances from Josh Groban.
Relationships
He is her husband. Although they have been married for a long time, their relationship does not appear to be a truly happy one. Due to the fact that Mr. Schuester has sacrificed his hopes and dreams to support his family as an insurance salesman, he has become rather sad and meek over the years. Mrs. Schuester meanwhile has apparently taken up drinking in order to deal with her life, and she has implied that she has had sexual encounters or at least propositioned sexual encounters with other men because of alcohol. This is made evident as she is later seen sharing a moment with Josh Groban who explains that he finds drunk older woman sexy.
Josh Groban pursued Mrs. Schuester after an Acafellas performance, stating that he found drunk older women attractive. Although it is unclear if they actually had sex, it was clear that even in her drunken state, Mrs. Schuester was enjoying the attention.
Quotes
"

And I didn't have to show any of them my bosoms!

"

—Mrs. Schuester, Acafellas
Ad blocker interference detected!
Wikia is a free-to-use site that makes money from advertising. We have a modified experience for viewers using ad blockers

Wikia is not accessible if you've made further modifications. Remove the custom ad blocker rule(s) and the page will load as expected.